Trenton
Trenton
is in
Mercer County
, and is the capital of
New Jersey
. The city's strategic location in between New York City and Philadelphia has historically contributed to its growth and significantly impacts local culture. Located on the Delaware River across from Pennsylvania, Trenton is the only accessible capital city in the United States to border another state.
Get in
By bus
There is an extensive bus network from neighboring cities, some run by
SEPTA
and others by
NJ transit
By plane
address: 1100 Terminal Circle Dr

Frontier Airlines uses it as a hub and is expanding. Due to the this expansion, TSA is no longer closed during the day (despite what some old websites say). There is no public transit options at the airport, but if you're willing to walk through grass on the side of the road, you can walk to the main street and get a bus to Trenton station from there.
The more likely option is to fly into major airports in
Newark Liberty International Airport
(
EWR
) or Philadelphia International Airport (PHL), of which allow access to Trenton by road and rail.
From Newark, take the Northeast Corridor NJ Transit Line (it is cheaper than the Amtrak line) to Trenton.
From Philadelphia, take the R1 SEPTA Line to the R7 SEPTA Line.

By train

Trenton is along the Northeast Corridor rail line, accessible to most of the Northeast's major cities. Amtrak, New Jersey Transit, and SEPTA all stop at the Trenton Amtrak Station (72 S. Clinton Avenue). If you are traveling from New York City or Philadelphia, taking NJ Transit or SEPTA respectively will be much cheaper than Amtrak. An alternate which is right in the vicinity is the West Trenton Station, where SEPTA's West Trenton Line terminates.

By car

U.S. Highway 1 is the only major highway that runs through the city; however, I-95 runs nearby and offers easy access to Trenton along US 1. NJ Route 129 connects US 1 in the city with the New Jersey Turnpike, I-295, and I-195. Route 29, a National Scenic Byway, begins south of Trenton and runs parallel to the Delaware River, northwest to Frenchtown.

Get around
By bus
New Jersey transit runs a number of bus lines through the city to the surrounding communities. See
New Jersey Transit's website
for more details.
By rail
Trenton is the southernmost stop on the NJ Transit Northeast Corridor Line, which regularly runs trains from NYC to Trenton. Trenton is also the northernmost end of the
River Line light rail system
, which serves communities along the Delaware River from Trenton to Camden, and the Trenton SEPTA line, connecting Trenton and Philadelphia.
By taxi
Trenton also offers taxi services throughout the surrounding regions by companies such as Yellow Cab and United Cab Company.
See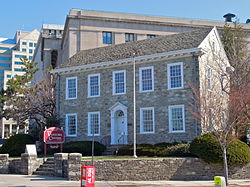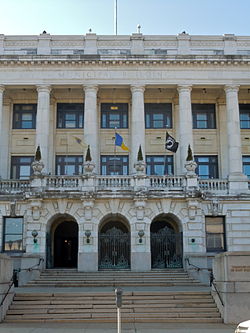 Do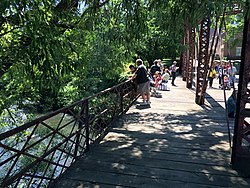 address: Stockton Street between Front and Market Streets

Creative space hosting events, workshops and classes.

Cadwalader Park

phone: +1 609 989-3632

address: 299 Parkside Ave

Historic park designed by Frederick Law Olmsted, who also developed Manhattan's Central Park. Trenton's City Museum at Ellarslie is in the park.

Mill Hill Park

address: 165 E Front St, Trenton, NJ 08608

Beautiful downtown park where you'll see many locals and state workers enjoying lunch outdoors, playing in the park or strolling over the Assunpink Creek. Tot lot nearby for parents with young children.

Capital Green

address: Off Barrack Street, across from the War Memorial

A large public space right in front of the state capital; makes a nice place for photographs. On certain Saturday evenings in the summer, the Trenton Downtown Association hosts free concerts as part of the Levitt Pavilions AMP your city national series.

Marine Terminal Park

address: North of 1501 Lamberton St and South of Arm and Hammer Park

Has a public boat ramp and offers a great place for fishing in the Delaware, especially with new renovations made to the surrounding land.
Special Events
Capital City Book Fair - Two-day event in the spring organized by Classic Books and the Trenton Downtown Association. On the Saturday of the Fair, Taste Trenton occurs, an all-day foodie crawl through Trenton's historic culinary hot spots.

Capital City Food Truck BattleEvents at Trenton Social and Rho Waterfront. Usually in September.

Levitt AMP Trenton Concert SeriesSaturday evening free summer concerts on the Capital Green. Lawn chairs & picnic blankets are a must.

Patriots WeekThis week, in between Christmas and New Year's Day, showcases the life and times of the city's Revolutionary War-era history. 2015 schedule

Pork Roll Festivals - Pork Roll originated in Trenton and has since become synonymous with New Jersey, as the state's "favorite breakfast." There are two festivals usually in May: the Pork Roll Festival in Mill Hill Park and the Trenton Pork Roll Festival at Trenton Social.

Trenton Punk Rock Flea MarketTakes place three times a year, with plenty of vendors and food trucks.

Trenton Half MarathonTwo-state race on the first Saturday in November.

address: 5 South Broad Street, Trenton, NJ

Meetups monthly
Learn
Buy
Although there are not many options for shopping in the city of Trenton, the surrounding area is full of options. Just a few minutes up Route 1 is the
Quaker Bridge Mall
as well as several strip malls and shopping centers containing dozens of stores.
Eat
One special place in Trenton is Chambersburg. This was once an Italian American area, but now there are countless new Mexican and Central American restaurants, along with some old staples. However, there are notable restaurants throughout the city; here are some of them:
Amici Milano

phone: +1 609 396-6300

address: 600 Chestnut Ave

This is the last remnant of old Italian Chambersburg, like walking into a time machine.

phone: +1 609 695-1911

address: 11 West Front Street

Downtown's spiciest addition.

Blue Danube

phone: +1 609-393-6133

address: 538 Adeline Street

Fine-dining, Central and Eastern European fare.

Chencha y Chole Authentic Mexican Kitchen

phone: +1 609 394-7700

address: 865 S Broad Street

Casual Mexican restaurant with a renowned Chicken Mole.

Frankye's Restaurante Guatemalan Grill

phone: +1 609 777-5337

address: 1500 S. Clinton Avenue

Specializes in meats and seafood.

phone: +1 609 278-9555

address: 29 S Warren Street

Downtown casual Jamaican.

phone: +1 609 392-2944

address: 701 S. Broad Street

Many of the famous Trenton tomato pie shops moved to the suburbs. Jerry's has kept the Trenton tradition alive.

phone: +1 609 337-9973

address: 322 East State Street

No other place like this in the state.

Restaurant El Mariachi

phone: +1 609 393-0035

address: 762 Roebling Avenue

Best homemade salsa in Trenton.

phone: +1 609 656-1600

address: 925 N Olden Avenue

Trenton's Polish staple.

phone: +1 609 656-8877

address: 17 East Front Street

Downtown, Northern Italian cuisine. Closed weekends

phone: +1 609 392-0675

address: 241 E Front Street

Soul-food spot known for their "live lunch" music series.

Pat's Original Diner

phone: +1 609 392-2024

address: 1300 S Broad St

Classic Jersey diner in the Franklin Park section of Trenton.

Johnny's Grocery and Deli

phone: +1 609 392-7035

address: 862 S Broad St

Trenton is famous for its pork roll sandwiches. This relic is possibly the best spot in the capital city to grab one.
Drink
address: 50 Riverview Plaza

Large riverside nightclub.

phone: +1 609 695-9612

address: 24 Passaic Street

Cozy bar known for jazz series on Saturday nights, and comedy shows every 3rd Sunday of the month.

Championship Sports Bar & Grill

phone: +1 609 394-5502

address: 931 Chambers St

phone: +1 609 989-1600

address: 300 S Broad St

Historic downtown bar. The dive bar part is in the basement and sometimes features live music.

phone: +1 609-392-2554

address: 1324 Hamilton Ave, Trenton, NJ

Irish pub.

phone: +1 609 989-7777

address: 449 S Broad St

Posh bar & lounge across from Sun National Bank Center.

South Rio

phone: +1 609 989-7900

address: 120 S Warren St

Lounge in the heart of downtown.
Sleep
Wyndham Garden Hotel Trenton

phone: +1 609-421-4000

address: 1 W Lafayette St
Go next
A few miles north of Trenton is Princeton, home of the famed university.
Six Flags Great Adventure in Jackson Township (New Jersey)
Sesame Place, 100 Sesame Rd, Langhorne, PA (take Route 1 S into PA and take Oxford Valley exit), +1 215 752-7070, . Great for families, a Sesame Street-themed amusement park featuring water rides and kid-friendly thrill rides. $53 a person, but discounts are regularly available.
If you are looking for a different experience close to the area, the Jersey Shore is perfect. Point Pleasant, Seaside, and Belmar all offer beaches and boardwalks within 45 minutes of the city via I-195.
Trains also provide a quick ride to
Philadelphia
and a somewhat longer one to
New York City
.