Trinidad (Cuba)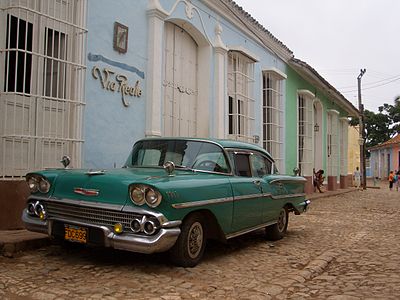 Trinidad
(sometimes called
Trinidad de Cuba
) is a city in
Cuba
. It is a
UNESCO World Heritage Site
.
Get in
Central Bus StationViazul buses have a twice daily service from Havana stopping at Cienfuegos, and a daily service from Santiago de Cuba stopping at Holguin, Camagüey, and Sancti Spiritus. There is also a service to/from Varadero stopping at Santa Clara and Cienfuegos that is not listed on the Viazul website. It leaves Varadero at 7:30 AM and returns from Trinidad at 2:25 PM. Viazul and Cubanacan offer direct buses to/from Viñales as well. You buy Viazul tickets from the air conditioned office right in front of where the buses park, not from the Astro or local bus counters.

You can also get in and out quicker by taxi, specifically, shared taxis at about the same price as a Viazul bus ticket. See Cuba#By taxi for details. When going to Havana this is also more convenient, as you won't be dropped off at the Viazul station, but will instead be driven to the desired location. Drivers can be found at the central bus station or around the

Cubatour Office

If you organize your transport at least a day in advance, the driver will pick you up at the desired time at your hotel or casa.
Trinidad has not been connected to the rest of Cuba by train since a hurricane destroyed an essential bridge in 1992. There is a local train running to the Valle de los Ingenios from the .
Get around
Street names may be difficult to find, although the town is very small.
Offline GPS maps
are useful, but if you ask around, people are helpful. Adding to the confusion, almost all streets carry two names an old and a new one. The central part of the town is small enough to explore on foot.
The old city is centered around
Plaza Mayor
The streets are cobble stones, very irregular and walking could be difficult for older folks. Wear runners for sure. Do not even think about wearing high heels. Your ankles will pay.
See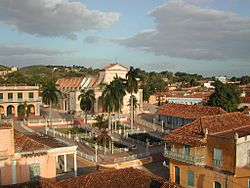 Casa de la MúsicaOpen air location, where there is a small platform from which groups perform at night. Usually, there is salsa music, and great salsa dancers there enjoy the music and dance and perform with foreigners. It is great to enjoy a few drinks there as well.

Museum of the War Against the BanditsThe Museum is in a former convent close to the cathedral near the Plaza Mayor in the old colonial center. The War Against the Bandits was the 1961-1969 fought against U.S.-sponsored counterrevolutionaries, who hid out in the nearby mountains. If you don't read Spanish, the displays may be difficult to understand, but the piece of the American U-2 spy plane shot down speaks for itself. Also well worth the entrance fee is the mirador (view) from the convent's tower, reached by several flights of wooden stairs, which has superb views across the whole town.

CathedralThe cathedral is beautiful inside and has a tower you can climb for a view.

Museo RománticoA museum of mostly furniture from the colonial times.
Do
Old Colonial CenterWalk around in the old colonial center. Check out the colonial homes and furniture too. The houses are open and some of the antiquities are visible from the streets. Also the market in the old colonial center is nice to walk around and look at the handicrafts. Drawn thread tablecloths and linens seem to be a speciality. The vendors are refreshingly laid back, you can look around and get virtually no hassle or pressure to buy.

Viewpoint Cerro de la VigíaClimb the hill behind the town to get a great view. As you walk up the hill you go through poorer neighbourhoods. You may be asked for clothes or trinkets by the local kids. Seems pretty safe during the day but be careful at night. As you exit the city you'll also pass by the Disco Ayala, a discothèque in a cave near the top of this hill.

Topes de Collantes National ParkThe national park starts just outside the city and features some great views and many hikes, some of which leading to waterfalls, rivers or ponds. The closest park area is El Cubano and it's possible to even walk there (4-5km one way), yet the park areas further up the hill (around the village of Topes de Collantes) have a greater variety in plants and more of a jungle feeling. The parks are accessible either by car, by taxi (expect about 30 to 40 CUC for the car to drive there including pick up in the evening) or by taking one of the day tours offered by Cubatur. (The local bus service to Topes de Collantes hasn't run in years.)

Playa AncónThe peninsula is one of the few places in Cuba where you can access a great beach without staying at a resort hotel. A taxi will take 10-15 minutes to get there for 6-10 CUC, there's also an (often very overcrowded) bus leaving 4 times a day from the Cubatur and Havanatur (round-trip 2 CUC per person) and the beach is also well within biking distance from Trinidad (though cycling in the hot sun can be quite strenuous). Make sure you have sunscreen and mosquito repellent, especially if you intend to stay on the beach in the evening. Few boats also provide snorkeling facilities.

Horseback ridingJoin a local tour on a horseback ride. It goes via a few villages and usually there's a stop in a small restaurant. Once in the forest, an easy hike for about half an hour leads to a pleasant waterfall (see below). Afterwards, the trip will take you through muddy roads hiking back to the town of Trinidad.
WaterfallBehind the waterfall is a cave you can swim into. In summer times, it is recommended to take a swim in the water fall. Usually, also an improvised pub with few drinks is available.
Take cheap, private and professional Salsa lessons for men or women. Many people will offer dancing classes. Have a peek to see what you're getting into:
Senora Misladis (tel 99-4493) has a private studio in her home
Learn
If you want to learn Spanish during your stay in Trinidad you can take an Intensive Spanish course from one week up to four weeks. The classes are held 4 hours per day and give you the opportunity to improve your Spanish quickly during a short time period.
Babylon Idiomas offers a wide range of affordable and high quality Spanish courses for all levels with experienced native teachers. Cultural and social activities are included in the programme. The school is located in the heart of the city, close to the Iglesia Francisco and Palacio Brune. New students can start on any Monday of the year.
Buy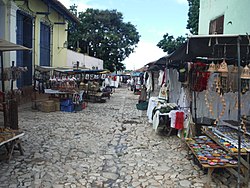 There are several convenience stores in town. In contrast to other places in Cuba, the 5L water canister costs 3 CUC instead of 1.90 CUC.
Eat
Budget
There are several 'so called' peso pizza establishments in the town which allow tourists to purchase Pizza for the national peso price. This usually works out at around 5-10 national pesos or 10c. This is a good idea for travelers on a budget. One of the biggest places in Trinidad is situated on the corner of Frank Pais and Francisco Javier.
Local food stallThis cheapie has a fixed menu, but offers actual dishes. Worth trying out if you're already sick of peso pizza.
Mid-range
Many casa particulares offer dinner, typically for around 10 CUC per person. If you didn't yet try local food, these usually authentic dishes are very well prepared and well worth checking out.
However, Trinidad also has a good variety of restaurants and some serve food that's hard to come by elsewhere. Note that the restaurants listed in guide books are typically well visited, so you may have to queue for a seat when coming between 7 and 10pm.
When wandering around the city, touts may offer to guide you to a restaurant. If that happens, kindly refuse their service or be prepared to have their commission added to the bill.
Highlights include:
La BotijaThis authentic tavern with antique interior of the colonial slavery times has a great atmosphere and serves delicious food (mostly tapas, but also others like pizza) on fancy plates self-made from beer bottles. They have a band playing really good jazz & funky live music which may be a welcome relief from the typical salsa rhythms. The place fills up quickly, so it's best to be there before 7.30pm.

Paladar San JoséThis place seems to be a favorite one of German tourists, but nevertheless serves very delicious international food and has very friendly and welcoming staff. The place also fills up quickly, so it's best to come early.
Drink
In the square at night, there are often events and there is a very good club open until the early hours.
It is a lovely town with amazing visitors and inhabitants, and small enough for you to wander and choose your drinking hole. The Mojito's and rum cocktails are great.
Casa de la Musica - there are two bars in the main Trinidad square and there is live music from 9PM till late. There is lots of dancing and reasonably priced cocktails...its the best place in town!!

Disco AyalaThis disco is located within an actual cave and it has become quite famous. The cave is huge with stalagmites and stalactites. More tunnels and caves can be seen near the bathrooms. This is where young Cubans go to party, the music is mainly reggaton and techno. Fun starts after 11PM. Very much worth checking it out.
There are also places where the locals hang-out and which serve quite decent beer at a very reasonable price. These places usually serve draught beer
and stay open just as long as there is beer to serve. When the beer from one place has been drunk, then it's off to the next place or not. Many of the locals drink their beer outside on the street and Trinidad is so small so these places are easy to spot.
Sleep
Iberostar Grand Hotel

phone: +53 41 996070

A beautiful colonial hotel on the main causeway up to the square. It is a little expensive, but worth it as it has colonial rocking chairs and 2 four poster beds.

Hostal "Felina y Otto

address: 711 Frank Pais

The accommodation is on the top floor of the house and is very private and features a roof terrace. The hosts offer a good breakfast (3$CUC) and Dinner (7$CUC). Food is delicious and the hosts are happy to provide advice on local attractions.
There are many casas particulares in Trinidad. It is an excellent way to meet the people of Trinidad and see how many live.
Casa de Benito Rodríguez Rodríguez

phone: +53 41 994145

address: 33 Gustavo Izquerdo

Two large rooms with a shared bath in a colonial house filled with antiques. The food is excellent. Best of all, Benito and his wife are very nice and helpful, such as finding you another casa if their rooms are booked.

Lida Hernández Sandoval

phone: +53 41 994100

address: Calle Mario Guerra #184

Three rooms but only one license so this is one of the few casas that can rent to tourists who are traveling with Cubans (for example, if you hired a driver). Good food and lots of room for a big group.

Casa de la Amistad

address: Zorquera (Rosario)

Centrally located hostal, popular amongst revolution sympathisers, run by ICAP (Instituto Cubano de Amistad con los Pueblos). Clean, a/c, tv, fridge, hot water (from a tank not the elctric type that give you a shock if you touch them). 25 cuc for a double room.

La Niña

phone: +53 41 992411

address: Fco. J. Zerquera (Rosario) #171

Pretty colonial house with courtyard. Located in the center of the city. Comfortable room, a/c, fridge and good hot water. Very friendly couple. Huge and delicious breakfast included. Delicious evening meals also available. Secure. Keys to street and room provided.

Casa Marla y Fernando

phone: +53 41 993910

address: Gustavo Izquierdo (Gloria) #103-A

Colonial house with a nice terrace. Fridge, a/c, hot water. Very friendly couple. Optional delicious breakfast and/or dinner.

Dra. Onidia Puente Landestoy

phone: +53 41 998221, +53 41 836716

address: Camilo Cienfiegos #33 entre Pedro Zerquera y Anastacio Cardenas Tdad S-Spiritus

2 brand-new rooms, each one with a tv, air-conditioner, fridge, a double bed and a single bed, and fancy shower and toilet. The owner, Onidia, is friendly, fun to talk to, speaks some English, and live in the house with her mother and her daughter. Location is about 4 blocks from Parque Cespedes. Great room for a decent price.

phone: + 53 55 61 2929 (mobile), +53 55 61 2928 (mobile) or + 53 41 99 8429

address: Clemente Pereira (Cruz Verde)#108

B&B run by a young couple, native speakers of English, Dutch and Spanish. Two rooms, each with a queen size bed. They are connected by a large shared bathroom. Additionally one children's bed is available. To cool off the rooms include fans, large windows, as well as air conditioning. There's a garden, private balconies and rooftop terrace with views of the Escambray Mountains.
Go next