Tulsa
Tulsa
is the "
Oil Capital of the World.
" Situated between the prairies of central Oklahoma and the foothills of the Ozarks, Tulsa is located in the
Green Country
region of
Oklahoma
. It is also affectionately called
"T-town"
by the locals. Here, the age of the oil boom found its center. A small town by US standards, metropolitan luxuries such as theater, fine dining, nightlife, and shopping are found in an state known for sparsely populated farming communities. The picturesque downtown is surrounded by rolling hills covered with prairie grasses and ancient forests, a first impression that soon reveals world-class architecture and museums of art, miles of biking and walking trails, and huge parks. With a wealth of iconic sights and neighborhoods to explore, a trip to Tulsa can easily fit several weeks of touring.
Understand
Tulsa was settled in the mid-1800s by the Lochapoka Band of Creek Native American tribe. A booming city during the 1920s, rich oil barons built stately mansions and skyscrapers, turning Downtown Tulsa into a treasure trove of art and architecture. Tulsa was the most important hub for the American oil industry for most of the 20th century.
Tulsa sustained heavy economic hardships during the oil crises of the 1970s and 1980s which led to diversification efforts that created an economic base in the energy, aviation, finance, telecommunications, and technology industries.
Tulsa is known as the arts and culture center of Oklahoma. Tulsa contains two world-renowned art museums, the Philbrook Museum of Art and the Gilcrease Museum of Art. Tulsa also boasts full time professional opera and ballet companies, which are a rarity in the region. Tulsa contains one of the largest concentrations of Art Deco in the nation, ranking number 9 on US News and World Report's list of top cities for Art Deco. Tulsa has also been called one of America's most livable large cities by Partners for Livable Communities, Forbes, and Relocate America.
In Tulsa you will find old west charm and southern hospitality as well as a cosmopolitan atmosphere. The people of Tulsa take pride in their city, welcoming outsiders with open arms. Most are willing to help you find your way around.
Tulsa lies in northeastern Oklahoma, at the convergence of the Great Plains and the Ozark Plateau, and receives an average of 40 inches of precipitation each year, both of which account for its abundant beautiful rolling green terrain. As a result, Tulsa breaks the Oklahoma stereotype of being nothing but a flat, arid dust bowl. Summers can be very warm and with the cold wind across the plains it can get very cold in the winter, but it does not last long. The winters are considered to be very mild. There is not much snow, just a few inches each year, typically. Tulsa has over 225 days of sunshine annually.
The city had about 391,000 people and the metro area had about 937,000 people as of 2010 from the US Census Bureau. The Tulsa-Muskogee-Bartlesville Combined Statistical Area had a population of 1,151,172 in 2015.

Get in
Tulsa is served by one major airport and three general aviation airports.
By plane
Tulsa International AirportIt has major airlines with direct flights to major cities in the U.S. It is a small but nice airport with sofas and chairs all around and a very laid-back feel. The car rental area and parking is well integrated. The airport offers free short term parking (first half-hour free).

Richard L. Jones, Jr. AirportIs a general aviation airport.

(OKM

) is south of Tulsa and is a general aviation airport.

(FAA LID: KOWP) is west of Tulsa and is a general aviation airport.
By bus
,

phone: +1 918 584-4428

address: 317 S Detroit Ave.
By car
Most Tulsans drive almost everywhere, although bus, bike, and pedestrian routes are starting to catch on.
From the North/Kansas - US-75 South from
Bartlesville
, OK, or US-169 South from Coffeyville, KS.
From the Northeast/Missouri - I-44 West, aka the "Will Rogers Turnpike." The self-proclaimed world's largest McDonalds spans the roadway near Vinita, OK.
From the East/Arkansas - US-412 West, aka the "Cherokee Turnpike."
From the Southeast/Arkansas - The "Muskogee Turnpike."
From the South - US-75 from
Okmulgee
, OK, aka the "Okmulgee Beeline."
From the Southwest/
Oklahoma City
- I-44 East, aka the "Turner Turnpike."
From the West - US-412 East, aka the "Cimarron Turnpike."
For the slow scenic route from Northeast or Southwest come in on old
Route 66
.
By train
There is no passenger train service to Tulsa, however, as of 2018, service between Oklahoma City and Tulsa is being developed. The
Eastern Flyer
route, operated by
Iowa Pacific
, is expected to begin regular service.
Get around
Thanks to urban planning, the major city streets are placed in a grid layout. Almost all major intersections are one mile from each other, and exactly in a straight line. That makes it much easier to find places than in cities where streets go every which way. The major exception is downtown, which is slanted at a 25 degree angle to the rest of the grid. This is due to the original town not facing true north and instead putting main street at a 90 degree angle to the original MKT railroad tracks.
By car
Several freeways and bypasses can be used to easily get around the Tulsa Metro area: I-244, I-44, US 169 (Mingo Valley Expressway, "Pearl Harbor Memorial Expressway"), US 75, US 64/OK-51 (Broken Arrow Expressway, The "B.A."), and OK-364 (Creek Turnpike).
The streets and avenues are planned on a 1 mile by 1 mile grid system, with the main arterials running on each mile. In the core of the city, named avenues run north/south and are named after US cities, generally in repeating alphabetical order (for example, Winston-Yale-Allegheny-Braden). In the mid-town area the names are taken from colleges and college towns. North/South is divided by Admiral Blvd. Name streets East of Main are cities east of the
Mississippi River
, vice versa for name streets west of Main. In the parts of the city farther from downtown, north-south streets are numbered. It is important to recognize that the specific format of the north-south numbered street names is
North/South 145th East/West Avenue
.
Numbered streets run east/west with Main Street and the Arkansas River as the dividing line. Watch out for Place, Street, Avenue designation, e.g. 47th Place, 47th Street, or Florence Place, Florence Avenue. It is important to recognize that the specific format of the east-west numbered street names is
West/East 71st Street North/South
. In some parts of the city,
numbered streets intersect,
so the distinction is important. Although rare, one east-west numbered street may even intersect with a street of the same number running north-south.
Downtown streets were platted parallel to the Frisco railroad tracks. When Tulsa expanded beyond the bounds of its original plat, the expanded areas were platted in alignment with the points of the compass. Thus the "twisted" area down-town represents the original extent of Tulsa ca 1907.
By bus
Tulsa Transit
provides bus service for the Tulsa Metro area. Cities served are Tulsa,
Sand Springs
,
Sapulpa
,
Jenks
, and
Broken Arrow
. The central station is at 319 S. Denver (downtown). They do not run that often, especially to the outer towns like
Broken Arrow
. Unlike major cities in the Northeast, the city bus is not a major form of transportation in the city. It is usually a means of travel for those who are without their own motor vehicle.
By bicycle
Tulsa has an extensive interconnected paved bike trail system. Rivertrail follows the Arkansas River from downtown Tulsa south to the suburbs. The Katy Trail runs west to Sand Springs. The Osage Trail is a rails-to-trails route that begins at the OSU-Tulsa campus and travels north 15 miles to Skiatook. The Creek Trail connects Rivertrail and continues east through Broken Arrow to the NSU-Broken Arrow campus. Riders accustomed to flat terrain may find Tulsa's rolling land to be a bit more challenging, particularly during the heat of summer. If you are looking for a good workout, the Creek Turnpike Trail follows the land's original contours. Rivertrail is probably be best choice for the rider seeking an easy route.
Four bike loan depots, along Rivertrail, allow riders to borrow a bike for free for up to 24 hours.
Tulsa has an active bicycling community.
See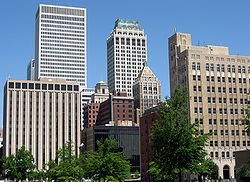 Creek Council Oak Tree

address: 18th St. and Cheyenne Ave

It was under the Creek Council Oak Tree in 1836 that the Lochapoka Creek Indians kindled a ceremonial fire using live coals they had carried from their Alabama homeland. This oak was Tulsa's first town hall, first conference room, first church and first court of law. This tree symbolizes the spirit of Tulsa's early settlers.

phone: +1 918 596-2700

address: 1400 N Gilcrease Museum Rd

Touted as the "Museum of The Americas", has one of the world's largest collections of Western and Native American art and artifacts and constantly changing exhibits on a yearly basis. The gift shop has a good collection of art, jewelry, music and books as well. A must-see attraction for any visit to Tulsa.

phone: +1 918 596-1020

address: 322 N Greenwood Ave.

Serves to promote the history of Tulsa's Greenwood District. Was home to one of the worst race riots in American history. Special performances are often held at this center.

The Ida Dennie Willis Museum of Miniatures, Dolls and Toys

phone: +1 918 584-6654

address: 627 N Country Club Dr.

Over 2000 dolls, dollhouses and other miniatures. The museum is rumored to have closed in 2007 after the death of the old lady who was running it.

phone: +1 918 596-1001

address: 111 E 1st St

Housed in the beautiful Art Deco-style Union Station Depot, many local jazz performances are held here.

Penguins on ParadeThere are dozens of 6' tall penguin sculptures scattered throughout the city. It is a local art project to raise funds for the Tulsa Zoo. The fundraiser began in 2002 as a way to raise money to build a black-footed African penguin exhibit. As of 2012, you could still find more than 50 of the penguins in and around Tulsa.

phone: +1 918 749-7941

address: 2727 S Rockford Rd

In a former residence of local oilman Waite Phillips, has changing exhibits, a sculpture garden, art and artifacts from around the World, and a gift shop unlike anything else in Tulsa.

Sherwin Miller Museum of Jewish Art

phone: +1 918 492-1818

address: 2021 E 71st St

The largest collection of Judaica in the American Southwest, flagship of The Fenster/Sanditen Cultural Center. As an arts education institution, and the only American Jewish museum in the region, utilizes both art and history to preserve and present Jewish culture.

phone: +1 918 834-9900

address: 3624 N 74th E Ave

TASM collection highlights include a WWII German jet engine, an F-14 Tomcat, two of Burt Rutan's experimental aircraft, a locally-built gGyrocopter by Spartan Aeronautics, and Art-Deco sections of the original Tulsa International Airport Terminal. TASM also has many historical and interactive exhibits of interest to young and old alike.

phone: +1 918 289-0330

address: 3900 Tulsa Botanic Dr

The mission of the Tulsa Botanic Garden is to promote the beauty and importance of plants and nature to create a more sustainable and harmonious world.
Do
phone: +1 918 894-4200

address: 200 S Denver Ave.

Tulsa's sleek, and modern center is the pride of the city. Opened in September 2008, it has already hosted such acts as The Eagles, Celine Dion, Elton John, Billy Joel, and many more are on the way. From 2010 to 2015, the arena was home of the Tulsa Shock WNBA team, which moved from Detroit after the 2009 season, but the team moved to the Dallas–Fort Worth Metroplex after the 2015 season. With fine dining nearby and numerous hotels to stay at, this center is the centerpiece of Vision 2025, a plan to revitalize Downtown and certain parts of the city.

The Center of the UniverseAt the top of a pedestrian bridge in Tulsa. The bridge goes over the railroad tracks from Archer St. to First St. West of the Jazz Depot and immediately north of the Williams Center Tower. If you stand on the opposite side of the brick circle from someone else, you hear their echo, but not your own. If you stand at the center of the brick circle and talk, you will hear yourself echo, but others will not hear any echo. Overlooking the Center of the Universe area is a large, totem-like steel sculpture called Artificial Cloud.

address: 8330 Riverside Pkwy

address: 4145 E 21st St.

Contains what was once the largest unobstructed indoor area in the world. The "Golden Driller" in front is still pretty impressive. Hosts numerous shows including home and garden shows, arts & crafts events, boat show, gun and knife shows.

phone: +1 918 669-6644

address: 5701 E 36th St. N

Hidden in the woods behind the Tulsa Zoo. Open almost all year. Has a few different habitats built up, such as a mini-prairie, a marsh with a walkover, ponds, woods, and plenty of opportunity for bird-watching.

The Performing Arts CenterDowntown, the "PAC" (pronounced pee-ay-see) shows the annual presenation of The Nutcracker, in addition to various operatic, musical, and dramatic shows throughout the year. Tickets and scheduling available online.

River ParksThere is a lovely cafe down around 21st and they have live music from time to time when it is warm out. There is a new complex, Riverwalk Crossing at 101st in Riverside. It has a movie theatre and many restaurants, with a wonderful atmosphere.

address: 11th St.

Renovated in 2005. The University of Tulsa is located nearby, and Tulsa Promenade mall is 2 mi S of the Expo Square, State Fairgrounds and several hotels, all of which provide shuttle service for shoppers.

The Spotlight TheaterOn Riverside Drive between 15th and 21st, it has shows every Saturday night of "The Drunkard"-America's longest running show-followed by "Olio", an old-fashioned vaudeville affair. Family friendly and very fun, The Drunkard is a must for any Tulsa visit!

Tulsa DrillersCatch a baseball game with the Tulsa Drillers. The Drillers, a AA minor league team associated with the Colorado Rockies, play in ONEOK Field, in the Greenwood neighborhood.

phone: +1 918 669-6600

address: 6421 E 36th St. N

Has zebras, giraffes, elephants, penguins, and reptiles, in addition to a Children's Zoo, Tropical American Rain Forest, Wildlife Carousel, and Zoo Train.

Woodward ParkSee the park in the spring when the roses are blooming in the Tulsa Rose Garden.
Events
Blue Dome Arts FestivalRunning the same weekend as the critically acclaimed Mayfest. This festival showcases local Tulsa County area artists and lets them show their colors. Parking is limited, so be prepared to walk a few blocks (Middle of May, Same as Mayfest).

ConestogaOklahoma's largest literary science fiction and fantasy convention. Late July.

Cherry Street Farmer's MarketEvery Saturday 'til the frost is on the pumpkin from about 7AM-11AM.

MayfestIf you're looking for that Unique Gift or piece of art you can't find elsewhere, You won't go away Empty-handed From here. with artists from all over the country, Mayfest is Truly the Cultural Highpoint of Tulsa's Yearly Calendar. (Middle of May, Same as Blue Dome Arts Festival)

Mini-ConTulsa's Annual Anime Gathering is getting off the ground again after losing sponsors. Now sponsored by the Tulsa Library System, It is in good hands and could take a few years to get up to par with other conventions around the country. Has film-showings and merchandise sales (Date of Event Varies Year to Year).

Oklahoma Scottish Games & Gathering

address: River West Festival Park

It's always the third weekend in September.

Tulsa OktoberfestWhich some people say is the largest Oktoberfest in the world outside of Germany.

Tulsa State FairAt the Expo Fairgrounds (near 21st and Yale). It's the last full week in September. "Funnel cakes" are a tradition.

Tulsa Trek ExpoThe largest Star Trek convention in the central U.S.

Wanenmacher's Tulsa Arms ShowThe world's largest gun show. Twice a year at the Expo Building. April and November.

Turkey MountainExcellent location for hiking and mountain biking, with lots of side trails to explore. Features great views of Oral Roberts University and Downtown.
Buy
Tulsa is a city known for being cheap while still maintaining an urban experience that rivals that of most larger cities in the region.
Shops
phone: +1 918-743-7687

address: 1448 S. Delaware Ave.

An artisan gift shop, representing local and regional artisans. Pottery, glass, jewelry, hand-turned wood, metal sculptures, stained glass, fountains, yard art, and locally made soap and candles are a few of the many unique items available in this charming shop.

Wizard's Asylum

address: 7165 S. Mingo Rd

Oklahoma's largest selection of rare comics, trade paperbacks, manga, cards, board games and more. Holds regular Magic: The Gathering tournaments on Saturdays.
Stores
Bodean Seafood Market

address: 3376 E. 51st St

One of the best fish markets in Tulsa, sells fish from all over the world.

Nam Hai Vietnamese Supermarket

address: 1924 S. Garnett Rd

Laid out in what resembles an old IGA Store, Nam Hai is the closest you'll come to the marketplaces of Asia in Tulsa, Just look for the lion out front.
Shopping centers
The Farm

phone: +1 918 622-3860

address: 5321 S. Sheridan Rd

A farm-themed shopping center with some of the more unique shops and restaurants in Tulsa County.

phone: +1 918 742-5531

address: Utica and 21st

The very upscale Utica Square has some of the best shopping in Tulsa. The center becomes very festive during the Christmas Season and also throws several events during the course of the year. A must for those with a disposable budget.

Tulsa Hills

phone: +1 918

address: 71st St South and HWY 75

Newest Tulsa Shopping Development
Shopping malls
phone: +1 918 627-9282

address: 4107 S Yale Ave.

The University of Oklahoma is nearby, and the mall is approximately 2 miles south of the Expo Square, State Fairgrounds and several hotels, all of which provide shuttle service for shoppers.

phone: +1 918 250-1449

address: 7021 S Memorial Dr.

2-level, 1.2 million square-foot, super regional shopping center. The center features more than 165 stores, including over 80 stores you won't find anywhere else in Tulsa. Children's play area, a glass elevator and a food court.
Eat
If you're looking for nicer restaurants, then the major dining corridors can be found along 15th Street South ("Cherry Street") near downtown, along 71st Street South near Woodland Hills Mall, in the Brookside district near midtown, the Blue Dome district, and in the Utica Square shopping area. However, if you want an authentic experience, then you should be looking for good barbecue and regional fast food chains like
Taco Bueno
. For dessert, head to
Braum's
for Oklahoma ice cream. This popular regional chain does farm-to-fork dairy products, and refuses to open stores more than 300 miles away from their home farm in Central Oklahoma.
BBQ
phone: +1 918 747-4700

address: 2748 S Harvard Ave.

Tasty BBQ run out of an old gas station.

phone: +1 918 742-6702

address: 4130 S. Peoria

This barbecue place is not to be missed, seeing Bill Clinton and other celebrities among its past patrons. "It be bad."

Jamil's

phone: +1 918 742-9097

address: 3823 E 51st St

Tulsa's oldest steakhouse. Known for Lebanese style appetizers (Tabouli, hummus, cabbage rolls, etc.) and desserts, along with traditional steakhouse fare.

phone: +1 918 742-2742

address: 1601 S Harvard

Remarkably successful joint from midtown. Opened in 1992, but has managed to franchise into 8 states. The original location burned down a few years back, but they rebuilt this in its place.

Burn Company

address: 1738 S Boston Ave

One of Tulsa's best barbecue joints. Opened in 2014, it has quickly gained a reputation good enough to cause a line out the door daily when they open. Arrive early to ensure you get the entree you desire as they only make a set amount each day.
Fine dining
Atlas Grill

address: 415 S Boston Ave. #20

Great lunch.

The Chalkboard

address: 1324 S Main

Fantastic bistro cuisine.

Daily Grill

address: 100 E Second St.

The Downtown Buffeteria

address: 514 S Boston Ave.

Famous for chicken-fried steak.

FlavorsExcellent chef-owned bistro.

Mahogany Prime Steakhouse

address: 6823 S. Yale Ave.

Some of the largest and best steaks. Very upscale and some of the best food in town. A great place to take an expense account.

phone: +1 918 582-4321

address: 1301 East 15th St

Fine dining restaurant featuring freshly prepared, local cuisine.

The Wild Fork

address: 21st and Utica

Polo Grill

address: 21st and Utica
Indian
Desi Wok

phone: +1 918 621-6565

address: 3966 S Hudson Ave.

Serves traditional and fusion Indian/Chinese cuisine. Ask the large Filippino working behind the counter, William, for his "pineapple warrior" special. It's fantastic!

India Palace

phone: +1 918 492-8040

address: 6963 S. Lewis

This little hole-in-the-wall is among Tulsa's best Indian restaurant. Try any of the dishes here, you can't go wrong.
Italian
Zio's

address: (2 Locations) 71st and Mingo, 81st and Lewis

Italian restaurant with very good pasta, family oriented
Japanese
Sushi Train

address: 3300 E. 51st St

Toy train delivers sushi.

Fuji

address: 3739 S. Peoria Ave

"Fuji" On Peoria in Brookside. Offers an all-you-can-eat sushi lunch special for $10 a person. Best sushi deal around.

phone: +1 918-508-7676

address: 309 E. 2nd St

Yokozuna is an Asian restaurant and sushi bar located in the historic Blue Dome District. Enjoy delicious food, unique drink selections, and relaxing atmosphere in Tulsa's great downtown.
Chinese
Great Wall Restaurant

phone: +1 918 494-8652

address: 7105 South Yale Ave

This modest restaurant features a Mongolian-style BBQ, several traditional Chinese dishes as well as contemporary Chinese-American fare, and the best fried rice on the planet. Dinner is served family style with white rice, and dinner entrees cost between $7 and $15. Lunch combos (with fried rice) are available 6 days a week (only excluding Sunday) from 11AM to 3PM and costs between $5 and $8 per meal.
Mexican
Agave Mexican Grill

phone: +1 918 826-8542

address: 8221 U East 61st St

A recommendation for any itinerary in South Tulsa.

El Rio Verde

phone: +1 918 592-2555

address: 38 North Trenton Ave
Pizza
Hideaway Pizza

address: (2 Locations) 15th and Cherry Street, 51st and Memorial

Since 1957.

Pie Hole Pizzeria

address: 2708 E. 15th St

New York style slices at a good price. Amazing specialty pizzas.

address: E 105th St

An "Authentic Chicago Style Pizzeria" that serves deep dish pizza. They stay true to Chicago style pizza by making that the theme of the entire restaurant. In the mood for a bar? Check out "The Friendly Confines" on the lower level of the restaurant. Accessible from the parking lot, this is the sports bar section of the restaurant open to anyone until night time when the bar closes to anyone under 21. The bar stays open later then the it's restaurant counterpart on the floor above.

Tulsa's Incredible Pizza Company

phone: +1 918 294-8671

address: 8314 E 71st St

It has 96,000 square feet and is a restaurant and amusement park, includes an all-you-can-eat pizza and salad buffet, indoor go-kart races, bumper cars, miniature golf, bowling, and a game arcade.

Umberto's Pizza

address: 3228 E. 21st St

Has a "college" atmospherenot upscale but friendly. Motto: "We toss 'em, they're awesome."
Thai
Bangkok Thai

phone: +1 918 663-4880

address: 3313 E 32nd Pl.

Thai buffet with lots of vegetarian options.

Lanna Thai

address: 7227 S. Memorial Dr

Thai Food with live band some nights.
Vegetarian and vegan
Be Le Vegetarian Restaurant

phone: +1 918 499-1414

address: 6634 S Lewis Ave.

Vietnamese and Chinese food made with faux meats and faux fish.

Souper Salad

address: 61st and Memorial

Not what it used to be.
Drink
Bars & taverns
Pubs
Coffee
Music
Sleep
Budget
Mid-range
Splurge
phone: +1 918 587-8200

address: 1324 S. Main St

Also housing the excellent Chalkboard restaurant.

phone: +1 918 582-6296

address: 115 West 5th St

Once regarded as the preeminent Tulsa luxury hotel when she opened in 1925, The Mayo Hotel has returned, more brilliant than ever. The Mayo sets a new standard of value, boasting convenient amenities, superior services and an exclusive address in the heart of downtown.

phone: +1 918 627-5000

address: 10918 East 41st St
Connect
Tulsa County has more Wi-Fi spots than anywhere else in Oklahoma (as well as most of the Great Plains), making it a major tech hub in the region. If you need a Wi-Fi link, check into any number of restaurants and cafes and you'll be sure to find one.
Central Library is across the street from Denver Station, the central city bus station. There's usually a few free Internet terminals you can use there or at any of the 24 other public libraries.
Stay safe
Take precautions as you would in any other larger American city. Generally speaking, the areas of Tulsa immediately north and east of downtown have a rough reputation and caution should be taken.
The tornado sirens are tested at noon on Wednesday, but they are not tested if it is rainy, stormy, or very windy. You might want to check the
tornado safety
page if you are visiting Tulsa. Tornado season is normally in the spring and early summer, but they can occur anytime during the year.
Oklahoma Weather is very harsh on road conditions and road repairs are needed on an almost yearly basis. Please be prepared to slow down or stop for road workers as fines double for accidents in work zones as specified by Oklahoma State Law.
Swimming in the Arkansas River is inadvisable due to the large amounts of pollution and the currents created by the dams near downtown.
The intersections along 71st Street, especially the one at Memorial, are amongst the most dangerous in America. Drive defensively.
Go next