Ulan Ude
Ulan Ude
(
Russian
: Ула́н-Удэ́
oo-LAHN oo-DEH
) is the capital of
Buryatia
, known during Soviet times as the Buryat Autonomous Soviet Socialist Republic.
Understand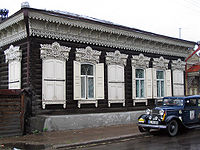 Ulan Ude, originally called Udinskoye, is in an area of Russia called
Buryatia
, named after the nomadic Buryat Mongols that first settled in the area. In the 1650s, as a result of a split in the Russian Orthodox Church, a group of people called the "Old Believers" were forced to flee their homes and escape to Siberia in order to freely practice their religion. The settlement was officially founded in 1666 by Russian Cossacks as a fortress. Due to its location on trade routes between Russia,
China
and
Mongolia
, it developed into a prosperous trading town. It grew further when it became a hub for the
Trans Siberian Railway
in 1900 and the locomotive manufacturing industry dominated the economy. Ulan Ude means "Red Ude" in the local Buryat language. The city was closed to foreigners before 1991.
Buryat Mongols make up over 20% of the population of Ulan Ude, and the Mongolian cultural influence on the city is very noticeable. However, much of the original Buryat culture and religious buildings were destroyed by the Soviets in the 1930s. Shamanism, Buddhism, and Orthodox Christianity are all commonly practiced in Ulan Ude. There are approximately 400,000 inhabitants.
The city is situated at the intersection of the Uda and the Selenga rivers and is between the Khamar-Daban and Ulan-Burgasy mountain ranges. The city is south of
Lake Baikal
, along the Uda River. Lake Baikal tourism is very important to the economy of Ulan Ude and the city is tourist-friendly.
Climate
In summer it may be very hot, and in winter it may be freezing. The months of January to March are the coldest, with the average night temperature reaching as low as -27°C in January (though temperatures well below -50°C have been recorded!). April and May are also cold, but usually it is above freezing. June to August are the most pleasant months with lots of sunshine and temperatures rising to the low 20s. September and October are bracing months, but not yet very cold. November and December again see a return to freezing temperatures of around -10°C to -20°C. Also, the whole of Buryatia, and Ulan-Ude in particular, is considered to be the place where there are the most sunny days during the year, compared to other places in the area.
Humidity is low, so the extreme temperatures don't feel as extreme as they would in humid areas.
Get in
By plane
phone: +7 301 222-79-59

The airport serves approximately 300,000 passengers per year. There are regular flights to many major Russian cities including Moscow (7 hour flight, ), Krasnoyarsk, Vladivostok, Blagoveshensk, Irkutsk, Khabarovsk, and Novosibirsk, as well as international flights to Ulaanbaatar, Beijing, and Seoul.
Buses #55 and #77
operate between the airport and Ploshchad Sovietov, the location of the giant Lenin head, in the city centre. To reach the airport bus station, walk straight out from the airport and turn left at the crossroad then continue walking for 5-10 minutes. The bus costs . Alternatively, taxis should cost if negotiated in advance and the journey to the city centre by taxi takes approximately 20 minutes.
By train
The train station is located in the city centre, a 5 minute walk from the main street, ulitsa Lenina.
All Trans-Siberian trains stop at Ulan Ude, which is from the
Moscow
commencement point.
Train timetables and fares can be found on the
RZD website
. There are several daily trains to
Moscow
(95 hours, ),
Krasnoyarsk
(25 hours, ),
Irkutsk
(8 hours, ),
Novosibirsk
(40 hours, ),
Omsk
(50 hours, ),
Yekaterinburg
(63 hours, ),
Perm
(70 hours, ),
Vladivostok
(61 hours, ),
Ulaanbaatar
(22 hours, including a 12-hour scheduled stop at the border), and
Beijing
(66 hours, once per week).
Ulan-Ude is the first major Russian city on the train journey from
Mongolia
.
By bus
The bus station "Selenga" (also known as "Yuzhniy") is at Korabelnaya st 32, at the end of Sovetskaya st. It is from the train station and it can be reached on foot or by marshrutka #30 or #29. There is a baggage storage room open from 8:00AM to 8:00PM. Sometimes it is referred to as the "South Bus Station"; however, the north bus station no longer exists.
Note that many buses/marshruktas, including those to
Irkutsk
,
Lake Baikal
,
Arshan
, and
Chita
, also stop at or leave from the train station. Buses/marshruktas are generally less comfortable than the train; however they are usually cheaper and faster. Many small towns in Buryatia cannot be reached by train, and bus is the only public transportation option to reach these areas.
There are daily buses to/from Ulaanbaatar, departing from either city at 7:30AM for the 10-12 hour journey. Tickets can be purchased at travel agency offices for . The bus is much cheaper and faster than the train.
Minibuses operate a service to the Mongolian border town of Kyakhta. The buses depart every hour from 7:00AM to 7:00PM and the 3-hour journey costs . The minibus driver will most probably ask for extra for each piece of luggage.
There are buses/marshrutkas to Lake Baikal (3 hours, ), Irkutsk (9 hours, ), Arshan, and Chita, departing from the Ulan-Ude train station. Tickets can be purchased from the driver. The buses usually leave early in the morning, once full.
Get around
By foot
The central tourist area of Ulan Ude is compact and is very walkable.

By taxi
Taxis are plentiful but drivers rarely speak any English.

By public transportation
There are marshrutkas, buses, and a few tram routes. Trips on public transportation cost less than .

See
City center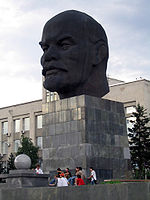 The World's Largest Lenin Head is in Ploshchad Sovietov, the main city square. The head is 7.7m tall and weighs 42 tons. It was unveiled in 1970 in honor of Lenin's 100th birthday and to remind the local population who was in charge. It is now a common meeting place.
The merchant's mansions, richly decorated with wood and stone carvings. Historical relics of the town's prosperity as a trading center. The mansions are located along the banks of the Uda River.
Lenina Street, also called Arbat street. Part of the street is pedestrian-only. It is the main place for meeting, walking, shopping for locals and a good place for people-watching.
Gostiniye Ryady, the former shopping arcade.
Revolution Square was the location of bazaars during historical times. There is a victory arch with a two-headed Russian eagle.
Embankment of Selenga (at Pioner mall, close to main bus station). A good place for people-watching.
Museums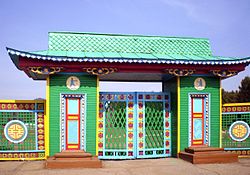 Ethnographic Museum of the People of Transbaikalia Culture

phone: +7 3012 33-25-10, +7 3012 44-33-10

address: Verhnaya Beriozovka

An outdoor museum. Old homesteads, including some 17th century Cossack houses, and Buryat wooden yurts have been relocated to the site, and along with reconstructed streets representing traditional Buryati homes. Includes a small zoo.

City History Museum / History of Ulan-Ude

phone: +7 301 221-25-22

address: Verhnaya Beriozovka

In a house that formerly belonged to a wealthy tea merchant. Includes an exhibition to Pandito Hambo-Lama XII, Dasha-Dorzho Itigelov, leader of the Buddhists of East Siberia between 1911 and 1917.

Museum of Buryatia History

phone: +7 (3012) 2 21 70

address: Profsoyuznaya ul., d. 29

Rare books, clothing, and artifacts from the region, including those from Shamanism, Buddhist, and Christian religions. The highlight exhibit is a rare illustrated book from the 17th century on Tibetan medicine.

Museum of Buryatia Nature

phone: +7 (3012) 2 48 33

address: Lenina Str., 46

Includes exhibits on the animals, botany, and geology of the area.

Sampilov Museum of Fine Arts

phone: +7 (3012) 2 29 09

address: Kuibysheva ul., d. 29

Also known as the East-Siberian Hermitage, this museum contains over 7,000 pieces of fine art from the Buryatia region.



Religious buildings

Odigitrievsky Cathedral (at the beginning of Lenin street, near river Uda). Built in 1741 in honor of the Madonna of the Odigitria. The first stone building in the town.
Rimpoche bagsha, buddhist center Streletskaya st., 1. (Take bus #97 from Baikal Plaza hotel at Lenin's head square to the last stop) A new nice lama temple with a scenic panoramic view of the whole city. The temple should be explored for about an hour. It can be quite windy up there, so don't forget to dress warm.
Ivolginsky datsan Buddhist Monastery — from the city. (Take Bus #130 from a bus stop just north of the bus station to Ivolginsk village- 40 minute ride, . Get off at the last stop and take a marshrutka to the Monastery - 10 minute ride, ). This is the centre of Buddhism in Russia, being with permission from Stalin. Although the Dalai Lama has visited several times, many tourists find the temple to be kitsch. Near of the datsan you can buy souvenirs cheaper than in the centre.
Bolshoi Kunalei is a nearby village where the Old Believers, called "Semeiskiye", live. They will sing songs for visitors and you will be treated to homemade wine.



Buy
Cedar oil (Кедровое масло) and other cedar products are a specialty of this region. Small Buddha statues are a common souvenir and are said to bring good luck. Mongolian socks, muttons, hats etc. out of camel wool can serve as a gift too.

Eat
Try local buryat cuisine. Mainly it's small meat dumplings called "buuza", steamed "Pozi", fried "Sharbin", or "Khushuur". Soups include meat broth "Bukhlyor" and noodles "Shuleen". Sweet baked goods served with jam or condensed milk are called "boovy".
The fish "omul" is unique for the region, as it exists only in the Baikal lake; the fish's meat should be transparent.
Local cuisine
Appetite Lenin's head looks at it. Quite cheap, tray style, russian food, free wifi.
"Museum" cafe, Lenina str, 46; on a way from Lenin's head to Arbat street (11.30-19.00). 150 r/meal
"Baatar orgoo" YURT GER cafe, Verhnaya Beryozovka, Dokuchaeva str.11. Only minibus 37 goes there. You can take it from Baikal Plaza hotel bus stop, tell a driver to stop at "KAFE YURTA". Takes about 20-30 minutes drive. Only traditional food and very nice atmosphere. 500-700 r/meal
"Buuza" cafe/bar, Communist str. 41a; on tram tracks, near hotel Siberia, 3 mins from Lenin's head
"Tenghis" restaurant , Yerbanova str. 12; Inside Baikal Plaza hotel
"Student snacks" cafe/bar, Razhurova str. 1; just behind Opera house
Marusia Lenina st., 46; russian cuisine

Ulger Restaurant & Cafe

phone: +7 2012 21-21-09

address: Kirova str., 8

A restaurant with traditional Russian and Buryatian food. A nice terrace outside..

Zolotoy Drakon

phone: +7 2012 21-80-66

address: Lenina St., 46

Chinese restaurant

Churchill pub&grill

address: Lenina St.

On Lenin street opposite the Lenin's head. A restaurant in european style, with various meats prepared mostly on a grill. Price around . Probably one of the nicest/most expensive restaurants in town with staff speaking English.
Supermarkets
Food can be bought in shops; look for the signs with "магазин" ("Magazine", literally: store).
Titan Supermarket
Slavyanskiy bazar on Smolina street near intersection with Sovyetskaya street.
Absolut Supermarket



Drink
The local Baikalpharm brand of vodka is very popular and a bottle makes a great souvenir.
Cafes
Dacha Lenin's head looks at it. Great place!
Marco Polo Kommunisticheskaya st., 46; coffee house, breakfast, salads
Safari Erbanova st., 20; coffee house
Shokolad Karl-Marks blvrd, 11; top recommended coffee house. It's located just opposite the new Russian drama theater which is about 15 minutes by tram. Nice location, nice coffee
Sleep
Most hotels and hostels offer free WiFi and many have computer terminals. Almost all accept credit cards. Hotels and hostels will usually provide a visa invitation and registration for an additional fee.
Budget
Mid-range
Splurge
Stay healthy
Connect
Phone
The international code for Russia is +7; the code for Ulan Ude is 301.
For information on purchasing a SIM card in Russia, see
Russia#Contact
.
Note that SIM cards purchased elsewhere, such as in
Moscow
or
Saint Petersburg
, may be subject to roaming charges.
Internet
Free WiFi is available in most hotels, shopping malls, university buildings, cinemas, restaurants and cafes, and some public areas and parks. There are also plenty of WiFi hotspots for which you must pay. There are internet cafes in the city centre. You can also buy a mobile GPRS card to enable data transfer via the cellular networks. For more information, see
Russia#Contact
.
Cope
Consulates
Mongolia

phone: +7 3012 21-52-75

address: Profsoyuznaya street, 6
Go next
In addition to continuing on to cities on
Trans-Siberian Railway
and the
Trans-Mongolian Railway
, it is worth making a diversion to
Lake Baikal
, the deepest and oldest lake in the world and, by volume of water, also the largest freshwater body of water. It contains 20% of the world's liquid fresh water and is deep. The lake can be reached by bus.