Uluru-Kata Tjuta National Park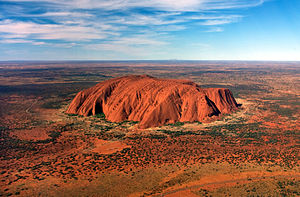 Uluru-Kata Tjuta National Park
is a park in the southern portion of the
Northern Territory
of
Australia
, part of the so-called
Red Centre
of the continent. The National Park is a
UNESCO World Heritage
area. It is best known for
Uluru
(also known as
Ayers Rock
), a single massive rock formation, and also for
Kata Tjuta
(also known as "The Olgas"), a range of rock domes.
Yulara
is the only service village nearby, built to offer supplies and accommodation for visitors to the park.
Understand
Visitors should understand that there are three locations that need to be familiar with when visiting. Firstly, the airport - that is known as Ayers Rock airport. Secondly, the National Park - that contains both the Rock (Uluru/Ayers Rock) and Kata Tjuta/The Olgas. The park closes at night has few services and no accommodation or camping. Thirdly,
Yulara
that is the resort town that contains all the services for the area. The three locations are all distinct, and you need to consider how you will travel between them.
Uluru
and
Kata Tjuta
are considered sacred places by the Aboriginies. The land is owned by the Anangu, leased by the government and jointly managed by the Anangu and the Australian parks and management services and visitors will notice efforts throughout the area to include and encourage respect for the Anangu perspective on the land.
Much of
Kata Tjuta
is off-limits, for example, and climbing
Uluru
is also illegal. A few areas around the base of Uluru are also off-limits for photography, although there is no problem with it throughout most of the park. In practice, however, the daily management of the parks is handled by members of the Australian parks department.
It is no longer allowed to climb Uluru.
Uluru is sacred to the Anangu people of the area, who ask that visitors do not climb it. They say that the climb follows the track that the ancestoral Mala men took to get to the top for ceremony. They say that when you climb, you are on their tracks.
In addition, there are safety and environmental concerns - at least 35 people have died while climbing Uluru - albeit most accidents occur when leaving the marked trail. There are no toilet facilities on the track or on top of Uluru. The erosion caused by visitors climbing Uluru has also damaged it.
As a result, climbing Uluru is banned from October 2019.
Visit the Cultural Centre first to learn more about the park and what makes Uluru so significant to the Anangu people.
History
The
Anangu
people have connected to the area for thousands of years. Some records suggest they may have been there for more than 10,000 years. On an expedition in 1872, the explorer Ernest Giles saw the rock formation from a considerable distance, although he did not reach the base. Giles described it as "the remarkable pebble". In 1873, the surveyor William Gosse followed his footsteps and reached the rock. He chose to name it in honor of the Chief Secretary of South Australia, Sir Henry Ayers. Giles himself chose to name the domes nearby for Olga, the Queen of Württemberg.
The names
Uluru
and
Kata Tjuta
come from the local Anangu people and respectively mean "Earth Mother" and "Many Heads". In the Anangu language they are written as
Uluru
and
Kata Tjuta
, the letters with underscores indicating that they are pronounced with the tongue curled upwards and touching the upper part of the palate instead of the front part or the teeth.
Eventually, the Australian government moved to a dual-naming policy - initially "Ayers Rock / Uluru", and then "Uluru / Ayers Rock". Both names are still in frequent use. Although most official materials use the Anangu names.
Landscape
Uluru
is one of Australia's best known natural features, the long domed rock having achieved iconic status as one of the symbols of the continent. The rock is a so-called monolith, i.e. a single piece of rock or a giant boulder, extending about 5 km beneath the desert plain and measuring 3.6 by 2.4 km at the surface. It rises 348 metres above the plain (862.5 metres above sea level) and has a circumference of 9.4 km. Some say that Uluru is the biggest of its kind, others say that
Mount Augustus
in
Western Australia
is bigger. Whatever the case may be, standing in front of Uluru and seeing its massive bulk rise above the flat plain surrounding it, it is nothing less than impressive. The rock undergoes dramatic colour changes with its normally terracotta hue gradually changing to blue or violet at sunset to flaming red in the mornings as the sunrises behind it.
But the rock also extends some 2.4 km (1.5 mi) underground. The Anangu Aborigines believe this space is actually hollow but it contains an energy source and marks the spot where their 'dreamtime' began. They also believe that the area around Uluru is the home of their ancestors and is inhabited by many ancestral 'beings'.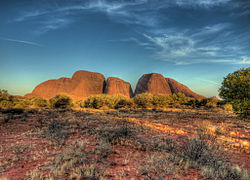 Kata Tjuta
is a collection of 36 variously-sized rock domes 36 km to the west of Uluru. Some geologists believe that it once may have been a monolith far surpassing Uluru in size, but that it eroded to several separate bulks of rock.
Flora and fauna
Apart from these two main features the park also protects hundreds of plant species, 24 native mammal species and 72 reptile species. To protect these, off-road access away from Uluru and Kata Tjuta is not allowed.
Climate
In December and January, the temperature can be blistering hot with temperatures exceeding 45 °Celsius, and occasionally tipping over 50, and some areas may be closed for travellers' safety. July and August can see minimum overnight temperatures drop to as low as minus 10 Celsius, with day time maximums occasionally only reaching as high as 15 degrees Celsius. April and September offer a more temperate climate, although still warm enough to work up a sweat at mid-day.
Get in
By car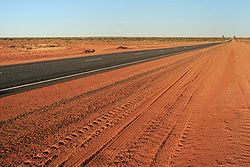 From the north, in Alice Springs take the Stuart Highway (87) South for about 200 km to Erldunda Roadhouse. Turn right onto the Lasseter Highway and 245 km further on you arrive at Yulara). It's a sealed tarmac road - a bit of a sloping surface in places, but you can easily drive along at 120 km/h. Far more cars on the road than you would imagine, and every driver waves hello to you (that's what you get in these far off places!) Plenty of places to stop and picnic and get water, although no toilets unless you stop at an official roadhouse (few and far between). There's lots of wildlife to see too: camels, cows, dingos and birds.
Cars can also be hired in Alice Springs. It is a 450-km drive to the resort from Alice, and should take between 4 and 5 hours. There are petrol stations along the Stuart Highway and the Lasseter Highway. Be sure to top off your tank when you can. In addition, if you have an early flight from Alice Springs and plan to drive back in the morning, be sure to top off the day before, as fuel in Yulara is not open 24 hours - and they won't be open if you leave pre-dawn.
To the south the nearest town is Coober Pedy. Take the Stuart Highway north to Erldunda, 550 km away.
From the west the Docker River Road ends near Kata Tjuta. As this road is considered part of the Gunbarrel Highway, you will find detailed information in that article.
Driving at night can be dangerous because of animals on the road, particularly kangaroos and cows (Lasseter Highway goes through cattle station land and is not fenced in all the way). Rental car agreements often prevent doing this drive outside daylight hours.
By tour
A number of tour companies based in Alice Springs visit Uluru-Kata Tjuta National Park. Note that the majority of the companies listed below are
not
based in Alice Springs but are re-sellers of the local operators. You may find it cheaper to visit Alice Springs and book a tour directly with a local operator. Tours range from basic 1-day bus tours (beware, this means at least 1,000 km of driving in 1 day) up to 5 days long, also often visiting Kings Canyon and the MacDonnell ranges on the way.
Tour companies also provide longer tours from many of Australia's capital cities including Adelaide, Sydney and Melbourne.
phone: +61 418328397

Eco-certified small group and private tours depart from Melbourne traveling to outback NT. SA family-owned and -operated.

phone: +61 8 8300 4900

address: 30 Kidman St, Alice Springs NT 0870, Australia

Wayoutback is offers two styles of tours to Uluru -budget adventure, backpacker style trips and more comfortable 4WD style tours with permanent tents. Their 1 day / 1 night tour only visits Uluru, and the other longer trips branch out to explore other highlights in the Red Centre.
By bus
There is no scheduled bus service. Some tour operators may offer travel only if there is room on their buses.
By plane
Some travellers also fly to Alice Springs and drive or take a tour from there, but it is well over
5 hours drive
from
Alice Springs
to
Yulara
. Unlimited mileage car hire is not common in
Alice Springs
if you arrive and hire a car on the spot from the majors. Travel agents and the government tourist office do have access to unlimited mileage rates.
Flights from
Alice Springs
cost around $120 upwards with Qantas.
By bicycle
The sealed road from the Stuart Highway makes for a pleasant & relatively easy cycle tour, undertaken each year by dozens of travellers. Bicycle travellers need to be well prepared in terms of mechanical reliability, water & food, and will need to "bush camp" several nights at least.
Fees and permits
A three-day permit to enter the National Park costs $25. A permit to enter the park may or may not be included in a tour you book. Ask your booking agent if your tour fee includes the permit to enter the park.

Get around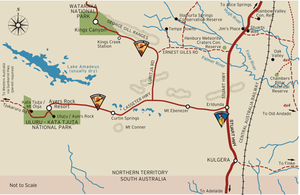 The big rocks are actually a little distance from
Yulara
, where the accommodation and facilities are. If you are not with a tour, or didn't bring your car, you will need to decide how best to get to these locations. Hire cars can be expensive, and have limited kilometres; however shuttles to and from the rock are also expensive, so do the maths and see what works best for you.
Cars can be rented nearby at Ayers Rock/Connellan Airport or at Yulara. The roads around Uluru and Kata Tjuta are all sealed, paved and well-maintained so you don't require a 4WD. Vehicles drive on the left, but there isn't much in the way of traffic in the area - people accustomed to driving on the right can probably manage it. Be aware of additional charges that may apply Including premium location or one way surcharge. Also ensure you book early so you are not disappointed.

phone: +61 3 9915 1500

AAT Kings operate bus sightseeing tours of the park, including sunrise over Uluru and Kata Tjuta. Tours range from $40 to $150.
Ayers Rock Tours. Many of the longer tours of the Ayers Rock Region depart and return to Alice Springs. Some will pick up at Ayers Rock but do not drop back at Ayers Rock. If you are wanting to do a 3-day or 5-day tour and experience the entire region it is best to start and finish in Alice Springs.
Uluru Express offers unlimited access to the Park from your choice of hotel at Yulara for 2-days or 3-days at a cost of $155 or $170, respectively. This cost does not include admission to the park. This is a great deal for those who wish to see all the attractions in the park at their own pace. Other trips are available.
See
Uluru the sunrise viewing area Talinguru Nyakuntjaku (which means 'place to look from the sand dune') is on the Eastern side of Uluru. It gives you a raised viewing area, and you can also see Kata Tjuta to the side from the viewing point, and a sunset viewing point between the Kata Tjuta turn-off and the cultural centre. In addition, the area also has 1.6 km of walking tracks, carpark, shade shelters, toilets and an area that can be used for concerts. The previous sunrise viewing area that actually allowed you to see the sunrise over the rock is closed because it allowed viewing of a sacred site. If you only have one sunrise during your stay, you may choose to view Kata Tjuta.
Kata Tjuta -- also has a well-marked sunrise and sunset viewing point on the road leading to the domes.
The Cultural Centre -- built in 1995 to mark the 10th anniversary of Handover (the process by which land was given back to the traditional owners, and Ayers Rock became Uluru). It's worth a visit before walking around Uluru as it hosts a multitude of aboriginal creation stories and extensive articles about the history of the Pitjantjara. There are shops where you can buy local art and souvenirs. It's also a good place for a rest after trekking around Uluru.
Field of Light art installation - also known as Tili Wiru Tjuta Nyakutjaku, meaning 'looking at lots of beautiful lights' in the local Pitjantjatjara language, installed by British artist Bruce Munro will be in place until 31 December 2020. Tickets are $43 for adults.
Do
Uluru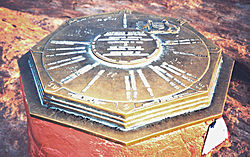 The Uluru base walk (9.8 km) will take 3–4 hours. Most people walk clockwise on the track but a few kilometres along this track the crowds thin out to just an occasional walker.
The Mala Walk (2 km) This track begins at the Mala Walk car-park and ends at the inspiring Kantju Gorge.
The Liru Walk is a walk between the cultural centre and the base of Uluru. Its 4 km and takes about 1 and a half hours.
The Kuniya Walk is an easy 1 km walk to the Mutitjulu Waterhole on the Southern side of Uluru. There is some rock art here also in the rock shelter, and a good place to learn about the Tjukurpa (pronounced Chook-a-pa) of the area.
Some tour operators, eg AAT Kings, offer a "Cultural Walk tour" which incorporates the Mala and Kuniya walks.
Kata Tjuta
The Walpa Gorge walk (2.6 km) is the shorter - and easier - of the two walks around Kata Tjuta.
The Valley of the Winds walk (7.4 km) at Kata Tjuta is truly magnificent and should not be missed. The walk consists of a single path to the first lookout point. From this point, the walk enters further into Kata Tjuta, where a loop trail brings you to the second lookout point. The counter-clockwise (left-round) direction is recommended. The complete walk (to both lookouts) takes about 3 hours, and carrying bottled water is advised, although there are two water stations along the route. The walk beyond the first lookout may be closed during extreme weather. As with the Uluru climb, a sign at the park entrance will advise visitors whether the walk to the second lookout is open. This walk is best during the early morning hours, before the large crowds arrive, permitting you to see more wildlife. The walk beyond the first lookout will be closed at 11:00 if the forecast high temperature is above 36 degrees C, which is very common in summer. The walk is also over rocky and hilly terrain. Therefore, good hiking shoes are not only recommended, but should be required.
The Kata Tjuta Dune Viewing Area is a short walk off the road to Kata Tjuta. It gives you a great view to Kata Tjuta, and as the name suggests its located on the top of a sand dune. It also gives a good view of Uluru from a distance. 600 m and allow at least 1/2 hour.
General tours
Helicopter tours can be arranged at Yulara. They range from short buzzes over Uluru and/or Kata Tjuta to longer trips taking in more of the landscape, and possibly King's Canyon as well.
Camel to sunrise or sunset Another wonderful experience - cost is $95 pp. You are taken from the resort to the camel farm where you are instructed on what you need to do. The owner is very friendly. The camel trek is through surrounding desert, giving good views all around with a talk on camel history and the area, before reaching a viewing point to watch the sun rising or setting on Uluru. The camels are well cared for animals, not at all smelly, and all very well behaved. At the camel farm there is home made beer bread with wattle seed dip, camel meat, bush fruits and a variety of drinks. There is also the opportunity to purchase from the gift shop.
Buy
Souvenirs are available at the Cultural Centre or at several shops in Yulara. They range from standard shirts, caps and knick-knacks to authentic (and, accordingly, expensive) Anangu art. Food, drinks and photographic equipment are available in Yulara.

Eat
The Cultural Centre near Uluru offers surprisingly good - and often vegetarian-friendly - fast food for reasonable prices.
The Sounds of Silence Dinner is an extremely popular - albeit expensive ($159 per adult) - night under the stars. Advance bookings (e.g. 3–4 days) are essential even in low seasons. Coaches take diners from Yulara to one of a few dining areas out in the desert. Champagne (or beer, upon request) are served while the sun goes down over Uluru and the inevitable didgeridoo plays. The clean, elegant dining area is lit by table lamps. The food is served buffet-style, but it's cooked with the attention of a gourmet chef (considering the circumstances). Between the main course and dessert, a star talker guides you through the stars that are out that night, and telescopes are available afterward. There is also a camp fire in the winter. Reservations can be made at travel agents or the various tour offices around Yulara. Ostensibly, reservations can be made over the internet as well, but it's a good idea to follow-up by phone, as coordination between the resort offices and the tour company is spotty at best.
Desert Awakenings, occasionally available, is a breakfast version of the aforementioned Sounds of Silence. It includes a guided tour around the base of Uluru and ends at the Cultural Centre.
Drink
Water! And lots of it. No alcohol is sold outside of
Yulara
, and tribal elders have asked visitors not to sell or give alcohol to local Aborigines.
Sleep
There is
no accommodation
inside the park, and
no camping
is permitted within the park boundaries. The park closes overnight.
Accommodation from 5-star to camping is available in at the resort village of
Yulara
, just outside the park boundary. See that article for details.
About an hour short of Yulara (coming from Alice Springs) is
Curtin Springs Station
, which offers free unpowered camping, and $25 per night for powered sites. They charge $2.50 for a shower. You can "bush camp", but it's not recommended.
If you are interested in Aboriginal culture, consider staying at Mt Ebenezer. It's 200 km away, so you won't see the sunrise at Uluru, but it's good for a night's stop if you are late getting away from Alice or Uluru. Whilst the accommodation is relatively basic, it is one of only a few Aboriginal-owned roadhouses in the Territory. Go out the back and you will see an art room for members of the local Imampa Community, and you can buy art directly from the artists. Don't be put off by not being served by an Aboriginal person, this is due to their culture, but rest assured it is owned by the local community.
Stay safe

Unless you're well-equipped with an appropriate vehicle, supplies and maps, stay on the sealed roads. Keep an eye on your fuel supply before you set off anywhere.
Keep plenty of water with you at all times while you're hiking. Whether or not you're thirsty, stop for a drink at least once an hour. The temperatures can be extreme during the summer (particularly December to January). Wear a hat and don't be shy with the sunscreen. Expect to be annoyed by flies, particularly on some stretches of the Valley of the Winds walk.
Wear comfortable walking or hiking shoes. Some of the terrain you may be traversing will be steep and covered with loose stones. Thongs, flip-flops, boat-shoes, and loafers are not recommended for the Uluru Climb, the Valley of the Winds walk, nor the Gorge walk. Runners (sneakers) are acceptable.

Go next
Curtin Springs Station makes a good base for a trip to
King's Canyon
, a similarly magnificent geological wonder. Make sure you fuel up in Yulara until Alice Springs when going that way, as fuel prices on the way are unbearable!