Umbria
Umbria
is a region in
Italy
. It is one of the smaller regions of Italy, has no large cities and a total population of less than a million but what it lacks in size it makes up for in the beauty of its agricultural land and in a large number of fascinating small towns to visit.
Provinces
Cities
North
– the capital of Umbria, a lively university town with a fascinating medieval center.
– picturesque lakeside town with many restaurants and shops.
– Burri Collection (modern art) and the Pinacoteca Comunale art galleries.
– a center for ceramics.
– described as one of the most beautiful medieval towns in Italy.
– beautiful hill town, birthplace of mercenary captain Braccio Fortebraccio.
– a fascinating wine museum.
– superb countryside around this market town on the River Tiber.
Central
– home of St. Francis and a major religious center, the Basilica has the world's best medieval art collection frescoed on the walls.
– small but fascinating town.
– Red–bricked town. Home of the painter, Il Perugino.
– home of Italy's first printing press.
– Great red wine.

– famous for its Infiorata flower festival on Corpus Domini Sunday when the streets are covered with intricate flower designs.
– famous for its Festival of the Two Worlds.
– close to the source of the Clitumnus River, a location much admired by the Romans and, among others, Byron.
South
– has the largest Roman bridge ever built.
– great cathedral, Etruscan sites.
– old Roman town on the banks of the River Tiber.
– the main industrial town of Umbria.
– impressive hill town with much to see.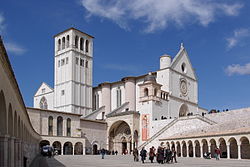 Other destinations
– a village literally called Bastard
– beaches, swimming, walking and watersports
Understand
What's now Umbria was in large measure part of the land of the Umbri people, who vied for power with the Etruscans before ancient Rome defeated both tribes. Perugia was a town of the Umbri, then an Etruscan hill city.
Orvieto
was also an Etruscan hill town. The
Roman Republic
established a presence early, with Spoletium, now
Spoleto
, first noted in 241 B.C. Starting in the 15th century A.D., Umbria was part of the Papal States until Italian unification, with the exception of a short period of French rule under the
Napoleonic Wars
.
Today, Umbria remains a mountainous region with much forest and farmland, dotted with small and middle-sized cities. As in the days of ancient Rome, it is a retreat for harried inhabitants of big cities like Rome and Florence.
Talk
Umbrian accents are audibly different from Tuscan or Roman accents, but not markedly so. You will have no problems if you speak Italian. If you do not speak any Italian, you'd be well advised to learn what you can, although as in the rest of Italy, you will find some English-speakers.

Get in
By car
The A1 Autostrada that connects Rome and Florence provides impressive views of
Orvieto
, a town in Umbria, just to its west. However, most of the rest of Umbria is to the east of the Autostrada. The main access roads to Umbrian towns from the A1 are at
Orte
, if coming from Rome, and the Siena-Perugia highway if arriving from Florence.
By train
The main Rome-Florence railway line has a station at Orvieto, but not all trains stop there. A line also connects Rome with Florence via towns such as
Spoleto
,
Assisi
and
Perugia
.
By plane
There is a
small airport
at
Perugia
(
PEG
), with Ryanair offering direct flights from there to London Stansted, Brussels and Trapani. Wizz Air offers flights to Bucharest, Air Dolomiti offers flights to Munich and Blu-Express offers flights to Tirana.
Further afield, there are the airports in Rome which are about three hours away on the roads and Naples Airport which is about five hours away.

Get around
All Umbrian cities are small and can be easily seen on foot. To travel between cities, a car is convenient if you don't mind the sometimes hilly roads, but there are also several train lines and bus lines in the region. Information (in Italian) is available on the
Busitalia
website, including a new
all-inclusive ticket
for most of the public transport in Umbria.
Eat
Black Truffles
The unmistakable taste of the world famous tartufo nero is absolutely rife in Umbria. Almost every restaurant in the region will sell some form of the ingredient in one or more of its dishes. The Umbrians are very proud of their truffle usage and it has become the unofficial 'food of the region'. However, its frequency in the area does not mean its price is lower, and you will still find yourself forking out quite a bit of money for a decent truffle dish. Still, at least it's cheaper than the extortionate white truffle found elsewhere, and its flavour is no less impressive (if somewhat more overpowering).

Drink
Umbrian wine

Over the last few decades the quality of wine from Umbria has been steadily going up. Umbrian wines are often better value than wines from neighbouring Tuscany because they are less well known. For example, when trying equivalently priced Montefalco Rosso (from Umbria) against a Rosso di Montalcino (from Tuscany), more often than not, the taster will prefer the wine from Montefalco.

Red wine

Umbria has two red wines with the top Italian wine classification, DOCG (Denominazione Origine Controllata e Garantita), Sagrantino di Montefalco and Torgiano Rosso. Both these wines are grown in the hills south of Perugia, Umbria's capital city. The Torgiano Rosso DOCG was created because of the superb wines being made at the Lungarotti winery in the town of Torgiano. Sagrantino di Montefalco is made by several cantinas (wineries) with vineyards in the hills near Montefalco. This powerful red wine is made from 100% Sagrantino grapes, a variety grown only in this area. The wine has to be aged in barrels for at least a year and can only be released 36 months after the harvest.
Montefalco Rosso is usually cheaper than Sagrantino, it has DOC status and is a blend of Sangiovese, Sagrantino and sometimes Cabernet Sauvignon and Merlot
There are many other superb red wines made outside these DOCG zones and again, the less well known an area is, the lower the price. Besides the usual Sangiovese blends many vineyards are producing superb "Super Umbrian" wines made with grapes not normally associated with the area.

White wine

Orvieto Classico is the most famous white wine from Umbria, it's made from a blend of local white grape varieties and there are some really great wines being made. Most producers in Umbria make at least one white, often with Grechetto or Trebbiano grapes.

Go next