Upper Normandy
Upper Normandy
(
French
:
Haute-Normandie
) comprises the eastern half of
Normandy
in northern
France
.
Cities
— the historical capital of the region
— an historic medieval town, the site of a remarkable castle and churches
— a small village, with a zoological park, and an automobile museum
— seaside resort, ferries to England and site of a disastrous WW2 landing by the allies
— world-famous arches in chalk cliffs
— the capital of the Eure department
— the rural retreat of the impressionist painter Claude Monet
— a port town
– small fishing port and seas side resort. Impressive cliffs.
— abbey church with restored gardens and art exhibitions
— small restored château with art exhibitions and permanent open-air sculptures
Other destinations
— beautiful valleys and apple orchards
— fantastic scenery along the meanders of the Seine
Understand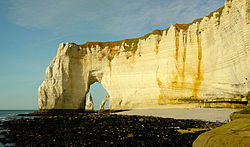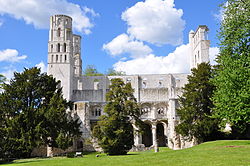 The lower valley of the River Seine runs through this region, which combines the administrative
départments
of Eure and Seine-Maritime.
Get in
See
Discover the
Alabaster Coast
: spectacular chalk cliffs, and a number of scenic towns and villages invite visitors to explore, discover and enjoy their surroundings:
At Étretat, take a walk across the beach to admire the famous chalky pinnacles and arches.
The beaches of Quiberville and Pourville, where you can treat yourself to a serving of excellent oysters!
Varengeville has an old church perched high up on a rock and an enchanting park.
Veules-les-Roses is known for its ancient water mills on France's tiniest river
The Benedictine monastery of Fécamp
Inland, there are a lot of beautiful places to discover, for instance the
Saâne Valley
with its moated castle of Imbleville, or the
Château de Miromesnil
, birthplace of novelist Guy de Maupassant. Upper Normandy also has numerous
antique shops
that are known to have surprised many browsers with unexpected finds!
Do
Get centered at Tapovan Normandy: Yoga & Ayurvedic Massage Centre. Hameau de Anneville, 76540 Sassetot le Mauconduit. +33 1 45 77 90 59. Between Fécamp (12 km) and Dieppe (43 km). 60 km from Le Havre and Rouen. Set in a peaceful natural setting, this ayurvedic centre offers week-long treatments and trainings in various ayurvedic arts: Hatha & nada yoga, reiki, ayurvedic/oil massage, Shirodhara (oil treatments), vegetarian cooking, pre/post-natal massage, etc. An international colloquium is hosted in May. Closed in winter.
Go next