Västernorrland County
Västernorrland County
,
Västernorrlands län
in
Sweden
, largely consisting of provinces
Ångermanland
and
Medelpad
. The region is dominated by forests, with most of the 240,000 inhabitants living in the coastal cities of
Sundsvall
,
Örnsköldsvik
and
Härnösand
.
Cities
, county seat, and the largest city.
, a railway hub.
Sollefteå
Other destinations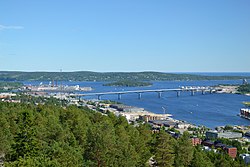 , the dramatic coast of Ångermanland has been named a
Understand
Västernorrland
("Western Norrland") might sound like a strange name for a county at the eastern seaboard. However, it represents a shift in Swedish borders;
Jämtland
(to the west) used to belong to
Norway
, while what today is
Finland
belonged to Sweden, and therefore also was considered part of
Norrland
; see
Sweden#History
.
Since the late 19th century, the county has been the centre of the Swedish wood industry.
Get in
Resrobot
is a search engine for all public transport in Sweden.
By plane
All have flights from Stockholm.
By train
SJ has direct trains from Stockholm, Arlanda airport and Umeå, to Sundsvall, Härnösand, Kramfors and Örnsköldsvik.
By bus
Y-buss has buses Stockholm-Sundsvall-Umeå
Get around
By public transportation
Norrtåg has trains Östersund-Sundsvall and Sundsvall-Härnösand-Kramfors-Örnsköldsvik-Umeå
By bus
By car
While public transportation is scarce outside the city, roads are in good tradition.
The
E4
is the main arterial road.
See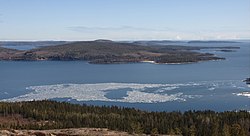 Höga Kusten (High Coast) is on the UNESCO World Heritage list. This coast line on the Gulf of Bothnia still rises at the rate of about one centimetre per year, still being affected by the last ice age.
Do
Eat