Vejle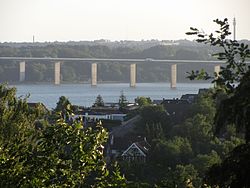 Vejle
is a city in
Jutland
, part of the
Kolding
–
Vejle
–
Fredericia
triangle. Vejle is also the regional capital of South Jutland, one out of 5 Danish regions.
Get in
By train
Vejle is on the main
Copenhagen
–
Aarhus
–
Ålborg
train line with several departures every hour. It is a stop for all trains passing through, including InterCityLyn (ICL) to and from Copenhagen Airport, and ICE (InterCity Europe) trains to/from
Hamburg
and
Berlin
.
By car
Vejle is the close to motorway E45, which passes on the Vejle bridge. This is one of the rare places in
Jutland
with regular traffic jams.
By air
Billund Airport
(
BLL
) is located about 30 km from Vejle, with several bus departures every day.

Get around
phone: +45 70201222
The local buses go from the
trafikcenter
at the train station
Sport
Vejle is home to Vejle Boldklub Kolding, an old football club formerly known just as Vejle Boldklub. The club has played its home games at Vejle Stadium since 2008 with a location in the heart of the Nørreskov in the city centre. The club has won 5 titles as Danish champions and 6 Danish Cup titles, although the last title was won in 1984.
The club is known for players such as Allan Simonsen and Thomas Gravesen, both born in Vejle. Vejle is also the club where the famous Danish forward Preben Elkjær retired.
Vejle is also known for hosting the Danish UCI Continental Circuit Post Danmark Rundt. 14 out of the 22 times that the race has been held in Vejle, Vejle has been the finishing city of a stage. The finish line is located at the end of Kiddesvej, a steep road for Danish conditions, located in the city centre. In 2012, stars such as Tom Boonen, Andre Greipel and Mark Cavendish competed in the roads of Vejle.
See
St. Nicolai Church. Old church. See the exhibited Haraldskær Woman, a well-preserved Iron Age Nordic mummy.
Vejle Rådhus. The city hall of Vejle. No public access unfortunately.

Den Smidtske Gård

address: Søndergade 14

Old courtyard in a restored timber-framed merchants house from 1799. Cafe Conrad and a branch of Vejle Museum is located here. This is one of the only medieval buildings in Vejle, before the rapid industrialisation of the late 1800s.
VejleCityHall.jpg|Vejle City Hall
The Wave, Vejle.jpg|Bølgen (The Wave). A modern iconic residential building at the harbour front.
Den Hvide Facet - Vejle - View 02.jpg|Den Hvide Facet. Vejle has several iconic modern buildings.
Bryggen i Vejle.JPG|Bryggen, shopping centre and recreational harbour front.
Musikteatret i Vejle.JPG|Musikteatret, a cultural center for music and theatre.
Kanal-Vejle.JPG|The stream of Vejle Å cuts through the city.
Lido biograf i Vejle.JPG|Lido Biograferne.
Vejle - Økolariet.JPG|Økolariet, a regional center for organic production.
Den Smidtske Gård.JPG|Den Smidtske Gård.
VejleSctNicolai.jpg|St Nicholas' Church
Dronning Gunhild (moselig).JPG|Haraldskær Woman on display in a glass-covered sarcophagus.

Do
Vejle Kunstmuseum. Art museum with a broad selection from medical Dürer and Rembrandt to abstract expressionism. A sizeable collection of Danish painters, in particular from the Golden Age.
Kulturmuseet Spinderihallerne. Engage in the history of Vejle.
Albuen (the elbow). A beach park in the city center. Relax and enjoy the beach life, take a swim or paddle along in a canoe.
Trekantsområdets Festuge. A ten day regional culture festival every year in late August.
Buy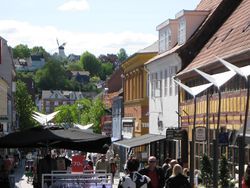 Strøget. A long street in the pedestrianised center lined with historic buildings, cafés, restaurants and specialty boutiques, ideal for shopping. Most larger Danish cities has a "strøget" street.
Eat
phone: +45 75720122

address: Søndergade 14

Cafe located in Den smidske gaard.

phone: +45 75829300

address: Klostergade 1

A cafe in the old prison

MeMu

Remouladen

Sinatur Hotel Harldskær

Trattoria Dei Re

Tree Top
Drink
phone: +45 70 20 99 64

address: Dæmningen 42 G

Vejle's largest brewery.
Sleep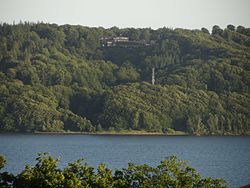 Go next
Legoland theme park as well as Lalandia, a giant indoor waterpark with several other activities in Billund, about 30 km from Vejle.
Givskud Zoo lion park, located 20 km outside Vejle. The zoo has a wide range of animals; worth mentioning is lions, rhinos, gorillas, giraffes, elephant and wolves.
Jelling, a UNESCO World Heritage Site. The old Danish capital with the Jelling stones and burial mound is ca 15 minutes north on the Struer train line, DKK 16.
Sculpture park by Robert Jacobsen.
Jernalderlandsbyen (The Iron Age Village), a large reconstructed Iron Age village with engaging activities for the whole family.