Ventspils
Ventspils
is a city in
Kurzeme
on the western coast of
Latvia
and one of Europe's busiest ports.
Understand
Ventspils is the Latvian flower capital and is adorned with flowers from spring till autumn. Even the City Festival on the first weekend of August is a time when florists from the Baltic States cover Promenade of Ostas iela with carpets of flowers.
Ventspils is a modern summer and sea resort city, which has all the amenities to spend a summer week at the beach and exploring the surrounding places. Its roads and sidewalks are made up of various kinds of cobblestones. Ventspils is famous for its artistic spirit and its numerous cow statues all over the city from the 2002 Cow Parade.
Due to immigration of many workers from Russia, Belarus and Ukraine in the past, about 1/3 of the population of Ventspils is from those countries.
phone: +371 63622263, +371 63607664

address: Dārza iela 6

Information about sightseeing, events, recreation, transport and accommodation. Guided tours with the certified guides of Ventspils. Tourist maps and brochures.
Get in
There is no passenger railway connection to Ventspils. The closest railway stations are in
Tukums
and
Liepāja
, both approximately 120 km east and south of Ventspils, respectively.
By bus
There are regular bus services from
Riga
(2½–4 hr, €7.55),
Liepāja
(2 times a day, 3 hr, €5.50),
Kuldīga
(about €3) several times a day. All buses arrive at the central Bus Station on Kuldigas iela 4. Schedules can be found on
1188.lv
.



By car

The most commonly used routes are from:

Riga, 190 km on main highway E22 (A10)
Kuldīga, 60 km on highway P108
Liepāja, 120 km on highways P111, P108, and P110




By boat

Stena Line ferries run between Nynäshamn in Sweden and Ventspils - it's an 11- to 12-hour journey. These are mainly used for transport of HGV's to Sweden but passengers and small vehicles can use the service. Tickets can be purchased from an office at Ventspils Ferry Terminal.


By plane



Get around
Within the city centre, most locations can be reached on foot within 15-20 minutes at most. But cars and bicycles can travel just as easily on the roads and bicycle paths around town.
Public transportation is run by the local bus company 'Ventspils Reiss' with modern blue coloured buses and minibuses. Most bus stops have a map of the routes and schedules for the lines that stop there.
Do not trust the signs. Since most streets in Ventspils intersect at 90° angles, all signposts marking the directions to interesting or important locations are at 90° angles as well. So often a sign will be pointing in the wrong direction (if your destination lies at a different angle) or onto impassable objects such as a wall (if your destination lies behind it). So be wary and carry a map - which you can get for free at the tourist office next to the ferry terminal.

See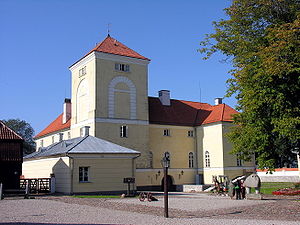 phone: +371 63622031, +371 63626288

address: Jāņa iela 17

One of the oldest medieval fortresses to have survived. In 1290 the castle was first chronicled and this date is now considered to be the year of Ventspils' foundation. In 1995 extensive archaeological research and renovation of the castle began. During renovation, features retained included niches of the 14th century, wall paintings of the 15th century, door openings of the 17th century and prison doors of the 19th century. The Castle has now outwardly regained its 19th century look. There is a nice museum inside, offering both permanent (i.e. city history) and occasional (i.e. money design, Japan post-World War II photography) exhibitions.

Ventspils Market Square

phone: +371 63622263

Established at the beginning of the 17th century. Has all kinds of local produce, vegetables, fruits, cloths. But the best bet here seems to be the meat, which is sold at numerous stalls in various forms; raw, smoked, sausage-d. Check out the beautiful carillon bell/clock tower, which has some history aspects, starting from the listing of various market measurements. Each hour the clock plays the melody "Pie dzintara jūras" (On Amber sea), except for 12:33 and 00:33, when the song "Uz priekšu, Kurzeme" (Ahead Kurzeme) of U. Marhilēvičs is played.

Ventspils House of Crafts

phone: +371 63620174

Old school building (1763) with an exhibition hall and a craft shop, with weaving, ceramics and retro photo workshops and a 19th-century classroom.

Senču putekļi (museum)

phone: +371 63625004

address: Erglu 1

A small local-ethnographic collection founded and donated by the author Herberts Dorbe (1894–1983).

phone: +371 63622263

It houses a modern library, International Writers and Translators' House, Lutheran church (early 18th century) and the Digital Centre.

Ostgals

phone: +371 63622263

Ancient fishermen's village (mid-19th century) that is now a part of the city, a national cultural and historical monument.

phone: +371 63624467, +371 63622263

address: Riņķa iela 2

Seaside Open-Air Museum. Museum of maritime fishing with ancient houses, a windmill, smokehouse, mesh huts, barns and a spacious boat, exposition of anchors and the history of narrow-gauge railway. Founded in 1954 to preserve the heritage of the seaside fishing village. Today it is the only open air museum dedicated to fishing in Latvia. It features fishermen's homesteads, barns, wind mills (from the Užava parish), smokehouses, curing cabins, net sheds and other samples of native building and household artefacts. In an area of 4 ha, you will find an extensive sea boat collection and the largest anchor collection in the Baltics with more than one hundred exhibits dating from the 17th century to present day. At the Seaside Park you can enjoy the Enkuru taka (Anchor trail) which is formed of the biggest anchors. Also, a Jungle Trail with footbridges, bridges, wooden animal sculptures, playgrounds and picnic places.

Svētā Krusta Romas katoļu baznīca

phone: +371 63622361

address: Jūras 32

This Catholic church with its Corinthian columns without eye-catching tower leave a classicist impression.

Ventspils St. Nicholas Orthodox Church

address: Plosta 10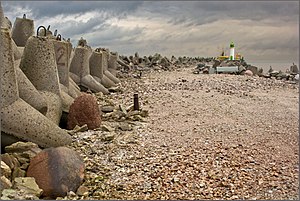 phone: +371 63622263

Pier promenade, sculpture "Cow-Sailor", , sightseeing object – fishing boat and chain chair, and further out the .
Flower artwork. At various location sthroughout Ventspils there are examples of flower artwork in the streets. The flowers are arranged not only in flower-beds, but also a flower-clock and vivid flower-sculptures: The Duck Family in the Children's Town, Lady-Birds at the Promenade of Ostas Street, Underwater World next to the Beach Waterpark, Bobsleigh Team on the main street Lielais prospects, and the newcomers The Bunny Family at the end-station Kalns of the narrow-gauge train.
Cow Parade: in 2002 Ventspils hosted this international art event and several of the cow sculptures still reside throughout the city.
Latvijas melnā (Latvian Black Cow) dwells on the Promenade of Ostas iela;
Pretim gaismai (Towards the Light) that usually climbs the lamp post on Pils iela next to 'Latvenergo' JSC;
Ms. Moo-Dunk the basketball cow resides near the Basketball Hall of the Olimpiskais Centrs Ventspils;
Dzīve ir skaista (Life is Beautiful) is situated at the Children's Town;
Jūras govs (Cow of the Sea) dwells next to the Livonian Order Castle facing the River Venta;
Nafta (Oil) lives next to the Children's Home Selga;
Londonas govs (London Cow) welcomes the residents of the camping site Piejūras kempings.
Ceļojošā govs (Travelling Cow) is shaped like a huge suit-case and awaits the city guests on the Promenade of Ostas iela to take some pictures;
Govs-Matrozis (The Sailor Cow) is a giant blue-coloured cow dressed as a seafarer and situated at the Southern Pier of Ventspils;
Šūpojošā govs (Cow on the Swings) is a large, but cute and girly cow sitting on the swings not far from the excursion boat Hercogs Jēkabs.
Do
There are a lot of things to do in Ventspils – go grab a free booklet at the castle to find some of them. The city is very-well-prepared for families with kids.
phone: +371 63622263

A fully facilitated white sand beach with broad dune belt, viewing tower, pier promenade, special areas for surfers and nudists.

Narrow-Gauge Railway Mazbanitis

phone: +371 63624467

address: Riņķa 2

Ride on the historic, World War I and former German narrow-gauge railway (600 mm) steam engine (1916) along a 2.6 km track from the Seaside Park (Muzejs) via beach to the Adventure Park (aka Kalns) – Kalna linija: 11:30, 12:30, 14:30, 15:30, 16:30 to Kalns; 12:00, 13:00, 15:00, 16:00, 17:00 to Muzejs). There are actually two lines, another one only does a 1.4 km circle around the Seaside Park (Rinka linija: 11:00, 11:15, 17:20).

phone: +371 28611333

address: Saules street 141

Great viewpoint in summer, and best ski destination in winter.

address: Medņu iela 19 / Piejūras parks

Heated open-air swimming pool. 200 m to the beach.

phone: +371 63622587

address: Sporta iela 7/9

Ice skating rink, basketball, skate park, etc.

phone: +371 63622263

address: Vasarnīcu iela / Lielais prospekts

Go play with your kid(s) at this park with a lot of child-oriented attractions.

phone: +371 22480248

address: Pils iela 28

Walk and play on the beach. Take a dip in the seaThe beach has well-developed infrastructure including cabins, benches, playgrounds and attractions.
Events
Knights Festival at the Castle

Festival of the Sea

Ghetto Games FestivalA youth festival celebrating ghetto basket, streetbike freestyle, BMX freestyle, MTB freestyle, skateboard, etc. FB .
Buy
Ventspils Regional Market at the Market Square

Tobago Shopping Centre

address: Lielais prospekts 3/5

Rimi, etc.
Eat
Skroderkrogs

phone: +371 63627634

address: Skroderu iela 6

Good food, good music, kids-friendly.

Kafejnīca Ukraina

phone: +371 63622677, +371 29119747

address: Ganību iela 95a

Kafejnīca Betānija

address: Platā iela 11

Cheap and basic.
Drink
Landora

address: Lielā iela 6
Sleep
Budget accommodation is scarce in Ventspils, so it is better to continue further to
Liepāja
or
Kuldīga
. Also, Rinda, just 30 km north and a little inland, has a
cheap place to stay
.
Go next