Verdon Gorge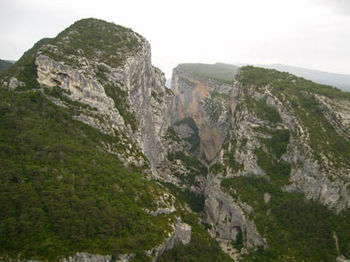 The
Verdon Gorge
(
French
:
Les Gorges du Verdon
) is an awe-inspiring canyon in the Alpes-de-Haute-
Provence
region of
France
. The canyon varies from between 6 and 100m at the bottom, and 200 to 1500m at its rim.
Understand
History

The canyon was formed in the Quaternary Era as a result of earth movements while the Alpes were moving upwards, and also from erosion of Jurassic era limestone by the Verdon river.
Throughout the 19th century, the deepest gorges were thought to be impenetrable. Only a few local woodcutters went down into the gorges on ropes, looking for box wood (buis) stumps that they used for making boules.
The canyon remained unexplored until the early 20th century. Armand Janet attempted a canoe exploration in 1896, but gave up because of the violent currents. In August of 1905, the speleologist Edouard Alfred Martel did the first complete exploration of the gorges on a 3-day expedition. Part of the Martel trail is still used, between Point Sublime to La Maline.

Landscape

Les Gorges du Verdon is chiefly made up of extremely rugged terrain.

Flora and fauna
Climate
Get around

The best way to see this spectacular region in France is by car. The twisting, turning switchbacks would be no fun in a bus anyway. Beware, however, that gas stations are few and far between. Fill up well before approaching the gorge as the towns close to it do not have supplies. Also, while very enjoyable, this is a slow journey on winding roads, both going through the gorge and to reach it. So allow plenty of time.

See

The lookout at Sublime Point.

Do

Take a drive along the north rim of the gorge (D952) and check out the numerous vantage points in the gorges along the way.
Hiking - La Grande Randonnee passess nearby the northern rim of the gorge and can be used to link up with a few smaller local tracks down into the gorges.
Rafting is also a possibility, but unless you are an expert, should only be attempted in an organised group.

Sleep
Lodging
Camping
Backcountry
Stay safe

Although the area is rich in natural beauty, do take care when leaning over guard rails to take photographs. The terrain is steep and the loose rocks can be dangerous if you are not careful. There would be quite a lengthy wait for a rescue, particularly out of season.

Go next
Grasse
on the eastern edges of the gorges and
Aix-en-Provence
to the west, are the two cities nearby offering most services.