Vitória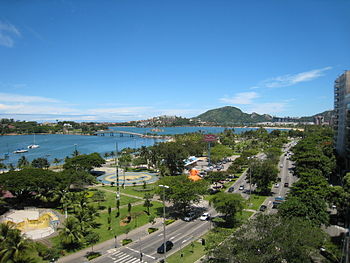 Vitória
, the small and cozy capital of
Espírito Santo
, is a city on the southeast coast of
Brazil
, famous for its beaches and culture, and for its proximity from many other touristic destinations in the state. Most of the city's neighborhoods are surrounded by parks and forests and many cultural events add an extra bliss to the city throughout the year. One might also consider staying in a hotel in Vitória while visiting nearby cities and regions of interest during the day like
Vila Velha
,
Guarapari
,
Domingos Martins
, or
Serra
, all of them with many attractions less than 2 hours away by car or bus. Vitória is also a perfect stop for travelers planning to go from the state of
Rio de Janeiro
or east of
Minas Gerais
by bus or car to beach destinations in the south of
Bahia
, like
Prado
,
Caravelas
and
Abrolhos
, or even
Porto Seguro
.
Understand
Vitória, with around 315,000 people, is considered by the UN to be the fourth best place to live in Brazil.
History
Founded in 1551, is the third oldest capital of
Brazil
, after
Salvador
and
Recife
. For a long time it was only a 'city-port', suffering various French, British and Dutch attacks, after sugar and 'pau-brasil'.
Its name is attributed to a victory over the native Indians, when, seeking refuge, the Portuguese fled to the island, and then achieved victory, renaming the village, at the time known only as "Vila Nova", to "Vila Nova da Vitória". It has many nicknames, like Ilha do Mel (Honey Island), Cidade Sol (Sun City) and others.
Geography
It is located in the southeastern region of
Brazil
, the most developed in the country. The location is strategic, close to the big urban centers, and it is, in average, one hour away by plane from
São Paulo
,
Rio de Janeiro
and
Belo Horizonte
.
Circled by the Bay of Vitória, the main island has mangroves, beaches, granite formations and many smaller islands.
The municipality of
Vitória
is made of an archipelago with 34 islands and a continental area. Its total area is 104 km², including the main island, the continental area, the coastal islands and the oceanic islands of Trindade and Martin Vaz. It used to have more than 50 islands, but now many of them have been incorporated, by landfills, to the main island.
The highest point is the Maciço da Fonte Grande, a granite formation 309 meters tall, and then there is the Pedra dos (Dois) Olhos, 296 meters tall.
The climate is tropical humid, with a maximum average temperature of 30.4ºC and a minimum of 24ºC, with most of the rainfall in the months between October and January.
Get in
By plane
Vitória Airport
(VIX) - also known as
Eurico Salles Airport
- is located near the north end of
Camburi
beach. It's about 10 minutes by taxi to most hotels and served by many bus lines. It receives daily flights from most state capitals in the country, mostly via
Rio de Janeiro
(the nearest gateway),
São Paulo
,
Belo Horizonte
or
Salvador
.
Among the main airlines serving the airport are
LATAM
and
Gol
. A number of smaller carriers also serve the airport, including
Azul
,
TEAM
, and
TRIP
.
The
bus line 212
direction
Aeroporto / B.Mar x Mario Cyprestes
takes you from the airport via the
Camburi
beach, the port and the city center to the main bus station in 50-60 minutes.
By bus
Vitória's long-distance bus station is downtown, also with many bus lines serving it. There are many buses arriving and leaving during the day from cities like
Rio de Janeiro
,
São Paulo
,
Salvador
,
Belo Horizonte
,
Brasília
and others. It's around 20 minutes away from most of the hotels by taxi and 30 to 35 minutes by bus.
The bus
212 Aeroporto / B.Mar x Mario Cyprestes
takes you from the bus station via the city center, the port and the Camburi beach to the airport in 50-60 minutes.
The bus trip from
Rio de Janeiro
takes about 8 hours, and from
São Paulo
some 14 hours, but most of the bus times are at night, making the trip not as tiring and time-wasting.
By train
The train station is located in the city of
Cariacica
(Greater Vitória) and connects the city to
Belo Horizonte
, in the state of
Minas Gerais
.
By car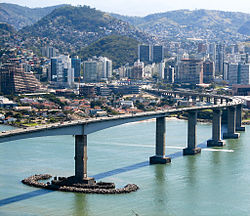 The two main roads are the
BR-101
, which runs south-north just inland of the coast, linking
Vitória
to
Rio de Janeiro
, to the south, and
Salvador
, to the north, and
BR-262
, that runs east-west, leaving
Vitória
and going to
Belo Horizonte
. Another road, local highway
60
, runs along the coast southward to
Guarapari
.
See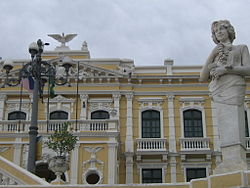 Parque Pedra da Cebola (Onion Rock Park) - Located in the Jardim da Penha neighborhood near the university, the centerpiece of this park is an unusual rock formation. A popular place for local couples to hang out.
Parque da Fonte Grande - Located in the central portion of the island, this is the biggest park of Vitória, preserving an important remaining area of the Atlantic Forest. Visitors can choose from many planned walks inside the forest and spot native animals such as snakes, small mammals, and many species of birds. The area's highlight is its 309m high mountain from which you can appreciate beautiful views from Vitória and nearby cities. To get there from the neighborhood of Praia do Canto, take the direction of Maruípe and make a right turn on the Police Station Headquartes, towards Serafim Derenzi Road. From there, just keep going straight ahead until you see the sign to get in the park. The route should take 15 minutes by car. The park is open from Tuesday to Sunday, from 8AM to 5PM.
Praça dos Namorados - A very long beachside park that runs from the yacht club at Praia do Canto all the way down to Curva da Jurema near Shopping Vitória.

Catedral Metropolitana

address: Praça Dom Fernando Scortegagna - Centro

Vitória's cathedral, dates from 1551. Located downtown.

Capela de Santa Luzia

phone: +55 27 3222-3219

Near the cathedral, is Vitória's oldest religious building. Open weekdays 8AM to 6PM.
Convento da Penha - Just across the Terceira Ponte (Third Bridge), in Vila Velha is this hilltop Franciscan convent dating from the 16th century.
Learn
At
UFES
(Federal University of Espírito Santo), one can find Portuguese courses for foreigners at its
Language Center
. There are beginning and intermediate courses, and each level takes 1 semester.
Buy
A panela de barro, a traditionally-made clay pot used for cooking moqueca capixaba.
Shopping Vitória is a fairly standard shopping mall located near the Terceira Ponte.
Eat
Just south of Camburi is the
Praia do Canto
neighborhood, where you will find a couple of streets lined with restaurants of all types.
Mid-range
phone: +55 27 3325-1428

address: R. Elesbão Linhares, 20
Splurge
phone: +55 27 3315-1992

address: R. Afonso Cláudio, 259

Spanish gourmet food.

phone: +55 27 3345-0329

address: Av. Saturnino de Brito, 260

Portuguese gourmet food.
Drink
Triángulo das Bermudas (Bermuda Triangle). This area between Joaquim Lírio and João da Cruz streets in Praia do Canto has a lot of bars and restaurants that are very popular, particularly on the weekends.

Rua da Lama

phone: +55 27 3225-0417

Just west of Camburi near the federal university, has a string of bars including Cochicho da Penha.
On most nights, there are live music events on the beach at Curva da Jurema. Music varies and there are plenty of drink kiosks to keep people happy.
Wunderbar Kaffee. In the corner of Rio Branco and Chapot Presvot streets there is this delicious bar with great beers (Brazilian and foreign), excellent music (jazz, "chorinho", "bossa nova", Brazilian world music) and good food (German and Brazilian). Rio Branco Street, 1305 - Lj 4 - Praia do Canto, phone +55 27 3227-4331

Motor Rockers Pub

address: Joaquin Lirio Street corn with Chapet Presvot

A pub with many options of beers and concerts of rock, jazz and blues.
Sleep
There is quite an active
Couchsurfing
Community in Vitoria. Since not so many tourists pass by Hosts are easy to find in Vitoria.
Budget
Pousada da Praia

phone: +55 27 3225-0233

address: Av. Saturnino de Brito, 1500

Praia do Canto. This reasonably-priced pousada sits on a small peninsula that juts out from the south side of the river at the south end of Camburi. The rooms are nothing special, but this place has great views of the bay, free breakfast, and you might even get a free invitation to a forró dance held there if you happen to stay over a weekend.

Hotel Ibis Budget Vitória

phone: +55 27 3205-6155

Av Nossa Senhora da Penha, 1993 - Santa Lucia, - It's possible to find rooms up to R$80/day for 1 person.
Mid-range
Best Western Porto do Sol

phone: +55 27 3337-2244

address: Av. Dante Michelini, 3957

Praia de Cambori.

Novotel

phone: +55 27 3334-5300

address: Av. Saturnino de Brito, 1327

phone: +55 27 2104-4850, +55 27 2104-4890

address: Rua João da Cruz, 385

Praia do Canto. Prices: weekdays R$ 149; weekend days: R$ 119; breakfast: R$ 10 (per person)
Connect
The telephone area code for Vitória is 27 (as well as in central and northern parts of
Espírito Santo
).
Stay safe
Even if it is not very reported, most of Brazil's high and mid-populated cities have the same kind of criminality problems, and with Vitória it's not different. Remember to take the same care.
Avoid:
To enter in the poor streets over hills. If you need, try to get the company of a local friend to visit any poor neighboorhood.
Walk along empty streets at night. Prefer taxis back to your hotel.
Double alert:
Around the Curva da Jurema and outside of the Shopping Vitória at night. The presence of muggers over bicycles there is common.
In the Vitória's downtown, day or night. The Vila Rubim people's tradeshop is always frequented for muggers. Avoid walking alone if you don't know the place very well.
Go next