Waterford
Waterford
is the oldest city in
Ireland
and is famous for its crystalware and intriguing medieval history.
Understand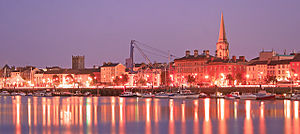 Located on the River Suir, it was once one of the most important European ports. Today, Waterford maintains its 'small Irish town' feel, with a much more relaxed vibe than the larger cities, whilst still providing for most traveler's tastes, appealing most to interests such as history, culture, music and arts. Like most Irish towns, it has a lot of pubs.
Orientation
Waterford is in
County Waterford
in the south-east of Ireland. It is on the River Suir and close to where the Suir, Barrow and Nore enter the sea. Most of Waterford City itself is on the southern side of the river, Ferrybank being the only suburb on the north. The South Quay (once dubbed 'The Noblest Quay in Europe') is a mile long and provides the perfect entrance to the city.
Being a medieval town, the city itself has sprawled over other fully functional villages over the many generations of its existence. Most (if not all) of these villages have kept their own village centres and attitudes, which provides the city with numerous cultural quarters. The oldest of these is the Viking triangle near Reginald's tower. Narrow lanes, tranquil surroundings and late night dining have made this spot very popular with visitors. The architecture in the area is also some of the finest in the city.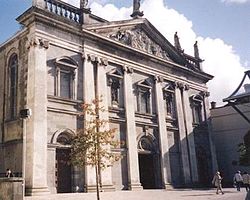 After a Norman conquest, as Waterford grew, the city walls were extended west. A large portion of these walls still stand today, and tours are run regularly. Inside the Norman quarter (opposite the Clock Tower on the Quay) is the pedestrianised John Roberts Square, and Arundel Square. These are two of the main social and commercial hubs in the city.
Just outside the walls is Ballybricken, one of the many inner-city villages in Waterford. The centre has been converted into a public green area with a bandstand and many benches for those tired from walking the hill. Being an old farmers community, Ballybricken is known locally for having some of the finest produce and butcher shops in the city. Waterford city Garda station is also located on Ballybricken.
When to visit
Waterford has a wet and windy climate, like most of Ireland, almost all year round. The summers are mild, but absolutely no guarantee of good weather. Heavy rain is common in winter, and snow is rare. Bring your umbrella and don't let it put you off, there are plenty of scenic shelters in the city. One of the finest is the William Vincent Wallace Plaza on the Quay.
Get in
By car
Waterford City is 65km (40 miles) west of
Wexford
, 78km west of
Rosslare
Harbour, 158km (98 miles) southwest of
Dublin
, 126km (78 miles) east of
Cork
, and 153km (95 miles) southeast of
Shannon
Airport.
By train
Plunkett Railway Station
is the main train station in Waterford. It is on the north side of the river. You can travel anywhere in Ireland on the rail network . Plunkett Station is outdated, and as the large signs posted over the entire building suggest, due an upgrade. Don't hang around wondering where the services are and just start your trek across the bridge.
By bus
Bus Eireann
provide the state bus service in Ireland. The main Bus Terminal is located right in the heart of the city. Bus services run from all major cities and smaller towns into Waterford and is probably the easiest and least expensive way to travel to the city.
By boat
Ferries run from
Fishguard
and
Pembroke
in south
Wales
to
Rosslare
harbour. From there you can get a bus directly to Waterford City.
By plane
Waterford is also ideally located between
Dublin
and
Cork
and therefore has access to airports at both those places for long distance flights.
Get around
By bus
Bus Éireann provide the major local bus service in the city, taking you to all suburbs (including regular services to Tramore) and quarters of the city itself.
Rapid Express (or J.J Kavanagh & Sons Coaches ) also offer a local service, concentrating mainly on Ferrybank and Dunmore Road locations to and from the centre.
By taxi
Taxis and Hackney Cabs are available in Waterford. Taxis can be hailed down in the street however hackney cabs must be booked from offices. Costs are measured by distance. Taxis have a meter. If you have to be somewhere at a particular time, it is wise to book in advance as offices can be quite busy.
Rapid Cabs

phone: +353 51 858585

Major carrier in the city. Serve all surrounding areas.
By car
Whilst travelling to Waterford by car is easy, travelling around the city by car is not recommended. The city centre is almost entirely pedestrianised, and in the narrower streets during peak times, your car horn will fall on deaf ears. This is truly a walker's city! Vehicle hire is readily available but make advance reservation particularly during main holidays periods. As with rental anywhere, make sure you have a current driving license.
By foot
Waterford remains a small city, retaining its medieval feel. The city centre is easily travelled on foot, as the centre itself is pedestrianised. Leave the car behind, you will likely save time by walking! Also worth noting is that Waterford is infamous for its steep urban hills. Don't be afraid to take advantage of the many public benches around.
See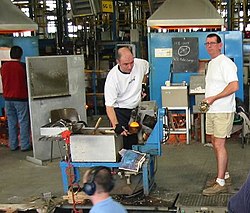 Discover the Viking and Norman heritage of the city on one of the walking tours, including a visit to the famous Reginald's Tower and the ancient city walls.
Coastal highlights south of Waterford include Passage East, a tiny seaport from which you can catch a ferry across the harbor and cut your driving time from Waterford to Wexford in half.
address: 28 The Mall

Waterford Crystal is a famous export of this city. Glass is hand blown and hand cut in the Waterford Crystal factory. The factory tour is well worth it. See the master craftsmen at work on one of the factory tours. Many famous designers have contributed to the collections ranging from glass tumblers to chandeliers. Tours of the factory run every 15-20 minutes and last 1 hour 30/40 minutes.

address: Kilmeaden

About 70 acres of intensively planted woodland garden and a 4-acre walled garden.
Museums
Waterford Treasures
consists of three magnificent museums located within Waterford's Viking Triangle.
Medieval Museum: Treasures of Medieval Waterford

phone: +355 51 849501

address: The Mall

Don't miss the unique Cloth of Gold vestments which were lost for hundreds of years after they were hidden from Cromwell's army, and the Great Charter Roll which was viewed by Queen Elizabeth II on her visit to Ireland. Take the multimedia handheld guide or enjoy a family friendly tour with a costumed performer.

Bishop's Palace: Treasures of Georgian Waterford

phone: +353 51 849650

address: The Mall

This magnificent Georgian residence is a must-see attraction. Experience authentic grand 18th century living in this beautiful Georgian building. Don't miss the oldest surviving piece of Waterford Crystal in the world, dating back to 1789, and the Napoleon Mourning Cross, the only one to survive out of the twelve that were made on his death. Take the multi-media handheld guide or enjoy a family friendly tour with a costumed performer. Allow 1-2 hours for visit.

Reginald's Tower: Treasures of Viking Waterford

phone: +3535 51 304220

address: Parade Quay

Reginald's Tower is named after the Viking leader who founded Waterford in 914, making it Ireland's oldest city. Don't miss the 9th century sword and weapons from a Viking warrior's grave and the magnificent 12th century gold kite brooch. Guided tours and multimedia handheld tours available. Average visit 1 hour.
Do
In northwest County Waterford, the Comeragh Mountains provide many opportunities for beautiful walks, including the short trek to Mahon Falls. These mountains also have highly scenic roads for biking. Farther west, there's great fishing and bird-watching on the Blackwater estuary.

Eat
A blaa
is a floury bread bun unique to this area of Ireland. Local legend has it that the white bread introduced by the French Huguenots in the early seventeenth century demanded that locals request a 'blanc', for white. The soft 'k' demanded by the French 'c' never squared with the flat delivery of the Waterford voice, where even today the 'A' is alway for Apple, and the locals dropped it. Responsibility for this local essential lies with either the Jacques, Sauvage, De Coursey, or Deveraux found scattered throughout the city. More likely, it was a combined and co-operative effort of the industrious Huguenots as they set to gain a foothold in the city.
Café Lucia

phone: +353 51 825553

address: 2 Arundel Square

A lovely little café in a small laneway, Cafe Lucia is the best in the city. Enjoy sumptuous food and decadent hot drinks. Located in the centre of the city, it is perfect for a cup of coffee or lunch in the middle of your sightseeing.

phone: +353 51 844177

address: 54 John Street

Located in the hub of Waterford's nightlife, this very fine bistro/wine bar offers a fabulous range of dishes prepared by their three French chefs. Seafood a speciality. This alternative, informal late-night wine bar has a truly Latin feel, with a full licence serving wines, beers & spirits. Awards include; Bridgestone 05, Guardian, Time Out...

The Brasserie

phone: +353 51 857774

address: Arundel Square

For great service & great food in a relaxed informal atmosphere, the Brasserie is definitely the place. Located in the very heart of the city, take time to relax with friends over a good meal. Full range of wines & beers to compliment a delicious selection of dishes.

phone: +353 51 873531

address: Dooley's Hotel, The Quay

Conventiently located in the City Centre. Rich in character comfort and style. Enjoy the dining experience. Carvery Lunch served from 12:30-14:30 followed by an a la Carte Menu until 20:00. Tradition Irish music on Monday and Wednesday nights during the summer. Irish stew on Wednesday nights until 20:00.

phone: +353 51 874141

address: Parnell Street

Espresso is an Italian run Pizza / Pasta restaurant at Parnell Street in the heart of John's Street Village. The menu is inexpensive and includes lots of Pasta, Homemade Burgers, Salads and probably the best Pizza in the country. The house wine comes by the litre and the beer comes by the pitcher. The style is informal, the music is loud and the prices are cheap. Espresso is open from Tu-Su for Lunch & Dinner. Also do Pizza & Pasta to take out.

Jade Palace

phone: +353 51 855611

address: 4 The Mall

Fine traditional Chinese restaurant in the heart of the city Wide variety of Chinese, Thai, European & Seafood dishes available. Relax & enjoy a splendid meal in the restaurant or alternatively enjoy the barfood menu in the fully licensed bar.

Kambo

phone: +353 51 870727

address: The Brasscock Centre, Dunmore Rd

A delightful Thai restaurant serving the best Oriental dishes. All dishes freshly prepared to traditional recipes using only the best seafood, meats and vegetables. Excellent selection of wines & bottled beers. Book now for special occasions & dinner parties. Free Car Parking.

Kong's Chinese Restaurant

phone: +353 51 843082

address: Glenville Centre, Dunmore East Rd.

A genuine Chinese experience in style & taste. Enjoy the authentic flavours and spices of oriental cuisine, in a cool and comfortable setting. A fine selection of wines & bottled beers.

phone: +353 51 858426

address: 19 Henrietta St

La Bohème

phone: +353 51 875645

address: 2 George's St.

Be transported in time and enjoy innovative French Food in the vaulted elegance of this beautiful restaurant, carved from the cellars of one of the oldest houses in Georgian Waterford. 7 Course Tasting Menu a Speciality. Proprietors: Eric and Christine Theze.

Zaks

phone: +353 51 833999

at Athenaeum House Hotel Christendom, Ferrybank, Athenaeum's signature restaurant Zaks, overlooking Waterford city, offers superb cuisine in chic & elegant surroundings. An ideal venue for entertaining friends, associates or simply a get away from the stress of everyday life. Zaks is open seven days a week for both lunch and dinner with music from their resident pianist every Saturday night.

Mothers' Knee Tea Parlour and Chocolate Boutique

address: Tramore

Mothers' Knee Tea Parlour and Chocolate Boutique, Tramore. Mothers' Knee Tea Parlour and Chocolate Boutique is an up-market chocolate boutique and tea shop/cafe. The Choclatier trained in London and Geneva brfore starting Mother's Knee in Tramore.

Momo's

address: George Street

Eclectic modern cuisine with a wonderful nod to the vegetarian and vegan, Momo's is effortlessly hip, cool, and at ease with itself. Good food, simple easy menu that you might find in any major city of the world, the easy relaxed staff, and the laid back but efficient, professional attitude to their food guarantees that you won't be disappointed. Some cool, chill tunes too!
Drink
Pubs
Geoffs

address: John's St

A popular location with the alternative crowd. Impossible to find a seat after 21:00 on the weekends. Good drinks and loud music without being too imposing. Geoffs has an amazing arty interior and a large sheltered and heated smoking area. With a chilled vibe, and an easy cosmopolitan atmosphere, Geoff's is regarded by many in the south-east of Ireland as 'possibly' the finest bar in the world. A visit to Waterford, for those who have migrated, is not complete without a visit to Geoffs.

Downse's Pub

address: Thomas St

Waterford's oldest pub and still today remains a clock-ticking pub. Conversation is the music of this pub and it attracts the most unique characters from all over the city. Please switch off the ring-tones on your mobile (cell) phone as this is frowned upon.

Jordan's

address: The Quays

Kazbar

address: John's St

Munster Bar

The Tavern

address: Lower Yellow Road
Clubs
The ForumIn the Glen is a bit out of the way from the normal nightlife hub, but is one of the major gathering points for the 'alternative' crowd in the city. They run a popular indie nightclub every Thursday and Saturday night. The main floor is normally open for techno nights, but still attracts an unusual crowd due to it's location. They also host live bands and theatre productions.

Harveys

address: Manor St

Play a mix of mainstream pop music from every era. Is nearly always packed. Popular venue, It's located right in the middle of the nightlife so get there early if you plan on sitting down. Harveys do cater for an older crowd, 21+, but still the club hosts a student night on a Wednesday.

Oxegen

address: corner of Parnell St and John St

pPlay the usual nightclub music and are populated by the younger mainly student crowd.

The Foundry

address: corner of Parnell St and John St

Play the usual nightclub music and are populated by the younger mainly student crowd.

Crystal

address: John St

Escape

address: John St
Sleep
Stay safe
The city centre is safe, both day and night, and even wandering the narrow alleyways of the old town alone is perfectly secure. The nightlife can keep certain areas near Parnell Street very busy until 05:00 Thursday through Sunday, but there is normally Gardaí around (they stand out with big glow-in-the-dark coats). Tourists should maybe avoid some of the denser neighbourhood suburbs if alone at night.

Go next
Dungarvan – a major town with a fine harbor; also Ardmore, known for its fine, long sandy beach
Dunmore East is a picturesque working fishing village about 10 miles from Waterford City. With views across to Hook head, the scenery can be breathtaking. Dunmore East was recently (2005/2010) home to one of the main events of the 2005/2010 Tall Ships Race. The start of the race was hosted by Waterford City, with the bay around Dunmore East holding over 50 antique tall ships. Well worth a visit to anyone who goes to the south-east of Ireland. Portally Cove, near Dunmore East, is the home of Ireland's only Amish-Mennonite community.
The Comeragh Mountains are one of Ireland's best kept secrets. Here you will find hill walks of all kinds with spectacular views, hidden lakes, pretty valleys, wild waterfalls and rocky crags. Some of the larger tracks are suitable for mountain biking. Powers the Pot camp site high in the Comeragh Mountains is good for camping or caravanning. They also do wonderful home cooked meals in their little bar.
The coast of Waterford is scenic and varied and is still very unspoiled. There are cliffs, sandy beaches and sea-caves. The stretch between the towns of Tramore and Dungarvan is called the Copper Coast. See the Copper Coast geopark website.
The beaches at Bonmahon, Clonea, and Dunmore East have Blue flag status.