Wenatchee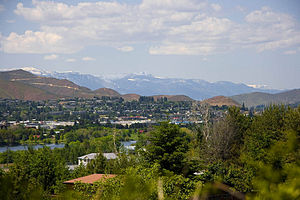 Wenatchee
is a mid-size metropolitan area located within the
North Cascades
region of
Washington State
. The greater area also incorporates East Wenatchee.
Understand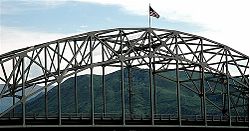 Wenatchee
is located at the confluence of the Wenatchee and Columbia Rivers and is within the rain shadow of the Cascade Range, which means that unlike cities in western Washington, Wenatchee sees nearly 300 days of sunshine per year. Its climate is very similar to that of other eastern Washington cities, yet it still retains the picturesque views of the Cascade mountains.
It is believe by archeologists that an ancient people had migrated to the Wenatchee area during the last ice, some 12,000 years ago. This belief is based on many Clovis artifacts that have been found in or around the greater Wenatchee. These ancient people are thought to be the descendants of who would later become known as the Yakima Indians. White settlers began to move into the area during the late 1800s and early 1900s and colonization began.
The Wenatchee Valley provides an ideal climate for agriculture, and therefore, the area has become widely known for its produce. There are a plethora of orchards in the valley, especially Apple orchards, from which Wenatchee has earned the slogan "Apple Capital of the World."
In recent years, the city has seen substantial growth within its communities. The greater Wenatchee area incorporates East Wenatchee, which lies on the opposite side of the Columbia River, as well as Rock Island and Malaga. The greater area has a population estimated at over 100,000 residents. It is a popular destination for outdoor adventurers and enthusiasts looking to find a refreshing getaway from their every day surroundings.
Get in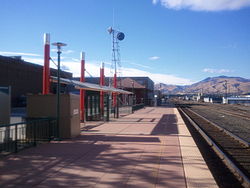 By plane
Pangborn Memorial Airportis the closest airport to Wenatchee (15 minutes away). The airport has three Horizon Airlines flights a day to Seattle/Tacoma.
The next nearest airports for commercial flights with additional airlines to/from additional destinations are in
Everett
PAE
and Seattle-Tacoma SEA.

By car
Driving is the most common way to get into and around town from the surrounding regions. It is NE of Seattle via I-90, SR-970 (Exit #85 from I-90) and US Hwy 97. From Spokane it is west via I-90, SR-281 (Exit 151 from I-90) and SR-28 through Quincy.
US Hwy 2 & 97 passes through town from Peshastin west of town and north and south along the east side of the Columbia River from Orondo, north of town.
US Hwy 2 continues () east towards Coulee City from Hwy 97 in Orondo and west to Leavenworth from its junction with Hwy 97 west of town in Peshastin.
US Hwy 97 continues north to Chelan from its junction with US Hwy 2 in Orondo and south towards Ellensburg from US Hwy 2, west of town. Alternatively US Hwy 97 ALT parallels US Hwy 97 along the west side of the Columbia River to Chelan.
SR-285 Connects downtown to US Hwy 2 & 97 in the north as N Wenatchee Blvd & Mill St. It goes through downtown as Chelan Ave (SB) and Mission Ave (NB) and crosses the river to connect with SR-28, south of downtown, in East Wenatchee as Stevens St.
SR-28 Connects Wenatchee to Quincy and Ephrata from the sound end of town.
By train
Wenatchee is served once daily by Amtrak on its Empire Builder train, running between Chicago, Spokane and Seattle. Westbound trains are split in Spokane with half going towards Portland and the other going towards Seattle. Both halves, going towards Chicago, are joined in Spokane. Wenatchee is on the Seattle to Spokane branch of the Empire Builder.

address: 1 Kittitas St & S Columbia St

The station is an unmanned platform with only a shelter. There are no facilities or amenities at this station
By bus
The is located next to the Columbia Station Building at 300 S Columbia St at Kittitas & Columbia, across the street (Columbia) from the Amtrak station parking lot. It is served by:

See
Children's Discovery Museum, Riverside Playhouse, and Music Theatre
Ohme Gardens
Stemilt Growers
Wenatchee Valley Museum
Do
Apple Capital Loop TrailWalk along the Columbia River waterfront of Wenatchee and East Wenatchee

Wenatchee Confluence State Park
Wenatchee Conference Center, Stanley Civic Center, and B of A Performing Arts Center
Buy
Antique Shop District

phone: +1 509 667-WINE

address: 1 Vineyard Way

phone: +1 509 888-3900

address: 3 N Worthen St

Open, airy marketplace featuring local farm goods, artisanal foods, restaurants & specialty shops. It is also the same location for the Wenatchee Farmers Market from May through December.

phone: +1 509 886-2995

address: 511 Valley Mall Parkway

Wenatchee Valley Mall hosts Bed Bath & Beyond, Grocery Outlet, Macy's, Marshalls, PetSmart, Ross, Sportsman Warehouse and numerous other shops & restaurants in the mall and in the immediate surrounding areas not part of the mall (Fred Meyer, Hobby Lobby, Petco, Olive Garden, amongst others). There are other smaller strip malls, free standing establishments & hotels radiating north and south along Valley Mall Pkwy
Sleep
phone: +1 509 665-8585

address: 1017 N Wenatchee Ave

phone: +1 509 663-6355

address: 1921 N. Wenatchee Ave

phone: +1 509-662-3443

address: 1401 North Miller St

Heated outdoor pool, hot tub, business centre, meeting space, laundry facilities. Microwaves, refrigerators and wi-fi in rooms, breakfast included, pets welcome, handicap-accessible rooms available. No extra charge for kids 17 and under staying with an adult.
Cope
Go next
Chelan - Chelan County county seat
Chelan County Historical Museum
Earthquake Point
Echo Valley - ski resort
Golden West Visitors Center
Lake Chelan - ride the boat to Stehekin
Lake Chelan State Park
Lake Wenatchee State Park
Leavenworth - ski resort
Lincoln Rock State Park
Mission Ridge - ski resort
Peshastin Pinnacles State Park
Slidewaters
Squilchuck State Park
Twenty Five Mile Creek State Park