Yakima
Yakima
is a city in the Yakima Valley, part of the
Columbia River Plateau
region of
Washington State
. It is the county seat of Yakima County.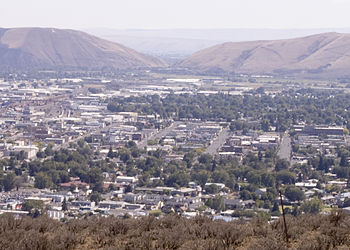 Understand
The
Yakima Convention and Visitors Bureau
is the official tourism office for Yakima, Yakima County and the Yakima Valley.
phone: +1 509 575-3010

address: 101 Fair Ave
Get in
By plane
By bus
By car
Yakima
is located along
Interstate 82
, approximately 143 miles southeast of
Seattle
, 204 miles southwest of
Spokane
, and 80 miles northwest of the
Tri-Cities
(
Richland
-
Kennewick
-
Pasco
).
From Seattle, take I-90 East to the I-82 off ramp, Exit 110, just beyond the exit to Ellensburg. Keep right on I-82 East and take exit 31A-31B to North 1st Street / Naches.
From Spokane, take I-90 West until exit 110, I-82 East, continuing until exit 31A-31B to North 1st Street / Naches.
From the Tri-Cities, take I-82 West until exit 33. Merge onto East Yakima Avenue.
A scenic alternative route from the Ellensburg region is the
old canyon highway
, SR 821, a two-lane road that winds through the Yakima River gorge between Exits 3 and 26, bypassing the Interstate over the mountain ridges. During the daytime, the views are lovely and there are several spots midway to stop, fish, and even camp. Be cautious of rocks on the road, though, and stick to the Interstate at night.
See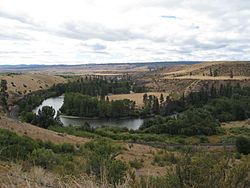 Do
Buy
phone: +1 509 453-8652

address: 901 Summitview, Suite 180

Where you want to go for all of the latest in music. The store is massive and carries an expansive selection of music.
The neighboring town of Union Gap has The Valley Mall and Shopping Plaza, with a wide variety of the usual nationwide chains.
Eat
Asian
Casual Dining
Fine Dining
Mexican
Drink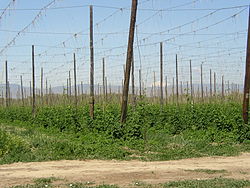 Beer
Taproom at Yakima Craft Brewing Company

phone: +1 509 654-7357

address: 2920 River Rd, #6

Craft beer brewery located in the heart of North America's leading producer of hops, the Yakima Valley in the state of Washington.

phone: +1 509 453-4647

address: 214 E Yakima Ave

Restaurant, bar, music venue, place for dance parties, to watch the game or just hang out.
Coffee
Brewlesque Espresso

phone: +1 509 469-9064

address: 326 N 1st St

Makes for an interesting experience as the women who brew your mocha-cino are dressed in very provocative fashion.

Coffee Cravings

phone: +1 509 225-6768

address: 118 W Yakima Ave

Jailhouse Java

phone: +1 509 469-5282

address: 801 Summitview Ave

Jitter Bean Espresso Bar

phone: +1 509 248-1848

address: 917 S 1st St

phone: +1 509 895-7600

address: 28 N. 1st St.

Cheerful spot with long hours. Also serves remarkably tasty pastries, made locally.

Valley Brew

phone: +1 509 248-5353

address: 1321 S 8th St

phone: +1 509 945-5589

address: 518 N. 20th Ave, Yakima 98902
Wine
phone: +1 509 453-0503

address: 1208 N 1st St

phone: +1 509 452-9900

address: 321 E Yakima Ave

phone: +1 509 453-6611

address: 10 S 2nd St

Yakima Cellars

phone: +1 509 577-0461

address: 32 N 2nd St
Sleep
Stay healthy
Air Stagnation
Sometimes there will be an advisory issued for poor air quality due to stagnation. Because of Yakima's location within a mountain valley, air sometimes settles and becomes stagnate for an extended period of time. During this phenomenon, pollutants often accumulate and subsequently the air quality becomes poorer than usual, and can affect those individuals who have existing respiratory conditions.
You can refer to the
National Weather Service
website on air quality to see if any such advisories have been issued for the Yakima Valley region.
Disease
There have been confirmed cases of hantaviral pulmonary syndrome in the Yakima Valley; the most recent of which occurred during the summer of 2011.
Although this disease is very rare, it is important to always take precautions when entering confined spaces, or places that are dusty and underexposed to sunlight, where conditions may be ideal for the presence of a rodent population.
For more information on prevention and transmission, visit the
CDC
website on hantaviruses.
Heat Exhaustion
During the summer months, the temperature in Yakima and the greater Yakima Valley often
exceeds 100 degrees Fahrenheit
.
If you are to be outside for long periods of time, be sure to drink plenty of WATER and limit the intake of alcohol and caffeine to prevent
dehydration
and
heat stroke
. Should you be planning on venturing off into the surrounding landscape,
follow desert survival guidelines
. Make sure you KNOW where you are going, tell someone where your destination will be, and take an ample water supply with you.
Stay safe
Crime
Yakima has experienced a significant increase in gang activity throughout the past decade due to its population growth. This has resulted in a rise of violent crime within the city limits, although incidents of violence are mostly isolated to particular neighborhoods (mostly on the east side).
During the late summer of 2010, the West Valley area of Yakima experienced a string of burglaries. Take precautions to protect your personal property.
In reality, Yakima is very nice place to visit and the surrounding scenery is just as wonderful as its sun abundant climate. The problems it does have are typical in most mid-size cities and rarely effect the average person.
The best way to stay safe is to just be smart. Be vigilant! Most often, when people find themselves in a bad situation, it is because they put themselves in that situation. If you need help, there is an often visible police presence in the more troubled locales.

Cope
Go next
Boulder CaveUnlike many Washington caves, Boulder Cave is formed from volcanic rock which was eroded away and collapsed. A fun boulder scramble, suitable for kids. Bring a flashlight. The short loop trail has a branch which is wheelchair accessible. Day use only. Part of Wenatchee National Forest.

phone: +1-509 672-3101

address: 48935 US Highway 12

Ski area centrally located to a variety of cities in Washington state.