Yakutia
Yakutia
(
Russian
: Яку́тия,
yah-KOO-tee-yuh
), also known as the
Republic of Sakha
, is located in the
Russian Far East
, and is notable for being the world's largest subnational governing body by area. Yakutia covers an area of more than 3 million km², representing about 18 percent of the Russian Federation, and making it roughly the size of
India
, despite having a population smaller than that of
Rhode Island
. The republic's capital is
Yakutsk
.
Yakutia borders
Chukotka
to the northeast,
Magadan Oblast
and
Khabarovsk Krai
to the southeast,
Amur Oblast
to the south,
Zabaykalsky Krai
and
Irkutsk Oblast
to the southwest,
Evenkia
to the west and
Taymyria
to the northwest. In the north it has a long coastline with the Arctic Ocean.
Cities
(Russian: Якутск; Sakha: Дьокуускай, D'okuuskay) — oblast capital and a serious contender for the title, "Coldest city in the World"
(Russian: Кюбюме) — abandoned town on the road from Magadan, perfect for an urbex expedition
(Russian: Ленск; Sakha: Лиэнскэй, Lienskey)
(Russian: Нерюнгри; Sakha: Нүөрүҥгүрү, Nüörüñgürü)
(Russian: Ти́кси; Sakha: Тиксии, Tiksii) — former Soviet trade post and sea port along the Arctic shoreline.
(Russian: Усть-Нера; Sakha: Уус Ньара) — large-ish town on the road from Magadan, featuring an interesting museum and surrounded by impressive mountains and taiga
Other destinations
(Russian: Остров Бе́ннетта, Ostrov Bennetta)
(Russian: Ле́нские столбы́, Lenskiye Stolby; Sakha: Өлүөнэ туруук хайалара, Ölüöne Turūk Khayalara) — an
(Russian: Новосиби́рские острова, Novosibirskiye Ostrova; Sakha: Саҥа Сибиир арыылара, Sanga Sibiir aryylara)
Understand
Yakutia, or Sakha as it is known to its indigenous locals, is named after the Yakut (Sakha) people, who are remotely related to Turks. While most of Sakhas are, at least nominally, Orthodox Christians, there are still many remnants of their ancient religion,
Tengriism
(a kind of sun-worship, with shamanistic practices). Other aspects of indigenous Sakha culture have started going through a revival as well.
Time zones
Yakutia extends over three
time zones
: UTC+9, +10, and +11, with the capital
Yakutsk
lying in UTC+9.
Talk
Native language of Sakha people is
Sakha
, which is a Turkic language, but
Russian
is by far the most common language anyway, as Sakha is spoken by only about a quarter of the population. English is not widely spoken or understood.
Get in
By plane
One can arrange regular flights by several airlines to
Yakutsk
,
Neryungri
and
Mirny
.
By train
The train service works to
Neryungri
,
Aldan
,
Tommot
and
Nizhny Bestyakh
station on Amur-Yakutsk railway. The station for
Yakutsk
is pending.
By car
The only road connecting Yakutia with other regions of Russia is
M56 Never-Yakutsk road
. It is macadam covered, sometimes asphalt (near towns and cities). There are many lakes and rivers along the way. It's very exciting to go along this road, selected as "the worst in the world" in 2006; it has been renovated, but still, after long rains, it becomes a way of mud.
Get around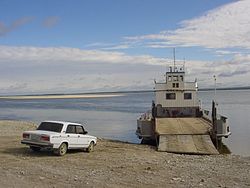 Air travel is the main mode of transportation due to the large distances across Yakutia.
A popular option during the summer months is to take a river boat along the majestic Lena river, cruises and regular services are available from
Yakutsk
. Among the routes offered are a once-weekly hydrofoil service to
Lensk
(, 32 hours). The more remote destinations you can reach via ship includes arctic settlement of Tiksi where the Lena river meets the Arctic ocean, there are 5-6 departures during summer and a one-way journey takes five days, prices from about . More information can be obtained from the Yakutsk river port (+7 4112 21-90-13), the seasons schedule is usually published in early May.
See
Itineraries
Kolyma Highway — one of the ultimate adventures on the planet with a very real possibility of death, this "highway" crosses the taiga all the way from the Pacific coast
Do
Stay safe