Yaoundé
Yaoundé
is the capital of
Cameroon
, and the country's second most populous city. It is smaller than the economic centre (
Douala
), but still a bustling city. Called the city on seven hills, Yaoundé is home to people from all over Cameroon.
Understand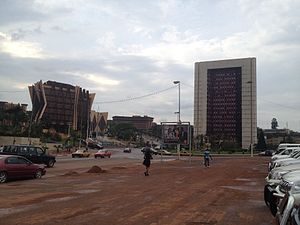 A city of 2 million inhabitants, Yaoundé is the centre of political power in the country. The city is located in the Centre province and stretches along the small river Mfoundi which flows through the city from north to south. Located at about 700 m above sea level, it is surrounded by hills, swamplands and small streams. It is located on the homeland of the Ewondo and Eton peoples, though nowadays it's home to people from all over the country. Downtown is rather small and comprises a some highrises around
Boulevard du 20 mai
and the
Quartier des ministères
. The rest of the city is made up of a sprawl of small houses, including both businesses and homes. The main artery is the
axe présidentielle
leading from the presidential palace in Etoudi to the airport.
Yaoundé is well suited for travellers who are used to travelling in Africa. On the other hand if you don't have much experience with this part of the world, you may want to have a guide. Aside of hotels and restaurants, tourist infrastructure is rather sparse, though locals are in general friendly and helpful. Most people are
Francophone
, but many (especially younger people) also speak English (they may deny it, but their English is still normally better than many native English speakers' French).
History
In the 19th century Cameroon was a German colony, and Yaoundé was founded as a base for the ivory trade by the explorer and officer Richard Kund in 1889, and a few years later a military garrison was established there. It was an important military foothold for the Germans until
WWI
when Yaoundé was invaded by Belgian troops and after the war it became the capital of French Cameroon and has been a seat of government ever since. The city now has a more civilian character: civilian institutions were established and Yaoundé started growing quickly. In 1939 the city had about 9,000 inhabitants, and when French and British Cameroon were united into an independent country two decades later, the number had grown tenfold. As the national capital, it's home to national institutions as well as the Bank of Central African States and as such a notable business travel destination. While Yaoundé is not exactly a tourist hotspot, it does have a few attractions and serves as a gateway to the rest of Cameroon.
Climate
Yaoundé features a tropical climate with steady temperatures throughout the year. But, mainly due to the altitude, temperatures are not quite as hot as you would expect for a city located near the equator, with daytime temperatures usually staying below +30°C. The dry season is from December to March, followed by a lengthy wet season for the rest of the year. Expect short and intense rain showers during the wet season, especially between July and September.
Orientation
Orientation can be a challenge as
streets, except for a few ones downtown, don't have names
. Also signage is generally lacking, and printed maps usually just cover the central parts of Yaoundé. However, Google Maps reportedly covers the city well. Locals use major traffic hubs, landmarks and names of neighbourhoods, or
quartiers
, for navigation and this is the best way for visitors too. When you're near the place you want to find, ask others for closer directions.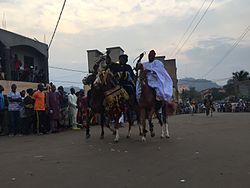 The city is administratively divided into seven districts and many more quartiers. In addition to the
city centre
, these are some of the most important for visitors:
Bastos: Upscale bedroom community in the northwest, where most embassies, consulates and foreign NGOs are located. Here you can also find the palace-like home of Bernard Fokou, one of the richest men in the country.
La Briquetterie: Also La Brique, is a centrally located Muslim quartier and has a dangerous reputation. It is known for barbecue food and tailor shops so it can still be worth a visit.
Camp SIC Hippodrome: An old residential community on a centrally located hill. This is also the banking centre and some ministries and restaurants are located here.
Etoudi: Located in the far north of Yaoundé, the presidential palace (Palais d'Etoudi) is here.
Mokolo: Busy industrial quartier east of the city centre. You can find the great market (Marché Mokolo) here.
Omnisports: Also known as Mfandena, it's an upscale quartier on a hill northeast of the city centre. The Ahmadou-Ahidjo football stadium is at the hill's highest point.
Get in
By plane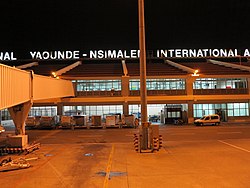 Yaoundé Nsimalen International Airport

address: Nsimalen

Many of the visitors enter through the international airport. From outside Africa, there are flights from Brussels, Istanbul and Paris. In addition you can fly in from Addis Ababa, Casablanca, Nairobi and airports in nearby countries. While most flights descend in Douala, these flights frequently continue on to Yaounde and do not require passengers to disembark. A taxi ride to the airport costs about CFA 6000, but it can be negotiated down to CFA 4500 (rates are negotiated before the ride).
Alternately, one could get off in Douala and take one of the numerous bus or train services to reach Yaounde (a 3-4 hour ride). Domestic airlines regularly fly Douala-Yaoundé.
By train
Passenger services are operated by
Camrail
. There are several daily services from
Douala
, brand new Intercity trains takes 3:45 h to complete the journey. An overnight train from
Ngaoundéré
with couchettes and sleeper cars runs daily. There are also much slower
Omnibus
trains several times per week, serving rural communities along the line. Yaoundé station, known as is located just north of the city centre.
Train travel is an experience in itself, like is often the case in developing countries. The trains travel quite slowly, hence you can see more of the landscapes. You get to meet fellow travellers and vendors boarding the train at stops. On the other hand, if you want to travel more comfortably and quicker, opt for bus or plane. The trains might not be air conditioned, are often delayed (one reason is that freight trains have priority and passenger trains often need to wait at stations) and train accidents are sadly all too common. Ticket scalpers and petty thieves are other things you need to be aware of.
By car
There are paved roads to
Ebolowa
,
Ayos
, Bafia,
Bamenda
, Bafoussam, Eseka and
Edéa
/
Douala
. The rest of the region is connected by tracks usable around the year.
By bus
The Douala-Yaoundé trunk road route is extremely congested, with a number of official and unofficial check points along the route and should be avoided at night when accidents are very common. Road traffic is in general unsafe compared to first-world countries. Bus traffic is unregulated and individual bus companies are often short-lived; ask locals at the station which company has the best safety reputation at the moment.
It's really worth getting the 'prestige' service if you're coming from Douala. If for no other reason than the seatbealts, it's worth the splurge (tickets cost about double compared to regular buses), but take a jumper in case they crank the air conditioning. These buses are better maintained and cleaner. Regular buses tend to be crammed, though it is possible to buy more than one seat for yourself. Overall, ticket prices depend on when you travel; travel before holidays and morning departures tend to be more expensive. Some bus companies charge extra for your luggage.
There are several bus stations in Yaoundé, and many have services from Douala. Tongolo serves traffic from the west and northwest of the country, Biyem Assi from Douala, the north and northwest, Mvan from Douala, south and east, Nsam from Douala and south, and Mimboman from the east.
Get around
By bus
Public city buses are operated by
Stecy
. As of July 2018 there's a total of 13 lines, most of which radiating out from the centre along the main streets. The company operates two lines to the airport as well, taking different routes but both going to the central post office. To see the network maps, go to Stecy's website and scroll down.
Bus trips are paid for using "Tap & Go" magnetic cards, just like in many public transport systems in the world. You can buy and reload the cards at newsstands and other points of sale. When boarding the bus, you pay for the ride by holding the card against the orange ticket machine next to the driver.
By taxi
Shared taxis, known by their yellow colour, are plentiful and the way to go. They will slow down for you, but you should flag anyway, to call your destination, and beep to say yes. There are no meters, fares are negotiated. The price is normally 250CFA, unless you're travelling a long way, or if you're not going far, you can try calling "cent francs" and your destination. In some cases you may be asked how much you'll pay "paye combien?" just say 300 francs (in French...) and you'll probably be fine. You can also say "depot" if you want the taxi to yourself. This will cost you more, probably around 1000 francs; negotiate before hand.
You can also rent by the hour, around 2500 or 3000 francs per hour. Negotiate before hand, and don't pay more than 3000.
If a taxi doesn't stop for you, it's probably because they are taking someone who has hired the whole taxi. Taxis are normally only four passengers, but some drivers will fit up to six (four in the back, two in the front). Trust your own judgement about getting into a taxi with sketchy looking passengers. The driver should have a license to operate hanging from the rear-view mirror, you could try and check that the photo matches.
By moto taxi
Motos (motorbike taxis) also exist. At the outskirts of the city they are sometimes the only available form of public transport.
They take one or two passengers and often drive carelessly, so you should try to avoid using them. Perhaps surprisingly, moto taxis are restricted operate only in their own district, so they are suitable just for short trips.
By foot
Watch your step when walking; hazards include potholes, missing manhole covers and mud puddles. Also, you will encounter street vendors who have their merchandise spread over the pavement.
By bike
With a hilly geography, no biking infrastructure, bad roads and little respect from cars, biking is in general dangerous in Yaoundé. It can nevertheless be a good way for exploring the city on Sundays, when there is less traffic.
By car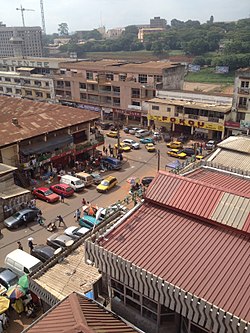 Given the lack of other transport modes, driving can be a practical way for getting around. As a foreigner, however, it may take time to adapt to the local driving culture. Locals consider small scratches, bumps and broken side mirrors a normal part of the traffic.
Major road crossings are usually roundabouts, though much unlike in e.g. Europe, cars entering have the right-of-way and the cars already in the roundabout must yield. In crossings controlled by traffic lights, turning right on red is not only allowed but mandated. However, be aware that local drivers routinely ignore traffic lights.
Car traffic typically flows at 40-50 km/h, and even if the road is empty you shouldn't drive faster than that because vehicles, people and animals can emerge from the side streets without prior warning. In the case of a traffic accident with injuries, leave money for the first aid (at least 10,000 XAF) and inform the police about the accident, for instance at the nearest roadblock. Roadblocks operated both by the police, gendarmerie, and Prévention Routière are a frequent sight in the city, and you need to show both your driver's licence and a range of car papers.
Traffic jams are common, even as there's a relatively small number of vehicles per population. Nevertheless, during the last years roads have been improved to alleviate traffic jams. The main arteries lead from the north (highway towards Mballa) to the south (highway towards Douala) and east (highways to Ayos and Mbalmayo). There's a ring road in the southeast from Mvan through Ekoumdoum, Awae, Nkomo until the highway towards Akonolinga in the Quartier Biteng, and it is being slowly expanded. When the president or VIPs travel to and from the airport, the main street can be closed for several hours (in the worst case). Asking for bribes is reportedly common here, and in the case that something is wrong with your documents, the car may get impounded and you're in for a long bureaucratic process and hefty fines for getting it back. Should this happen, it's a good idea to contact your embassy for help.
In the city centre you need to use the marked parking spaces, outside of it you can park wherever you like as long as you don't block the traffic. There are also guarded parking lots, which are a good idea for nighttime parking.
See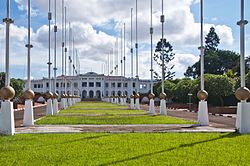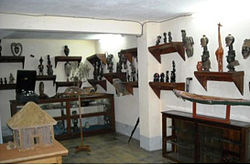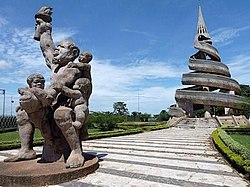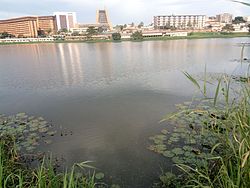 The city's not really set up for tourists, but some fun things to see are the Mvog Betsi Zoo (primates and lions, with a kid's playground), the Mokolo Karket (very big and in-your-face), Mont Febe, or maybe the swimming pools of some of the hotels — see Buy and Do sections below.
The city centre houses government offices, some hotels, and the central market. The Bastos quartier, with most homes owned by Cameroonians, is home to foreign embassies and the expatriate European community (drawn mainly from the diplomatic corps). The presidential palace and compound is in the Etoudi neighborhood.
Boulevard du 20 mai, the main boulevard of the city stretching from northwest to southeast, is bustling with life. In the northwestern end you can see some of the biggest landmarks in Yaoundé including the Hilton Hotel, BEAC building and several government buildings. In the southeastern end, you can see the Central Post and the Telecommunications Building.
The markets (listed in Buy below) are in additions to places for shopping, also attractions in their own right.
Also found in Yaoundé are:
Cathédrale Notre Dame des Victoires

address: Rond Point de la Poste

The seat of the Archdiocese of Yaoundé, built in 1951 and consecrated four years later. Nevertheless it is still reportedly under construction. With a cross-shaped interior, this cathedral has room for about 5,000 worshippers.

Mary Queen of the Apostles BasilicaBuilt on the site of the first missionary church in Cameroon, it was consecrated in 2006, hence quite a modern building. The basilica is built in several architectonic styles inspired by art from the different ethnic groups in the country. The roof is supported by 12 pillars, symbolising the 12 apostles.

Cameroon Art MuseumLocated in a former Benedictine monastery. The three exhibition rooms presents traditional art such as masks, bronze and woodwork.

National Museum

address: Quartier du lac

Located in the former presidential palace, built during the French colonial period. This museum presents both traditional and modern aspects of Cameroon. You can see traditional art and clothing, as well as archaeological discoveries from different parts of the country. Then there's an exhibition of the independence period (the last 50 years) with photos of notable events and people as well as national emblems.

Afhemi Museum

address: Derrière le Boulevard du 20 Mai

A museum showing traditional art from western and northwestern Cameroon; one of the highlights is the collections of the former royal treasury. In addition you can also see prehistoric artifacts (though some of them are replicas). All in all there are more than 2,000 artworks in their collection.

Palais des Sports de WardaA Chinese-built indoor arena, this is a venue for both team and individual sports from basketball to judo. It is also used for exhibitions, conferences and such events, moreover the building itself is a good example of futuristic architecture.

Monument de la Réunification

address: in Ngoa-Ekele

Monument to the reunification of English and French Cameroon in 1961. Constructed in 1973, it's composed of the main monument, a statue of a man with his five children and a garden. The main monument is made up of two spiral staircases (symbolising English and French Cameroon) that meet at the top of the monument.

Mont FébéThe hill with the best view over Yaoundé, featuring a hotel and a golf course. It also has Benedictine monastery with a tiny museum.

Stade Ahmadou Ahidjo

address: in quartier "Omnisport" resp. Mfandena

A multi-purpose stadium, though it is chiefly used for association football. It's the home stadium for the national team as well as the local teams Canon and Tonnerre. Built in 1972, it was renovated in 2016 for the African Women Cup of Nations.

Jardin zoologique de Mvog-BetsiA small zoo in the Mvog-Betsi quartier with about 30 animal species. Here you can see primates, reptiles, big cats and birds among others. In addition the garden of the zoo has even more species of different trees and plants.

Bois Saint-AnastasieNice little park just north of the governmental quartiers, offering a little relief from the noise of the city. On the downside, the stream and the park in general is dirty. Has a restaurant as well, serving African cuisine. Be aware that you need to pay a fee of CFA 2500 to take photos in the park.

Lac MunicipalAn artificial lake in the governmental quarters, the only real body of water in the city and another place to get away from the noise of the city.
Do
Events and festivals
address: Palais des Congrès

Central Africa's biggest industry and artisany fair, taking place every third year. Not only big companies are here, but also small local businesses. In addition there are cultural events with concerts and central African food.

Journée de la femmeWomen's Day takes place on 12 March every year. There are parades and parties around the city. Unlike other days of the year, men stay home cooking and cleaning on this day.

20 mai20 May is the national day of Cameroon. In the morning there is a military parade, where also other uniformed services and civilians participate. Later in the day there are celebrations around the city.

YAFEA yearly fair along the Boulevard du 20 mai taking place the second week in December every year.

Eid al FitrThe Muslim community celebrates the end of Ramadan.
Invitations to local ceremonies
Locals are very hospitable and it's not rare that foreigners are invited to weddings,
funérailles
(celebrated between December and March to commemorate the dead) and similar events. These are usually amazing cultural experiences, giving an unique insight into the local culture, including food, music and dance.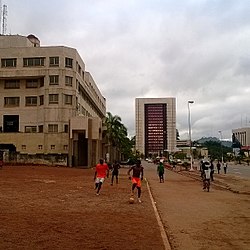 Activities
Mont Fébé has a wonderful
golf course
. Access is through Bastos and Carrefour du Palais des Congrès.
There are several
swimming pools
in Yaoundé. The water is usually of bad quality, so to prevent infections you should use ear plugs or a tight swimming cap to prevent water from entering your ears. Hotel Mont Fébé, Hotel des Députés and Hilton, all listed in Sleep below, have swimming pools. Other swimming pools include:
Club Noah

address: in Manguier

The club of the tennis player and singer Yannick Noah. It has a beautiful mid-sized pool in a park-like environment and as it's owned by a tennis player you can find a tennis ground too.

Club France

address: in Efoulan

Big, clean pool and a smaller one for children. Has a tennis ground as well.

Hotel Franco

address: in Djoungolo, next to the DGSN (police HQ)
Learn
The Pilot Centre, near the Finance Ministry, is a government run institution teaching French and English. There is also the American Language Centre in Bastos, if you want to learn American English.

Work
If you're
volunteering
with an NGO, make sure that you've verified its credibility with an independent source. A good way can be to look at the NGO's partner organisations; if it has any big ones (i.e. UN etc.), they will probably have checked it out.
It is sad to see eager and well intentioned volunteers have their time and money wasted (and their benevolent zeal diminished!).
Work permits are bound to residence permits, cost 260000 XAF and are valid for two years. They can be applied for at the commisariat on avenue Kennedy, and you need to bring a birth certificate.
Buy
Money
ATMs are the cheapest way for getting money from abroad. If you need CFA, there are a handful of ATMs at banks around the city, as well as one in the Hilton in the center of Yaounde. The ATM at the Hilton is the only one that accepts MasterCard. You should travel with another type of card if possible, Visa Electron is the one widest accepted. At the end and the beginning of the month, be prepared for long queues (up to 50 m).
At large banks near Hotel de Ville and Hilton you can exchange money. There are also many people on the street who will change money, e.g. at the airport, outside the Hilton, and at the Casino supermarket. Money changers on the street can be recognized by seeing them rub their thumb and middle finger together at you (not a rude gesture, just a sign). They will generally accept Euros but some may also accept dollars. Know the conversion rate before you go in case you need to haggle, but the group of people who change money outside the Casino give a good rate without haggling (650 CFA per Euro, vs. a 656 CFA per Euro official rate). Euro is by far the best hard currency to bring, with the US dollar as a distant second. Swiss francs can be exchanged at Marché Central, other currencies rarely anywhere.
Money transfer services like Western Union, MoneyGram, or Express Union International are another way for getting funds. Traveller's cheques on the other hand are hard to exchange, and you can expect exorbinant extra charges for that service.
If you're staying a longer time in the country, you may want to open a local bank account. The procedure takes one or two hours and you need to bring your residence permit or passport. Pick one of the bigger banks.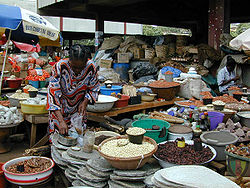 Markets
These are some of the bigger markets in the Yaoundé. In addition to these, small markets can be found all over the city.
BriquetterieIn the Muslim quarter you can find a multitude of shops. Prices depend not only on the quality of the goods but also on your bargaining skills.

Marché Mfoundi

address: near Rond Point de la Poste

The city's biggest grocery market, where you can find colourful foodstuff and exotic spices.

Marché Mokolo

address: in Quartier Messa

At the main market you can find everything you can expect at an African market; food, household appliances, music, clothes, shoes and whatnot. In the Briquetterie you can find wonderful African clothes that you can buy off the rack or tailor-made (takes at least 3-4 days).

Marché des Artisans

address: at Rondpoint de l'intendence

Local art market (primarily art by the Bamoun people) like wooden marks, terracotta masks, instruments, wood cuts and figures, trinkets and jewellery. You are expect to haggle, but don't ask for a price unless you intend to buy.
Supermarkets
There are a number of supermarkets around. The most obvious in the centre is Casino (a large French supermarket chain) next to the Notre Dame cathedral in the center of town where you can buy typical European brand-name foods. You can also find "Niki" in many places (including the Mfoundi area near the centre). Dovv in Bastos is another option, and has many European brand-names (though at the cheaper end of the scale).
Eat
Yaoundé's
restaurants
mainly offer
local
and French cuisine. There are also some Chinese and North African restaurants. Toilets in restaurants are usually dirty, so if possible go to the toilet elsewhere, before or after you go to the restaurant.
Good
markets
for food shopping are Mfoudi and Mkolo, listed above. At markets food are always not sold by kilogrammes or litres. It may be a good idea to hire a porter who can also help out with your shopping and protect you from pickpockets. Packed food is available at supermarkets.
Bakeries
are often the only places open on public holidays. A good (but not cheap for the sweet things) place is
Le Moulin de France
, just off the main drag near Casino in the centre.
Budget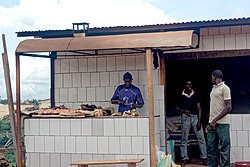 Street stalls
are everywhere, but a nice place to go is Nlongkak roundabout. Here there's a bit of a variety, and plenty of places to get a beer. A plate of beans should cost between 200-500CFA, an omelet around 500 (or 1000 if in a restaurant with chips), and a plate of spaghetti maybe 500CFA. Prices may vary considerably depending on the honesty of your vendor.
Prices for street vendors shouldn't vary too much for many items. E.g. Three or four bananas or a grilled corn (maize) cob should be 100CFA, anywhere in the city.
Le St TropezA great place in Bastos is "Saint Tropez", meals are around 2000-2500, see the menu. Drinks are reasonably priced. Just off the main road, if you are coming from the centre, after the big T-junction (down which you will find the Meuomi Palace Hotel) take the first left. Given that it's popular, it can sometimes be hard to find a table.

Snack SanzaNext to the night club with the same name. Serves skewers, fish and french fries. Calm and class ambiance. Guarded parking.

La maison blanche

address: Rue Rudolf Abessolo

Near the La Caveau nightclub, this restaurant specialises in barbecued fish. Fresh products at a moderate price.

address: Carrefour Bastos

Aside of Hilton, the only place in town to offer real Nespresso. It's also the best Internet café in Yaoundé.

Snack Time

address: in Bastos near Carrefour Bastos

Pizza and Lebanese cuisine.
Mid-range
Some of the Chinese restaurants in Bastos have good mid-range options.

Istanbul Turkish RestaurantA Turkish restaurant in Bastos. No alcohol, but good food; Turkish and Mediterranean dishes.

La SalsaEuropean restaurant serving pizza and steaks among other things. Has received favourable reviews.

Dolce Vita

address: Ave Merechal Foch

African cuisine and good ice cream.

Les Feuilles Vertes

address: Rue Joseph Essono Balla

Good African cuisine, the speciality of this restaurant is smoked chicken.

L'orient Rouge

address: in Bastos

Chinese restaurant, also popular with the Chinese community in Yaoundé. Reportedly beautifully decorated, good food and friendly and attentive staff.

Le BiniouFrench restaurant, specializing in dishes from Bretagne. The service can reportedly be slow.
Splurge
phone: +237 22 21 40 02

address: Hôtel du Mont Fébé

Upscale restaurant with superb views of the city. At lunchtime there is a buffet, other times you can choose something from the menu (dishes around 6800 CFA). As it's a bit outside the city, it can be hard to get a taxi to get back; most customers have their own car.

address: Ave Winston Churchill

Pricey (~10 000 for your meal) food. Seems to be catering to the expat crowd with a focus on European style cuisine. Nice ambiance with patio seating in a lush garden area.

phone: +237 6 63 87 11 64

Apparently one of a chain, excellent Chinese food.

Rustick Home

phone: +237 22229144, +237 55038424 (mobile phone)

Meals by reservation.

address: Boulevard du 20 mai, between rond point de la poste and rond point du Hilton

Next to the eponymous bakery, this restaurant and tea house has cakes, pizzas and other dishes. Good quality but high prices.

Le Safoutier

address: Boulevard du 20 Mai

Upscale restaurant in the Hilton Hotel with European and local dishes.

La Terrasse

address: near Montée Ane Rouge

Upscale European restaurant with good salads.
Drink
Yaoundé doesn't have a very lively nightlife, though there are still a couple of options. Concerts with African music often take place in night clubs — ask locals.
Sanza Night clubClassy place, though there's usually very little going on in the early week. Guarded parking.

Panoramique barNice bar on top of the Hilton hotel. One of the few places where you can listen to music when having a drink. Happy hour every afternoon.

Parallèle Club

address: in Mballa 2

A "cabaret", in other words a restaurant with live music. Popular with expats.

address: Ave Winston Churchill

A classic disco.

HiltonHilton has a night club as well.

address: near Marché Central

Disco.
Sleep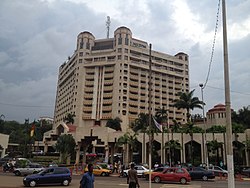 There are hotels in all price classes in Yaoundé. Save for the hotels in the splurge category, don't expect western standards — matter of fact even warm water isn't available everywhere. Internet speeds are also far below what you might expect.
While laundry is available as an official service at upscale hotels, at lower range hotels ask the employees to wash your clothes for a small sum. Clothes that have been dried on a clothing line outdoors have to be ironed afterwards to kill sand flies that the clothes may have caught.
Hotel rates can almost always be negotiated, especially if you're staying several nights. Credit cards are not universally accepted, especially not at cheaper places of stay. Those that do usually only accept Visa (Hilton accepts a wider range of cards).
Budget
Foyer international de l'eglise presbyterienne

phone: +2 99 85 23 76

Two private rooms and two dorms accommodating 8 persons each, and you can camp in the garden too. Shared bathroom. Reportedly cheap, but very barebones.

Hotel Jouvance

address: Monté Jouvance in Biyem Assi

Bathrooms, air conditioning and tv in the rooms. Free wifi, free parking.

phone: +237 6 99 31 37 01

address: near the Nsam bus station

Bathrooms and tv in the rooms, wi-fi "available". The hotel has a swimming pool, bar and restaurant.

La fraicheur

address: in Movg Mbi above Carrefour Mvog Mbi, reachable by taxi from Rond Point de la Poste in 5 min
Mid-range
There are many hotels in Bastos for around 20 000 to 30 000 CFA, but you can't expect too much.
phone: +237 222 209 415

address: Quartier Elig Essono

Good and clean hotel near the railway station. Simple room with TV, air condition, warm water. Wi-Fi, though it might not be functional. The hotel has a restaurant as well.

phone: +237 2 22 20 92 11

address: in Bastos

address: at Marché Nkol Eton

Hotel Merino

phone: +237 2 22 22 21 31

address: Avenue El Ahmadou Ahidjo
Splurge
Connect
Post
The public postal service
Campost
is cheap, but unrealiable. If it's critical that the letter or package gets to its destination you should rather use a courier service.
Telecommunication
GSM, 3G and 4G networks are available. Local mobile operators are MTN, Orange Communications and Nextel, and local prepaid SIM-cards are widely available.
You can find Internet-cafés, known as "Cybère" or "Cyber", around the city. In addition to connected computers some, but not all, offer Wi-Fi.
Internet, both wired and wireless, is considerably slower than in first-world countries, and price per bandwidth is higher. Effective bandwidth is about 50 kbps for mobile Internet and 100 kbps for wired.
Stay safe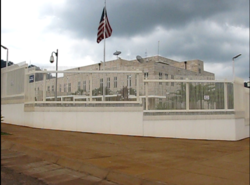 While there are many more dangerous places in Cameroon and Africa then Yaoundé, crime can still be an issue here. But just like elsewhere in the world, basic precautions will reduce the risk of you becoming victim of a crime.
Taxi sharing can be risky, even for Cameroonians, and you may wind up with your cell phone and wallet stolen. If possible, it's better to take a friend or two, rather than riding alone, especially in nighttime. It is recommended to hire a private taxi recommended by your hotel or a friend.
Beware of
pickpockets
, they are rife. Be careful with your bags, wallet and such in the markets (particularly Marché Mokolo and Marché Central) and anywhere there are lots of people (including at nights when out drinking). Keep your hands near your pockets and be prepared to grab a person if you know they took your phone, wallet or purse. ATMs are another place where you need to watch your surroundings. Keep an eye on your belongings at stations.
Outright robberies — often at knife or machete point — are also a risk. Give the robbers what they demand, usually your money and phone, and they won't harm you. To reduce the risk of getting robbed don't show expensive looking objects (especially things that are or appear to be made of gold), and avoid badly lit streets after sunset. Place Ahmadou Ahidjo, at the southeastern end of Boulevard 20 Mai, is considered dangerous even in broad daylight.
Photographing sensitive areas is forbidden. This includes military places, and apparently embassies and ambassador residences. If in doubt, it might be best to not take that picture, rather than risk having a soldier or policeman delete all your pictures, or confiscate your camera.
Stay healthy
Tropical diseases
spread by mosquitoes, in particular
malaria
, are an prevalent here. Bot flies are another problem. They lay eggs on wet laundry, and when you wear the clothes, maggots will eat into your skin. Dried laundry should be thoroughly ironed before use.
Pests are not the only health issue. In addition, unhygienically handled food and water can lead to amoeba infections, cholera and hepatitis. Follow the advice in
Travellers' diarrhea#Prevent
to reduce the risk for food-borne diseases. The locals are more accustomed to the local microorganisms than visitors, which means you can get problems also from food that locals are able to consume. Also, HIV is widespread.
Local doctors are used to coping with tropical diseases. Nevertheless, there are a big differences between health care institutions in Yaoundé — some are excellent while others are bad.
Big public hospitals
These clinics offer high quality equipment and well educated staff:
Hopital General

address: in Ngousso

Modern hospital established with Chinese funding.

Hopital Central

address: in Quartier des Ministères

Big hospital with a several specialists. Sadly there are usually long waiting times.

Clinique de la CNPS

address: opposite Quartier Fouda

Also known as Hopital de la Caisse, this is a modern and clean hospital.
Private clinics
Semmelweis Clinic

address: in Tongolo

Good and expensive private clinic. Dr André Edou speaks excellent German.

Clinique de la Cathedrale

address: near Rondpoint de la Poste in the city centre

Clinique Fouda

address: in Quartier Fouda

CMSCentre Medical Sociale Francaise is near the central post office and has a good emergency clinic.

Fondation Ad Lucem

address: in Quartier Obobogo (near Nsam)

This emergency room is suited for smaller problems like small injuries or malaria.
Laboratories
Most small and mid-sized clinics don't have their own laboratories, therefore it's useful to know the location of the ones below. If you suspect you have an illness, you can visit them without a remittance from a doctor.
Laboratoire du Centre

address: at the Rondpoint de la Poste next to Centre Culturel Français

Institut PasteurThe best laboratory and the place to go if you don't know what illness you have. Here you can also get rabies inoculations and snake serum.
Pharmacies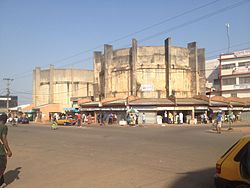 There's a dense network of pharmacies, some of which are open also on Sundays and nighttime. Ask locals where you can find the latter. Pharmacie Française stocks products that foreigners ask for and are difficult to find elsewhere, including sunscreen and some malaria prophylaxis.
You can usually purchase medicine without a prescription. You will of course do this at your own risk, but it can be useful in an emergency if you know what you're doing.
Water
Tap water does not hold first-world standards, though some locals still drink it. Upscale homes have extra water filters installed, and bottled water is also an option for those who can afford it. Bottled water is widely available, fairly cheap and probably what you should stick to as a foreign visitor. At the outskirts of the city there are some deep wells built by the Swiss organization,
Martin Stiftung
, and the water here is of a better quality than elsewhere.
The sewers were built in the 1970s and 1980s but due to a lack of maintenance, the sewage system is largely dysfunctional. Effluent is often fed directly into streams or into cesspools.
Respect
If you want to take a photo of somebody, ask them for permission first. They might want a small fee for this, but will otherwise generally be happy to be photographed. On the other hand, you will anger them if you just take a photo without asking first.
When getting around in public, proper clothing is important, so avoid shorts, flip-flops, sleeveless shirts or bathwear.
Punctuality is not as important as in many Western countries. Don't expect exact answers to questions about distances, durations and such. Also, while street names to some extent exist, locals don't use them and might not even be aware of them. Due to this, if you for instance take a taxi, you should ask to go to a landmark or traffic crossing instead of a particular street.

Cope
Embassies and High Commissions
Most of the
embassies
are in the Bastos area, though some (e.g. the French and UK) are not.
phone: +237 2 22 21 53 51

Australia: see Canada, the nearest high commission is in Nigeria

Belgium

phone: +237 2 22 20 10 85

address: Rue 1828

phone: +237 2 22 50 39 00

address: The High Commission of Canada P.O. Box 572 Yaoundé

Chad

phone: +237 2 22 21 43 95

DR Congo

Republic of Congo

phone: +237 2 22 21 17 33

Equatorial Guinea

phone: +237 6 90 91 50 44

Egypt

phone: +237 2 22 22 79 00

Gabon

phone: +237 6 91 26 83 49

phone: +237 6 98 65 28 63

Greece

phone: +237 2 22 20 16 44

Italy

phone: +237 6 94 67 01 07

Japan

Liberia

Morocco

Niger (honorary)

Nigeria

Poland

phone: +237 2 22 20 17 14

Saudi Arabia

Senegal

phone: +237 2 22 20 90 61

phone: +237 2 22 20 04 40

Spain

Switzerland

phone: +237 6 77 34 65 63

Turkey

phone: +237 2222 05 45

address: Churchill Ave

phone: +237 2 22 20 15 00

address: Avenue Rosa Parks, P.O. Box 817
Go next
Nearby
Mont EloumdemA nice climb and a good view of the city. Budget 4 hours for a visit.

Chutes d'eau de NachtigalBeautiful waterfalls, or rather rapids on the Sanaga River. You can approach the falls on foot or in a pirogue, depending on the season. Budget a whole day.

Parc de la MFOUWildlife park, about 1 hour from Yaoundé with beautiful animals in a pleasant setting.
Further away
Dja Faunal Reserve — a world heritage listed biosphere reserve, about 150 km southeast as the crow flies. Most likely you need a car to get there.
Douala — the largest city and economical centre of Cameroon, accessible by air, car, bus or train.