Yellowhead Highway
The
Yellowhead Highway
, part of the
Trans-Canada Highway
system, is in western
Canada
(the
Prairies
and
British Columbia
). It is not the Trans-Canada mainline (which originates in
Victoria
in the west) but an alternate, northern route through
Edmonton
with
Prince Rupert
as its western endpoint.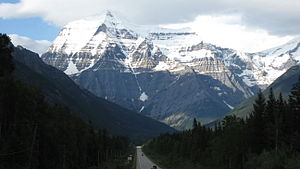 Understand
The Yellowhead Highway is one of multiple highways which compose the
Trans-Canada Highway
system; in all four western provinces (BC, AB, SK, MB) it is numbered as provincial Highway 16. The route leads through remote and sparsely-populated areas due to its more northern alignment, including many native First Nation communities; in BC it is known as the
Highway of Tears
due to a number of
hitchhikers
missing or dead over the years.
Prince George is accessible from the BC
Lower Mainland
via BC Highway 97 (which extends US 97) but further west the route is isolated. In Terrace, the only other highway (BC 37) runs north through mountainous terrain to the
Alaska Highway
in the
Yukon
; in Prince Rupert, the only access is by coastal ferry, by air or by following the Yellowhead Highway's path by road or rail. No road follows the rugged BC coastline north from Powell River to Prince Rupert.
Further east, the Yellowhead Highway passes through two large cities: Edmonton (metro population 1.1 million), Saskatoon (population 250,000), and Winnipeg (population 700,000). While this itinerary describes travel by road, it is possible to make the same trip by rail: Via Rail runs a two-day
Jasper-Prince Rupert train
from which one may transfer in
Jasper
village (in Jasper National Park) to the main Vancouver-Toronto train,
The Canadian
.
The Southern Yellowhead Highway (BC Highway 5), is spur route which runs from Tete Jaune Cache, a small village west of the Alberta border, south to Kamloops and the Lower Mainland, and is the shortest highway route between Edmonton and Vancouver. The section south of Kamloops is a 4-6 lane freeway known as the Coquihalla Highway, which also functions as the preferred route to the 2 lane Trans-Canada Highway between Kamloops and Hope.
Prepare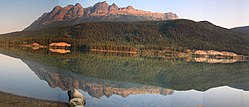 This itinerary is based on travel by motorcar. There is limited access by public transit:
By train: VIA runs from Prince Rupert to Jasper. From there, one can take The Canadian onward to Winnipeg.
By bus: While Greyhound Canada withdrew from western Canada in 2018, much of the Yellowhead highway remains accessible via a string of regional carriers. BC Transit runs Prince Rupert-Prince George and Prince George-Valemont. There's a gap between Tête Jaune Cache (near Valemont) and Jasper. Sun Dog runs from Jasper to Edmonton; Cold Shot runs Jasper-Edmonton and Edmonton-Lloydminster, connecting to KCTI's shuttlebus to Saskatoon. Rider Express also offers bus service between Edmonton and Saskatoon.
This is a northern route which leads through isolated communities and through the
Rocky Mountains
in
British Columbia
. It requires at least thirty-two hours of continuous driving and road conditions may be treacherous in winter. Be sure that your vehicle is in top mechanical condition; do not set out on this route in winter without snow tires and emergency equipment for
winter driving
.
Get in
While this route may be taken from either endpoint (Prince Rupert or Portage la Prairie), incorporated as part of a longer Trans-Canada trip, or joined at any intermediate point (such as by taking Alberta Highway 2 from Calgary to Edmonton or Saskatchewan Highway 11 from Regina to Saskatoon), this itinerary describes a trip from west to east, starting in Prince Rupert BC and joining the Trans-Canada mainline in Manitoba. The Southern Yellowhead Highway can be accessed Trans-Canada Highway in either Hope or Kamloops before it continues north to the main Yellowhead route.
See Trans-Canada Highway for a description of the main route.
Prince Rupert, as BC's northernmost seaport, is accessible by ferry from
Port Hardy
, from
Alaska
or from
Haida Gwaii
(the Queen Charlotte Islands). BC Ferries operates the
Northern Expedition
, a car ferry from Port Hardy on
north Vancouver Island
which costs $450/car + $200/passenger for a 520km (310 mile), seventeen-hour journey.
The distance from Prince Rupert to
Ketchikan
, Alaska by sea is less than ;
Hyder
is about from the Yellowhead Highway by road.
Go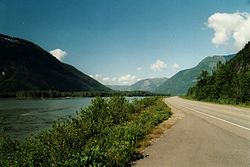 , formerly known the as the
Queen Charlotte Islands
and westernmost point on the
Trans-Canada Highway
system, the sparsley populated islands are located 40-65 km off the coast of British Columbia and accessablie via
BC Ferries
.
, the westernmost point on the
Trans-Canada Highway
system, is a small port city of 13000 people, many of them natives. It serves as a connection point for
BC Ferries
,
Alaska Marine Highway System
,
Air Canada
,
Hawkair
and seaplane operators to offload passengers and cargo onto road and rail, but also hosts various museums (railway, First Nations, canneries) and provides a port of call to
cruise ships
.
Head east through (a small city with 11000 people, including many Kitselas natives), (a pop. 5800 alpine village with lakes and a ski hill), (a farming town on one of the few flatlands in the area), (pop 72000, a highway crossroads and forestry community on the Nechako River),
McBride
,
Tete Jaune Cache
and
Mount Robson Provincial Park
,
British Columbia
. While the mountain peak itself (Mount Robson, 3954 metres) is not for the novice climber, the park offers hiking trails, fishing and camping. The route then crosses into
Alberta
as parkland.
A UNESCO World Heritage Site,
Jasper National Park
covers 10,878 square kilometres (4200 square miles), containing more than 1200 kilometres (660 miles) of hiking trails, glaciers, mountains, valleys, meadows, forests and rivers. From and , the road leads through
Edson
,
Wabamun
,
Stony Plain
and
Spruce Grove
to , the provincial capital.
The northernmost city of at least one million people in North America, Edmonton was initially built around the fur trade in 1795; it became an oil boom town after prospectors struck black gold in nearby Leduc County in 1947. The city is home to the University of Alberta and a military base, CFB Edmonton.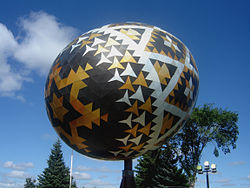 The road continues east through (aspen wilderness parkland and protected wildlife, less than an hour from the sprawling city) and (an agricultural community with strong
Ukrainian
immigrant heritage, home of the world's largest Ukrainian Easter egg).
It crosses into
Saskatchewan
at the provincially-divided city of , where the border runs right down 50th Avenue (Meridian Avenue) in the centre of town. Unlike other twin cities (such as Ottawa-Gatineau or Windsor-Detroit), Lloydminster is legally one city (pop 30000) despite being in two provinces. Its primary industries are petroleum refining and agriculture.
The highway continues through (a city of 15,000 with a ski area and a provincial park) to (the province's largest city, with over a quarter-million people), near (on Little Manitou Lake, a saltwater lake fed by underground springs that allows bathers to float easily) and (a population 15000 agricultural community, home of the Yorkton Film Festival) before crossing the
Manitoba
border, passing through , and ending at the
Trans-Canada Highway
mainline near (population 13,000). Portage la Prairie was built around 1838 fur trade post Fort La Reine (now a 25-building museum); canoes were carried overland from Lake Manitoba to the Assiniboine River. The city became a railway crossroads; between 1942-1992, a military base trained fighter pilots. As passengers left the rails to take to the open road, Trans-Canada Highway 1 followed the Canadian Pacific rails, while Yellowhead 16 followed the Canadian National line west to Prince Rupert. While Trans-Canada Highway 16 ends at Portage La Prairie, the Yellowhead Highway follows Trans-Canada Highway 1 east to , where it ends in downtown at historic
Portage and Main
.
South Yellowhead/Coquihalla Highway
The Coquihalla Highway begins in (population 6,100) on the far eastern boundary of BC's Lower Mainland, where the Trans-Canada Highway (BC Highway 1) exits the freeway to head north through the Fraser Canyon. The highway continues into the Cascade Mountains before entering (population 7,000) in the Nicola Valley, where travelers can detour into BC Highway 97C and connect to the
Okanagan
, a popular vacation region. The highway continues to (population 90,000), billed as the Tournament Capital of Canada, where it rejoins the Trans-Canada Highway and is the northern terminus of the Coquihalla Highway. The Southern Yellowhead Highway departs the freeway and continues north past the turnoff to
Sun Peaks
ski resort, to (population 2,300), which is the access area to the 522,000-hectare Wells Gray Provincial Park. The highway continues north before joining the main branch of the Yellowhead Highway at .
A scenic alternative between Hope and Kamloops is to take the Trans-Canada Highway (Highway 1) through the Fraser Canyon.
Stay safe
Cellular telephone coverage in the mountains is sporadic, with countless dead spots in each valley. A long stretch of
British Columbia
highway between
Prince George
and the
Alberta
border has no coverage from any carrier. Do not assume that roadside assistance will be just a telephone call away when needed. In adverse winter conditions, portions of the road may be closed in order to clear snow or due to avalanche risk.
Despite the Coquihalla Highway being a modern freeway,
extra precautions
should also be taken. The highway was constructed through mountainous terrain and is subject to sudden weather changes, especially the section between Hope (located around sea-level) and the Coquihalla Pass (). Travellers can experience clear weather at lower elevations but heavy snow at the higher elevations.
This is sparsely-populated country and not without risks when
hitchhiking
. Use public transit as an alternative, if it is available.
Go next