Zhongshan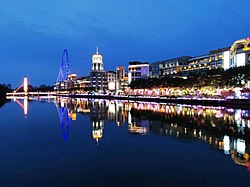 Zhongshan
(中山;
Jūngsāan
in Cantonese,
Zhōng​shān
in Mandarin​) is a city in
Guangdong
Province just north of
Zhuhai
. Zhongshan is most famous as the birthplace of Chinese national hero Sun Yat-Sen (for whom the city was renamed after his death). It's now something of a manufacturing center, like the rest of the
Pearl River Delta
, but it's quieter than the other cities in the area and still has lots of farmland and small towns.
Understand
Zhongshan is in the
Pearl River Delta
region of Guangdong Province, on the west bank of the Pearl River estuary. It is connected by road and rail to
Guangzhou
(capital of Guangdong Province) to the north and Zhuhai to the south.
Hong Kong
can be reached by ferry and
Macao
via Zhuhai.
Zhongshan covers an area of 1,800 km² and has a permanent population of some 1.4 million. The city is in a subtropical humid zone with an annual average temperature around 23°C.
Zhongshan has nurtured numerous prominent historical figures throughout its history. On November 12, 1866, Dr. Sun Yat-Sen (also Sun Zhongshan) the great leader of China's republican revolution, was born at Cuiheng village of Zhongshan. In memory of him, the county of Xiangshan, which was set up in 1152, was renamed after Dr. Sun as Zhongshan in 1925. It's one of very few cities in China named after a person.
Zhongshan was also the location of a strong guerrilla force during World War II, and the villages that hid the guerrillas are a short drive away through wooded lanes.
Zhongshan has a vibrant downtown river area, some beautiful Buddhist temples. It is a affordable place to live and work with housing being about one third that of its bigger sister cities nearby.
Talk
Zhongshan is a linguistically diverse city, with
Cantonese
being the
lingua franca
, and several closely-related dialects from the Yue family of Chinese dialects being spoken by residents in different districts. Several languages from the Min (
Fujian
) family of Chinese languages are the main languages in some parts of the city, while
Hakka
is the main language in some other parts of the city, though speakers of these languages are usually able to speak Cantonese as well. As
Mandarin
is the official language of China, most locals are also able to speak Mandarin, and Zhongshan is also home to many migrants from other parts of China who speak Mandarin but not the local languages. As with elsewhere in China, English is not widely spoken, though some younger people may know some basic English.
Get in
By plane
If you are a newcomer to Zhongshan you may wish to arrive at
Hong Kong International Airport
(
HKG
). Direct ferries are available from the airport to Zhongshan. To take the ferry to Zhongshan, go directly to the ticket counter without passing through Hong Kong immigration or customs; see Hong Kong International Airport#By ferry for details.
Hong Kong allows travelers from many nations to enter visa-free, and Chinese visas are easy to obtain at many locations. This will generally involve one or two nights' stay in Hong Kong.
The closest airport to Zhongshan City is Guangzhou Baiyun International Airport (CAN).
(You will have to have your Chinese visa organised before departure from your country of origin. This can be done at any consulate.)
Travelers have easy access to airport shuttle busses.
The schedule for buses between CAN and Zhongshan is as follows: (Price:¥68/per, 150 minutes)
CAN→Zhongshan
Departure location: A and B airport lounge of CAN
Departure times: once an hour from 08:50 to 19:50 at the A lounge; Once an hour from 09:00 to 20:00 at the B lounges.
Zhongshan→CAN
Departure location: Zhongshan Seasons View Executive Hotel, No.93, Dongyu Road, Eastern District. (Take bus 1, 6, 9, or 12 to get to the hotel)
Departure times: once an hour from 06:00 to 10:00 as well as from 11:30 to 17:30. Leave at least 2½ hours before your plane is scheduled to depart.
From Shenzhen Airport (SZX), there are buses and ferries connecting to Zhongshan (see below).

By ferry

High-speed ferries sail between and Hong Kong, Hong Kong International Airport, the Macau ferry terminal, and Shenzhen's Fuyong Ferry Terminal (near Shenzhen Airport).
The trip from Zhongshan to the Hong Kong International Airport takes about an hour and ten minutes, the trip to Shenzhen takes 45 minutes, while the other journeys take about an hour and a half.
Hong Kong–Zhongshan: seven or eight times a day.
Hong Kong International Airport–Zhongshan: four or five times a day.
Macau ferry terminal–Zhongshan: twice a day.
Shenzhen Fuyong Ferry Terminal–Zhongshan: seven times a day.
The ferry terminal has no amenities beyond a restroom; the nearest place to get a bite to eat is a 10–minute walk south. Buses to Zhongshan Port are the Numbers 1, 25, 34, 36, 62, and 212.

By bus

Most visitors and locals rely on the bus system for both everyday and travel transport.
The Zhongshan Main Bus Station connects to Hainan, Guizhou, Sichuan, Hubei, Jiangxi, Fujian, Zhejiang, Hunan and Henan provinces. 15 bus routes connect to other parts of Guangdong Province as well.
The Zhongshan Main Bus Station is on the corner of Fuhua Road and the 105 National Highway.
Buses to Guangzhou depart once every 25 minutes; buses to Shenzhen depart once every 20 minutes.
The ticket office is open from 06:00-21:00, and tickets are available four days before your departure date. The Zhongshan Station for these services is on the corner of Fuhua Road and Zhongshan 1st Road.
There are buses from Shenzhen Airport, 11:00–20:00, for ¥60.

By train

Guangzhou-Zhuhai Intercity Rail was put in to use in January 2011.
There are two train stations in Zhongshan called and .
Zhongshan Station is in Zhongshan Torch Hi-tech Industrial Development Zone and Zhongshan North Station is between the north part of Shiqi and the port area.
Shiqi is considered to be the city center, so Zhongshan North is closer to the city center.
Passengers to Shiqi, West District, South District and the Port District should get out the train at Zhongshan North Station, while those who go to East District, Wuguishan District and the industrial development zone should get off at Zhongshan Station.
There are about forty trains leaving from Guangzhou South to Zhongshan through to Zhuhai and the return Zhuhai to Zhongshan and through to Guangzhou South.
Trains are available at Guangzhou South from 06:30-23:00 and at Zhongshan or Zhongshan North at 07:20-23:00.
It takes about 35 minutes from Guangzhou to Zhongshan North and 45 minutes to Zhongshan Station.
The full ticket price to Zhongshan North is ¥24 for the first class seat and ¥20 for the second class. ¥26 and ¥22 are the full price to Zhongshan Station.

Get around
By bus

You can travel around Zhongshan easily on the city buses. At present, over 80 bus lines operating in Zhongshan, most of which are self-service so have correct change of ¥2 when you board each bus. Some buses are more expensive and can cost as much as ¥10; some of these will have an attendant who can give change.
The sights of Zhongshan are wide spread and no special tour lines and sightseeing buses are available. However, there are city buses running to some scenic spots.
For example, Bus No.2 passes Sun Yat-sen's Memorial Hall.
Bus 33 can help you getting to the beautiful water town in Minzhong Town.
The highly praised green cascade of the Yangtze River can be visited by Bus No.006. Get off the bus at Changjiang Leyuan. Zhongshan Spring and gulf course are easy of access with Bus No.11 A and B,
Bus 12 Zhongshan-Zhuhai Bus can take you there straight from the city center. You need to change at the Zhuhai terminal to Zhuhai Bus 10.

By taxi

There are more than 1000 taxis in Zhongshan. The fare is about ¥7 for the first 2 km and then ¥2.48 for every additional kilometer. The other rate is for trips further than 10 km. The same start-rate is the same as the former, but each additional kilometer is ¥2.6.
During the night from 22:00 to 05:00, 20% of basic fare per kilometer is additionally charged if the distance is more than 2 km.
There are also motor cycles available for the more adventurous on short hops and the fair for these is negotiable.
A great form of travel available is the electric rickshaw if you are heading out for dinner or just want to enjoy the night air on a short distance ride. The price is negotiable.

See
Downtown area
The main sights in Zhongshan's downtown area are not far apart and could possibly be covered in a single day on foot.
(孙文西路文化旅游步行街) is lined with beautiful old European-style buildings, many of which now have shops on their first floors.
Museums
China Radio Museum (Zhongshan)

phone: +86 760 88873686

address: Zhongshan Museum Annex Building, 197 Sunwen Middle Road, Shiqi District (中山市孙文中路197号中山市博物馆副楼)

Contains what is quite possibly the largest and most diverse collection of old radios in China. Of the more 2000 items in the collection, just over 200 are on public display at any one time. Captions are in Chinese only but that should be no deterrence, particularly if you happen to be a radio enthusiast.

Sun Yat-sen Memorial Hall

phone: +86 760 88822037

address: 188-192 Sun Wen Middle Road (孙文中路188-192号)

Not to be confused with the Sun Yat-sen Memorial Museum (listed below). Contains a photographic exhibition of Sun Yat-sen's life and legacy. Captions are in Chinese only.

Xiangshan Commercial Culture Museum

phone: +86 760 88838581

address: 152 Culture & Tourism Pedestrian Mall, Sunwen West Road, Shiqi District, Zhongshan (中山市石岐区孙文西路文化旅游步行街152号)

From the 1920s to the 1940s, this building served as the offices of the Shiqi Town Chamber of Commerce. Today it is a museum about the history of the city, with a focus on commerce. The museum occupies three floors. The ground floor gives a general overview of Zhongshan's commercial history and culture, the second floor introduces some business people who were prominent in Zhongshan during the early 20th century, and the third floor focuses on some Zhongshan natives who established department stores in Shanghai.

phone: +86 760 88829276

address: Inside Yixian Lake Park, Hubin Road, Shiqi District (中山市石岐区湖滨路 逸仙湖公园内)

Zhongshan is the hometown of several of China's most prominent cartoonists. This museum displays some of their works, as well as works by cartoonists from other parts of China.

phone: +86 760 88840408

address: 197 Sunwen Middle Road, Shiqi District, Zhongshan (中山市石岐区孙文中路197号)

This museum, which is housed in a 1930s hospital building, is mainly used for hosting temporary exhibitions. Information and captions are usually in Chinese only.

phone: +86 760 88625363

address: Qi River Park, West District, Zhongshan (中山市西区岐江公园内)

A small art museum focused on displaying works by local artists.
Parks and nature
Qi River Park

address: Intersection of Zhongshan Yi Road and Xidi Road, West District (西区中山一路与西堤路交叉口)

This was once the site of the Central Guangdong Shipyard (粤中造船厂). At the end of the 20th century, the shipyard was converted into a park. While most of the old industrial structures were removed, some have been retained or reconstructed for artistic effect. The Zhongshan Museum of Art (listed above) can be found in the middle of the park.

Yixian Lake Park

address: Hubin Road (湖滨路)

Zhongshan Park

address: Gongyuan Avenue (公园大道)

Occupies a hill in the middle of the city known as Yandun Hill (烟墩山 Yandunshan). The hill has various other names, including Fu Peak (阜峰 Fu Feng) and Shiqi HIll (石岐山 Shiqishan). The Fufengwen Pagoda stands on the hill.
Religious sites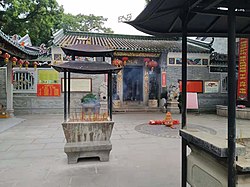 Baiyi Temple

address: 8 Lianyuan Road East, Shiqi District (石岐区莲园东路8号)

Fufengwen Pagoda

address: Zhongshan Park, Shiqi Distirct (石岐区中山公园)

Also known as the Yandun Hill Pagoda (烟墩山塔), the pagoda was built in the Ming Dynasty during the 36th year of the reign of Emperor Wanli (around 1608) by the county magistrate Cai Shanji. The pagoda is a seven-storey octagonal-shaped brick tower and stands 24.5 m high. It was restored in 1952, but is now in need of further repairs. The pagoda is surrounded by a fence to prevent visitors from being struck by falling debris.

Xishan Temple

address: 240 Sun Wen Middle Road (孙文中路240号)

A traditional Buddhist temple.
Other areas of the city
Former Residence of Sun Yat-Sen & Sun Yat-Sen Memorial Museum

phone: +86 760 28158366

address: 93 Cuiheng Avenue, Nanlang Town (南郎镇翠亨大道93号)

For those who revere the man, this place is probably the main reason to visit Zhongshan. A complex of buildings situated inside a park in the village of Cuiheng, where Sun-Yat-Sen was born in 1866. The residence was designed by Sun Yat-Sen himself and completed in 1892. Sun Yat-Sen lived here until 1895 and stayed here for a short time in 1912 following the Xinhai Revolution. The museum provides a detailed overview of Sun's life. Much of the information is available in Chinese and English. Because Sun and his family members spent time in the US and UK, some of the artifacts are actually written in English.

Tianxin Forest ParkA 226-hectare forest park at the foot of the Wuguishan mountain range.

Wuguishan Nature Park

address: Wuguishan Sub-District (五桂山街道)

Centered around Wuguixiong Peak (五桂雄峰), the highest peak in the Wuguishan mountain range, which stands at 531 m above sea level and is also the highest land formation in Zhongshan.

Zhan Garden

phone: +86 760 23336288

address: National Highway 105, South District (中山市南区105国道)

Built in 1998 and designed to resemble a classical Chinese garden, the Zhan Garden is claimed to be the largest private garden in southern China. The owner and designer Mr Huang Yuanxin named the garden after his mother Mrs Zhan.

Zhongshan Studio City

phone: +86 760 85503618

address: 85 Cuiheng Avenue, Nanlang Town (南朗镇翠亨大道85号)

An outdoor film studio that has been used to produce numerous films and television series set during the early 20th century, including several which were focused specifically on the life of Sun Yat-sen. Features street sets for several of the cities and countries that Sun visited during his life as well as re-creations of significant buildings such as the Whampoa MIlitary Academy in Guangzhou, Sun's former residence in Shanghai and Sun's mausoleum in Nanjing. There is also a photo exhibition on some of the films and televisions series that have been filmed here.
Do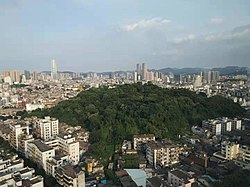 phone: +86 760 8866-3111

address: at the intersection of Changjiang and Jingguan Roads in Shiqi District

A water-based amusement park.

Chung Shan Hot Spring Golf Club

phone: +86 760 86690055

address: Sanxiang Town (三乡镇)

About 25 km from downtown Zhongshan. Features two 18-hole golf courses designed by American golf champions Arnold Palmer and Jack Nicklaus. Claims to be the first modern golf club to be established in the PRC.

phone: +86 760 88662333

address: Qi River Cruise Boat Pier, Qi River Park, West District (中山市西区岐江公园内岐江游码头)

A short cruise down the Qi River and back. The journey time is about 30-40 minutes. You may either sit in the cabin or stand on the rear deck. Standing on the front deck is not permitted.

Zhongshan Culture & Art Center

phone: +86 760 88223666, +86 760 88883351

address: 73 Xingzhong Avenue, East District (中山市东区兴中道73号)

Zhongshan's premier performing arts venue. International artists sometimes perform here.

Zhongshan Hot Spring Resort

phone: +86 760 86683888

address: Sanxiang Town (三乡镇)

phone: +86 760 8998-2999

address: Level 5, Block C, Central Power Plaza, 9 Fengming Road, Shiqi District (石歧区凤鸣路9号兴中广场C座5楼)

The Zhongshan Sky Wheel is a 108-m-high Ferris wheel on the roof of a shopping centre in Zhongshan's downtown area. Perhaps due to its central location, the Zhongshan Sky Wheel is often considered to be one of the city's most important landmarks. A souvenir shop near the ticket gate sells various kinds of minature Ferris wheels and other Zhongshan-related gifts.
Buy
There is an antique furniture
shopping area
in the Zhongshan Sanxiang Guhe area. The prices are high by national standards and expats should bargain fierce (hire local to assist) as Chinese business people are good bargainer. Most of the pieces look like real antiques, but are actually newly made replicas from tropical rain forest wood.
Guzhen town at the border of Jiangmen is lighting central. If you're feeling hungry or underdressed, too bad the central town core is light shop after light shop selling everything from bulbs to chandeliers to accessories. Hotels will have multiple light shops in the lobby and banks are rare because they can't compete against the rents offered by light shops.
phone: +86 760 88225050

address: 6 Xingzhong Avenue, Shiqi District (石岐区兴中道6号)

This shopping centre is noteworthy for its many art shops (particularly on the 2nd floor), some of which double as art schools or training centres. The interior of the shopping centre is decorated with sculptures and other forms of public art. The 3rd and 4th floors are home to Pok Art (博雅), one of the city's largest privately-owned book stores, which besides books, also sells a wide range of gifts, music, stationary and art supplies. If you are looking for Zhongshan-themed souvenirs, try the shop named Crowd (交关) at Shop No. 2111 on the 2nd floor.
Eat
Budget
Yangtze River Food Court

address: Yijing Rd

Come here for Zhongshan style hotpot (da been lo). You are given a dried bowl of ground nuts, cilantro, dried yellow beans and red beans. After adding in a scoop of the broth, it becomes dipping sauce for the food cooked at the table.
Mid-range
Bellavista Restaurant

phone: +86 760 88812988

address: Unit 3, Borough 1, 39 Qiguan West Road (岐关西路39号,一区,3卡)

3 Chefs Restaurant. German and Italien (Peter), Thai (Toffee), and Indian (Johnny).

address: Zhongshan Dongqu Qiguan Xilu,Renren Zhuru Pangbian,Hengxing Jie 12 (中山市东区岐关西路人人足浴旁恒信街12号)

3 Chefs Restaurant. Italian (Gigi)

Hefeng Japanese Restaurant

phone: +86 760 88239366

address: 2 Fukang Road, Shiqi District 富康路2号

Established in 1996, this is one of Zhongshan's oldest-established Japanese restaurants. It offers a variety of different dishes in a traditional Japanese setting. The restaurant has another branch at No. 6 Changjiang Road.South (长江南路6号).
Splurge
Drink
Beware: Chinese bars/disco are extremely loud and you can lose your hearing if you are a frequent guest. Expat bars are among the few places that one can have nice beer and still speak.
Gen Ju Di Jiu BaA truly authentic Chinese bar. Look out for the communist star over the entrance.

New Bar Street

address: Qiguan West Road

A whole complex of clubs and bars, including iClub and Fashion Club.

O Hagan's Zhongshan's only Irish Pub

address: Nan Xia Xin Ma Tou Cnr Bo Ai Lu and Qi Guan Xi Lu Zhongshan(南下新码头博爱路中山)

A wide range of scotches and beers at a reasonable price.

Peter's Place

address: Qiquan West Road

Really good German-style bar with German beer. Live music every day. The food is great, and they have nice pool tables! If you go Fridays or Saturdays, it is advisable to reserve a table. On Fridays you can eat pizza for ¥39, all you can eat. On Saturdays they do a buffet for ¥88, of which the best offerings are the Indian and Thai curries and the BBQ.

See ClubBiggest and most vibrant night club in Zhongshan.
Sleep
Crowne Plaza Zhongshan Wing On City

phone: +86-760-89916888

address: No.9 Xingnan Road, Southern District, 528455 Zhongshan

Shangri-La

phone: +86-760-88386888

address: 16 Qi Wan Road N Eastern Area, Zhongshan Guangdong Province, China

Yihe Grand Hotel

phone: +86-755-88850655

address: Zhongshan No.5, Xingzhong Avenue, Shiqi District, Zhongshan(中山市石岐区兴中道5号)
Stay safe
Zhongshan is a reasonably safe place with a low crime rate, but occasionally trouble may occur, especially, as everywhere, late at night around bars. Caution and common sense are advised at all times.
Pickpockets
, although not plentiful, are about and the foreign traveler is often a target.
Go next