Adirondacks
The
Adirondack Park
is both the largest and the first government-protected park in the
contiguous United States
. It covers a vast expanse—bigger than
New Hampshire
—of rugged, thickly wooded, mountainous terrain in northeast
New York State
. The Adirondacks are a popular destination for all lovers of outdoor activities, from hiking and skiing to ice and rock climbing.
Towns and villages
As the Adirondacks are for the most part protected parkland, there are no major cities. The strict restrictions on development do not apply within the various incorporated villages which were already extant at the time of the park's creation, but the largest of these settlements have no more than a few thousand permanent inhabitants.
Eastern Lakes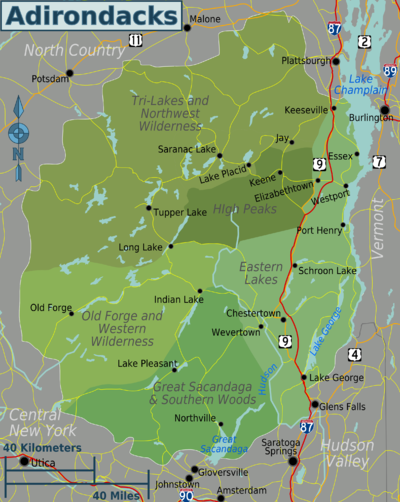 This region is directly south of
Plattsburgh
at the southern edge of Lake Champlain, along I-87 or US-9.
— Chestertown plus several surrounding hamlets and lakeside communities on the other side of the Northway from Lake George.
— Ruins of former British fortress (and site of an earlier French fortress) near a bridge to Vermont.
— The Adirondack History Center Museum is a former school house which houses a local history museum.
— Historic federal town in Essex County, once a War of 1812 shipbuilding facility, now a small agricultural village with well preserved early 1800s architecture, galleries, marinas and access to the Champlain Area Trails network.
— Vacation spot in upstate New York situated on a lake.
— Home of Fort Ticonderoga, a Revolutionary War Site.
— Cottage country and birthplace of the popular wooden Adirondack chair
High Peaks
and Keene Valley — Great rock and ice climbing, hiker's gateway to the Adirondacks.
(aka Adirondac or McIntyre) — An iron and titanium mining ghost town north of ; fewer than ten buildings remain,
Old Forge and Western wilderness
- A small hamlet in the town of Indian Lake. Midpoint on the Northern Forest Canoe Trail, hosts the Adirondack Museum.
- A small town which serves as the western gateway to the area from the Mohawk Valley. It is the starting point for the Northern Forest Canoe Trail.
Tri-Lakes and Northwest
- Home of the Covered Bridge
- Host to two Winter Olympiads (1932 and 1980), it's now a charming, but tourist town.
- An "All American City", this village is host to North Country Community College and adjoins a tiny hamlet which houses Paul Smith's College.
- Home of the Natural History Museum of the Adirondacks.
- Near Lake Placid. Home of Whiteface Mountain and the North Pole (New York) Santa theme park
Great Sacandaga and Southern Woods
Other destinations
Whiteface Mountain, near Wilmington, is a major Olympic alpine ski destination.
Understand
History
Tourism to the Adirondacks was initially spurred by the 1849 publication of Joel Tyler Headley's
Adirondack; or, Life in the Woods
and by
passenger rail travel
. Thomas C. Durant's 1871 Adirondack Railway, the first of multiple lines into the region in an era of wildly-speculative rail construction, is now the
Saratoga and North Creek Railway
(a
heritage railway
). Because of the relative ease by which rail brought
New York City
and
Albany
's wealthy elite northward, by 1875 there were more than two hundred hotels in the Adirondacks and the well-to-do were building "Great Camps" along the lakefronts as recreational property.
A Dr. Ed Trudeau, great-grandfather of
Doonesbury
cartoonist Garry Trudeau, opened a tuberculosis clinic (the Adirondack Cottage Sanitarium) in
Saranac Lake
in 1884, believing the cold, clear mountain air of the region to aid in medical recovery. Hundreds of "cure cottages", houses with large, glass-enclosed porches where patients would take in the mountain air, were constructed in this era. Robert Louis Stevenson, author of 'Treasure Island' and 'Dr. Jekyll and Mr. Hyde', spent the winter of 1887-88 in Saranac Lake writing 'The Master of Ballantrae.' Sixty-three of the cottages still remain on the National Register of Historic Places, although the introduction of suitable antibiotics in the mid-1940s largely eradicated tuberculosis a decade later.
In the immediate post-
Civil War
era, logging caused extensive deforestation in the southern Adirondacks, with the topsoil runoff fed directly into the
Hudson River
and
Erie Canal
watersheds. Adirondack Park was created by
New York State
in 1892 to protect key natural resources, including freshwater and timber. Waterways which fed from the park into the
Erie Canal
system and to the Hudson were seen as vital to the continued contribution of the canal to New York's commercial shipping industry. The Adirondack Forest Preserve (the part of the Adirondack Park under state control) was listed as a National Historic Landmark in 1963 and attracts several million visitors annually.
Landscape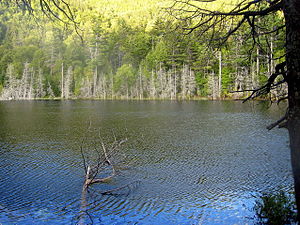 The Adirondack region is mountainous with about three thousand small lakes, many streams and extensive old-growth forests. Forty-two of the 46 Adirondack High Peaks are above 4,000 feet (1,219 m), with the remaining four (Blake Peak, Cliff Mountain, Nye Mountain and Couchsachraga Peak) just under four thousand feet in height. Whiteface Mountain, near Wilmington and Lake Placid, served as a winter Olympic ski venue in 1980; in summer, a trail is open for mountain biking.
Flora and fauna
There are 53 known species of mammals in the park; various attempts have been made (with varying success) to introduce or re-introduce beaver, elk, fishers, American marten, moose, Canadian lynx and ospreys. Deer are plentiful. Hawks, owls, fox and weasels have been known to prey upon many species desired by hunters. Wolves and cougars also prey upon other species in the park.
Hunting and fishing are allowed in some portions of the Adirondack Park, but are strictly regulated. Some portions are protected from human encroachment as wilderness areas.
Climate
Climate during the winter months can be severe, with temperatures occasionally falling below −30°F. The air is cold and clear.
Get in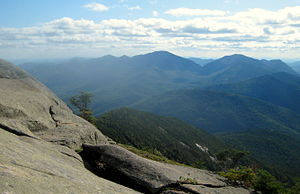 By car
From
NYC
,
Albany
and
Montréal
: The main route along the eastern edge of the Adirondacks is Interstate 87, commonly known as "the Northway." There are no tolls north of Albany on I-87; the highway continues north through Montréal (as Autoroute 15) into the Laurentians. The Northway has beautiful views of the mountains, but limited services north of Lake George.
From
Northern New York
: From
Watertown
, take NY 3 (Arsenal Street, Watertown's main street) through the park to
Saranac Lake
. It's also possible to reach the park from the north side by taking US 11 to
Malone
, then turning south on NY 30.
From
Utica
-
Rome
: NY 28 runs north into the park from
Herkimer
; to pick up NY 28 from Utica use NY 12 northbound, from Rome use NY 365.
From
Vermont
: The Green Mountain State is largely separated from the Adirondacks by Lake Champlain. This usually means crossing by ferry, but there is a Lake Champlain Bridge between the Chimney Point state historic site (on VT 17) and the
Crown Point
historic area (in the park, on NY 185). Another option is to head south and miss the lake entirely (so Fairhaven and
Rutland
VT to
Lake George
is overland). Traffic originating at the northernmost edge of the state (St. Albans, Jay Peak) takes the US 2 bridge at the north end of the lake to
Champlain and Rouses Point
, then follows I-87 or US-9 through Plattsburgh to the park.
By bus
There is limited
Trailways
bus service
from Rochester, Syracuse and Albany to points north including Keene Valley, Lake Placid, Tupper Lake and Plattsburgh.
By train
Amtrak's
aptly named
Adirondack
train runs between
Montreal
,
Quebec
and Penn Station in
New York City
. Stops in-region include Port Kent (seasonal, Burlington VT ferry dock),
Westport
(connection to
Lake Placid
bus), Port Henry,
Ticonderoga
and Whitehall. The train leaves Montreal at 9:30AM daily, and New York at 8:30AM. The trip takes approximately 10 hours but expect delays at the border. It used to be one of the most delayed in the whole Amtrak system, but recently some of the issues causing delays have been addressed, notably improving on-time performance.
By boat
The main Plattsburgh-Burlington ferry crossing runs from Grande Isle VT (west of Colchester across the US 2 bridge) directly to Plattsburgh; from there, take I-87/US-9 south to the park.
There are also Vermont/Lake Champlain ferry crossings within the park:
By plane
Fees and permits

Except for improved public campgrounds, there is no fee to camp or travel on state land.
It is illegal to transport untreated firewood more than 50 miles from its source. Local firewood can easily be found in roadside stands and convenience stores. Retailers include a slip of paper documenting the source of the firewood. Without this proof, your firewood may be seized.

Get around
By car
Interstate 87 runs along the Eastern edge of this area, following a similar path to its predecessor, US Highway 9. NY 30 enters the park from Malone in the north. Access to most of the park is via two-lane New York State highways.
NY 86 joins Lake Placid to Saranac Lake, from which NY 3 goes to I-87 in the east or I-81
Watertown
in the west.
The main roads around the High Peaks region are Route 73 to the north and east which runs through Lake Placid, routes 3 and 30 through Tupper Lake to the west, and route 28N and Boreas road to the South. Fuel stations are available about every 20 miles in these areas.
By train
The
Adirondack Scenic Railroad
runs a
tourist train
from
Lake Placid
to nearby
Saranac Lake
, as well as a train in
Old Forge
.
By boat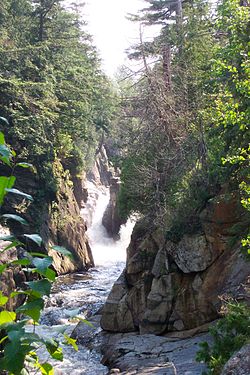 Cruising on small craft
is permitted on most of the larger lakes such as Lakes George, Champlain, Raquette, Tupper, Indian, Schroon, and Blue Mountain Lake. Hundreds of smaller lakes, ponds, and streams provide canoe routes of varying length, but not all are open to motorised vessels.
Boat tours are available on
Lake George
.
See
Do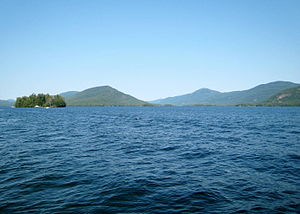 The region is famous for winter sports, particularly downhill skiing.
Lake Placid
is in the unusual position of having hosted not one but two Winter Olympiads, in 1932 and again in 1980. The Olympic ski competition took place at Whiteface Mountain, near
Wilmington (New York)
and other Olympic facilities can be found in Lake Placid.
The many huge, open spaces appeal to outdoorspeople, where the many lakes and streams draw fishermen, canoeists and nature lovers.
Live theatre venues include the
Adirondack Theatre Festival
in Glens Falls, the
Pendragon Theatre
in Saranac Lake, the
Depot Theatre
at the Westport rail station and the
Lake Placid Center for the Arts
, a year-round performing and visual arts facility.
Sightseeing tours are available on lake boats in
Old Forge
.
Buy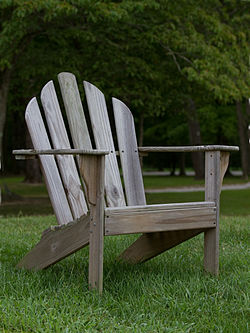 Various traditional crafts and rustic wooden furnishings are manufactured in the region.
The
Adirondack chair
, originally a "Westport plank chair" designed by Thomas Lee in
Westport
, New York in 1903 and patented by carpenter Harry Bunnell in 1905, is simple in design. One plank of hemlock, pine or cedar is cut into eleven pieces and assembled onto a simple wooden frame as a distinctive outdoor chair which tilts slightly back. The patents for the chairs, popular among cottagers, have long expired; woodworkers in many faraway places (including a few Amish communities) have readily adopted the basic designs. While there have been endless knockoffs, ranging from
Ontario
's "
Muskoka
furniture" of similar construction to the mass-market composite, resin or recycled plastic imitations which turn up at hardware and lumber dealers nationwide, some of the original wooden chairs are still made in the region and shipped far and wide.
As the handful of villages within the park boundary are small (typically fewer than 5000 people each), most of the local merchants are small independents. The closest major shopping mall is the Champlain Centre in
Plattsburgh
.
Eat
As fish and game are abundant, culinary options can be as local as smoked venison, roast duck, and fresh rainbow or brook trout caught in the Adirondacks and cooked over an open camp fire. Locally-harvested maple syrup can also be had in season.
Conversely, everything from Asian or Italian cuisine to Tex-Mex can be had from various local restaurants in the villages. The area around
Saranac Lake
and
Lake Placid
, once the home of the "Great Camps" of
New York City
's wealthy and powerful elites, offers various opportunities for fine waterfront dining and eateries in all price ranges.
Drink
Food and drink establishments are plentiful in the various small villages within the park boundary. There are a few
wineries
, microbreweries and cider makers in the region, as well as a distillery.
Sleep
Get a tent, sleep almost anywhere.
NYS DEC CampgroundsThe New York State Department of Environmental Conservation runs a few dozen campgrounds scattered throughout the park. Reservations may be required, especially during peak season and holidays.
Another option is to stay in any of the villages within the park boundary, which typically offer the full standard range of accommodations from bed and breakfast or small independent motels or hotels to the name-brand chains or the luxury lakeside resorts around Lake Placid, Lake George, Saranac Lake, Old Forge, Schroon Lake and the St. Regis Lakes.
Stay safe
There is very little crime in the Adirondacks. Still, be vigilant when driving alone at night on back roads. Think twice before stopping the car for strangers on the road. As anywhere, the road conditions can be dangerous in the winter months. In all seasons, be on the lookout for deer on the road.
The most common problem is travelers going into the wilderness without proper experience or equipment. There is prevalent wildlife throughout the Adirondacks, and interactions between humans and wild animals are common.
In some areas, bear resistant canisters are required. Check the areas where you are staying to see if this is the case.

Go next