Barreirinhas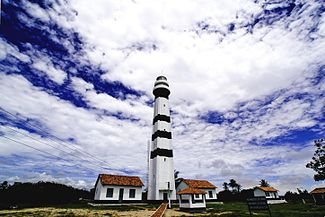 Barreirinhas
is a city in
Maranhão
. Mainly serving as a base for visitors to
Lençóis Maranhenses
, its riverside setting and sandy patches gives it a charm of its own.
Get in
By plane
Closest airport is in São Luís (SLZ). Shared vans, occassionally referred to as transporte alternativo, pick up passangers at the airport on their way from São Luís to Barreirinhas - ask the guys in yellow polo shirt written "Barreirinhas" to help you, 3.5 hr, R$ 70 (October 2018). There are departures on the wee hours as well, to cater for the flights coming from São Paulo that often land between 2-4am.
Air taxis to Barreirinhas landstrip can be arranged through agencies.
By taxi
Taxis to São Luís leave as soon as they are full, 3–4 hours, R$140 (4 people). Many in the morning, few locals will ride along after dark. Note that a taxi can take considerably longer than a bus depending on where your fellow passengers want to be dropped off.
By 4x4 from Jericoacoara
Now there is a better road between Paulino Neves and Barreirinhas, 4x4 transport from Jericoacoara can take you all the way to Barreirinhas in about 7 hours. Prices are less than R$1000 for a car up to 4 and R$1200 for a car up to 6 passengers. Just check with Global Connection (globalconnection.tur.br) on Rua do Forró in Jericoacoara. If you want they will try to combine you with other travellers to share a car to save expenses.
By bus
Four buses a day from São Luís from the Rodoviaria, 06AM–08:45AM-02PM–07:30PM, 4 hours 1/2, 29 R$, Cisne Branco company.
Vans do the same route as the buses to São Luís
Several daily pick-up trucks to Paulino Neves, with onward connections to Tutóia and Parnaíba, R$13, 2,5 hours.
By boat
By other means
Arrange transport to the dunes, and then walk some 27 km across to Atins. This can be done in a day, or with camping half way.
Agencies can arrange for a combination of water and overland transport, typically to Parnaíba or Jericoacoara.
Get around

Mostly walkable. Otherwise a mototaxi will take you anywhere for R$ 3.

See
Preguiças Lighthouse

address: Mandacaru
Do
Barreirinhas is the main gateway to Lençóis Maranhenses, and virtually all tours can be arranged from there. However, do note that since Santo Amaro operators blocked external tour agencies from taking tourists there, tours going there organized from Barreirinhas got more expensive because the price now includes two fees: one for the Barreirinhas agent and another to the Santo Amaro's one.
Lagoa AzulThe least taxing of the standard tours to the lagoons. The most popular offer leaves around 14h from the city, picks up clients and gets to the ferry at around 15h. After crossing, it's a half-hour bumpy ride to the foot of a medium-sized, smooth-sloped dune. In wet season, the guide is likely to walk the group through a circuit of four to five lagoons, but everybody congregates at the start (the highest point) for watching the sunset. Compared to Lagoa Bonita, the panoramic views are not as impressive, but the individual lagoons are prettier.

Lagoa BonitaThe most popular offer leaves around 14h from the city, picks up clients and gets to the ferry at around 15h. After crossing, it's a one hour ride to the foot of a high, steep dune (there's a rope to help you up). In wet season, the guide is likely to walk the group through a circuit of three to four lagoons, but everybody congregates near the Brazilian flag at the start (the highest point) for watching the sunset. Compared to Lagoa Azul, there are great panoramic views of white sand dunes as far as the eye can reach, but this expanse might make it harder to forget the crowds around you.

Boat trip along Rio PreguiçasStarting in Barrerinhas, it goes downstream with three usual stops at Vassouras, Mandacaru and Caburé. This is a touristic tour, but you can ask to be dropped at Atins before the boat returns nonstop to Barreirinhas. Some agencies charge extra for that, some don't. Likewise, some agencies charge extra for luggage.

Cardosa floating tourUsually a morning-only tour, people go to Cardosa village, from where they hop on buoys and float their way to a pick-up point (visibility is low and snorkeling is not really an option).

Daytrip to AtinsRoad tour visiting all the main attractions around Atins.

Daytrip to Parnaíba DeltaIn the unlikely possibility that you're not following the Rota das Emoções trail, but you still want to visit the Parnaíba Delta, it's possible to organize it as a day trip from Barreirinhas. It leaves at around 7:30am from town, from where it's a 2h-ride to Tutóia. The boat tour will visit mangroove areas, seahorse spotting areas, make a couple of stops on idylic fluvial islands for bathing and finally wait for the ibis birds to fly back to their favorite island at sunset.
Buy
The region is a big producer of cashew nut. Funily enough, it's not found at the central produce market, but either at shops nearby the church (R$ 50/kg) or on stalls inside the National Park (R$ 40/kg). (August/2018)

Eat
Terraços do Preguiça

address: Beira Rio

Varied menu, mostly seafood.

RessacaGood selection of burgers, and some fingerbits.
Drink
There is something most every day, but locations shift. Ask around.
Chill on one of the stalls along the riverfront boardwalk.
Sleep
Beds in the center are fairly expensive, with one outstanding exception:
Pousada GomesVery basic, shared bathrooms.

Pousada do Porto

phone: +55 98 3349-1910

Pousada Belo Horizonte

address: Avenida Joaquim Soeiro de Carvalho

Overpriced.

Posada Lins

address: Avenida Joaquim Soeiro de Carvalho

Bright and clean, spacious bathrroms, courtyard with small pool and hammocks.
Pousada Lagoa Bonito is at the top of the sanddune where there is a great view of the marina ..... double with fan and good breakfast for R$40.
Connect
Slow internet at R$2–3 an hour.

Go next
São Luís: the state capital. Four services a day (6:00, 9:00, 14:00, 18:45), 5 hours, R$ 51, Cisne Branco.
Paulino Neves: village at trekking distance from the site known as "small Lençóis", also with lagoons on sand dunes.
Tutóia: gateway to Parnaíba delta. Two services a day (11:00, 19:00), 2 hours, R$ 15, Cisne Branco.