Boston/Back Bay-Beacon Hill
Historical heavyweights,
Back Bay
and
Beacon Hill
are some of
Boston
's most beautiful neighborhoods. With narrow gas lit streets and scores of architecturally significant buildings, these distinctly different neighborhoods will make up the core of almost any visitors itinerary.
Understand
Beacon Hill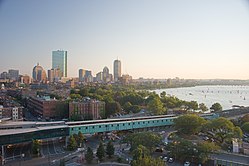 One of the oldest communities in the city, Beacon Hill is also one of Boston's most desirable and expensive neighborhoods. The district took its name from a beacon placed here, used by early settlers as a call to arms during any unwanted invasions. When the Puritans first arrived, this area had three separate hills; most of them were leveled as used as infill for other low lying areas downtown. The hills were often called "trimount" by early Bostonians, giving root to a common street name, "Tremont". At the beginning of the 18th century, the agrarian residents would use nearby Boston Common to graze their livestock. And by centuries end, the hated British had been expelled, and a new state would call for a new state house. It was designed by prolific architect Charles Bulfinch at the end of the Revolutionary War, and built in 1795.
Construction of new homes and residences began in earnest at the dawn of the 19th century. Fabulous mansions were built, alongside symmetrical pairs of houses and exquisitely detailed row homes. During this era Beacon Hill became a seat of wealth and power, and residents of these opulent homes would call themselves Boston Brahmins. Industry still thrived here, however, and rope was manufactured for use on the ships constantly arriving in port. The Brahmins of course would not undertake this work, it was done by their neighbors, free blacks and immigrants from throughout Europe. Immigrants would also build the Brahmins their fine houses. You can see many identical structures, if less ornamented, in the Bay Village where these craftsmen lived.
Moving into the 20th century, increasing transit connections led to an economic boom in the city. Some of the more dilapidated structures were knocked down, while others would undergo extensive renovations. A neighborhood association was formed, along with an architectural commission, in order to better monitor renovation and development projects. Because of their work, brick sidewalks and several prominent buildings seem to remain almost frozen in time. Today, Beacon Hill is home to numerous antique stores, restaurants, and bars. Wealthy families still call the hill home, as do university students, young professionals, and health care workers employed across the street at Mass General Hospital.
Back Bay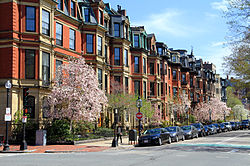 A relative newcomer to Boston, the Back Bay was a stagnant pool of brackish water for millennia. As the city's population grew, so did the pressure to expand, and thousands of trainloads of gravel were brought in day after day, filling in most of the bay by 1882. Needless to say this wholesale reshaping of shorelines and estuaries would not fly today! One notable feature is the neighborhood was established late enough to be laid out on a grid, making it one Boston's easiest areas to navigate.
New architects hungry for fame and commissions latched onto Copley Square, and constructed some of the finest churches and libraries in America. Strict building requirements were written into new property deeds, almost forcing harmonious rows of dignified multi-story brownstone homes to spring up. Walking the streets here, it's easy to see why the Back Bay is considered one of the best-preserved examples of 19th-century urban architecture in the United States. Any modern updates to the exteriors of these homes are all but impossible. If the National Register of Historic Places or Back Bay Architectural Commission don't deny your request, neighbors who have spent millions of dollars buying into the neighborhood surely will.
During the 1960s, a major surge of development hit the city resulting in the High Spine concept. Parts of the Back Bay along the Mass Pike were rezoned for super tall and large scale construction. The thought being that large shadows cast by skyscrapers would fall over one another, and avoid throwing shade on the Common and Esplanade. These zoning laws even extend to the air rights above the highway, which are again a source of contention during todays modern construction boom. Today the area is home to wealthy families, young professionals, and used as a pied-à-terre for foreign nationals.
Get in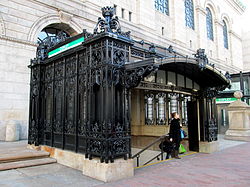 By public transit
These neighborhoods have some of the best public transit options in the city. If you're heading to Beacon Hill the Red line will be your train. Use
Charles/MGH
for shopping and dining destinations along Charles street, as well as easy access to the Esplanade and the Charles River.
Park Street
is perfect for visiting the State House, Boston Common, and other points
downtown
. The Orange line is another option on the Back Bay's southern border. The
Back Bay
and
Massachusetts Ave
stations are shared with the
South End
, and work well for visiting the Prudential Center and Christian Science Plaza.
Several stations on the Green line are located within Back Bay and Beacon Hill, these trolleys run constantly and are a great option. Largest of all is busy
Park Street
station, change here for the Red line. Continuing outbound from here you'll use
Boylston
,
Arlington
, and
Copley
. (Avoid looking like a tourist and pronounce it COP-lee, not COPE-lee.) At Copley the Green line will split into
B
,
C
,
D
, and
E
branches. They all go to
Hynes Convention Center
,
except
the E branch, which continues on to
Prudential
and
Symphony
stations. E trains are less frequent, so it might be faster for you to just go to Hynes and walk from there.
The most helpful busses are the
#1
and
CT1
lines, wait for them outside in front of the Hynes Convention Center stop. These buses run up and down Mass Ave, connecting travelers to Harvard Square, and Central Square respectively. The
#39
leaves Back Bay station, running through Copley Square before continuing into the
Fenway
and to
Jamaica Plain
. Express busses
#502
and
#503
are more expensive, and will get you to
Watertown
and
Brighton
via the Mass Pike. The
#10
will run you into
Southie
, and the
#55
sits in traffic and doesn't really go anywhere.
Back Bay station is also a large transit hub, with Amtrak trains
Acela Express
,
Northeast Regional
, and
Lake Shore Limited
stopping here before making their final stop downtown at South Station. Same deal with the Commuter Rail. The
Providence/Stoughton
,
Framinghham/Worcester
,
Needham
, and
Franklin
lines all stop here on their way to South Station.
If you're coming form
Boston Logan International Airport
,
Logan Expressoffers express bus service to Copley square and Hynes Convention Center.
By foot
This is honestly going to be the best option for most visitors. The T just isn't worth it if you're only traveling a stop or two. In the time it takes to get to the station and wait for the train to arrive, you could probably have already walked to your destination. Plus much of the neighborhood charm comes from a leisurely stroll, taking the time to absorb all the historical embellishments.
By car
No.
A few years ago a local startup tried to solve the problem of parking in this area. They went out of business. If you must drive; embrace the chaos and prepare to sit in traffic, lost, for the better part of an hour. When you make a wrong turn that sucks you onto the Pike or over a bridge, don't beat yourself up too much, it happens to Bostonians all the time. There is literally a sign on the highway showing motorists how to make a U-turn to get back into Boston. When you finally arrive and need to park, try underneath the Common or in a lot near Hynes Auditorium. Expect to pay about $15 an hour when demand is low, but do not expect to find any spaces. If you do find on street parking, congratulations on all your good deeds in your previous life!
See
Architecture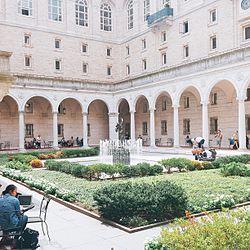 Churches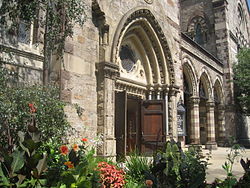 Galleries
Landmarks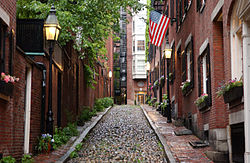 Museums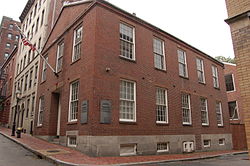 Parks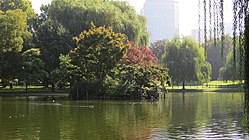 Itineraries
Do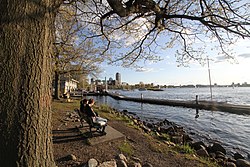 Events
Anime BostonThis event usually takes place over one weekend in April or March in the Hynes Convention Center. Anime Boston has been an ongoing yearly convention of people from around the east coast who love Anime and Videogames. Anime Boston has been occurring since 2003, and is going as strong as ever with as many as 17,236 people attending during their 2010 convention. There are many things to do during this convention, such as attending artist workshops, attend events based around your favorite anime, visit the giant dealers room and buy memorabilia, watch cosplayers act out skits, or one of many events that are held throughout the weekend long convention. For adults, a weekend pass is $55, for children between the ages of 6 and 12 it is $45 and for children 5 and under it is free. A one day pass for adults is $35, for children between 6 and 12 it is $25, and for children under 5 it is free. Their hours of operation for the upcoming convention are; Friday April 6, 8AM-8PM; Saturday, April 7, 8AM–8PM; and Sunday, April 8, 8AM-12PM.

Shakespeare on the CommonEvery year in late July-early August, the Commonwealth Shakespeare Company puts on free performances on Boston Common of various Shakespeare works. Performances are well attended, but there are few space constraints so you should be able to find a decent vantage point. Food Trucks show up and picnicking is a popular activity.
Buy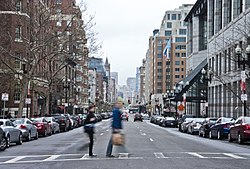 The Back Bay is by far
the
place to shop anywhere in New England. Between its two giant shopping malls and streets seemingly designed for browsing, there is little chance
something
you want can't be found here. Beacon Hill also has a nice main commercial district, offering wares for locals and tourists alike. First, a few quirkier spots not found in the malls and high streets:
Charles Street
Even if shopping isn't on your to-do list, a walk down Charles street probably should be. Scenic gas lamps and centuries old bricks warm views up and down the road. One of the strictest historical preservation codes in the country ensures even a basic convenience store located here needs to hang a shingle of hand carved wood embossed with gold leaf.
Malls
phone: +1 617 262-6600

address: 100 Huntington Ave

A very upscale and luxurious mall. It seems even odd to call it a mall, but hey, that's the format they've chosen. Most things here are not affordable to mortal humans, check out Tiffany & Co. as a prime example. Hawking some of the finest jewelry in the city, this is a great spot to window shop. Entering the store is basically walking into a bank vault, get a load of those doors! Across the mall Moncler, an apparel and outerwear store, offers several sweatshirt styles from around $1000. Alternatively, grab yourself a pair of designer Jimmy Choo shoes from $600-1800, or pop into Rigby & Peller for something a little more intimate but just as expensive. If you head up to the second floor you may have a better shot; with more traditional retailers like Gap, J. Crew, and Banana Republic selling clothing for the rest of us. Ongoing renovations should wrap up by the end of 2017, but the stores remain open, through you may notice a few empty spaces.

phone: +1 617 236-3100

address: 101 Huntington Ave

The more downmarket of the two malls here, (although that's not saying much) and clearly the larger, the shops at the Pru are always changing. Popular boutiques like Shinola offer plenty of stylish "lifestyle" oriented clothing and objects. Or head next door to Sephora for all the beauty products and fragrances to get your body and mind aligned. One of the best places to look without buying is the new Tesla showroom on the ground floor of the Boylston street side. Between the technology, design, or just the cars themselves, it's likely something will catch your eye. There are of course plenty of additional clothing retailers in residence: Express, Lacoste, and Polo to mention just a few. Right alongside them are even more shops with shoes, jewelry, and accessories like Aldo, Swarovski, and Kate Spade.
Newbury Street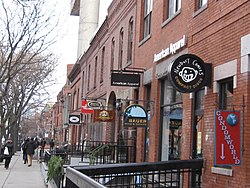 If shopping is the question, beautiful and historic Newbury Street has the answer. As you walk from the Public Garden westward to Mass Ave; Newbury transitions from "high end" to "low end" boutiques. The street is narrow but not confining and filled mainly with appealing 19th century brownstones, the cafes and restaurants peppered throughout act as calls to linger. Over the years the street has crept closer and closer to becoming a giant outdoor mall, with familiar storefronts
H&M
,
Zara
,
Nike World
,
Brooks Brothers
,
Anthropologie
, and
Urban Outfitters
interspersed among some of the more uncommon shops listed below.
Eat
Budget
phone: +1 617 723-9600

address: 20 Charles Street

A local upscale pizza chain, good spot for a good slice. Some seating on premises, but it can fill up fast if/when a large party shows up.

phone: +1 617 523-8164

address: 142 Bowdoin St

A favorite with the workers of Beacon Hill, Fill-A-Buster is a small deli with a huge menu running from classic American breakfasts to falafel. Portions are big, prices are low, and you might see a politician (or at least their staff).

Lucy Ethiopian Cafe

phone: +1 617 536-0415

address: 334 Massachusetts Ave

Surprisingly good Ethiopian can be found in this odd corner of the Back Bay. Bring a few friends and share a large combo platter, everything's good and the Injera bread is all the silverware you need. Vegetarian options are available and up to snuff. No A/C, but it's probably not hot enough to need it anyway.

phone: +1 617 536-0230

address: 48 Gloucester St

This café has been offering a variety of Middle Eastern fare since opening in 1991. Always busy, rarely crowded, ask the friendly staff what's fresh and good today. Shawarma and hummus are perennial favorites of course, but give some of the juices a shot too. They have an average selection of beer and wine.

phone: +1 857 277-0981

address: 106 Cambridge St

Offering a sushi burrito and poke bowls.

phone: +1 617 456-7849

address: 35 Stanhope St

With a kitchy, retro 50s vibe, this Back Bay location is open insanely late on Friday and Saturday, well for Boston anyway. Known for their filling breakfast food served whenever you're ready to eat it. Service usually has just the right amount of attitude. A wide variety of vegetarian and vegan options.

phone: +1 857 250-4497

address: 51 Massachusetts Ave

Dark wood and repurposed church pews set the mood at this American take on British pasty pies. The traditional style, filled with steak, potato, onions and rutabaga pairs wonderfully with the red wine gravy. Other options include fillings like Stilton cheese, or might have more of a Vegetarian, Mexican or Indian theme to them. Nail it all down with the Banoffee pie, made on premises. Serving bottled beer and cider while they await licensing for the taps.

phone: +1 617 247-4777

address: 361 Boylston Street

A casual place with a moderate side walk cafe. Their specialty is sandwiches designed by some of the best chefs in Boston. They've also got a great cocktail menu and beer selection. If it's nice out everyone will have the idea to grab an outdoor seat at the same time.
Mid-range
Splurge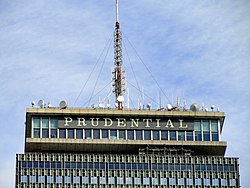 Drink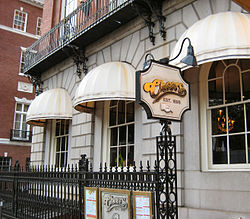 phone: +1 617 227-7100

address: 150 Bowdoin St

Directly across the street from the State House, this is a great spot to relax or do a little politicking after work. The low ceilings with rustic beams and dark wood make it a cosy spot to imbibe a glass of your favorite poison. In wintertime, go during off hours, slide into a window seat and just watch the quiet snow fall.

Beacon Hill Pub

phone: +1 617 523-1895

address: 149 Charles St

Delightfully out of place. Beacon Hill is upper class Boston, but Beacon Hill Pub is a cheap, working class dive that has become popular with students. There is even a foosball table inside, perish the thought!

phone: +1 617 437-9999

address: 50 Dalton St

Top notch beer list and excellent mixed drinks at this long running boozy spot. Wear your tightest jeans and vintage threads to this narrow, deep, and almost windowless space. Can't decide? Ask to "spin the wheel" and drink whatever it lands on. Be ready with cash, however, there are no do-overs even if it stops on a pricy option. ATM on premises.

phone: +1 617-227-9605

address: 84 Beacon St

After visiting this bar and chatting with bartender Eddie Doyle, Cheers producers decided to create a show based off of this very pub. Trudge down the staircase of this iconic facade with the rest of the increasingly grey-haired crowd as you fondly remember when "everybody knows your name". Dated memorabilia lines the walls, and a can of something called "Norm's Nuts" is/are available for sale in the gift shop at this fantastically touristy location. Here only the exterior looks like TV, not the inside. If you want it the other way around head downtown to Faneuil Hall.

phone: +1 617 262-0911

address: 911 Boylston St

If you are looking for a real Irish Boston Sports bar than you have to stop by McGreevy's and hoist a pint. The bar is the home of famous Irish rock band, The Dropkick Murphys, which really helps build its blue-collar atmosphere. The bar has positioned itself to be the unofficial bar of the Boston Red Sox, so if you can't get a ticket to Fenway than this is a great alternative.

phone: +1 617 236-1767

address: 907 Boylston St

A favorite with locals, the Pour House offers cheap food and drinks in a fun atmosphere. Weekends tend to be crowded, but during the day it is a great place for a cold brew and gigantic plate of nachos. Specific day specials, bars upstairs and down, oh and it's seat yourself.

The Sevens Ale House

phone: +1 617 523-9074

address: 77 Charles St

Casual drinking establishment with a pretty typical pub menu. Not much in the way of selection or amenities, but you're in the middle of it all and the prices can't be beat. It manages to be a neighborhood bar despite occasionally being swamped with tourists.

phone: +1 857 350-3344

address: 138 Cambridge St

This pub serving spendy modern victuals, is also known for its wide ranging beer selection. Serving varieties from brewers around the country like Solemn Oath, Single Cut and Wicked Weed; they also sling local favorites like Jack's Abbey and Night Shift. Main course fare is pricy and meat heavy, with few outs for vegetarians.
Coffee
Sleep
Budget
Mid-range
Splurge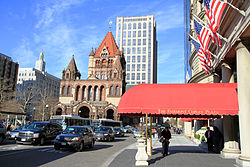 Go next