Boston/Dorchester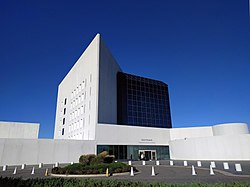 So, you've decided to visit
Dorchester
. Congratulations! Boston's largest neighborhood had long been written off, dismissed as "too dangerous" by those who had never set foot here. But longtime residents — or "Dot Rats" — have always known what the rest of
Boston
is beginning to rediscover. An area close to downtown and the ocean, replete with beautiful parks, charming old architecture, and good public transit. An area with a diverse and inclusive population, and additionally one of the more affordable spots in Boston. When you consider these assets as a whole, it should come as no surprise that many are giving the neighborhood a second look.
Understand
Due to Dorchester's large size it can be helpful for the traveller to think of it in two halves, north and south. The northern half is more traditionally urban. Houses are packed tightly together, people walk everywhere, all accompanied by the traffic and street noise one might expect. Due to its proximity to downtown, the majority of new development is taking place here as well. A huge cineplex, mall expansion, and many new condos are under construction as of 2016. The southern half, by contrast, continues to retain a more suburban feel. City lots are a bit roomier, large condo buildings become less common while trees become more prevalent. Driving is slightly less stressful and even necessary in some areas. Stitching these two halves together is Dorchester Ave. Running from
South Boston
to
Milton
, Dot Ave is by far the neighborhood's most powerful connector of people and places. Yes, the big draw here is JFK Presidential Library, but to really experience Dorchester you should allow some time to investigate the people and places along this main street.
Neighborhoods
Again, Dorchester is huge. If it were an independent city, it would be the 4th largest in the state. Consider this a severely abridged list of just a few of the areas you may be interested in visiting. Also take these names with a pinch of salt. In a place this old, it can feel like every intersection has a special name or used to be called something else.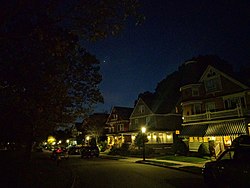 Ashmont: The general area around Ashmont station has been transformed in recent years, showcasing a rebuilt train station in 2011 and several new shops and restaurants. The residential hills to the east and west of the station have deep Irish-American roots, and boast some of the finest houses anywhere in the city. The Kennedys' family home was in this area. Ashmont is also one of the few areas in the south Dorchester where some mid-rise buildings have been going up. It remains to be seen what type of impact they will have on the neighborhood. You might also hear this area called Ashmont Hill or Peabody Square. Another neighborhood, Adams Village, is very close by and has a similar Irish color.
Fields Corner: A variety of cultures meet and shop in this bustling commercial district. Conveniently clustered shops selling a vast array of goods draw shoppers from nearby African-American, Vietnamese, and Irish enclaves. During the warmer months the community park is in almost constant use with kids playing baseball, neighborhood festivals, or families barbecuing. This area could also be considered the center of the Vietnamese community in Boston. You can find many Vietnamese restaurants, places of worship, and community centers in the vicinity.
Lower Mills: On the shores of the Neponset River and functioning as Boston's southern gateway, Lower Mills is decidedly upmarket. Once the heart of chocolate manufacturing in the region, many picturesque old factory buildings have been painstakingly restored and converted into hundreds of luxury condos. Following the arrival of new residents, new and old retailers alike have wasted no time updating their offerings in order to cater to this expanding community. Lower Mills is also a great area to get outdoors. Bike or walk along miles of trails and paved paths to check out some of the best green space Boston has to offer.
South Bay: Not an official neighborhood per se, but worth noting with all the construction going on in the area. This part of Dorchester is by far its largest commercial district. Anchored by big box stores like Target, Home Depot, and Best Buy among many others. Its proximity to South Boston and the South End make it a neighborhood crossroads of sorts, and developers are pouring money in. It's surprisingly easy to drive here, due to the large parking lot and interstate highway nearby.
Get in
By public transit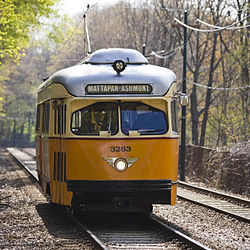 The T's
Red Line
runs frequent service to much of Dorchester. Trains run about every 8 minutes, more during rush hour and less often at night.
JFK/UMass
,
Savin Hill
,
Fields Corner
,
Shawmut
, and
Ashmont
stations all provide the neighborhood with convenient links to downtown Boston. Be aware that the Red Line splits into two separate branches at JFK/UMass, so make sure you board an Ashmont bound train! JFK/UMass also provides Dorchester with its only connection to several South Shore commuter rail lines. Trains on the
Greenbush
,
Kingston
, and
Middleborough/Lakeville
lines stop here. On the western border with
Roxbury
, the
Fairmount
commuter rail has stations at
Newmarket
,
Uphams Corner
,
Four Corners/Geneva
, and
Talbot Avenue
. This line runs on an infrequent schedule, around once an hour, but the city planned to increase service by 2018.
Ashmont station is the terminus of the Red Line, as well as the
Ashmont-Mattapan High Speed Line
. This is a quaint 1940s era trolly system that locals continue to use everyday as they go about their business. The trolley stops in
Cedar Grove
, and
Butler
before continuing on to Milton and
Mattapan
. Ashmont is also the largest bus depot in Dorchester. From here the
#21
,
#22
and
#23
busses run to different points along the
Orange Line
. Lines
#215
,
#217
,
#240
,
#245
are less frequent and run to
Quincy
and Milton. While the
#27
runs to Mattapan. There are a few other bus connections from Fields Corner and JFK/UMass that also run to the Orange Line. There is even a bus (
#18
) that runs up and down Dorchester Ave, but good luck with that. There are no bus connections from Savin Hill or Shamut stations.
By car
Dorchester is generally more car friendly than other neighborhoods in Boston. Many commercial areas have free parking lots close by, and parking on street is usually not a hassle. One particular challenge here can be driving on Dorchester Avenue. This thoroughfare can be crowded at all times, and for no apparent reason. If you are aren't stopping locally consider either Morrissey Boulevard, or
Route 93
as alternatives. Remember the further north you go the more congestion you face, so keep that in mind when making updates to your itinerary. In the south a car can be beneficial, as some sights are further apart and away from train stations.
See
Colonial
Museums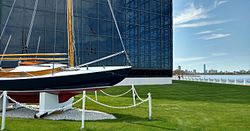 Parks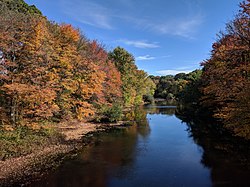 Do
Buy
phone: +1 617 436-2997

address: 777 William T Morrissey Blvd

High quality selection of fruits, veggies, meats and sundries. Big salad bar and to go hot bar as well. Seasonal plants available out front, and don't miss the tasty ice cream next door! Great old school New England feeling "Superette".

phone: +1 617 265-8013

address: 846 Dorchester Ave

If you want yarn, this is the place to go. Offers classes for sewing, knitting and other trades of the needle.

South Bay Center

address: 8 Allstate Road

A variety of big box stores line the perimeter of this giant open air mall, updated in 2018. Longtime retailers like Best Buy, Marshalls, and Target have been joined by a Nike store, Forever 21, and Ulta Beauty. Several restaurants are opening up too; from burgers, to ramen, to something a little more upscale.
Eat
The diversity of Dorchester is clearly reflected in its restaurants. Some of the best Vietnamese in the city can be found near Fields Corner. While Dorchester's western border serves dishes from Cape Verde, Jamaica and Puerto Rico, among other island nations. Scattered throughout the neighborhood, traditional Irish pubs rest comfortably alongside recently renovated bistros. This area is often less expensive than the rest of Boston, and food prices reflect that.
Budget
phone: +1 617 296-8567

address: 2295 Dorchester Ave

Homemade ice cream is sold on the premises for over 35 years, making it a local landmark. The special flavors include peach, black raspberry, ginger, lemon custard, pumpkin, and more. Remember, in New England order a "frappe" if you want a milkshake. Look for a line to the door most nights, but the ice cream is worth it.

phone: +1 617 825-8187

address: 780 Adams St.

Looking for authentic Irish bread, food, and people? Look no further than Greenhills. With real Irish bakers on the premises, make sure to buy the Irish Soda Bread and local pastries.

Paraiso Restaurant

phone: +1 617 265-7067

address: 750 Dudley St

Casual tidy restaurant focusing on Dominican cuisine.

Borinquen Bakery & Café

phone: +1 617 282-2500

address: 112 Stoughton St

Small Puerto Rican café offering sandwiches and cakes among other authentic fare. Served on freshly baked bread, the Pernil in particular runs out quick.

phone: +1 617 533-7585

address: 1448 Dorchester Ave

Delicious baked goods made daily, both the sweet and savory varieties. Also serving up high octane morning beverages and more substantial sandwiches. Free Wi-Fi. Artwork from local artists adorns the walls.

Anh Hong

phone: +1 617 265-8889

address: 291 Adams St

High quality traditional Vietnamese dishes served in basic surroundings. Your stomach will be impressed by the food, but your eyes will not be impressed by the decor.

phone: +1 617 287-9746

address: 1370 Dorchester Ave

Good quality sit down casual restaurant. The pho is excellent (of course), and so are the vermicelli bowls.

Banh Mi Ba Le

phone: +1 617 265-7171

address: 1052 Dorchester Ave

Great little Vietnamese carry out restaurant and grocery store. Specializing in banh mi sandwiches and bubble tea. You can find many other delicacies for takeaway too. Friendly family business with good customer service.

Jerk

address: 310 Bowdoin St

Behind a nondescript storefront in a little visited corner of Boston intrepid travelers can find some great jerk chicken and other Jamaican staples.
Mid-range
Splurge
Drink
Coffee
phone: +1 617 298-1800

address: 1170 Washington St

A local coffee company with several other locations in downtown Boston. This one just happens to be the one that started it all. The owner and store managers roast their own coffee on site, producing micro batches of organic coffee. The shops regularly have local artists on the walls, with fresh pastries and bread for sale as well. Highly recommended for coffee and pastries.

phone: +1 617 863-7353

address: 1370 Dorchester Ave

Artisanal coffee and other caffeinated beverages. Nitro cold brews with Vietnamese inspired condensed milk sweeteners. Several varieties of tea and boba.
Sleep
Budget
phone: +1 617 287-9200

address: 900 William T Morrissey Blvd

A somewhat more affordable option than hotels downtown, this is a convenient location for its proximity to UMass Boston and the JFK Presidential Library & Museum. Expect to drive into downtown.

phone: +1 617 287-9100

address: 800 William T Morrissey Blvd
Mid-range
phone: +1 617 288-3030

address: 69 Boston St

DoubleTree Club by Hilton Hotel Boston Bayside

phone: +1 617-822-3600

address: 240 Mt Vernon St

This hotel also offers daily complimentary shuttle service to downtown Boston, South Station and the airport.
Splurge
Connect
There are few chain coffee shops in Dorchester to offer free wi-fi facilities, there are however, many BPL branches here to fill that gap.
Go next