Brockville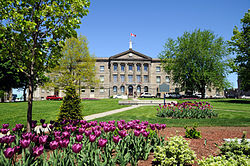 Brockville
is a city of about 30,000 people (2016) on the St. Lawrence River in
Eastern Ontario
.
Understand
Southeastern Ontario is United Empire Loyalist country, colonised primarily by loyal British subjects fleeing the newly established
United States of America
at the end of the American Revolution (1776-1783). Because of the region's proximity to the US border (Morristown, New York, directly across the St. Lawrence River, is easily visible from Brockville's waterfront) this area was one of the front lines in the War of 1812. The town's name refers to General Isaac Brock, leader of British-Canadian soldiers in the Niagara region during that war.
Brockville bills itself as the "City of the
Thousand Islands
", in reference to a group of islands directly upriver on the
Ontario
-
New York
border.
Get in
Brockville is part of major
transportation corridors
between
Toronto
and
Montréal
, Canada's two largest cities. Transportation infrastructure includes the St. Lawrence Seaway, the CN Rail mainline (Toronto-Ottawa and Toronto-Montréal VIA passenger services follow the same path east to Brockville, then diverge) and roads such as Ontario Highways 2 and 401. The scenic Thousand Islands Parkway ends just west of the city.
The closest major airport is
Ottawa
-Uplands (
YOW
), some 100 km distant. Montréal-Dorval (YUL), while more distant, may also be a viable option as it offers relatively easy air-to-rail connections.
There is no scheduled bus or rail service to southeastern Ontario from Watertown or Syracuse.

By car
Brockville is located on Highway 401 about 50 minutes east of Kingston and two hours west of Montreal.
There is no active international crossing within Brockville, despite its close proximity to Morristown NY. A ferry once joined the two towns, but was abandoned after an international bridge opened at Prescott-Ogdensburg (1960); there's another bridge upriver in the Thousand Islands (1938).
From Ottawa, access to the region is normally by Highway 416 to Prescott, the next major town downriver. Travel time from Bayshore (in Ottawa's west end) to Brockville is nominally an hour (100 km, 60 miles). From Smiths Falls, the Brockville Road (old Highway 29) is a half-hour of driving on two-lane road.

By bus
address: 3049 Jefferson Dr

The Toronto-Montréal service stops about 2.2 km from Brockville's Courthouse Square. There is no Brockville ticket agent; pay the driver directly.
By train
phone: +1 613-345-5337

address: 141 Perth St, Brockvegas K6V 5E4

Service from Toronto, Ottawa, and Montréal. The station is open 30 minutes before and after train time according to a posted sign, and is staffed.
Brockville railway stationThe Via Rail station is a heritage building built in 1872 for the Grand Trunk Railway which later became part of the Canadian National Railway. Vintage photos displayed in the waiting room illustrate the history of the station.
Get around

There is a set of three local buses which operate once an hour within city limits, but no evening or Sunday service.
There are three local taxi companies, Executive +1 613-342-2000, Yellow Cab +1 613-345-5911 and City Taxi +1 613-345-5888.
As Brockville is a small city, much (at least within the downtown) is within walking distance, including the rail station. In rural areas, however, a motorcar may well prove to be a necessity.

See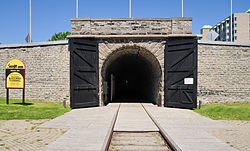 Brockville Railway TunnelCanada's first railway tunnel passes under City Hall continuing north under Victoria Avenue. It is about 500 metres long. Since August 12, 2017, visitors can walk the entire length of the tunnel on a paved walkway. The artistic lighting is a major feature within the tunnel, which changes the colour of the tunnel lining to accompanying background music. Occasionally, a flash of light will pass through the tunnel accompanyed by the sound of a train.
South tunnel portal

address: 1 Water St W

This is the main entrance to the tunnel. If you have the opportunity, see this portal at night.

North tunnel portal

address: Pearl St E & Victoria Ave
Heritage buildings
Brockville has some attractive
cultural heritage buildings
, some of which may not be open to the public but can all be viewed from a public sidewalk.
phone: +1 613-342-8772

address: 1 King St W

This heritage building, built in 1862-64 as Victoria Hall, once had a second floor concert hall. It was remodelled after 1904 to become Brockville City Hall. The Brockville Railway Tunnel passes under the building.

Leeds and Grenville County Court House

address: 1 Court House Square

This monumental, grandiose court house is a National Historic Site of Canada overlooking the pictoresque Court House Square. The building contains a jail. The central portion of the building was built 1842-1844 with the west wing added in 1888. The Gaoler's House on the east side was built in 1898.

address: 10 Church St

Built in 1879.

address: 5 Wall St

Built as a Methodist church built 1830-1896.

address: 12 Court House Ave

The former Post Office and Customs House built in 1883-85 was designed by architect Thomas Fuller for whom the fountain in Court House Square was dedicated.

Elizabeth and Alexander Morris House

address: 22 Court House Ave

Built ca. 1835.

Jane and Newton Cossitt House

address: 58 Wall St

Attractive Victorian house with bay windows and a tower-like roof structure. Built in 1883.

Mary Ann and Robert Wright House

address: 17 Sherwood St

Attractive Victorian house with a tower-like roof structure. Built in 1880.

Two Victorian houses

address: 10 & 12 Victoria Ave

Although these two Victorian houses have very fanciful façades, they do not seem to have official heritage status.
Adam Fullerton House

address: 10 Victoria Ave

Built circa 1895.

Margaret & Dr. Vincent Moore House

address: 12 Victoria Ave

Built in 1880.
Do
phone: +1 613 345-7333

address: 30 Blockhouse Island Pkwy

Offers a variety of 1-3 hour cruises on the St. Lawrence River and 3-6 hour cruises on the Rideau Canal.

phone: +1 613-342-7122

address: 235 King St. West

Live theatre and art gallery.

Thousand Islands ParkwayScenic route with walking and cycling paths, begins west of the city leading through Mallorytown to Gananoque.
Buy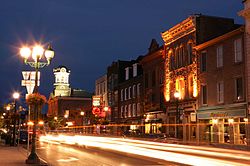 There are two principal commercial districts. The town's main street, King Street (old Ontario Highway 2) is one block from the waterfront and the home of most of the city's established independent merchants. There is also some newer commercial development along the freeway (Parkedale Avenue parallels Highway 401 between exits 696 and 698; the Stewart and Parkedale area includes grocers, big-box/department stores, fast food and chain hotels as well as the 1000 Islands Mall).
Eat
Various national fast-food franchises (McDo, Harvey's, Burger King, KFC, Swiss Chalet) are located near Highway 401 exit 696 (Stewart and Parkedale). There is a food court in the 1000 Islands Mall.

phone: +1 613-345-4341

address: 17 Broad St.

Pub and dining room; steak and seafood on an outdoor riverside patio.

phone: +1 613-345-2623

address: 27 Buell St.

Mediterranean. Live jazz on Saturday evenings.

phone: +1 613-865-9179

address: 45 King St W

British tea room offering British-style pastries and light meals. A nice combo is tea and a scone with jam and clotted cream. A local resident makes the pastries and clotted cream for the café.

phone: +1 613-345-7333

address: 30 Block House Island Pkwy

Seafood and roadhouse fare, licensed, casual, overlooks the St. Lawrence River.

phone: +1 613-345-7098

address: 123 Water St. W

A Taste of Italy main floor dining room and lower level Grindstone Tapas Lounge in the former Shepherd Grist Mill built in 1852 on Buell Creek.

phone: +1 613-345-0015

address: 19 King St. W

Chinese takeout/restaurant in centre of downtown.

O'Mally Kourt Fudgery

phone: +1 613-349-6302

address: 55 King St W

The store features varieties of fancy fudge made by the business owners as well as ice cream and coffee. The store provide tables and chairs for customers. There are also novelty items such as soap shaped and coloured as dessert items.
Drink
phone: +1 613-342-7555

address: 8 King St. E
Sleep
There are several hotels off Highway 401 at the Stewart Blvd interchange.
phone: +1 613-345-1622

address: 1843 Highway 2 E

phone: +1 613-349-2475

address: 46 Pine St

One room has a private bath; others have shared bath.
Connect
A Highway 401 rest area west of the city (ONroute Mallorytown, both directions) provides 60 minutes free wi-fi to travellers.
Go next