Cambridge (Massachusetts)
Cambridge
is a city in
Massachusetts
, just across the Charles River from
Boston
. It is renowned as the home of Harvard University and the Massachusetts Institute of Technology, both widely considered to be among the best universities in the world.
Understand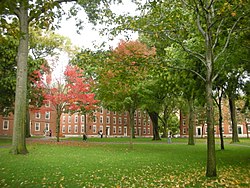 The first European settlers were English Puritans in 1630. Cambridge developed as an agricultural town and was not really convenient to Boston until bridges were built over the Charles River in 1793 and 1809. The latter of these opened up East Cambridge for industrial development led by furniture and glass factories. A major influx of penniless Irish immigrants fleeing the potato blight in 1845 increased the Irish population to 22 per cent in the next ten years. Toward the end of that century they were followed by immigrants from Italy, Poland, Portugal, and Germany. French Canadians and Russian Jews also came at this time. A small African American population had been growing from colonial times, attracted by the integrated schools. Harvard University, the oldest university in the United States, and one of the most prestigious universities in the world, was founded during the colonial era in 1636.
The result today is a highly diverse population augmented and further diversified by brilliant men and women drawn to Cambridge over the years by Harvard, Radcliffe and M.I.T., and later by the local high technology companies. "Cantabrigians" (from the city's Latin name, Cantabrigia) are regarded as progressive and tolerant. Decline of the industrial base in the early 1900s led Cambridge to become an intellectual center. Universities are the major employers, but cutting edge companies in information technology and biotechnology such as Akamai Technologies, Genzyme, Biogen Idec, and Novartis are located adjacent to the MIT campus in the Kendall Square area.
Cambridge now advertises itself as "a city where counter-culture still lives, classic culture thrives, and multicultural is a way of life." "Boston's Left Bank: A little funkier, a little spunkier and definitely spicier than Boston."
Visitor information
phone: +1 617 441-2884

address: 4 Brattle St

This non-profit Visitor Information Booth is just outside the main Harvard Square T-stop. Volunteer staff are available to distribute maps and brochures, and to answer questions you might have.
Get in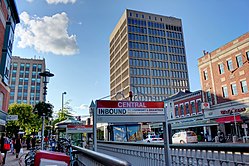 By plane
Logan International Airport, Boston. This is the closest option and is served by the MBTA public transportation. The Silver Line, a special bus route come every ten minutes during the day, and every 15 minutes early morning and late evening. For $2 (Charlie Ticket) or $1.75 (Charlie Card), it takes you directly to South Station (20 minutes travel time), where there is a free connection to the Red Line, which goes to Cambridge. Free shuttles also provide service to the Blue Line Airport station; one may take the Blue Line in from the airport to the Green Line (transfer at Government Center), the Green Line to the Red Line (transfer at Park Street), and the Red Line to whatever stop in Cambridge is closest. A taxi to Cambridge will cost you about $28–35, including tolls and tip, and take about 15–20 minutes, depending on traffic.
or (about one hour away):
By train
Amtrak
train service is available to nearby
Boston
from many east coast cities as well as Chicago and upstate New York.
Mass Bay Transportation Authority - MBTA or "the T"
:
Subway: The Red Line stops from Kendall/MIT station to Alewife station (except Davis Square, in Somerville) are in Cambridge. The Green Line has a terminus at Lechmere station, near Lechmere Square in East Cambridge.
Commuter rail: The Fitchburg line has a stop at Porter Square. This line serves the northwestern suburbs and ends in Boston's North Station, where you can connect to other northbound commuter rail lines.
By car
Interstate 90
to Exit 18, or
Interstate 93
to Exit 27, "Storrow Drive" to Monsignor O'Brien Highway (Rt. 28) to Cambridge.
Route 2
comes into Cambridge from Interstate 95 to the northwest.
Cambridge has a great many one-way streets and most streets and roads are not on a grid system. Drivers unfamiliar with the area are well advised to have a GPS device as one wrong turn can easily result in getting lost.
By bus
The
MBTA
has local regional bus service. For intercity buses, see
Boston
.
Get around
By public transportation
Public transportation is provided by the
Massachusetts Bay Transit Authority ("MBTA")
, which serves the entire Boston Metro area (including Cambridge.) The local subway system is called the "T" and can take you to most points of interest. The T's
Red Line
has Cambridge stations in Kendall Square, Central Square, Harvard Square, and Porter Square. The Green Line has one station in Cambridge: Lechmere.
Directions are often marked "inbound" and "outbound", with reference to downtown Boston, where all four lines converge at four stops: State (Blue and Orange), Park Street (Red and Green), Government Center (Blue and Green), and Downtown Crossing (Orange and Red).
The MBTA does not operate 24-hour service. Service begins for the day after 5:30AM and ends before 12:15AM on weekdays. Weekend schedules are slightly different and do not open until 6:30AM on Sundays. Transport still runs for a short time after this — stated times are "first train leaves the station" or "last train leaves the station" — and thus, to complete the route, will actually be in service for as much as an hour longer or an hour before, but it is imperative to find out when last service is scheduled to the stations you need, and allot time for early or late arrivals.
MBTA employees can offer information on scheduling, but are not always available at all stations. Communication between stations is complex and while significant changes will be announced, often T employees themselves are not informed of delays or minor changes. Bus stations that are not also subway stations are unstaffed.
As of June 2017, subway fare is $2.75 and includes transfers between all four subway lines (Red, Green, Orange and Blue) and bus fare varies between $1.70 (local bus) and $5.25 (outer express bus; none in Cambridge) and also includes transfers. Fares are paid via a stored value ticket (called a CharlieTicket) available in vending machines at subway stations. Fare is discounted (Subway: $2.25) if using the freely available reusable plastic pass (the CharlieCard), which can be obtained at Harvard Square station, 7-11 convenience stores or Star supermarkets.
Information on fares, routes, delays and schedule changes is available at the.
MBTA's
web site.
Parking at the Alewife station on the Red line is ample and costs $8 per 24 hour period.
MBTA Commuter Rail (color-coded purple) leaves from Porter Square, serving one of the twelve commuter rail lines. This should not be confused with
Amtrak, the US national rail service, departs from South Station, Back Bay Station, and North Station, all of which are in Boston.
By taxi
A taxi trip of a mile or less costs $5, excluding tip. Most of the major tourist areas will be a $10–25 fare. A trip to Logan Airport can cost up to $55, including tip, tolls and any waiting time. Flat rates are set for trips to Logan Airport from each hotel in Cambridge, which include all but luggage handling and gratuity.
Taxis are abundant in Harvard Square and Central Square, with many being queued up waiting for fares. The places that they will queue are designated as cab stands by street signs. Taxis are less abundant in Porter Square and rare near Alewife and Lechmere.
It is possible to signal a taxi from the sidewalk by waving an arm or a hand — a taxi cruising for fares is watching the crowds for this — and have it stop for you; however, taxi drivers from towns and cities other than Cambridge are heavily penalised if they accept passengers flagging them down on the street. This rule is not always rigorously followed, but taxi drivers from Boston, Brookline, Somerville and other towns will be wary of street pick-ups.
Taxis are regulated by the
Cambridge License Commission
, which sets fares and handles complaints.
The two primary taxi companies in Cambridge are:
Brattle Taxi

phone: +1 617 492-1100

Checker Cab

phone: +1 617 497-1500
By bicycle
Cambridge is perhaps the most bicycle-friendly city in the Greater Boston area and probably has the most people who use bikes to commute and just to get around. While there are few bike routes, most major streets have bike lanes, and many minor streets do too. Car drivers tend to be aware of bike riders and generally respect bike riders' right of way. All of these features make Cambridge the safest place to ride a bike in Greater Boston.
Lock your bike
when you park it! Bike thieves are skilled and quick. Be sure to lock your front wheel in addition to your frame, and your back wheel too if it is a quick-release.
phone: +1 617 868-3392

address: 351 Broadway

You can get your bike fixed, fix it yourself, or be taught how to repair it.

phone: +1 617 876-6555

address: 259 Massachusetts Ave

HubwayA bike sharing service that offers use of 1,300 bikes from 140 kiosks around Boston, Cambridge, and Somerville. Visitors can purchase a 24-hour ($6) or 72-hour ($12) pass with a credit or debit card; both offer unlimited trips under 30 minutes (longer trips incur expensive extra charges).
See
African American Heritage Trail

phone: +1 617 349-4683

Twenty historic plaques across the city honor notable African Americans who were abolitionists, authors, educators, and office holders in Cambridge from 1840 to 1940.

Cambridge Arts Council Gallery

phone: +1 617 349-4380

address: 344 Broadway

Longfellow House–Washington's Headquarters National Historic Site

phone: +1 617 876-4491

address: 105 Brattle St

Washington made his headquarters here during the siege of Boston from July 1775 through April 1776. From 1837 until 1882, it was the home of poet Henry Wadsworth Longfellow while he taught at Harvard. The site's collections deal mainly with Longfellow, but there are some Washington letters as well.

phone: +1 617 547-7105

address: 580 Mount Auburn St.

Yes, it's a cemetery. It just happens to be the first landscaped cemetery and in fact the first large-scale designed landscape in the U.S. The tower provides visitors with a breathtaking panoramic view of the cities of Boston and Cambridge, as well as the surrounding countryside to the north. The fact that it's the final resting place of some of the area's most influential figures (Sumner, Gardner, Eddy, and Longfellow) cements its status as a National Historic Landmark.

Washington ElmOn July 3, 1775, George Washington officially took command of the Continental Army at ceremonies taking place beneath this Elm tree, which stood at the edge of the training grounds used by the troops. While this tale may be a myth, clearly the tree has remained a symbol of patriotism in Cambridge for generations. The tree finally succumbed to old age and disease in 1923, and today a small bronze plaque marks this historical spot.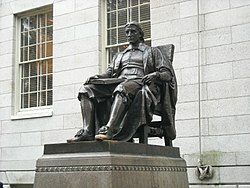 Harvard YardThe center and oldest part of the Harvard campus. An enclosed grassy yard including picturesque buildings dating as far back as 1720. The freshman undergraduate dorms are located in Harvard Yard, which means that a long list of famous intellectual and political figures have lived here. Near the center is a statue of John Harvard, for whom the university is named. Tour guides will tell you that students rub the statue's left foot for good luck before exams, and the foot is indeed rubbed shiny. But in reality, most of the rubbing is probably done by tourists rather than students.

Harvard Lampoon buildingHome of the Harvard Lampoon, a student humor publication. The west end of the building, fittingly, resembles a cartoonish face wearing a spiked helmet. The building was finished in 1909.

MIT Great DomeA monumental dome with an oculus at its center, similar to the Pantheon in Rome. Located in MIT Building 10 (most MIT buildings are referred to by numbers rather than names, as befits the university's technical orientation).

Stata CenterLikely the most striking building on MIT's campus, built in 2004 in a very modern architectural form. Contains a small branch of the MIT Museum (see below).

Harvard BridgeThe bridge connecting Cambridge to Boston across the Charles river. Located at the edge of MIT, not Harvard University. It's well known in the nerdy folklore of MIT: the distance across the bridge is marked in "smoots" (1 smoot = 5 feet 7 inches) after Oliver Smoot, a MIT student who allowed himself to be laid end-to-end to measure the distance across the bridge, as part of a fraternity prank.
Museums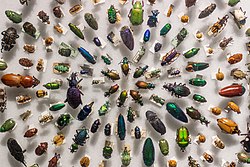 Do
Music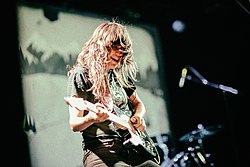 Events
Learn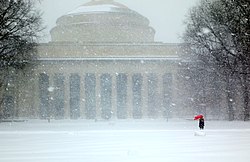 Many visitors to Cambridge are there to see its two major universities, Massachusetts Institute of Technology (MIT) and Harvard University, either as tourists or as prospective students. Both universities have extensive information for visiting prospects. As this typically varies with type of student (graduate, undergraduate) and program of study (for graduate students), prospectives are best advised to visit the school websites that interest them.
Massachusetts Institute of Technology

phone: +1 617 253-4795

address: 77 Massachusetts Ave

The MIT Office of Admissions requests that prospective students make tour reservations beforehand. At 10AM and 2:30PM information sessions take place, and after the presentation a student-led campus tour will get underway.

Harvard Events and Information Center

phone: +1 617 495-1573

address: 30 Dunster St

Student-led free tours of campus originate from here. It also has interactive computer displays, a print library, a video room, and you can pick up flyers for all of the free lectures, films, and classes at University museums, such as the Harvard Museum of Natural History, and the Harvard Art Museum.
Harvard Yard, located right by the Harvard stop on the Red Line subway, is the center of Harvard College (the university's undergraduate arm) and a favorite of tourists, who can often be seen taking pictures of each other at the statue of John Harvard, located in front of Massachusetts Hall.
In the shadows of these two giants are other fine schools.
Buy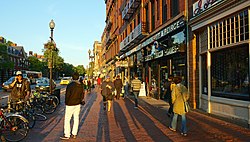 phone: +1 617 497-0137

address: 1731 Massachusetts Ave

Between Harvard and Porter squares, features an incredible and unique assortment of Danish design, Finnish glassware, vintage American kitsch, and contemporary furniture.

phone: +1 617 492-1235

address: 12 Eliot St

Started in Providence, this is the second location of this niche shop for punk and metal records. Browse music, flyers for upcoming shows, and all the assorted paraphernalia.

phone: +1 617 621-8666

address: 100 Cambridgeside Pl

From Abercrombie to Yankee Candle, a thorough mall experience. Come for the fluorescent lighting, stay for the recycled air. 120 stores with low, low prices on all consumer electronics and also tube socks. The mall runs a free shuttle here from Kendall station.

The Garage

address: 36 JFK St

Actually a garage once upon a time, today the Garage is a mini-mall in the heart of Harvard Square. A bit run down, it's got all the things a young person could want. Music at Newbury Comics, a few rotating clothing stores, body piercing, tattoos, jewelry shops, and last but not least: pizza. There is also a public restroom in the basement, but consider it for emergency use only.

phone: +1 617 876-5230

address: 200 Broadway

Home to $2/pound clothes where you can sift through piles of randomness. The other parts of the store include a vintage/mid-end designer consignment store and women's shoes in man's sizes.

phone: +1 617 547-0576

address: 1316 Massachusetts Ave

An amazing array of cigars, chess, and game sets. A small selection of "old fashioned" razors and jewelry is also available. In business since 1883, it's no exaggeration to say this shop is a fixture of Harvard Square.

phone: +1 617 491-2654

address: 1210 Massachusetts Ave

Decent selection of vintage clothing for men and women. Accessories selection is very good.

phone: +1 617 492-0693

address: 144 Mt Auburn St

Local used vinyl and CD shop that has been around for almost 30 years and is a landmark in Harvard Square. A great selection of music, movies, and more.
Bookstores
Eat
With a dizzying array of options, and slightly less stringent liquor laws, Cambridge is every bit as much a dining destination as Boston. Sometimes more so. Many restaurants cluster around Harvard and Central Squares, and finding standbys like
Anna's Taqueria
and
Clover Food Lab
is a piece of cake. If you're willing to stray a bit beyond the subway stops (and you should be), you'll quickly discover many less-travelled neighborhood gems. Consider this simply a brief overview of current trends and old standbys. By all means follow your instincts, just don't make any rash decisions due to an empty stomach!
Budget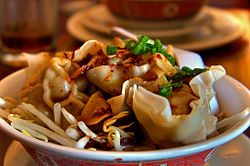 Ice cream
Mid-range
Splurge
Drink
Breweries
phone: +1 617 494-1994

address: 1 Kendall Square

This place brews some of the best beer around Cambridge. They have a wide variety of choice and it changes depending on the season. This place is very popular among MIT community members and tech companies close by.

phone: +1 617 945-0450

address: 284 Broadway

Get ready to wait in line! Once you cross the threshold, sample some of these sought after craft beers that are the talk of the town. Brewers will often use Brettanomyces in their brews which produces a "funkier" flavor. They don't go overboard with it, but still, it's not everyone's cup of tea.
Coffee
phone: +1 617 576-1369

address: 1369 Cambridge St

Coffee shop and arthouse combined. You'll probably visit the one in Central square, however.

phone: +1 617 492-1557

address: 40 Brattle St

Café Pamplona

phone: +1 617 492-0352

address: 12 Bow St

Spanish style cafe serving teas, strong coffee, desserts, and Spanish main courses supplemented by grilled Cuban sandwiches. Has both an outdoor patio and an indoor seating.

phone: +1 617 497-1000

address: 1629 Cambridge St

A great local shop offering assorted coffees, local brews, sandwiches, pastries, and other sweet treats. Two additional locations, one in Central and another in Harvard.

phone: +1 617 225-2525

address: 190 Massachusetts Ave

A delicious sandwich, coffee, and desserts shop constantly rated in Boston magazine in the "Boston's Best" rankings that also has its own nationally-available cookbook. Another location at the end of Albany Street, one in Harvard, and several more in Boston.

phone: +1 617 499-0801

address: 31 Putnam Ave

Fantastic local bakery and coffee shop. One other location north of the square near Porter.
Sleep
One budget option is to peruse craigslist.org Boston for temporary listings for people who are gone for a week or a month and trying to rent out their apartment. In the summer, you might find a bedroom for $200–300/week, which will be a lot cheaper than a hotel.
Budget
Mid-range
Splurge
Stay safe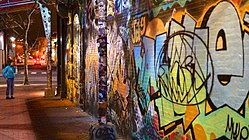 Cambridge is generally very safe, though it
is
a city and the standard precautions should be observed. The neighborhood of East Cambridge, which is near the
Charlestown
border and on the Charles River, usually has the city's highest crime rate (of course, this observation is relative to the Cambridge's low crime rate overall).
As a rule, most crime in Cambridge that might affect a traveller is property crime. Parked vehicles with electronic equipment visible — laptops, mobile phones, GPS units, iPods, and the like — are the most likely to be targeted.
Pepper spray is considered a weapon in Massachusetts, and is sold only by licensed dealers to persons who have obtained a firearms identification card. Massachusetts does not honor firearms licenses from other states.
For more information, visit the
Cambridge Police Department
online.
Connect
Cope
Go next
Head over to South Boston and decide if you prefer the ambiance of the contemporary Seaport district, or Fort Point's charming bricks.
Stroll past stately victorian architecture along scenic Newbury Street, Boston's preeminent shopping and dining destination.
On weekends find treasures you didn't know you were looking for at SoWa Open Market, the biggest open air marketplace around.
Enjoying the museums? Don't miss the Museum of Fine Arts and the Isabella Stewart Gardner, both found in Fenway.
If there weren't enough music options here for you, try your luck with with scene in Allston Rock City.
Explore more of Massachusetts' revolutionary history in nearby Lexington and Concord.