Catalonia
Catalonia
(
Catalan
:
Catalunya
,
Spanish
:
Cataluña
, Occitan:
Catalonha
) is an autonomous community in the northeast of
Spain
. It borders
France
and
Andorra
to the north along the Pyrenees, the Mediterranean Sea to the east,
Valencia
to the south and
Aragon
to the west. Its capital is the famous city of
Barcelona
.
Provinces
Cities
— extremely vibrant capital which is a must for architecture buffs and foodies
— botanical gardens, beaches and modernisme buildings
— home to the Dalí museum
— nice old town with an impressive Jewish quarter, close to the Costa Brava
— door to the west Pyrenees mountains, has a Cathedral
— millions of visitors come to this beach resort each year
— a centre for rock-climbing and the birthplace of architect Antoni Gaudí
— another popular beach resort in Catalonia
— Roman age capital, has beaches, close to Costa Daurada
Other destinations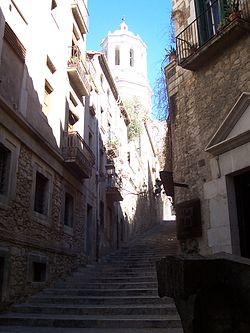 Catalonia has a great variety of different landscapes very close to each other, mountains on the Pyrenees (at the border with France), green hills on north of the country, agricultural planes on the west and beaches on the east.
Understand
Catalonia is today an autonomous region within
Spain
, but in fact was part of the Crown of
Aragon
which historically predates Spain itself (the Crown of Catalonia-Aragon and the Crown of Castile-León united to form Spain). In 1714, after the war of Sucession, Catalonia had all its institutions, language and rights suppressed. The region gained its current autonomous status first during the era of the Second Spanish Republic (1930s) and then again after dictator Franco's death in 1975. It continues to press for more political and economic autonomy, mainly in defence of its culture and language and in the form of the right of the Catalan government to collect its own taxes and spend them as it sees fit.
Catalonia has seen many demonstrations in favour of its independence from Spain; such as the 2013 Catalan Way, 400km long. A consultation on independence was deemed illegal by Madrid on 2014. A referendum in 2017 got 90% vote in favor of independence on a low voter turnout, but this was again declared illegal by the Spanish government, which attempted to suppress it with police violence at various polling places, and by blocking access to websites with referendum information. After the referendum, the Catalan Parliament declared an independent republic, and on the same day the Spanish Senate voted to enforce direct rule over the region, suspending the regional government. The future political status of Catalonia is uncertain, but so far the pro-independence movement poses no threat to any tourist, and should not discourage travel to the region.
Talk
The main languages of Catalonia are
Catalan
,
Spanish
and Occitan (Aranese), official language in the Aran Valley.
Catalan (
català
) is the own language of Catalonia, co-official with Spanish (and since 2006 with Aranese). Catalan is also spoken in Andorra, the Balearics, Valencia, La Franja (the eastern strip of Aragon), L'Alguer-Alghero (a small coastal city on the Italian island of Sardinia), and Roussillon (an area in the south of France sometimes called
Catalunya Nord
that corresponds roughly with the department of
Pyrénées-Orientales
). In everyday use, 11.95% of the population claim to use both Spanish and Catalan equally, while 35.54% mainly use Spanish and 45.92% mainly use Catalan. There is a significant difference between the Barcelona metropolitan area (and, to a lesser extent, the Tarragona area), where Spanish is more spoken than Catalan, and the rest of Catalonia, where Catalan clearly prevails over Spanish.
Visitors who speak Spanish should note that it is called
castellano
(Catalan
castellà
) and that while most people in Catalonia are bilingual in Catalan and Spanish, and are required to learn both languages in school, some people may be reluctant to answer in Spanish, due to the fact that speaking Catalan was strongly discouraged during many eras, not least the Franco era and speaking Catalan is something of a statement of Catalan identity. Even Antoni Gaudi, the world-famous architect of Sagrada Familia, was arrested for demonstrating for Catalan linguistic and cultural rights under the Primo de Rivera dictatorship. Nevertheless, most locals would be willing to speak to foreigners in Spanish. Replying in Catalan to a question asked in Spanish is the way to inform the other party that the conversation may continue in Catalan if desired. If you do not speak Catalan, just politely say that you do not understand, and there will be no problem in most cases. Spanish is the first language of almost half of Catalonia's population and virtually all Catalans speak the language fluently. At any rate avoid disparaging comments towards the Catalan language or even insinuating it might be a "dialect" rather than a language. Learning a few words of Catalan will certainly endear you to Catalan speakers.
Aranese, a subdialect of Gascon (Occitan), is a minority language and only spoken by a couple of thousand people in
Val d'Aran
in northwest Catalonia. In 2006, it gained official status.
As in the rest of Spain, English is not widely spoken, though staff working at major hotels and the main tourist attractions know enough English to communicate.
French
is widely spoken as a second or third language in the areas near the border with France. By necessity, Catalan speakers tend to be more multilingual than their peers in most of Spain which tends to show even in languages other than Castilian or Catalan. Don't be surprised to hear some light Andaluz tinge to the Spanish of some, especially those working in tourism. Catalonia has attracted economic migrants from the rest of Spain ever since it industrialized and continues to do so to this day.
Get in
By plane
Barcelona El Prat AirportOnce there, you can get into the city centre by train (every 30 minutes, stopping at Sants and Plaça de Catalunya), by bus 46 and by Aerobus, that stops in the same places and with the same frequencies as the train. The Aerobus is the more expensive option, with the added possibility of traffic jams. Both services finish at 23:00. After midnight, you can go to Plaça Espanya and to Plaça Catalunya by a local night bus: there are three lines N18, N17 and N16, using the T-10 travel card, which costs €10.20 for 10 journeys on any Barcelona tram, metro, or bus

There is quite a good taxi service, which is the only way to reach the centre directly if you arrive at night. The fares are about €35 from El Prat to the centre, but this can change depending on the time of the day and, of course, the part of the city you want to reach. All Barcelona taxis are painted black and yellow and are easily recognisable.
Other airports in Catalonia are:
Girona AirportThere are now flights to this newly upgraded airport by budget airlines, notably Ryanair. Travel by bus to Barcelona takes about 90 minutes and there is a bus service into Girona which costs about €25 round trip. The buses in Barcelona leave from Estacio del Nord bus station (metro stop Arc de Triomf, Line 1).

Reus AirportThis airport would be of little note if it hadn't been marketed as being closer to Barcelona than it actually is. Don't be fooled, it's more than
By train
The main train station in Barcelona is called
Estació de Sants
, but the most central ones are
Plaça de Catalunya
(most local and regional trains) and
Passeig de Gràcia
(serving some local and most long-distance lines).
The Spanish train company is called
RENFE
. Barcelona is very well connected by train with
Madrid
,
Valencia (City)
,
Zaragoza
and the
Basque Country
in particular and with the whole country in general.
Inside Catalonia, there are frequent trains from the other three provincial capitals (
Lleida
,
Tarragona
and
Girona
).
A few trains travel across the
Pyrenees
, but it's possible to reach the eastern part using the train to Tour de Carol (
France
).
Going by train to the
Costa Daurada
beaches is the best choice, using the line to
Tarragona
. The
Costa Brava
isn't well connected by train.
There's also a Catalan train company
Ferrocarrils de la Generalitat de Catalunya
(FGC), which serves destinations near Barcelona, and some tourist routes. It also operates a funicular service in the Pyrenees.
By bus
Buses and coaches connect the principal cities to many national and international locations, and it's the only public transport to get to many local places in Catalonia.
The most important bus stations are:
Estació de Sants
(
Barcelona
), mainly for international routes, is next to the train station and very well connected. 'The
Estació del Nord
(also in Barcelona), close to
Passeig de Sant Joan
, is the main bus station for medium and long routes - the nearest metro (Line 1) and RENFE station is
Arc de Triomf
.
The routes inside Catalonia are held by different companies, which leave from different places. Every town has normally only one company, so you should ask at some information point, or check online which, although in Catalan, is quite easy to use (put the origin at the left, the destination at the right, and gives the name of the company and it's telephone number).
See
Do
Adventure sports
Water activities are practiced in a lot of places in Catalonia like
Llavorsí
in the Pyrenees)
Catalan "Festes" or Festivals
Catalonia has hundreds of "festes" that go on around the region every week of the year. The closest word in English to translate "Festa" would be "Festival" but this is inadequate to describe the type of celebration that exists in Catalonia. "Festes" are ritual like celebrations that have been passed down through generations of people for more than 700 years. They are organized by the people of a town for their own enjoyment, and not for any commercial interest. "Festival" (which also exists in the Catalan and Castilian languages) denotes an event that is usually organized by a specific group of people for a particular market, and is often motivated by economic interest.
"Festes" have ritual like sequences of events that usually involve Giants, Devils, Human Castles and processions. A magical atmosphere is created at the "festa", almost like a type of Catharsis. "Festes" stem from Medieval Times when fantastical dragons and Giants were created to instruct people about religion in church services. Shortly after the fantastical creatures became a part of the Corpus Christi processions that paraded through the town during the summer. The importance given to these folkloric elements has gradually increased over time and now they have assumed a national importance. Nowadays, these traditions are associated with Catalan identity as something that is individual and separate from the rest of Spain.
These "festes" are not greatly publicized by the Catalan government for visitors.
Bird Watching
Because of its geographical location and terrific range of habitats, including dryland steppes, rocky coastlines, mountains and some of the most important wetland sites in Europe, Catalonia has a greater variety of bird life than anywhere else on the peninsular, with 95% of Iberia's and 50% of the whole Palearctic's recorded bird species.
Some of the most sought-after are Lammergeier, Black Woodpecker, Wallcreeper, Bonelli's Eagle, Lesser Grey Shrike, Dupont's Lark (recognised as probably extinct in Catalonia in 2006), Little Bustard, Pin-tailed Sandgrouse, Audouin's Gull and Lesser Crested tern. The most important sites are Cap de Creus, Aiguamolls de L'Empordà, Barcelona's Llobregat Delta, the Parc de Garraf, Ebro Delta, Steppes of Lleida and, of course, The Pyrenees.
There are a few companies that will organise tours for you, or even offer free advice, including Catalan Bird Tours and Oliva Rama Tours. There is also the Birdinginspain.com web site which offers birding sites and itineraries and lots of other useful information to help the visiting birder plan his or her trip to Catalonia.
Eat
There are lots of good places to eat.
At lunch time (13-15:00 approx.), a lot of Restaurants and Bars offer
Menú del dia
(Menu of the day -
Prix Fixe
), usually consisting of a choice of four starters, four main courses, wine and bread for at a reasonable price. Some bars also offer "Plats Combinats" which are a few items served together at reasonable prices - e.g. Hamburger, egg and chips.
At dinner time (20-23:00 approx), a
Menú
is not so frequent.
In all the medium sized cities, you can expect to find a large range of possibilities.
Catalan cuisine
Usually announced as
Cuina Casolana
, based on the purposes of the Mediterranean diet: Soups, salads, meats, fish and seafood, snails (especially in Lleida during "L'Aplec del Cargol" by early May), desserts ("Crema catalana" or Catalan cream, "Braç de gitano" which is a long roll made of whipped cream and sponge cake) pastries...
Pa amb tomàquet: "bread with tomato". Many people in Spain are surprised when discover the Catalan way to prepare "pa amb tomàquet", because instead of being sliced tomato with bread, the tomato (sometimes with garlic) is squashed and spread in the bread slice, dressed with extra virgin olive oil and small cuts of a very Catalan specialty: cured pork meat, that is, the famous Iberian ham (Spanish jamón, Catalan pernil), fuet, chorizo (xoriço), botifarra (spicy cured sausages), sobrassada, or other stuff like cheese or larger pieces of cooked meat. "Pa amb tomàquet" is a very deeply rooted meal in Catalan houses.
Paella - Typical rice dish from the Catalan Lands. Catalan paella is with seafood, while Valencian paella is without seafood. There's also a variant of paella which is made up with little noodles called "fideuà". In addition, paella and fideuà can be prepared with black squid ink, then it's called "fideuà negra" or "arròs negre" (black fideuà and black rice respectively).
Books to read
Consider checking books by Carmen Casas, a restaurant critic and a world-renowned expert on Catalan cuisine.
Other cuisines
Cuisines from other regions can be readily found in cities of Catalonia:
Tapas - Typical Spanish
Basque food
Italian food - Pasta, pizzas, ...
Chinese food
Japanese food
Fast food
Drink
Don't miss the good Catalan wines and Caves. Catalonia has had a very rich tradition of wine makers through history, and nowadays is a credited producer of world famous wines. "Penedès", "Priorat", "Costers del Segre", "Alella" and "Terra Alta" are good "D.O."s ("Denominació d'Origen" or designation of origin, the Spanish administrative division to control and preserve wine producing areas).
Sangría is also served in most restaurants, with large variations in quality.

Sleep
Stay safe
Catalonia is usually a safe place. Be aware of pickpockets in crowds and don't leave your car unwatched in motorway rest areas. Tourist areas such as Las Ramblas in Barcelona city attract many petty thieves so you should be vigilant. As a tourist, you are a target for thieves. They can spot you and you cannot spot them. Do not carry all your money and documentation in the same bag or pocket. If you have been robbed, always go to the police.
If you are driving, follow traffic regulations or you may be fined. If you are fined, you will have to pay in cash immediately; otherwise, your car will be removed from the road. Therefore, have at least €200 with you, just in case.
Ever since the 2017 independence referendum which many opponents of independence view as illegal and the subsequent trial of pro independence figures involved in the referendum which handed down lengthy jail sentences, there have been widespread mass protests in Catalonia, sometimes involving police violence or violence by protesters. While you should be fine if you keep out of politics altogether and the Catalan population is pretty much evenly split in pro- and anti-independence camps, even peaceful protests can become violent without much advance notice. Protesters also sometimes block major highways or airports to communicate their displeasure and draw attention to their cause, so be prepared to make alternative arrangements if this conflicts with your travel plans.

Respect

You should always be fully clothed away from beaches and swimming pools. It is very annoying for local people to see tourists wandering around half-naked. Try to remember that you are a guest in another country and respect the fact that even though you are on vacation, most of the people around you live here and are trying to go about their normal lives. For example, avoid making a lot of noise late at night, as people will be sleeping.
Be aware that people usually have breakfast at 9AM, lunch at 2PM and dinner at 9PM or later. This schedule may seem a little weird but it is like this because of the sun hours. Traditionally, people worked the fields when the sun was least strong, which is early morning and late afternoon. So after working from dawn, they had a snack at 9AM or 10AM, ate lunch at 2PM, then back to work between 3PM and 4PM, after which they would come home and eat dinner at 9PM. The tradition as a whole is gradually disappearing, due to increased urbanization and the abandonment of traditional farming practices, but people have largely kept the eating schedule.
Catalonia has an active independence movement, and Catalan society is deeply divided on this issue. As a visitor, you are highly advised to avoid discussing this issue with locals, as it can arouse very strong feelings in many people.

Go next
Andorra — a tiny mountainous country in the Pyrenees, famous for its beautiful views, ski resorts, and low taxes
Aragon — with close historical ties to Catalonia, this autonomous community to the west has a distinctive culture and picturesque countryside.
Balearic Islands — a tourist hotspot in the Mediterranean, including the world-famous party destination Ibiza, a short ride from Catalonia by plane or ferry
Pyrénées-Orientales — also known as "Northern Catalonia", a department of France with historical, linguistic, and cultural ties to Catalonia
Valencian Community — an autonomous community to the south of Catalonia, with beautiful weather and extensive beaches