Central Hungary
Central Hungary
consists of only one county, Pest County. Budapest, the capital of the country, is the administrative center of the county, but constitutes a separate territorial unit.
Cities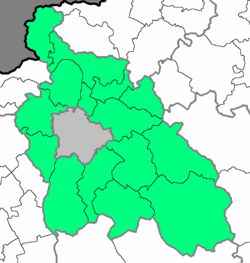 — town
— famous about Wildlife Park
— Western Gate of Budapest
— with green filled parks, interesting museums, and a pulsating nightlife, Budapest is one of Europe's most delightful and enjoyable cities
— a small town with one of the largest Reformed churches
— shopping city, Roman Harbour Fort remains
— a suburb of Budapest
— a town east of Budapest most famous for its former royal palace
— a lovely town north-east from the capital, famous for its traditional bell founder manufacture.
— one of the most German settlement in Pest County
— Teleki-Wattay Palace and the Stone Hill
— the oldest Serbian Orthodox Church in Hungary and Savoyai Palace Hotel
— picturesque town on the Danube just north of Budapest
— town located west of Budapest
— a small town on the Danube bend with several churches and lots of baroque architecture
— a small town with a Medieval castle
Other destinations
— the highest summit of the Pilis Mountains is a popular hiking destination with a forest that is held sacred by neo-pagans
Understand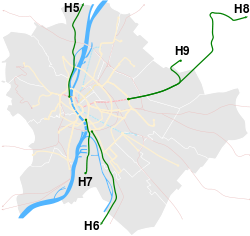 Get in
All area is very well connected by bus and train with Budapest. All commuter lines (HÉV) except 'H7' reach the region. There are three-six commuter trains per hour all lines, all directions. Logo is:

Get around
Budapest based almost every public transport lines. This means sometimes must go first to Budapest and then out to your destination, even that means a much longer way.
Ferries of Danube river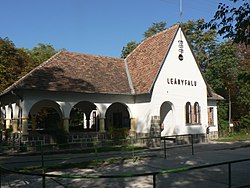 Schedules and fares are indicative
due to water, weather and other reasons
Vác ferry pier

address: Vác, Road #12303

Car ferries to Tahitótfalu timetable

Tahitótfalu ferry pier

phone: +36 30 696-2408

address: Tahitótfalu, Váci Rév

Car ferries to Vác. A small snack bar located here.

Szob ferry pier

phone: +36 30 9144195

address: Szob, Rév utca

Car ferries to Pilismarót

Pilismarót ferry pier

phone: +36 30 9144195

address: Pilismarót

ferries to Szob

Felsőgöd ferry pier

phone: +36 30 599 8705, +36 70 577 7753 (mobil)

address: Felsőgöd, Evezős utca

ferries cross Danube main stream to Surány

Surány ferry pier

phone: +36 30 599 8705, +36 70 577 7753 (mobil)

address: Surány, Duna sétány

ferries to Felsőgöd timetable (PDF)

Alsógöd ferry pier

phone: +36 70 360 6395

address: Alsógöd, Jávorka Sándor utca

ferries to Szigetmonostor

Szigetmonostor /Horány/ ferry pier

phone: +36 70 360 6395

address: Horány, Nagyduna sétány

ferries to Alsógöd

Pócsmegyer ferry pier

phone: +36 30 599 8705, +36 70 577 7753

address: Pócsmegyer, Hunyadi út

ferries to Leányfalu. More info and timetable

Leányfalu ferry pier

phone: +36 30 599 8705, +36 70 577 7753

address: Leányfalu, Petőfi sétány

ferries to Pócsmegyer

Dunakeszi ferry pier

phone: +36 26 393795

address: Dunakeszi, Rév utca and Duna sor corner

ferries to Horány

Horány ferry pier

phone: +36 26 393795

address: Horány

ferries to Dunakeszi timetable .

Kisoroszi ferry pier

phone: +36 30 991-33-00

address: Kisoroszi, Rév utca

ferries to Visegrád - Szentgyörgypuszta

Visegrád - Szentgyörgypuszta ferry pier

phone: +36 30 991-3300

address: Szentgyörgypuszta

ferries to Kisoroszi

phone: +36 26 398344

address: Visegrád, Rév utca

Boats to Nagymaros service provider Atlantis Ltd.

Nagymaros ferry pier

phone: +36 26 398344, +36 1 484-4013 (Mahart infoline)

address: Magyar utca

Ferry boats to Visegrád (hourly, cca. 15min), and excursion boats between Budapest and Esztergom stop. More info about excursion boats +36 27 354-576 (Nagymaros - Maros Restaurant)

Dömös ferry pier

phone: +36 30 9913300

The ferry boats to Nagymaros were suspended in 2014 (call the number to check it), but excursion boats between Budapest and Esztergom stop here.

Nagymaros Pier at Dömös crossingferries to Dömös are suspended (temporarly? 2014)

Pilismarót ferry pier

address: Pilismarót, Szobi Rév utca

Ferries to Zebegény. Timetable

Zebegény ferry pier

address: Dózsa György Way off

Ferries to Pilismarót
See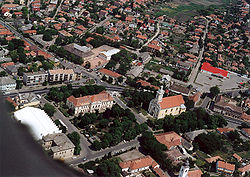 Abony"Kaszáló" Forest, One of the biggest settlement in Europe of the blue falcon, Abonyi Lajos Exhibition Hall, local historical collection, "Vigyázó" Mansion, Classicist, Baroque style monument building, St Stephen Roman Catholic Church, built in the 1790s in baroque style. Reformed Church, built in 1785, in late baroque style, a symbol of Abony, Abony Zoo, In the seven-acre mixed-planted forest, under the "sky-high trees' foliage in the cool shade, you can visit wild animals. Read more:Cegléd#Further_afield

ApajSights: Reform church, Millennium Park and Upper Kiskunsag Plain is part of the Kiskunsag National Park

AszódEvangelistic Church in Aszód (Csengery utca 1., Phone: +36 30 9521963), Podmaniczky palace - Széchenyi mansion (Szabadság tér 8.,Phone: +36 28 500666), Petőfi Museum (Szontágh lépcső 2.,Phone: +36 28 500650, fax: +36 28 500651, apm@invitel.hu)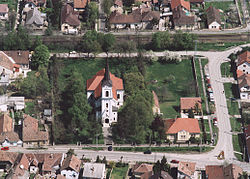 BudakalászBotanical garden of Herb Insitute. The Botanical Garden is an natural protection area with national importance. (Gyógynövény Kutató Intézet Botanikus Kertje, Loc:Budakalász, Lupaszigeti út 4 around the central building of Research Institute for Medicinal Plants with total area 5ha. Phone: +36 26 340533, fax: +36 26 343195, email=info@gynki.hu, open M-F 10:00-15:00, by appointment, only with guide, free of charge. Exploring Szabó József Cave, near to Kevély Peak (Hu:Szabó József-barlang. Loc:east of the elevation point 405m of the Ezüst Mount, overlooking to Budakalasz, in the Nagy- also known as Tölgy-quarry. ).

DánszentmiklósMuzsik Mansion, now it is a nursery school, built in the end of the 19th century (Hu: Muzsik-kastély Loc: Nyárfa utca 1., Phone: +36 53 374016, mosolygoalma4@freemail.hu, Opening hours: Mo-Fr: 7.00-17.00). Plósz Mansion (Hu: Plósz-kúria. Loc:Nyárfa utca 53., Phone: +36 53 574000). Wekerle Farm or Estate and the village of Dánszentmiklós were settled in the times of the Kingdom of Árpád due to their excellent location and the presence of a nearby lake. The settlement probably owes its name to a landowner named "Dán". In the 18th and 19th centuries, the estate was owned by the Beleznay family. The L-shaped, two-storey manor house was constructed in a classicist style with seven rooms. The commercial buildings and servants' quarters were situated opposite. On the inside of the L-shape, ten irregularly positioned columns marked a corridor leading to the entrance, with the columns doubling up at the corners. (Hu:Wekerle Major. Loc: Wekerle-major, Phone: +36 20 3448090, info@wekerle-major.hu). Ugody Manor court (Loc:Rákóczi utca 2., Phone: +36 53 374377, built in early 19th century, in eclectic style, only from outside), St Nicholas Church, a modern church was built in 1958. (Hu:Szent Miklós templom. Loc: Dózsa György út 102/a, Phone:+36 30 5502282, Admission: free of charge). With English, German, Hungarian guide you can go horse riding or take a riding tour, or riding for hunting in the spacious park surrounding the Wekerle Estate, where you can enjoy the most of the beautiful Hungarian countryside.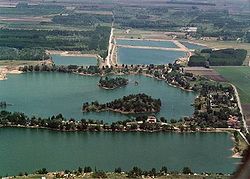 DélegyházaProtected wildpear tree a natural monument (Hu:Védett vadkörtefa, Admission:free. Located:Vadkörtefa Street, on the land behind of the agricultural cooperative society's office. Phone:+36 24 542155, fax:+36 24 542156). Maple alley, a natural monument with twelve maples between the churches (Hu:Védett juharfa sor. Loc: Szabadság tér, admission: free), "Kristóffy" Australian pines (Hu:Kristóffy-féle fekete fenyők. Location: bus stop at the agricultural cooperative society), Sárossy's stone cross (Hu: Sárossy család kőkeresztje, located in the cemetery, in memorial of Nagysárosi Sárossy Dezső and his family), Our Lady of Hungary Roman Catholic Church. Built in 2000. (Hu: Magyarok Nagyasszonya Római Katolikus Templom. Loc: Szabadság tér, Phone: +36 24 472017, sandoratya@freemail.hu, free), Reformed Church, built in 1993. (Hu:Délegyházi Református Templom. Loc: Szabadság tér 1., Phone: +36 24 484452, blank3@vnet.hu), St. Steven Statue, is called "The Church of South Whispering Giants". Designed by an American sculptor, made of oak, St. Stephen's face and turul together. (Hu: Szent István szobor. Loc: Szent István park, Phone:+36 24 212011). St. Elisabeth statue and headstone The full-length, stone statue sculpture executed by the official jury also proved to be a worthy creations. The statue was donated by locals. The headstone was carved for the 60th anniversary of the establishment of Délegyháza. The three branch symbolize: the establishment of Hungary, the war of independence in 1848 and it is a memorial of the revolution of 1956. (Hu: Kopjafa. Loc: Szabadság tér 1-3. Phone:+36 24 212011, titkarsag@delegyhaza.hu), Delegyhaza lakes are in Pest county's largest lake system. The central lakes have more than 300ha of water surface. There are eight lakes for swimming, fishing, ice skating, water sports and relaxation is also suitable. (Hu: Délegyházi tórendszer. Loc: lake system, Phone: +36 24 542155, info@delegyhaza.hu). Events: St. Elizabeth's day. Take a walk or bycicle tour around the lakes.

DömsödSights: Petőfi Sándor Memorial Museum and Vecsési - Bazsonyi Gallery, local history collection and Memorial Museum dedicated to the great Hungarian poet exhibits literary memorabilia related to his stay in Dömsöd. Also here permanent selection from the works of local painters (Hu:Petőfi Sándor Emlékmúzeum és Vecsési Sándor - Bazsonyi Arany Képtár. Loc:Bajcsy-Zsilinszky utca 6. Phone:+36 20 2532589, fax: +36 24 435363, Opening hours: Tu, Fr-Sa 10:00-16:00. Admission: Adult Ft200/100). Dömsöd Island, an excursion place contents: Sports fields, restaurants, small river beaches. Relatively shallow waters of the kids can have fun too. Take a cozy walks of backwater. (Hu:Dömsöd sziget. Loc:On Danube. Phone :+36 24 523123), Reformed Church built in 1775 in Copf architectural style, internal by Late Baroque furniture. The square in front of the church was one of the locations where the all-time favourite movie, for Hungarians, about Matthias the Gooseherd (Ludas Matyi) was shot in 1948 (Hu:Református templom. Loc: Petőfi tér 71. Phone: +36 24 434477, domsodnagytemplom.ref@gmail.com, the office open: Mon 9-12, Thu 9-12), Baptist Church, rebuilt 1995 in Modern style, serves ecclesiastic and cultural purposes. (Loc: Szabadság utca 125.Phone:+36 24 519775), Bathory Julia Glass Collection (Hu:Báthory Júlia Üveggyűjtemény.)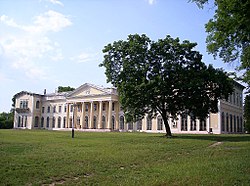 FótNémeth Kálmán Memorial House, here is a collection of the works of sculptor Kálmán Németh (1903-1979), in his living house, Fáy wine-press house, a historical place was a meeting place for politicians in the 19th century now a restaurant with beautiful view from its terrace András Fáy, a Hungarian author, lawyer, politician and businessman, was the first owner to this wine-press house, Károlyi Palace, built in 1850. This is Hungary's most beautiful Classical palace and its exterior was commissioned by Count Károlyi István and made by Ybl Miklós. The Count Károlyi László created a furnished gallery, for the collection of family cultural treasures and the preservation of future generations,-which can be visited. Roman Catholic church in Fót, the main attraction of the town is the Roman-Catholic church; built in romantic style, a work of the famous architects, Ybl Miklós.),Somlyó Nature Reserve by Fót, Somlyó Hill is part of the Gödöllő mountain, which is characterized by a variegated surface – steep sides, narrow valleys, undulating parts, plains and hills. Because of the diversity of geology and formations, the flora of the mountain is also varied. A couple of different bird can be see here and to all kind of Hungarian lizard habitat is here, Stay: Pálma Pension & Squash. Read more: Gödöllő#Further_afield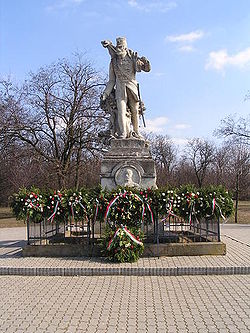 IsaszegSights: The old parochial church, St. Stephen Church, Local History Collection, presents Isaszeg history from prehistoric times to 1945, Army graves in cemetery, a monument, Jewish cemetery, Patriot Monument. Events: Memorial Day: Battle of the April 6, the Day of the fiesta: Aug 20th, Pentecost tasting fight: May, Day of the Town: Jul 1. Take walking tour (Map). Read more:Gödöllő#Isaszeg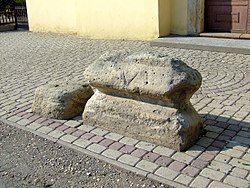 KiskunlacházaSights: Reformed Church, before its located a "shame stone" or the pillory (1771). The Reformed church was built in 1822-24, Peregi St. Michael's Catholic Church (1774), Lacházi St. Ladislaus Catholic Church, Angyalos house with local historical collection. The house was built in 1906, in mixed eclecticism and historicism style, Cemetery chapel of Pereg, Hajós mansion, the Classicist building now as a guest-house catering for equestrian tourists. Read more: Ráckeve#Further_afield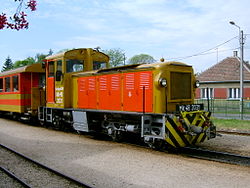 KismarosRoman Catholic Church, a really nice attraction in Kismaros. Built in 1827, the one-nave, classicist, front towered church. Inside, the main highlight are two 17th-century Baroque sculpture: Zakarias and Elisabeth. (Hu:Római Katolikus Templom. Loc:Kismaros, Dózsa György utca 5. close to Railway Station Phone: +36 27 350165), Swabian Museum Collection in Kismaros, Museum for local historical collection, shows the life in the village, with photos, religious objects, long-standing tools of the village farming and viniculture of the Swabians. The exhibition comprises the history of Kismaros beginning from those ethnic German settlers who arrived in the first half of the 18th century until now. In the museum the visitors can listen to old Ethnic German religious and secular songs, costums and traditions with the help of a twice 60-minute-long CD. (Hu:Kismarosi Sváb Muzeális Gyűjtemény. Loc:Kismaros, Kossuth u. 21, Phone: +36 20 9234714. akos.daboczi@vnet.hu, Open from: 15. Mar till 15. Nov, Opening hours: Wed: 09:00-13:00 Fri: 14:00-18:00, Sun: 08:30-12:30. Admission: free. Regular guided tour is available, with admission free.) Forest Railway in Királyrét, It was the oldest forest railway in the mountain Börzsöny. Stops: Kismaros - Morgó - Szokolya - Paphegy - Királyrét, 12 km, forty min journey time (Hu:Királyréti kisvasut. Loc: Kismaros, Királyrét, Phone: +36 20 9514912, erdeivasut@freemail.hu, Opening hours: 9.00-18.00 (19.00) workdays: From Kismaros/Királyrét: seven per day; weekend, holidays: six per day. Admission: Adult one-way/return ticket (12km): Ft600/1000; Reduced tickets one way/return ticket (12km): Ft350/600), the Nature Trail of Springs, creeks, islands, around the creek Morgó, (Hu: Források, patakok, szigetek tanösvény. Loc: Kismaros, Zrínyi Miklós út, Phone: +36 27 383260), Monastery of House of Our Lady of Sisters of the Cistercian, Modern style, found 1987 (Hu: Ciszterci Nővérek Boldogasszony Háza Monostor. Loc:Szuttai-dűlő), Patakparti leisure park and promenade, leisure park and sports park, playground, boardwalk, (Hu:Patakparti szabadidő park és sétány. Loc:the boardwalk leading to the Gimpl-bridge by the stream.), Row of wine cellars, a monument, from the 1830s, now partly converted wine cellars with some old wine press, (Hu:Műemlék pincesor. Loc: the street is starting at Roman Catholic Church). Different hiking trails starting or passsing the village. Wine sampling, buying directly from cellars. Danube Bike Path, offer a beautiful view to the Danube Bend and the Visegrad Castle. (Hu: Kerékpárút a Duna partján. Loc: Hwy 12, accessible through Duna street). Events: German ethnic Festival "Marus Napok" (end of Sept). To Stay: Csatogo völgy Resort Complex, with wooden huts. - Further afield: Nagymaros: House of Kittenberger Kalman (a famous Hungarian, hunter, ornithologist), panorama of Török-field; Nógrád Nógrádi castle; Szokolya Mányoki Adam painterbirth house, Kacár-ranch arts and crafts show; Lepence beach; Kóspallag Pauline monastery ruins; Márianosztra (on foot or by bus) Paulines atoning shrine (1352 or 1720); Zebegeny (15km, on foot, by train, by bus) Memorial Museum of lyrical painter Istvan Szőnyi, Parish Church (Art Nouveau and Transylvanian folk art styles), Old Mill, Maritime Museum.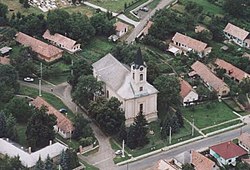 KemenceLocal Historical Exhibition (Hu:Puskás Péter helytörténeti gyűjtemény. Loc:Kemence, Fő utca 244. Phone: +36 27 587605. Opening hours: M-Fr: 13:00-17:00, Sa 10:00-14:00, Sa: pre-arrangement is necessary. Admission: adult: Ft200/100. Description: Local historical and ethnographical exhibition of Nagybörzsöny.) Kemence Forestry Museum Railway will take you to a excursion place. This is an unique 600 mm narrow gauge railway at Hungary: all of jobs are made by volunteers. Railway length: 4 km (to Hajagos: eight km); stops: Kemence-Godóvár-Feketevölgy-(Hajagos) (Hu:Kemencei Erdei Múzeumvasút. Loc: Kemence, Csarnavölgyi út 45. Phone: +36 20 3885743. kemence@kisvasut.hu. Open from Apr-Oct: on weekends and holidays, another days upon request. Admission: Full/reduced priced ticket: Ft300/200). Former county hall, now a school. Built in Baroque 1751, but in 1856 transformed. (Hu: Volt megyeháza. Located in the center of the village.) Roman Catholic Church built in 1769. (Hu: Római katolikus templom), Country House, Old user tools and folk furniture can see here (Hu: Tájház.Visits by appointment: +36 30 5974424. Admission: Adults/Reduced: Ft200/100 person). To Do: Different hiking trails. Mathias Stables, horse riding and tennis playing (Hu: Mathias Lovasudvar. Loc:Kemence, Királyháza, Phone, Fax: + 36 27 365139, E-mail: mathiaslovasudvar@live.com ). Stay: Sport Inn (Hu: Sportfogadó. Loc:Kemence, Fő út 83. Tel: +36 30 6403230, +36 30 2754600, E-mail: sportfogado@vnet.hu)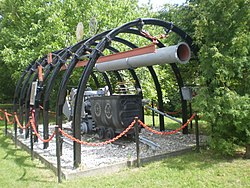 KesztölcRuined Monastery of Kesztölc (Hu:Kolostorrom) This remains in the Gothic style dates back to the second half of the 13th century. The hermit Paulines lived here. Press houses of Kesztölc. To Do exploring the Caves of Pilis Mountain: - Ariadne Cave system, 14km length, the third longest cave in Hungary (Loc: Ariadne-barlangrendszer), Ancient Cave (Loc:Ősi-barlang), Indications Cave (Loc:Indikációs-barlang), Gift Cave (Loc:Ajándék-barlang). Stay: Pince Guesthouse. Kesztölc, Petőfi Sándor utca 41., +36 30 258 8316, E-mail: pince@juropnet.hu Ft8000 per room.

KocsérKocsér is a village located in the north-eastern to ridge of the Danube-Tisza. Sights: Saline pasture, nature protection area, plant and animal species. Part of the Hungarian steppes area ('puszta'), evolved as a result of grazing in the past centuries. St. Stephan Roman Catholic Church found in 15th century, rebuilt on a new site in 1873 to King St. Stephen honor (Hu:Szent István király Templom. Reformed Church: Gothic church ruins are in the Catholic cemetery. - Scratching Dog Tavern, an architectural monument which has been operating since the 1700s. Events: pony race (two days long), farewell (Aug 20). To Do: fishing lake, Toma lake in nearby, hunting options). Read more: Nagykőrös#Further_afield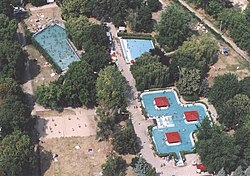 LeányfaluA holiday resort place. Sights: Local and Literature Historical Collection of Leányfalu. St Anne Parish Church, built in 1892, the oldest public building of the village (Hu: Szent Anna plébánia templom, Calvinist Church. To Do: Thermal swimming pool (Hu:Termálfűrdő.) Hiking, walking path in to Danube-Ipoly National Park. Stay: About a half dozen guesthouses and boarding houses waiting you. Ask about at Village House or on Web. eMagyaroszág point in the Ravasz Laszlo Library, free internet for thirty min. Read more:Szentendre#Further_afield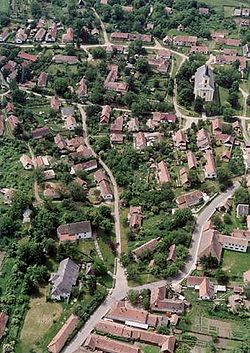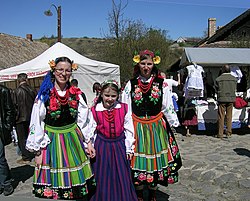 NagyorosziSights: - Roman Catholic Church, built between 1765 and 1768. in Baroque style,Single nave temple with neoclassical altar. (Hu: Római katolikus templom. Loc: Szentháromság tér 13. Phone: +36 35 574009, ertedvagyok@netelek.hu). Plaque on the Wall of Main Building Consturtors, (Hu:Emléktáblák az Építők Székháza falán. Loc: Bajcsy-Zsilinszky utca 35., Phone: +36 35 574009, fax: +36 35 574022). Park of Transportation in the Railway Station (Hu:Közlekedési Park a Vasútállomáson. Loc: Felszabadulás utca 111., Phone: +36 35 374315). Bem József Memorial Monument (Hu:Bem József emlékmű. Loc: Felszabadulás street and Kertész street corner, Phone: +36 35 374321). Berchthold crypt (Hu:Berchthold Kripta. Loc: Petőfi utca (Behind the church. Phone: +36 35 374321). Trinity Column (Hu:Szentháromság-oszlop. Loc: Szentháromság tér 1.Phone: +36 35 574009). Stahremberg-Berchtold Palace, built in 1905 (Hu:Stahremberg-Berchtold kastély. Loc: Szentháromság tér 14.Phone: +36 35 374055). Village Antiques Museum, a local historical collection (Hu:Falusi Régiségek Gyűjteménye Loc: Szentháromság tér 5.Phone: +36 35 374321). Szabó Endre Memorial Exhibition, (Hu:Szabó Endre Emlékkiállítás. Loc: Szentháromság tér 22. (Nursery Building) Phone: +36 35 374-224). The Dwell of the Pasha (Hu:Pasa kút. Loc: Béke 1.). Berchthold hunting lodge (Hu:Berchtold Miklós vadászkastélya. Loc: in Börzsöny). Wenckheim hunting lodge (Hu: Wenckheim-vadászkastély). The village is also a stop on the Paloc road. (Paloc is a folk group in Northern Hungary and southern Slovakia with distinctive traditions, customs, folk costumes, unique religion culture.)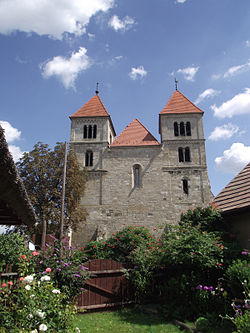 ÓcsaPeasant House Museum, local historical collection, six unique peasant houses may stand under the Ancient Monuments Act and show the architecture of the 18th century villages. The personal articles, tools, clothes, and furnishing that are on display in the house, were part of the everyday life of the inhabitants of Ócsa 100-200 years ago. (Hu: Ócsai Tájház, Loc: Dr. Békési Panyik Andor út 4-6., Phone: +36 30 4943368 — ocsaitajhaz@dinpig.hu, Opening hours 1 Feb-30 Nov: Mon closed. Tu-Fr 9-16 Sa, Su and holiday 10-17, Admission: Adult/reduced: Ft800/500) Ócsa Landscape Protection Area, over 200 bird species: mostly Great White Egret, White Stork, Warbler species, different insects. Residue species of psicrophile plants, Orchids, Siberian Iris, moor meadows, moor forests, swamps. Here located a presentation house, educational path and look-out tower (Hu: Ócsai Tájvédelmi Körzet - More info: Dr. Békési Panyik Andor út 4-6., Phone: +36 30 4943368. ocsaitajhaz@dinpig.hu, Location: The Peasent House Museum in the town center is the best starting point for any tours. The strictly closed areas can only be accessed and visited by professional tour guides.) Reformed Church in Ócsa, The pride of its is the Roman style Basilica, which was built in the 13th century in Romanesque style by the members of the French religious Order of Premontre. The cruciform basilica with three naves and two towers was build for monks in the 13th century. In 1995 the church was awarded Europa Nostra diploma fot the thorohgh renovation. (Hu: Ócsai Református Templom - Loc: Békési Panyik Andor utca 9., Phone: +36 29 378142, fax: +36 29 378142 oreftempl@monornet.hu, Opening hours 1 Nov-28 Feb: only by appointment (every day, except Monday); 1 Mar-31 Oct 9.00-17.00 except Mon excpect church service (Sun 10.00-12.00) and wedding ceremony. Admission: adult/retired: Ft300). Szentháromság Church, built in 1774 in Baroque style and it got to consecration in 1777. His tower was built in a smaller, plainer form at the present one, was being built according in 1993. The building is with a uniform baroque style. 2-2 of his side windows are segment arc. Approximately 20 meters high, the tower façade plane matches arched window above the circular window above the entrance. The church stands in the array of bell housing, followed by a sill is separated from the clock tower. (Hu:Ócsai Szentháromság templom Loc: Bajcsy-Zsilinszky Endre utca 28., Phone: +36 24 378048)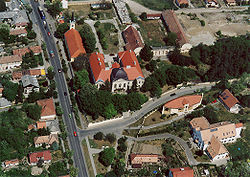 phone: +36 28 453354

address: Pécel, Kálvin tér 1

Scientists, writers of the special meeting was frescoed castle 250 years ago. The building is now seen its predecessor, which was a small mansion, the old Protestant families from Parížovce Ráday built by Paul, who II. Rákóczi Ferenc diplomat, Chancellor of the secret, then the war of independence after the fall of the Protestant leader was home. There is also a Lutheran church (Hu: Péceli Evangélikus templom, Loc.: Tanácsház u. 2.). It was a popular resort place for welthy citizens in 1900s. There are a couple monument 'kúria's (Bárczy mansion, Erdey-Grúz mansion, Zsigmondy mansion, David Francsek-mansion, Pekáry mansion. Prónai mansion, Szemere-Keiner mansion, Kovásznai Smith Mansion).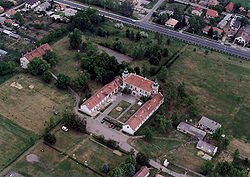 PilisTown Hall, a folk architecture monument, former village inn. Single-storey corner house built in classicist style with some romantic decoration. (Hu: Loc.:Kossuth Lajos út 47., Phone: +36 29 696310, Open: Mo 08:00-18:00, We Th 08:00-12:00). Evangelical Church, the baroque church was built in several stages in the late 18th century (Hu: Loc.:Kossuth út 34., Phone: +36 29 498134 .gyorgy.kramer@lutheran.hu). Gerje Stream, a nature conservation area. The source region of the Gerje stream located on Fen peatlands, one of the very rare lowland resources. Between the water and fresh vegetation can be find some unique orchid varieties and Central Europe's largest contiguous forest of alders, also can you see here a number of protected birds such as the mallard duck, water fowl and reed bunting (Hu: Loc.:Pilis center from Hwy 4. about hundred meters away. Phone: +36 29 498090). Beleznay-Nyáry Mansion mansion built in 1717, a precious monumental building. The building is an outstanding example of theresian baroque mansion architecture. Staying in the middle of a significant size park. The two-storey main building connecting co-towers on both sides. Today housing a primary school. (Hu:Beleznay-kastély Loc.:Kossuth Lajos utca 31., Phone: +36 28 498111). Cellar lines of Hegyek (Hegyeki pincesor). Events: Nyáry Music Festival, Pop Festival on 20 August, Csilló horse-riding days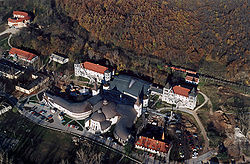 PiliscsabaThe village houses till the 1950s, mostly built of adobe and mud, the Uradalmi (lit.Manor) House is one of them. Now here is the local historical collection in a exhibition hall. Klotildligeti Church and the statue of Ferenc Rákóczi II. Roman Catholic Parish Church, the single nave, front towred church dedicated to the Holy Virgin birth was completed in 1781. Kálvária hill with chapel. Csodásérmű Blessed Virgin Chapel. Ancestor Park. Do: Because the town is surrounded by forested hills: hills of the Pilis Mountains to the north and hills of the Budai Mountains to the south there are many walking, hiking trails. Read more:Pilisvörösvár#Further afield

PilisszentkeresztA small village with just over 2000 people. Part of the settlement Dobogókő, which is a popular tourist and holiday resort and the highest point of the Visegrád Mountains. Sights: Ruins of the "cisztercita" abbey, was the first hungarian "cisztercita" cloister. There were excavations beforehand and the stolls of the grave of the queen Gertrud were found. Built in Romanesque style (Hu: cisztercita Apátság romjai. Loc: Outskirt, Phone: +36 26 347619, plebania.1@drotposta.hu, Admission: free). Glad Özséb viewpoint, in a nature protection aree is a popular excursion place, a new belvedere in the Pilis Mountains. The 17 metre high buildup is located exactly on the top of the 756 metre high Pilis. (Hu: Loc.: Pilis plateau, Phone: +36 26 598000, fax: +36 26 398229, informacio@pprt.hu, Admission: free). Roman Cat. Church built in 1752 (Hu: Római katolikus templom). Hunting Lodge of Kakas Mount (Hu: Kakas-hegyi vadászház). Vas Gate Rock (Hu: Vas-kapu sziklabordája). Rocks around Zsivany Cave (Hu: Zsivány-barlang, Zsivány-sziklák). Shelter hut of Count Eötvös Loránd include the Tourist museum (Hu: Báró Eötvös Loránd menedékház és Turistamúzeum Dobogókő, Loc:Pilisszentkereszt-Dobogókő, Téry Ödön út 26). Makovecz Guesthouse and Snack Bar (Hu: Makovecz Zsindelyes Vendégház. Loc: Eötvös Lóránd sétány 10, very close to 'Skicenter of Dobogókő'. Open: 09.00-19.00, Call Mr. Lőrincz László + 36 30 852 0340). Skicenter of Dobogókő, the oldest one of Hungary (Hu: Dobogókő Síközpont). Dera Creek canyon, take a tour on the educational trail with explaining boards about the local flora and fauna. Part of the National Blue Trail (Hu: Szurdokvölgy. Loc: below the village). Szent well, charming source with a small open air altar. Pilgrimage place (Hu: Szentkút). Slovak Village House (Hu: Szlovák tájház). Lime kilns in the 19th century (Hu: Mészégető kemence). Slovak Minority Primary School (Hu: Szlovák Nemzetiségi Általános Iskola). Caves of Dobogókő: Holy water cave with pool (Hu: Szenteltvízmedencés-barlang), Kilátós Cave (Kilátós-barlang. Loc: Dömös), Maria Cave (Hu: Mária-barlang. Loc: Dömös). Caves in the 'Szer' group (Szer-kövek): Cave-stop (Loc: Dömös), Cold-hole (Hu: Hideg-lyuk, Loc: Dömös), Kőtorony-alatti Cave (Hu: Kőtorony-alatti-barlang, lit:Under Stone Tower Cave), Five Hole Cave (Hu: Ötlyukú-barlang).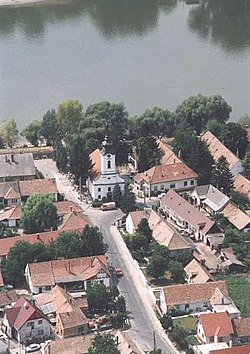 PócsmegyerSights: Surányi Chapel, a Roman catholic chapel (Hu: Surányi kápolna. Loc.: Szent István tér, Phone: +36 26 385807, +36 26 317965, szoke.lajos@freemail.hu, Admission: free). Baptist Praying House, (Hu:Baptista Imaház. Loc.: Ady Endre utca 5., Phone: +36 20 8861927, kovacsbalint1@freemail.hu, Services: Th 18.00, Fr 19.00, Su 09.00). Calvinist Church Pócsmegyer, built in 1788 in Baroque style, (Hu: Református templom. Loc.: Bocskai tér 6. Phone: +36 26 395128, kovach.t@freemail.hu, Admission: free), Former Esterhazy Bercelly mansion, now Eper (lit. Strawberry) inn. (Hu: Eszterházy-Bercelly kúria, loc.: looking towerd Danube). Pázsit lake is a popular resting place for excursions where you can swimming and fishing. (Hu:Pázsit Tófürdő). Events: The August 20 feast day of St. Stephen's outstanding event in the village.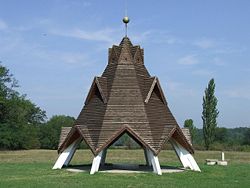 Pusztavacs

address: Pest county

equestrianism. Interest there is the middle of the Country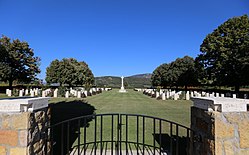 SolymárThe population over ten thousand people over fifteen percent German minority. Sights: Remains of Szarka castle, Local History Collection, Evangelical church, Roman Catholic church (1782-1785). Parish Collection in the former sexton house. Reformed church built in 1980s replacing a former temple which was located here, the interior is decorated with more than one hundred wood-panels painted with plant ornamentation, decorative painted pulpit, other sight of the church is a wooden belfry in the yard. "Office Gallery" - local and area artists works for temporary exhibitions can be see here. Municipal cemetery, the sights: several big monument crosses, the ancient priestly tombs located in M plot, old tombstone collection before the funeral home. Nieger-Valko Calder mansiona was a private museum till the 1980s. St. Anne's Chapel origins in the early 19th century, Fatima Chapel, Budapest War Cemetery, contains 173 Commonwealth burials of the Second World War. Do: Satan's Hole Cave, an extensive system approximately 3km long. It is possible for experienced spelunkers to explore the caves with a guide (Ördög-lyuk barlang On the slope of Zsiros Hill, take a walk to Rozsika source, a popular tourist place. Apáczai Community Centre and Library, built between 1905-1909 as a restaurant of a wealthy, local family. Over the Library there is a theater, several smaller events room, a rehearsal room and a cellar club. Read more:Pilisvörösvár#Solymár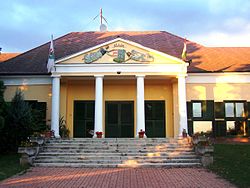 Szada- Bertalan Székely Memorial house, Bertalan Székely was a Hungarian painter in the 19th century. He was the main representative of national romanticism. He has a studio in Szada where located now the museum. The garden of its is full of botanical rarities surrounds the house and studio. (Hu:Székely Bertalan Emlékház. Loc.: Székely Bertalan utca 22., directions=west half km from main road, 'Dózsa György út'. Tel: +36 28 405453, F: +36 28 503181, szebemk.szada@telehaz.hu, Opening hours: Tu-F: 14:00-18:00 Sa-Su: 15:00-18:00, Admission: Guidance: Ft1000, ticket: Ft150. Guide Hungarian, English and French languages ​​as possible). Local History Collection, historical, ethnographical exhibitions (Hu:Szadai Tájház, 2111 Szada, Kossuth utca 6., directions= Dózsa György út (Main road) off on east side. Tel:+36 28 404798, F:+36 28 405181, szada@szada.hu, Opening hours: By booking. Admission: Free. Hungarian, German and English guide.)

SzendehelyLocal History Collection, the German minority in past memories.- Roman Catholic Church, a free standing, single-nave church. - Read more:Vác#Further afield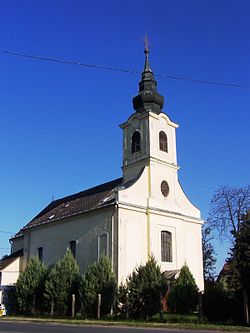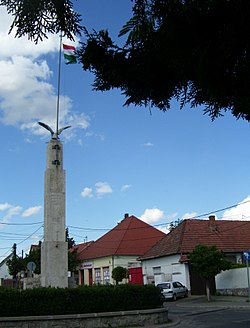 TahitótfaluA resorts of the capital's wealthy, civic-art community. trawberries is the most cultivated crops of Tahitótfalu. Sights: Pollack Mihály house, a classicist monument was built in the early 19th century. In the second half of 19th century the house was renovated as it has had got the signs made in eclectical style. (Hu: Pollack Mihály szüreti háza. Loc: Patak sor 50. T: +36 26 387198). Pánkút pasture and Kecske (Goat) Island's Nature Protected Area (Hu: Pánkúti legelő és Kecske-sziget. Loc: north of the Tahitótfalu and Vác ferry pier connecting road. T: +36 26 387198). Calvinist church, built in Baroque, between 1801 and 1805 in baroque style. The tower was built later, in 1855. The church has been renovated many times, but it kept her original style. Late copf carved door wings of gate. (Hu: Református Templom. Loc: József Attila utca 4. T: +36 26 387082). Roman Catholic Church: St. Stephen's parish was built in 1778, since that it was many times renovated. It is a protected monument. (Hu: http://tahitotfalu.plebania.hu/ Római katolikus templom - Szent István Király Plébánia. Loc: Dózsa György utca 17. Tel: +36 26 385807. vgellert@t-online.hu. Masses: Tu F 17:00, Sa 18:00 in summer 19:00, Su 09:00). Baptista imaház. - To Do: Horse riding: Zablakert Riding School Hu: Zablakert Lovasiskola. T: +36 30 961-5797, Bodor Ranch Horse Association Hu: Bodor major Lovasegyesület. Loc: Tahitótfalu, Bodor major. T: +36 30 9313 936). Walking tours (selected): Follow 'yellow sign': Jumping Brook (Ugró-patak), Girls Fountain source (Leány-kút forrás), Lightning Creek (Villám-patak), 'Hétvályús' source until you reach the red sign more hundred meter take you to the Red-stone (Vörös-kő) with a beautiful view. From there # The red sign lead to the north-west to Pap meadow (approx. 3½ km) or the yellow sign back to Tahitótfalu (about 3½ km) to the green signal # Dunabogdány (8½ km) south-west of # Follow the Yellow + signal we Szentendre (about 5½ km). # South and south-east of Girls' village (Approx. 3 km). Biking tours. Stay: MTA 'Sunshine' Holiday (Hu: MTA "Napsugár" Üdülő. Loc: Tahitótfalu, Szentendrei út 57. T: +36 26 387-009). Duna Camping (Hu: Duna kemping. Loc: Tahitótfalu, Kamping u. T: +36 26 385-216. E-mail: dunacamping@vnet.hu, Open: May-Sep. ). Tahiti Guestpark (Hu: Tahiti Vendégpark. Loc: Tahitótfalu, Visegrádi út 1. T: +36 26 385-677). Lehár Tourist hotel (Hu: "LEHÁR" JEKA Szálló Loc: Tahitótfalu, Petőfi u. 4. T: +36 1 331-4077, F: +36 1 331-2245, E-mail: jeka.budapest@axelero.hu. Open: Apr-Jun, Sep-Nov ~Ft3000 p.p. (2015)). Eat: Tahi Garden Restaurant (Hu: Tahi Kert Vendéglő, Loc: Szentendrei út, Open: Th-Tu 10.00-22.00). Laki Confectionery (Hu: Laki Cukrászda. Loc: Petőfi Sándor utca 40.Open: Tu- F 11.00-19.00, Sa 10.00-19.00, Su 11.00-19.00). Don Vito Pub. Loc: Szentendrei út 17. Open: 24/7). Pizza Sprint Italia Antonello&Vito. Loc: Szentendrei út 17. Home delivery: +36 70 237-1474. Open: 12.00-22.00). Furnace inn (Hu: Kemencés csárda. Loc: Bodor Ranch Open: M-F 11:00-17:00, Sa 11:00-20:00, Su 11:00-17:00).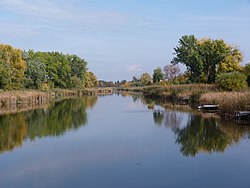 TaksonySights: First World War Veterans Memorial was built in 1937. This was inaugurated on the south side of the church hill (Hu: Első világháborús emlékmű. Loc: Hősök tere). Gábor Bellusi Baross Memorial, he was an outstanding economic and transport politician in the dualistic era. He was called the "Railway Minister" because his effective developing of the railway progress. The monument was built in 1998.(Hu: Bellusi Baross Gábor emlékműve. Loc: Baross tér). The bandstand is located under the 'Gongorda' which is made of 18 gongs. There plays music on weekdays at 15:30, weekends and holidays at 11:00 and 15:30. (Hu:Zenepavilon gongsorral.Loc: Fő tér). Bronze bust of Albert Wass, which was made in 2008. It was created to symbolize the resettled Transylvanian Hungarians unity. (Hu: Wass Albert bronz mellszobra. Loc: Szent Anna tér). Bronze bust of Taksony General, who was a leader of a Hungarian tribe in Conquest era. The bust was made in 1976 near the 1000th anniversary after general's death. (Hu:Taksony vezér bronz mellszobra, Loc: Fő út.). The bust of Archbishop Jozsef Mindszenty was uncovered in 2009. (Hu: Mindszenty József hercegprímás mellszobra. Loc: Fő tér. Front of the St. Anne church.) St Stephen's bust: the park was refurbished in 2007. (Hu: Szent István király mellszobra.Loc: Szent István park.) The main street of the village, which include several restored traditional farmhouse and the country house is closed by the new park. German Minority House, a Folk Art Monument preserve the ancestor's memories and represent valuable traditions of Taksony. The main objective is cultivate the Swabian traditions, and keeping alive the memory. (Hu: Német Nemzetiségi Tájház. Loc: Dózsa György utca 52., Tel: +36 24 487046). Taksony island, and backwater, Taksony Nature Trail Nature Protected Area This is a water area where are variety of protected animal and plant species found. The trail is starting from the small bridge of the island and going on at the bank of the dredged backwater until the Dunaharaszti border. which introduce the visitors to wildlife and natural backwaters beauty. (Hu: Taksony Sziget és holtág és Taksonyi tanösvény. Loc: Sziget (Island), between the Ráckevei (Soroksári) Danube river in the left side, northwestern part of Taksony municipality area. T: +36 24 520777). The circle dome church was built in 1958, in Modern style. In Europe, there are only three temples where is a larger diameter oval dome without stand. Became the patron saint of St. Anne. (Hu: Szent Anna római katolikus templom és templomkert. Loc: Fő tér. Tel: +36 24 518990, F: +36 24 518990, langandras46@freemail.hu). In 1992, the Chapel was built, in 2010 they were complete the renovation of an old farmhouse and built a parish. (Hu: Református Imaház.Loc: Virág utca 6. Tel: +36 24 490389, http://www.taksony.reformatus.hu taksony.ref@gmail.com). Stay: Fitness Sziget Youth Hostel. Loc: Sziget sétány 5. T:+36 30 9484221. Ft2500 p.p. open Apr-Oct. twelve rooms, four bed dorms. Fitness and kayak camps. Do: Eurovelo bike path 2 km section is here.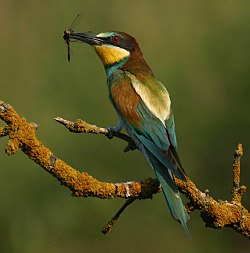 TápióbicskeSight: - European bee-eater Bird Colony, in a Nature Protected Area (Hu: Gyurgyalag kolónia Loc: Tápióbicske, Outskirt, Ádánd, Felsőhegy hill northern slope. T: +36 29 382028, free of charge. ).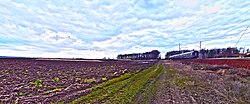 Tápiógyörgye=Sights: Stone Cross in Churchyard, Monument made in Renaissance style (Hu: Templomkert Kőkeresztje Loc: Martinovics u. 1., Tel: +36 53 383001, http://www.muemlekem.hu/muemlek?id=7434 ). Village museum, a local history and ethnographical Collection (Hu: Falumúzeum. Loc: Béke út 2., Tel: +36 53 383060. Open: mid Mar-Sep. Admission: Free). Bibic Trail, in a Nature Protected Area, include look-out tower, educational path, presentation house, forest school (Hu: Bibic-tanösvény. Loc: Outskirt, toward Újszász along Tápió river area. T: +36 53 383001 for guide, Admission: Free). Saint Anna Roman Catholic Church It was built in 1860. (Hu: Római katolikus Szent Anna templom. Loc: Szent Háromság tér 1., Tel: +36 30 4524950, atatya@freemail.hu). Stay: Youth camp in Tápiógyörgye in five buildings, sixty beds. T: +36 53 383070. F:+36 53 583500. Ágnes Farm: +36 (20) 2141111, F: +36 1 2848456, Email: neuvirth.judit@gmail.com. Ft4400 p.p. five rooms, fishing facilities, horse riding, hiking, hunting services. Eat: Györgyey Restaurant and Guest House. Loc: Táncsics út 2. T:+36 53 583546, +36 30 9555770. F +36 53 383002. Opening hours: M-Su: 07:00-22:00. Seventy seats, WiFi, bicycle storage.

Tatárszentgyörgyancient juniper fields

Vácrátót

address: Pest county

there is an arboretum, the Manor of the Vigyázó Castle

Veresegyház

address: Pest county

Sight of its the bear sanctuary, Roman Catholic Church: Built in 1777, Roman Catholic cemetery: in 1806 and 1849, Reformed Church: was built in 1786.

VerőceGorka Géza, the famous ceramic artist settled in Verőce; his former house and yard is a Ceramic Museum. More attraction is the St. Andrew church. Visitors can get Szokolya and Királyrét by the narrow-gauge railway and several excellent excursion places (Kisinóc, Nagy-Hideg-Hegy, Csóványos) are easy to reach from these villages. Roman beachhead, castellum (watchtower) ruins, Retaining wall along the Danube River made by Ybl Miklós unique designs, Radio Museum. Read more: Vác#Further_afield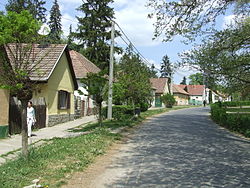 ZebegényThe most characterises building of the town is the roman-catholic church (Havas Boldogasszony római Katolikus templom), secession style, 1910, a work of the famous architectures Kós Károly and Jánszky Béla. There are nine passion pictures – made form metal – along the road to the classic Passion chapel (Kálvária-kápolna és a kálvária). In the cemetery lies Szőnyi István the famous artist. His former living house exists as a Memorial Museum. There is a private shipping-historical collection in Zebegény owned a retired captain. Rock shrine at the foot of Calvary Mount (Sziklaszentély). Tradition has that it was a hermit cave and the inhabitant of the cave carved the relief of the Virgin Mary, Villa Maróti, Dőry mansion, National flag and national heroes memorial park (emlékpark) on Calvary hill, Slovak and Swabian peasant houses, the colorfully painted wooden "Sunflower Houses" ("napraforgó-házak"), in the 1930s, take a walk in the Forest of Börzsöny Mountains (Börzsöny hegység), Old mill (Öreg malom, Fischer köz). Read more: Vác#Further_afield
Do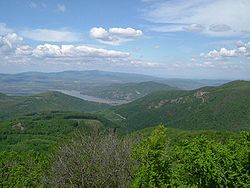 Pilis Mountainsoffer plenty of opportunities for hiking, mountain biking. Peaks above 600m a.s.l.s: Pilis peak (756m, the highest peak of the Transdanubian Mountains), Nagy Bodzás Hill (717m), Nagy Szoplák (710 m), Kis Szoplák (686m), Vaskapu Mount (651m - is not the same Iron Gate hill of Esztergom). The Oszoly Peak is a famous rock climbing training ground.

Visegrád HillsGreat opportunities for hiking, caving. See here the Ördögmalom waterfall

Gödöllő Land Protected AreaA part of the Duna–Ipoly National Park. Cultural, natural sights. Sports: biking, walking, horse riding, hunting

phone: +36 27 318989

address: Szendehely, Katalinpuszta district, near to Dózsa György Way

Path of Gyada, presents natural and cultural treasures and curiosities of local forests and meadows. The trails have 13 stations where you can learn about the area's natural features

Ócsa Land Protected AreaOrganised tours

address: Vary

Pest county's longest hiking trails (245km).
Swimming, angling at quarry lakes (Stay safe!)
Stay safe
The tap water all area potable.
There are some quarry lake which is just partly usable for swimming. Also couple of its signed for nudist beaches in this region like Délegyháza (to the south) and Szigetmonostor to the north.
In hunting season (Oct to Feb) look for warnings about some closed areas in forests and hills of Pilis.
Wintertime some part of the Hills closed due to slip hazard.

Go next