Edinburgh/Leith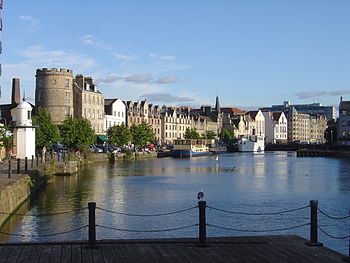 Leith
is the port district of the
Scottish
capital of
Edinburgh
, located to the north of the city centre on the shoreline of the
Firth of Forth
. Traditionally a separate
burgh
, Leith and its inhabitants remain determinedly independent in nature and character, despite being absorbed by the larger City of Edinburgh.
Understand

Although possessing a somewhat exaggerated reputation for seediness and crime in recent decades, Leith has been undergoing a major revival since the 1980s with many of the district's problems gradually being resolved. It is now a vibrant community, with a wealth of shops, pubs, restaurants, parks and community events. The relatively low cost of buying or renting property compared to some other areas of Edinburgh, combined with excellent transport links, has led to Leith playing host to immigrants from all over the UK, Europe and the world and it is therefore one of Scotland's most cosmopolitan communities.

Get in
Leith is located to the North of Edinburgh. The two are most directly connected by Leith Walk, which runs from the East End of Princes Street into Leith.
By foot
Follow Leith Walk from the east end of Princes Street, enjoying the wide range of different shops along the route.
A more peaceful walk between Edinburgh and Leith follows the Water of Leith Walkway, which can be picked up at Dean Village (close to West End),
Stockbridge or Canonmills
(both on the north side of the
New Town
). The walkway is indicated by brown direction signs featuring a water wheel logo. For most of the route the river is flanked on one or both sides by woodland, and it's often hard to believe you're in a major city. There are brown trout in the river and birds including the Grey Heron and Kingfisher can be seen.
By bus
Leith is connected to the city by several bus services operated by
Lothian Buses
, the local operator.
Bus services 7, 10, 12, 14, 16, 22, 25 and 49 travel down Leith walk from Edinburgh centre.
Service 22 serves Ocean Terminal (the location of the Royal Yacht Britannia) from Princes Street. Service 36 connects the Weat End to Leith, via Stockbridge.
Connecting with the airport
The Lothian Buses Skylink 200 provides a fast direct link between the airport and
Ocean Terminal
via the northern parts of Edinburgh. The complete journey takes slightly less than 1 hour.
The Lothian Buses Skylink 300 replaced the Lothian Buses 35. Its destination is also the
Ocean Terminal
in Leith via the southern parts of Edinburgh and the
Royal Mile/High Street
(city center), but the complete journey takes much longer than the Skylink 200 (around 100 min for the complete journey).
Prices are identical for both Skylink 200 and 300. From the airport, one-way tickets cost £4.50 and an open return tickets costs £7.50. Regular city fares apply (£1.60 for a single ticket) if your final destination or starting point is
not
the airport. In any case, you have to pay the driver with the exact fare.
The Lothian Buses Airlink (Service 100) is also an option that takes you as far as the
New Town
, but from there you have to switch to another service travelling down Leith Walk. The prices are the same as with the Skylink, but you have to pay extra for the second bus. This service, however, runs 24 hours, so might be the only option if you arrive or leave at night. See the main
Edinburgh
page for more details on this service.
By train
The nearest train station is Edinburgh Waverley. Leith's own station became derelict in the 1970s & 80s, and a notorious haven for drug addicts, and this inspired the title and a key scene in
Trainspotting
by Irvine Welsh.
See
address: Ocean Terminal

Decommissioned from royal use and voted one of Edinburgh's best new attractions, Britannia offers visitors the chance to tour the royal apartments and view a selection of the many gifts offered to the royals by dignitaries worldwide.

6 TimesSix life-sized human figures by world-renowned artist Antony Gormley have been installed in 2010 in and along the Water of Leith, between the National Gallery of Modern Art and the sea at Leith Docks.

address: 21 Hawthornvale, EH6 4JT

Workshops, exhibitions and a cafe in an old fire station,
Do
Watch football ie soccer at

address: Albion Place EH7 5QG

Hibernian FC ("Hibs") play in the Scottish Premiership, the top tier of Scottish football. The all-seater stadium, capacity 20,000, is at the south edge of Leith, a mile or so east from Edinburgh Waverley station. Buses 1 & 35 run down Easter Road but there are more down Leith Walk just west or along London Road (A1) just south.

Water of Leith WalkwayWalk or cycle along the Water of Leith. The route starts from the harbour and follows the river right through the City to the suburb of Balerno, on the edge of the Pentland Hills. The walkway is indicated by brown direction signs featuring a water wheel logo. For most of the route the river is flanked on one or both sides by woodland, and it's often hard to believe you're in the heart of a major city. There are brown trout plus a dozen other species of fish in the river and birds including the grey heron, goosander, dipper and kingfisher can be seen along the banks. If you're very lucky you may see badgers or otters.

Fishing (Angling) is possible along most of the length of the Water of Leith. Permits are required, and can be obtained free of charge from the City Council offices at Waverley Market in the New Town and Cockburn Street in the Old Town. Most Fishing Tackle shops throughout the city can also provide permits.

Vue

address: Ocean Terminal, Leith

Large multiplex cinema.
Events
Leith FestivalTakes place in June every year at venues all around Leith. Art, comedy, dance, drama, film, and music.

Edinburgh MelaThe is a multi-cultural festival, largely based around South-Asian traditions. The festival takes place on Leith Links, a large park to the east of the foot of Leith Walk.

Leith Late FestivalAnnual arts and music festival (in June) in venues along Leith Walk and in Leith.
Buy
address: Dock Place, EH6 6LU

A variety of producers sell their local products all year round.

address: Ocean Drive

A huge undercover shopping centre at with many of the usual High Street chain shops (Debenhams, Gap, Top Shop, Waterstones, etc.) and one or two more unusual options, plus bars, restaurants and a multi-screen cinema.
Leith Walk joins Edinburgh to Leith, so the top half is in the New Town, and the bottom half is in Leith. Leith Walk has an amazing variety of independent shops. Locals claim there is nothing you can't buy somewhere on Leith Walk (even if it's illegal!). Have fun trying to prove this wrong!

phone: +44 131 467-7775

address: 276 Leith Walk

Excellent local bike shop with a range of bikes, spares and accessories. Repair shop in the back and a hire service starting at £12 for a half-day hire or £17 for a full day.

Gamesmaster

phone: +44 131 555-5188

address: 287 Leith Walk

Second-hand video games. All the recent titles but it's the retro games that will really excite gaming fans in this good-value box of delights.

Hing Sing

phone: +44 131 554-4333

address: 310 Leith Walk, EH6 5BU

Food items from across south-east Asia, as well as some crockery and cooking utensils. Great for those hard-to-find ingredients but even items also stocked by the mainstream supermarkets are usually significantly better value here.
Eat
Leith has become the top foodie destination in Edinburgh and among the best in the UK. In 2010,
The Shore
was voted as runner-up in the "Best Foodie Street" category in the UK Google Street View awards . Include the adjacent Bernard Street, Commercial Street and Henderson Street and you will find an enormous choice of places to eat within a very small area. Fish and chip shops, Italian trattoria, curry-houses and traditional pub grub rub shoulders with some of the best seafood in the UK, some unusual ethnic cuisines and there's even a couple of Michelin-starred fine-dining establishments for good measure.
Budget
phone: +44 131 554-4344

address: 3a Albert Street

Not quite a restaurant but definitely more than a cafe, Word of Mouth offers breakfasts, coffees and sandwiches, along with some more substantial hot options. The deal where you pick 5 options from the Mezze menu for £15 and get a bowl of chips thrown in is a great option for a value lunch for two. You might find it hard to resist spending another couple of pounds on one of the broad range of home baked cakes to follow it though - if you can fit one in. Free WiFi and even the gent's toilets have interesting decor. It's probably a good thing they don't have rooms or you'd never want to leave!
Mid-range
Splurge
address: 54 The Shore

One for a (very) special occasion. Leith's first Michelin Star. The food and service are both outstanding.

address: 78 Commercial Quay

A couple of hundred yards from Leith's first Michelin star, here is its 2nd. Established in 2006, it has racked up several awards.
Drink
Leith has a huge number of places to drink, from traditional pubs to modern style bars. The list below is just a selection.
Sleep
Pilrig Street
and its northern extension
Newhaven Road
are home to a number of B&Bs. This is a convenient location in which to base yourself as it's an easy walk to the centre of Leith in one direction, and Edinburgh city centre in the other. Pilrig Street intersects with Leith Walk so there are plentiful buses nearby. The number 11 bus travels the length of both streets and on via Leith Walk into the
New Town
. There are also larger hotels along the waterfront, mostly in modern buildings.
Connect
Internet
phone: +44 131 529-5517

address: 28-30 Ferry Road

PCs with free broadband internet access.

phone: +44 131 529-5636

address: 2 McDonald Road

Over 20 PCs with free internet access.
Post Office
Post Offices are available at the following locations
119 Ferry Road.
135 Great Junction Street.
6b Constitution Street.
207a Leith Walk.
210 Newhaven Road.
Media
The Leither. Slightly irreverent (like its catchment area!) Leith-centric magazine with news, listings, articles, reviews etc. Free. Pick up the latest edition from shops, bars and cafes throughout Leith, or read it online before your visit to get a flavour of what will be happening when you get here.