Edinburgh/Stockbridge and Canonmills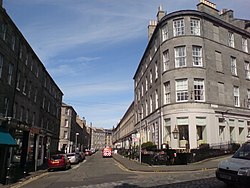 Stockbridge and Canonmills
are two adjacent districts of
Edinburgh
. They cover the area immediately to the north of the
New Town
. The main tourist draw here is the
Royal Botanic Garden
, but don't miss the eclectic variety of
independent shops
and some great places to
eat and drink
. It's also the place to see
international cricket matches
.
Get in
Stockbridge and Canonmills is to the north of
New Town
.
West
Edinburgh is on the western and part of the northern boundary.
Leith
is on the eastern and part of the northern boundary.
By foot
From New Town, walk north, an easy downhill stroll with plenty to look at on the way.
A longer but picturesque route follows the
Water of Leith Walkway
from the West End or
Leith
. This follows the small river which flows from the Pentland Hills through the city to join the sea at Leith docks.
By bus
The number 36 bus passes right through this area, running from South Gyle via Queensferry Street in the West End to Ocean Terminal in Leith.
The number 8 and 17 buses serve Canonmills from South Bridge in the Old Town.
The numbers 24, 29 and 42 serve Stockbridge, running along Raeburn Place.
See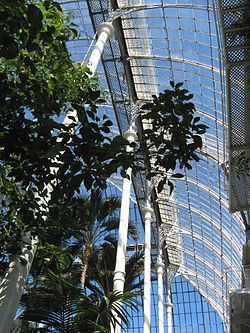 phone: +44 131 552-7171

address: Inverleith Row (East Gate) / Arboretum Place (West Gate).

Very impressive gardens with a collection of interesting plants. Great place to wander around on a sunny day, or to sit and have a picnic. Highlights include the Rock Garden; the 165-m-long herbaceous border, backed by a huge, century old beech hedge (a hedge may not sound too exciting but this one has to be seen to be believed!); and the Victorian Temperate Palm House, which is the tallest of its kind in the UK. The stunning John Hope Gateway building at the west gate contains the restaurant, shop, and permanent and temporary exhibitions. Botanic Cottage is an education centre in a house that was built in 1764-5 and designed by John Adam and James Craig. It was rebuilt in the gardens in 2014-16.
phone: +44 131 226-7126

address: 1D Hamilton Place, Stockbridge

Small art gallery and set of artists studios. Has regular exhibitions of modern art, and very occasionally the artist's studios are open.

St Bernard's WellA well in a fine building from 1789. Open noon-3PM Sundays in August and first Sunday of month April - July.

Fettes CollegeBoarding school in an impressive building in the style of a French Château by David Bryce built between 1863 and 1869. It can be seen from far away. Not open for tourists.
Do
Water of Leith WalkwayWalk or cycle along the Water of Leith. The route follows the river right through the City from the suburb of Balerno, on the edge of the Pentland Hills, to the sea at Leith. The walkway is indicated by brown direction signs featuring a water wheel logo. The section from the Gallery of Modern Art through the Dean Village and Stockbridge to Canonmills is probably the most picturesque on the whole river. There are Brown Trout plus a dozen other species of fish in the river and birds including the Grey Heron, Goosander, Dipper and Kingfisher can be seen along the banks.

Fishing (Angling) on the Water of Leith. Permits are required, and can be obtained free of charge from the City Council offices at Waverley Market in the New Town and Cockburn Street in the Old Town. Most Fishing Tackle shops throughout the city can also provide permits.

address: Raeburn Place

Take in a cricket match at The Grange, home of the Saltires, Scotland's cricket team.

phone: +44 131 343-6376

address: Glenogle Road

Go swimming in a Victorian swimming pool with partial glass roof. Also has a gym and sauna. Refurbished in 2010.
Buy
Stockbridge is well-known throughout Edinburgh and beyond for its
second-hand clothes shops
, which are spread along Raeburn Place and St Stephen Street. Stockbridge and Canonmills have a number of specialist food shops.
phone: +44 131 225-6566

address: 6 Baker Place, Stockbridge

Cheese paradise! If you like cheese at all you will struggle to walk past this place as the aroma will draw you right in through the door. Specialist cheesemonger with a range of artisan cheeses from all over Scotland, the UK and Europe. With the greatest customer service in Edinburgh, the friendly staff are always more than happy to offer you a wee taste to help you make up your mind what to buy.

phone: +44 131 556-1567 (shop), +44 131 623-5577 (websales)

address: 10-12 Brandon Terrace, Canonmills

Ironmonger & locksmith. If you like the brass door furniture you've seen on the traditional townhouses in the New Town, this is the place to pick up the knobs, knockers, numbers and letter-boxes you need to make your own front door look just the same. A real treasure-trove of a shop.

phone: +44 131 225-5877

address: 22 North West Circus Place, Stockbridge

Designer-led homeware, furniture and accessories.

address: Saunders Street

Open air market selling upmarket produce. Also has food stalls selling ready-to-eat food.
Charity second hand shops in Raeburn Place, Stockbridge. Most of these stock the usual mix of clothes, books and household items, but there are three specialist shops: Oxfam Books, Shelter Books and Oxfam Music. These shops usually have a paid manager, with the other staff being volunteers, and the profits go to the named charity. Most of the stuff for sale has been donated.
Supermarkets (from East to West and also from cheaper to expensive): Lidl, Logie Green Road, Cannonmills Tesco, 7 Broughton Road, Cannomills; Scotmid Co-op, Hamilton Place, Stockbridge; Scotmid Co-op, Raeburn Place, Stockbridge; Waitrose, 38 Comely Bank Road, Stockbridge.
Take a pleasant walk along
St Stephen Street
with numerous small independent art galleries and design orientated stores you are bound to find something of interest in this small street. Some of these stores include:
phone: +44 131 225-5939

address: 18 St Stephen Street, Stockbridge

The well-known jewellery designer's first shop outside of her native Orkney. Fleet says that her original designs reflect the natural world around her in Orkney, and also the history and folklore of the islands.

phone: +44 131 629-6775

address: 21 St Stephen Street, Stockbridge

An independent record shop. They sell a range of collectible records. Mainly used vinyl but also some new CDs and box sets.

Crystal Chandelier Company

phone: +44 131 226-6355

address: 36 St Stephens Street

This store offers an interesting range of chandeliers and mirrors.

Chandlers

phone: +44 131 220-5472

address: 68 St Stephens Street

Sells a large variety of modern, designer kitchenware and homeware.

phone: +44 131 226-5022

address: 58 St Stephens Street

This store offers high quality pieces of Scottish art, jewellery and gifts at reasonable prices although small it is well worth having a look around.
Eat
Drink
phone: +44 131 332-6345

address: 2-4 Raeburn Place, Stockbridge

Traditional Edinburgh bar in the heart of Stockbridge. Good range of ales and whiskies, and some good value pub-grub on offer too. Popular place to watch sport on screen, though the management tend not to show football.

The Bailie

Smithie's Ale House

phone: +44 131 556-9805

address: 49-51 Eyre Pl, Canonmills

Comfortable, friendly local bar on a Canonmills side street. Ceilidh nights on Sundays and quiz nights on Thursdays.
Sleep
There are a number of small and medium sized hotels and guest houses throughout the area.
Connect
Internet
phone: +44 131 529-5665

address: 11 Hamilton Place, Stockbridge

PCs with free internet access. Free Wi-Fi.