Gallipoli (Italy)
Gallipoli
(Sicilian:
Caḍḍìpuli
) is a town of 20,600 inhabitants in the
Apulia
region of
Italy
, on the west coast of Salento Peninsula, facing the Ionian Sea. Gallipoli has become one of the main Italian tourist destinations for summer holidays, because of its beach resorts, enchanting historic center and vibrant nightlife.
Understand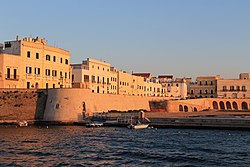 Gallipoli is divided into two different parts: the modern city is on a peninsula; the fascinating old town, on a calcareous rock island connected to the mainland by a 17th century stone bridge.
Talk
Practically everyone knows Salentino dialect (
Salentìnu
) and usually speaks it with family and friends. It is a variant of Sicilian language, spoken in almost all Salento peninsula, and can be heard in particular in the historic centre, especially by fishermen.

phone: +39 0833 264283
address: Via Kennedy, 20
Information about the locality, nearby tourist destinations and various events.
Get in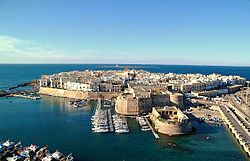 By plane
phone: +39 0831 411 7406

address: Contrada Baroncino

The airport is located 65 km (40 miles) north of Gallipoli, that can be reached from here trough the efficient bus services or renting a car.
The companies that provide a car-rental service from the airport of
Brindisi
are:
By train
Gallipoli railway station

address: Via XX Settembre

It is the main station of the town and is served by the trains of Ferrovie del Sud Est (FSE), a local railway company that provides a link to Lecce in about 90 minutes. The station was open in 1885 and is located in the modern centre close to Corso Roma, few minutes by foot from the bridge that leads to the old town.
By bus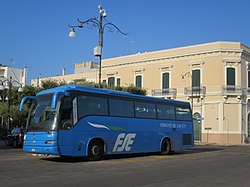 Various private bus companies provides links from cities of Italy, France, Germany and Switzerland to Gallipoli:
Fares can drastically change according to the period and even the day chosen. Info are available on their websites.
All coaches stop at the bus station of , in front of the municipal cemetery.
By car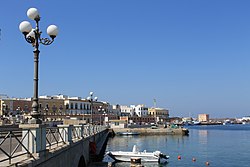 Get around
By train
The town has two more minor train stops
Gallipoli Baia Verde

address: Strada vicinale Madonna del Carmine

A small train stop near the beach resort of Baia Verde ("green bay"), in the southern area of the municipality. The ride from the main city station requires 7 minutes and it costs €1,10.

Gallipoli Via SalentoTrain stop useful to reach the southern suburb, an area rich of B&B and holiday homes near Galileo Galilei waterfront. 3 minutes away from the main station at a cost of €1,10.
The local train service has a reputation form being not very reliable, and people may discourage you to choose it, despite the recent improving. Check the
FSE site
for informations about routes and fares.
By car
During summer streets can be extremely busy especially at night and find a parking can literally become an adventure! Reaching the old town or the modern center from the suburbs will require parking the car quite far away and walking along the lively Corso Roma.
On foot
The only option to explore the historic centre after you have crossed the bridge. Walk along the boardwalk of the island to admire the magnificent view then lose yourself in the narrow alleys.
See
Old city
The island of the historic centre is characterized by the present of various churches, all of them built in Baroque style. The narrow alleys are surrounded by enchanting white and cream-colored houses, that make this zone similar to a Greek or Arab old city.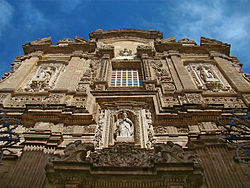 phone: +39 0833 261987

address: Via Duomo, 1

Imposing Baroque church completed in 1696, with the facade in Lecce stone and the Latin cross plan interior rich of statues and paintings. It has been declared Italian national monument in 1940.

Santa Maria della Purità

phone: +39 0833 261699

address: Riviera Nazario Sauro

Baroque church built in 1665 overlooking the Seno della Purità (Cove of the Purity). The sober facade hides a single nave interior rich of paintings, one by Luca Giordano.

phone: +39 0833 262529

address: Riviera Nazario Sauro

Ancient medieval church of the 13th century, completely renovated in the 18th century in baroque architectural style. The two aisles contains ten richly decorated altars.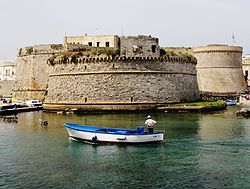 Angevin-Aragonese Castle

phone: +39 0833 262775

address: Riviera Armando Diaz

A wooden drawbridge permits the entry to this imposing defensive structure of the 11th century, rebuilt and restored several times. It is border by the sea on three sides, while the semi-circular bastion, overlooking the modern centre, is completely surrounded by the waters of the Seno del Canneto (Cove of the Cane field).

address: Riviera Nazario Sauro, 133

Sanctuary erected in 1750 along the promenade. The exterior is quite simple and sober, while the single nave interior is almost totally white and is a true triumph of baroque decorations and stuccoes.

Santa Maria degli Angeli

phone: +39 333 364 0283

address: Riviera Nazario Sauro

A dazzling white facade enriched by a pediment in limestone. Inside it is possible to admire a majestic harmonium of the 18th century.

San Francesco di Paola

phone: +39 0833 261987

address: Riviera Cristoforo Colombo

Sober white exterior and a decorated interior rich of floral designs.
Museums
phone: +39 0833 264110

address: Via Antonietta De Pace, 51

Museo civico Emanuele Barba

phone: +39 0833 264224

address: Via Antonietta de Pace, 108

phone: +39 347 703 9082

address: Riviera Nazario Sauro, 131/A

Multimedia museum about the sea and its flora.
Mainland
Greek Fountain

address: Piazza Aldo Moro

The name derives from the presence of caryatids and bas-reliefs depicting the mythological metamorphosis of Dirce, Salmacis, and Byblis.. It had been considered the most ancient fountain of Italy, also if many consider it dating to the Renaissance. The exact dating remains a mystery.

phone: +39 0833 262529

address: Piazza Aldo Moro

Baroque sanctuary facing the characteristic fishing port of Seno del Canneto. It was built in the late XVII century on the site of a church owned by the Teutonic Order. The interior is preceded by a portico with three round-arches and is decorated various paintings and a XVIII century harmonium.
Do
Festa di Santa Cristina (Festival of Saint Christina): the most important religious festival in the town, in honor of the town's patron saint. The event takes place on 23, 24 and 25 July, when the statue of Saint Christina is procession over the sea and Corso Roma is decorated with spectacular and colored illuminations, in addiction to many stalls. This is a really can't-miss events if you choose to visit Gallipoli during this period.

phone: +39 0833 273400

address: Litoranea Santa Maria al Bagno

A large water park with giant slides and many other attractions, 2 km north of the city centre.
Theatres
phone: +39 0833 275538

address: Via Giuseppe Garibaldi, 8

The most ancient theatre of Apulia, built in 1825 as Teatro del Giglio, in honor to the House of Bourbon. It is the most elegant one of the city and it's focused on theatrical exhibitions, conferences with actors and musicians and cinema projections of cultural interest.

phone: +39 0833 266940

address: Corso Roma, 207

Built in 1976 with a capacity of 1550 viewers. It is mainly used as a cinema, but sometimes it hosts theatrical performances.

phone: +39 0833 266940

address: Corso Roma, 170

500-seat hall built in 1900 and dedicated to Tito Schipa, one of the greatest leggero tenors of all times. It is mainly focused on cinema projections.
Buy
The main street for shopping is , that runs for 1 km (0,6 miles) from the modern centre to the bridge leading to the old town. Along this avenue you will find many shops of various categories, clothing stores above all.
If you are a souvenir lover you cannot miss a walk along a narrow street that runs parallel to the , facing the commercial port. Here it is possible to buy not only postcards and fridge magnets, but a lot of decorations like lamps in pietra leccese (Lecce stone), shells, fish and sponges.
Another option is the (covered market) that shares its entry with the castle and sells various souvenirs, local handicraft and costume jewelry. It is open daily from 09:30 to midnight.

Eat
Drink
Cafes
phone: +39 0833 263499

address: Via XXIV Maggio,19

Elegant lounge and living store in the heart of the old town's island, where you can choose between a wide selection of wines and cocktails.
Nightclubs
Most of the famous nightclubs of Gallipoli are in the locality of
Baia Verde
, a few km south of the centre. Prices can change depending on various factors, such as the services required, but they are usually considered quite expensive by Italian standards.
Cave

phone: +39 338 381 9525

address: Contrada Li Monaci

phone: + 39 348 629 7999

address: Lungomare Lido San Giovanni

Well-known open air club with the presence of many world-famous deejays.

phone: +39 342 111 6027

address: Strada Prov.le Lido Conchiglie-Sannicola

Large open air disco in the northern suburb of the town, with excellent cocktails and commercial music, a bit expensive compared to nearby clubs.
Sleep
Cope
Pharmacy

phone: +39 0833 261567

address: Via Antonietta de Pace, 9

Handy pharmacy in the old town, few steps from the castle.

phone: +39 0833 267549

address: Via Quartini, 5
Go next