Haryana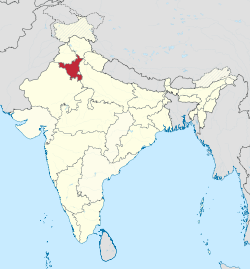 Haryana
is a state in the northern
Plains
region of
India
.
Districts
null
in the north of the state
null
in the south of the state
null
in the west of the state
null
in the east of the state
Cities
Here are nine of the most notable cities.
— essentially a twin city consisting of Ambala Cantonment and Ambala City


— the largest city, just south of Delhi


— Delhi's burgeoning shopping and IT suburb


— an important centre of education and steel production


— anciently known as Angpradesh, the City of Karna


— holy city of Srimad Bhagwat Gita


— a city with a very old historical background


— ancient city known as Swarnaprastha


— an ancient and historic city that is sometimes called The City of Weaver, also site of many battles

Other destinations
, Haryana — home to the red jungle fowl and other bird species, this has become a bird-watcher's destination.


— a town in the Morni Hills


— a paradise for bird watchers

Understand
Haryana is a Hindu-dominated state that split off from largely Sikh
Punjab
in 1966. Haryana surrounds
Delhi
on three sides and is dominated by that city's suburban and commercial sprawl. The remainder of the state is largely agrarian, with few attractions to slow down the passing tourist.
Get in
Eat
Typical dishes include kadhi pakora, besan masala roti, bajra aloo roti, churma, kheer, bathua raita, methi gajar, singri ki sabzi, and tamatar chutney.

Drink
Lassi and sherbet are two popular non-alcoholic beverages in Haryana.