Lima
Lima
is the capital of
Peru
and its largest city.
Founded in 1535 by the Spanish conquistador Francisco Pizarro, the modern city is a curious mix of the modern mega city with some 'islands of modernity', large but orderly slum areas and colonial architecture in the city center. Lima was the seat of Spanish rule for 300 years, and as such it has wonderful churches, cloisters and monasteries.
Lima is the best place to try Peruvian cuisine, which has a huge variety of ingredients from the coast, mountain and Amazon regions. The cold sea current that passes Peru's long coast makes the sea very rich in fish and seafood.
Districts
The following pages include the province of Callao and the province of Lima and their districts
Understand

Lima is a metropolis of almost 8.5 million people. Many of these people have migrated from the Andes mountains to find work in Lima, without success. For this reason, there is widespread poverty in the city center and in the peripheral areas.
Lima's pre-Hispanic and colonial architecture is beautiful and the city has several museums (such as the Museo Larco) that tells the story of a country with a long history that produced a large number of coastal and Andean civilizations (such as the Moche, Chavin, and the Incas) and many local cultures. There are several archaeological sites in and around the city (locally known as huaca).
The city is built on a valley surrounded by an extremely arid desert. In the summer, the weather is usually beautiful, very warm and sunny, with limited rain. In the winter, the city is often overcast and rainy for days at a time. The soft winter rain (llovizna) doesn't fall hard, but it gets everything damp. Temperatures also fall to around 11-19 C⁰ (45-55⁰ F), which seems chillier when combined with the general dampness. Air pollution in the streets of Lima can be very bad due to a combination of weather and older poorly-maintained vehicles.

Get in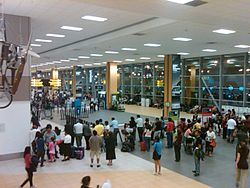 By plane
The airport is well connected with most cities in South America, and with some North American and European cities. Flights arrive daily from
Amsterdam Schiphol
(
AMS
), Bogotá, Madrid Barajas(MAD), Medellín, Miami(MIA), Quito, Santiago de Chile and Toronto. There are also regular flights from Atlanta Airport(ATL), Fort Lauderdale, Houston George Bush Airport(IAH), Newark Liberty(EWR) and London Gatwick(LGW).
Lima is the hub for many national domestic flights and is served by LATAM, LC Perú, Avianca Perú, Peruvian Airlines, and Star Perú.
The airport has Wi-Fi (WIGO) for a fee.

Airlines and destinations

Other domestic carriers include:

Arrival
Arrival at the airport can be chaotic. Most flights from overseas arrive in clumps either early in the morning or very late at night, which means that getting through immigration and customs can be tremendously time consuming; the time between arrival at the gate and exiting customs can range from 20-90 minutes.
The area immediately outside of customs is typically crowded, full of people waiting for arriving passengers. It's not uncommon for entire families to show up to greet a returning family member and the crowd is further swelled by pre-booked car and taxi service drivers holding up signs with passengers' names; a large area where passengers can stand freely and scan the crowd to look for people and not be accosted has been cordoned off in front of the customs exit.

Transit

If you are transiting through Lima, the airport has a separate hall for connecting international passengers, who need not pass through Peruvian immigration or customs, but will have to pass through a security checkpoint dedicated to screening connecting passengers before they can enter the secure area of the terminal where the international gates are located. Due to congestion, the airport often does not assign gates to flights until less than two hours before departure.

Taxis
Be wary of taxi drivers at the airport: if you need transportation from the airport you should avoid using the informal taxis outside that will accost you.
You can hire a taxi and pay for it at the desks Green Taxi, Taxi365 and others inside the customs reception area at somewhat inflated fees, or book one ahead of time online with a reputable company. A trip to the Centro Historico from Green Taxi is S/55 (soles) (Feb 2018). These certified companies are safe.
Once you leave the grounds of the airport, things get much cheaper rather rapidly and a trip to Miraflores shouldn't cost you any more than S/25-30, but it is not as safe. The area around the airport is unsafe in general and taxi drivers can be dangerous. The taxis waiting right outside the terminal but within the grounds are more safe than the ones outside and cheaper than the ones inside. Check out the tips for taking the taxi safely underneath.
Always make sure in which currency they are giving the price. 25 soles and 25 dollars is a big difference.

Express airport bus
To get from Lima Airport to Miraflores, you can use the official airport bus service, Airport Express Lima. This is a cheaper and much safer option than taxi or shuttle. Buses run every 30 minutes and they have 7 stops in Miraflores that are less than 5 minutes walking from most hotels. Their buses have usb ports, free Wi-Fi and offer airconditioning. Their onboard guide gives more information about Lima and Peru while on the bus. You can buy tickets at the two airport desks (domestic arrivals and international arrivals) or book online. If you are going to the airport, you can also pay on the bus.

Car rentals
Car rental is available at the airport via Hertz, Budget, and National, but unless you have experience driving in extremely challenging environments you should avoid driving yourself in Lima.

By bus

The bus station is right outside the airport grounds exit to your right. To get into Miraflores you can take the blue 18 bus or a micro. It says Miraflores on the side but confirm with the bus driver. A ride to Miraflores will cost you S/2. The area surrounding the airport is a bit dodgy. If travelling with all or any valuables and especially at night, it is recommended to take the Airport Express Lima bus instead, which will cost you US$15 for a return ticket or a taxi within the airport grounds, which costs about US$20 one way. The public bus to Miraflores takes 1-3 hours depending on traffic, while a taxi or Airport Express Lima should take under an hour.
Most companies have their terminals lined up along Paseo de la Republica (north & south) in La Victoria, not Lima's nicest district. However. Other stations are in the outskirts of La Victoria (Av. Javier Prado and along Paseo de la Republica), which is better. There you find some of the more reputable companies like Cruz del Sur, Tepsa, Ormeño, Linea, ITTSA, Movil Tours, Flores and Civa. Some of the same companies have multiple terminals in La Victoria, service to Gran Terminal Terrestre Plaza Norte in Túpac Amaru in the northern part of town; and in/around Acotongo in the southern part of town.
If you are staying in the North Lima area or close to the airport, there is a modern bus terminal: Gran Terminal Terrestre Plaza Norte, which is very convenient. It should take you around 10 minutes to get there from the airport by the Avenida Tomás Valle in a combi or taxi (there are no buses along the whole length of this avenue).
Regular buses run up and down the roads Panamericana Sur/Norte (the local name for the Panamerican Highway), Carretera Central, Interoceánica Sur, Interoceánica Norte, amongst others:


Companies and terminals
Some of the major bus companies and their terminal locations:

Get around
Taxi
If going further, a taxi ride between adjacent neighbourhoods costs about S/7-10 (US$2-3), if you speak Spanish well enough. A longer ride may cost from S/24-34 (US$7–10). A reasonable price for a taxi service between the airport and Miraflores is about S/65 (US$25), but may cost more from within the airport. By custom, taxis do not have meters; rather, the fare should be negotiated before boarding the taxi, or, if you order by phone, at booking time. If asking for a ride on the street, don't be fooled into getting into the cab before a rate is negotiated. Be very discerning about which taxi you choose and avoid hailing random cabs off the street as much as possible.
Caution is advised when using taxis in Lima. In Lima the shared taxis are prohibited, but there are some
taxis colectivos pirata
, and it might not hurt to look if there's someone hiding on the back seat or the trunk before entering.
First-time travellers to Peru need nerves of steel with regard to the traffic. Lima harbours the most lunatic drivers in the world and taxi drivers are among the worst.
Maintenance of any mechanical object in Peru, (including taxis) is only performed once it has already ceased to function. Many cars are in very poor, even unsafe, condition. It's very common to see cars and taxis with missing windows or body parts.
If you don't know a trusted taxi, it's wise to use the public transport.
Tips for taking the taxi safely:
Do not show any valuables (including jewelry) and try to look a bit shabby.
Speaking Spanish with confidence to your driver helps.
Before asking for a taxi, ask several people (not taxi drivers) for the regular price. If the driver you talk to goes under that price, he might be looking to make money some other way.
Tuck away your phone and passport where they will not look for it or see it.
Know where you are going, know the route or at least pretend you know. Always look like you are paying attention but stay calm.
If they start talking to you, mention that people are waiting for you, that you know local people and this is not your first time in Lima.
Keep an eye on the driver and check if he is communicating.
When in doubt, do not get in! There are literally a hundred others waiting for you. If you have doubts after entering the taxi, just get out somewhere it seems kind of safe and pay him full price. You can also ask him to take a different route that you choose.
Never show the address or directions on your phone. Remember the address or write it down.
The taxi driver might take you to a location different from your destination where others are waiting and/or threaten you with a gun or knife. By the time you get to your hotel or hostel you will not have your passport, money, backpack or anything else for that matter. Even though most of the taxis in the center of the city are quite safe, be extra careful around the airport, in bad neighbourhoods and especially the bus stations.
Public transport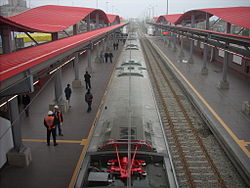 Lima's public transport network consists of a single metro line, modern buses, coasters and combis (which are called "micros" by the locals). The system can be confusing for foreign tourists.
For example, to go from the airport to Magdalena, Miraflores or Surco, you can take the big blue bus called "Las Flores 18" (IM-18). The fare is S/2 (Miraflores) or S/2.50 (Surco).
On the side of every bus or van you will see the names of the major avenues it travels along. Conductors generally lean out the door of the bus yelling the destinations. If this doesn't make sense, ask the conductor. Also here be aware of pickpockets.
Metropolitano
is a modern rapid transport bus system, operated with fully wheelchair-accessible articulated ("bendy") buses. Express routes have their own dedicated lanes on expressways. Rechargeable cards are used as tickets with a minimum purchase price of S/5. The adult fare with the card is S/2.50 (July 2019).
The
Lima Metro
is a newish subway system that is being developed. Line 1 already serves 33 stations through 11 districts. Line 2 is under construction, and is expected to open in 2019.
Corredores Complementarios
are part of an integrated transport system. There are 2 corredores: Tacna - Garcilaso - Arequipa (
corredor azul
- blue) and Javier Prado - La Marina (
corredor rojo
- red).
See
The historic downtown, which is a UNESCO World Heritage Site.
The Circuito Mágico del Agua (Magic Water Tour), a fountain and light display in the Parque de la Reserva and Parque Fermín Tangüis.
The Parque del Amor (Lovers' Park) in Miraflores.
The Costa Verde, Lima's impressive green coast stretches between San Miguel and Chorrillos.
The tourist-friendly districts of Barranco, Miraflores and Santiago de Surco.
The historical sites of Pueblo Libre, including the Cruz del Viajero, a monumental Christian cross dating from the era of the Conquistadores.
Lima's best shopping malls: Plaza Norte, Jockey Plaza, Larcomar, Mall Aventura Plaza, Real Plaza Salaverry.
Historical churches: Lima´s Cathedral, Santo Domingo (San Martín de Porres), Santa Rosa (Santa Rosa de Lima), Nazarenas (Señor de los Milagros), San Francisco.
Museums: Museo nacional de Arqueología, Antropología e Historia (Pueblo Libre), Museo de Arte (Paseo Colón), Museo Pedro de Osma (Barranco), Museo Rafael Larco (Pueblo Libre).
Parque Kennedy in the center of Miraflores. This park is right in the entertainment district and is famous for the large number of cats that used to live there.
Do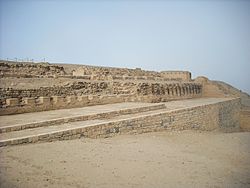 phone: +51 1 445-3172

address: Calle Bolivar 150, Miraflores

A variety of 'public' and private bicycle, walking and food tours of Lima by English-speaking guides. Prior booking is required. It is the number 1 activity in Lima on Tripadvisor.

phone: +51 1 446-6829

address: Miraflores, Lima, Peru

A combined city and culinary tour of Lima. Travellers will visit a local market, have a hands-on cooking class and try different Peruvian dishes while they tour the city's main districts and historical points of interest. Great if you don't have much time in Lima.

phone: +51 1 7156960

address: Heroes de Tarapacá 168

Live shows of local dance with dinner or lunch included. Choose between Almuerzo (lunchtime) Shows, Noches de Folclore (folklore evenings) and periodic special shows.

Mirabus bus and road train tours

phone: +51 1 242-6699

address: Tourist information booth in Parque Kenedy, Miraflores

Various themed day and night bus tours of Lima and the surrounding region, including excursions to Caral and Pachacamac. They also operate a road train around the main sights of Centro.
Surfing the waves of the Pacific Ocean in Miraflores Beach
Paragliding over the reefs of Miraflores Beach
Visit Pachacamac in Lurin (1/2 hour from Miraflores), a sacred pre-Inca citadel.
Go to Mamacona (Lurin, behind Pachacamac) and live the emotion of a live show with Caballo Peruano de paso and the beautiful dance Marinera. Tickets in Mirabus, central park of Miraflores.
Visit Huaca Pucllana in Miraflores, a pre-Inca ruins.
Buy
Exchange
It is very hard to change money other than euros and U.S. dollars in Lima. You can't even change the currency from neighbouring countries in normal money exchanges and banks. You might find more flexible exchange offices at the airport, but they often charge ridiculous service fees and exchange rates.
Changing money in Miraflores can be done safely with cambistas on the street, but you must follow a few simple rules to avoid being cheated. First, make sure that the cambista is wearing the vest-uniform indicating that he or she is an authorized, licensed cambista. Always ask for the exchange rate ("tipo de cambio"). It is worth it to compare with several cambistas, especially if you are changing a significant amount of money. Some scammers do tricks with their calculators in your face and you won't notice, so the best way to know how much you should be getting is to bring a calculator yourself or use the one in your cellphone. Finally, make sure that the bills the cambista gives you have his or her seal ("sello") stamped on them - that way, if by chance one of them turns out to be counterfeit you can come back and complain. It is rare to get counterfeit notes from a cambista, but asking for the seal helps maintain the incentive for honesty and acts as insurance for you.
Withdraw
As anywhere, your best bet is usually to draw
soles
from an ATM. There are banks dotted all over Lima and some of them have guarded ATMs. Chances are the bank will charge you a fortune every time you withdraw money so it is better value to get as much as possible when making a withdrawal. BCP
cajeros
generally allow withdrawals up to S/700. Interbank has been known to charge insane fees (around US$18 for a US$50 transaction).
Always be cautious when using an ATM, as you may be followed and targeted for a robbery.
Shop
Musical instruments
If you are interested in purchasing Peruvian folk musical instruments, there are stores selling charangos, quenas, antaras, etc., on Ca. Cantuarias. If you have the time, a number of these stores can help you find a teacher to learn how to play your purchase.
Handicrafts
Your best bet is to head for Av. Petit Thouars in Miraflores, which is full of handicrafts stores. Or, go to Av. La Marina in Pueblo Libre.
Supermarkets
The main supermarkets are Wong, Metro, Plaza Vea, Vivanda and Tottus. These can be found all over.
Eat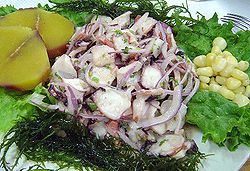 Gastronomy has been, since the days of the Spanish vice royalty, an essential aspect of life in Lima. During the last few years, the city's dining reputation has experienced a huge leap in the eyes of the world, due in part to the International Summit of Gastronomy (Madrid Fusión) in 2006, which declared Lima to be the "Gastronomy Capital of the Americas". The offerings in Lima are nowadays more varied and cover a wide range of types and cuisines, both regional and international.
Despite the wide range of choice in Lima's many restaurants,
ceviche
is surely number one on the list of dishes you must get to know, not only because it happens to be the Peruvian national dish, but because of its unparalleled delicious taste. With the increasing interest in the Peruvian cuisine, ceviche is quickly making its way onto tables all over the world. But if you want to enjoy the real thing, don't miss it during your stay here in ceviche's mecca. There is at least one cevichería in every neighbourhood. Moreover, most criollo restaurants include ceviche on their menus; indeed the dish is so popular that it is even offered at many of the more upscale
nouvelle-cuisine
restaurants.
In some places, Peruvian food tend to be spicy and heavy. Try it and ask if any dish is
picante
(spicy), which usually means it is going to be
very spicy
! A full meal may be really heavy even if it's perfectly nice and well-prepared with fresh ingredients.
A second must goes to Chinese and Japanese cuisines, which predictably, have a strong Peruvian influence. Chifas - that is, Chinese restaurants- - which can be counted by the hundreds if not thousands, are usually down-to-earth neighbourhood eateries, offering a fare rich in seafood and chicken. Japanese restaurants, on the contrary, are less widespread, and more upscale and expensive. Their forte is, of course, a year-round supply of the freshest and most varied seafood.
Travellers longing for a delicious falafel or shwarma sandwich will be pleased to learn there is an excellent café in Parque Kennedy that serves these type of Middle Eastern foods at reasonable prices.
There is a heavy presence of fast-food chains such as KFC, Pizza Hut, McDonald's, Subway, Papa John's and local chain Bembos all over the city. Places such as Burger King, Chili's and TGI Friday's are scarce, but can be found around Miraflores. Also, you shouldn't miss Peruvian-style hamburgers at Bembos, and traditional Peruvian sandwiches in if you want to give your everyday fast-food a local twist.
Drink
Pisco Sour is the national drink of Peru, made with Pisco, a brandy made of grapes. It is highly recommended that all visitors to Peru try this drink at least once. Visitors might be amused to learn that Chileans claim Pisco Sour is their own, but it isn't true. There are some variations that are offered in several bars around town. Just be careful; the fresh and sweet flavour makes it very easy to drink too much, and you can so easily get drunk on it.
Inca Kola is the most popular soft drink in Peru, one of few sodas that Coca Cola couldn't defeat (until they bought the company). It's a yellow-fruit flavored drink that tastes like hierba luisa.
Jugos You can find great fresh fruit drinks all over Lima. Starting from S/0.50 for a fresh orange juice at the market to some more expensive ones. Surtidos, containing several different fruits, are quite tasty.
Chicha Morada A refreshing, purple, non-alcoholic drink high in antioxidants. It's made by boiling purple corn with pineapple, cinnamon, clove, and sugar.
Emoliente is a hot drink prepared with barley, herbs, sugar and lemon juice. It's often sold by street vendors at night for around S/1. It's especially great in winter.
Starbucks Coffee is predictably widespread if you really need your daily caffeine fix.
Sleep

Surco, Miraflores, San Borja and San Isidro are some of the nicest and safest areas in the city. Although they sometimes come a bit pricier than the old city center and other parts, some budget accommodation options do exist.
Keep in mind that the old city may not be safe for tourists at night.

Stay safe
If you witness a crime being committed,
do not
intervene unless you are really sure of what you are doing: many criminals, even pickpockets, carry guns, knives, etc., and may use them if feeling threatened.
In general, a tried-and-true technique for staying safe in Lima is to maintain a low profile. Leave your fancy watch at home, don't wear a fine suit and don't carry a laptop when hailing taxis on the street, and keep a relaxed, friendly, smiling attitude. If you do need to go out dressed like a gringo, call a taxi rather than hire one in the moment - the few moments you wait and the few extra soles you pay will be worth it.
Thieves
While there is not much violent crime against tourists, opportunistic theft is rampant. Watch out for
pickpockets
constantly. If you carry a purse, a camera, a backpack or just a pair of sunglasses hang on to them at all times. In crowded areas, put your back pack on your front and hold shopping close to you. Just keep your eyes open and be aware of people around you. In any case, if someone extremely friendly approaches (even wanting to stretch your hand), just try not to talk that much, and they'll go away. It's normal to find polite people around trying to help tourists, but stay away from the extremely friendly ones.
Football violence
Avoid the surroundings of football (soccer) stadiums before and after big matches, since "barras bravas" (hooligans) can be very violent. Ask for advice if you plan to go there or thereabouts. Very infrequently, but occasionally even in nicer tourist areas, gangs of young supporters of rival football clubs, or strikers involved in a labor dispute may brawl. If you find yourself caught in the middle of such a confrontation, just try to move out of the way, preferably behind a closed door. These youths generally do not carry lethal weapons, and the worst that is likely to happen is that someone will get hit with a rock before the police arrive to break it up.
Districts of note
Some areas of Lima are safer than others:
Miraflores
and San Isidro have large populations of well-to-do and wealthy Peruvians, not to mention large tourist groups, so they have a large police presence to protect the population. Other districts, such as La Victoria, are much more dangerous. Visitors would be well advised to stay out of these areas unless accompanied by an experienced native or visiting busy areas during daylight hours. Downtown Lima is normally well patrolled but be careful anyway. Callao (the port is a separate city) is rather rough: ask for advice before going there if you plan to. The area around the airport is generally safe and well guarded but use common sense while carrying your luggage outside the airport.
Sex
Staying safe for adults can also require an understanding of the sexual climate of Peru. In general Peru is a relatively conservative country in the sense of male and female roles, but at the same time Peruvians are extremely open to friendships with foreigners. Thus, some males can find themselves suddenly the object of flirtation by attractive young Peruvian women, but then be suddenly rejected for having violated some unwritten line of conduct in, say, discussion topics. Women can find themselves the object of unwanted looks and stares, but at the same time the risk of violence and rape is probably not as high as in many other countries.
A problem that can arise is the Peruvian concept of the
pepera
, found at certain night clubs or pubs. Peperas are usually attractive women aged 16–25 that deliberately entice foreign tourists and then spike their drinks with sleeping pills and rob them once they're unconscious. Usually peperas work in groups of two, although smaller and larger groups exist as well. Male "peperos" also spike the drinks of women but robbery is often accompanied by rape. Peperas in general are found in dense tourist areas, such as Parque Kennedy in Miraflores as well as the Plaza de Armas in central Lima. One locale in particular that is notorious for dangerous peperas is the Tequila Rock discoteca in Miraflores and its sister in Pueblo Libre (La Marina). In July 2013 cases of drink spiking, working with bar staff, occurred in Albazos Restaurant y Pisco Bar (Berlin 172 in Miraflores).
Another cultural concept worth learning is the "brichera" (or "brichero"). There are two types of bricheras: the first type are women that are genuinely looking to meet foreign men in the hopes of dating or marriage or even a quick fling. The second type are women that search for foreign men with the implicit purpose of exchanging sex for small gifts or money. This second type of brichera is risky, especially for foreigners lacking local sensibilities, since it involves prostitution. These bricheras do not use contraception reliably, and therefore pose a higher risk for transmitting STDs (sexually transmitted diseases). If you decide to have a fling, make sure to use a condom.
Taxis
Another important point to be taken into consideration is that you should not pick up just any taxi, especially when you are leaving the airport. It is not unusual to hear news of taxi drivers cheating tourists by charging them S/100 or even S/200 for normal rides, which is well in excess of the maximum fare limit of S/50. Even though Peruvian taxi drivers normally increase their fares for gringos, it is not usually such a massive difference. It is most advisable to use one of the official taxi companies inside the airport with set fares to ensure your safety.
Taxi drivers have also been known to participate in robberies, express kidnappings or serve as get away vehicles. While the overwhelming majority of Lima's taxistas are honest hard working people trying to make a living, you should be alert if you are going to hail a taxi on the street, especially if you appear to be wealthy or a foreigner. Your safest bet is to have your hotel call a taxi for you or keep the numbers of official taxi companies ("radio taxis", which are marked with registered numbers) handy. Lima's tourist information centers will be willing to call one for you as well.
Cope
Embassies
Being the national capital, Lima hosts a lot of embassies. A majority of them are clustered in San Isidro with some located in the adjacent Jesús María, La Victoria, Miraflores and Lima Districts:
phone: +51 1 441-44-44

address: Calle las Flores 326, San Isidro

phone: +51 1 205-4006

address: Víctor A. Belaúnde 147 Torre Real 3, Oficina 1301, San Isidro

phone: +51 1 442-0503

address: Av. Central 643 Piso 5, San Isidro

phone: +51 1 241 75 66

address: Avenida Angamos Oeste 380, Miraflores

phone: +51 1 440-20-95

address: Calle Los Castaños 235, San Isidro

phone: +51 1 512-08-30

address: Ave Jose Pardo 850, Miraflores

phone: +51 1 319-2000

address: Bolognesi 228, Miraflores Lima 15074

phone: +51 1 222-0842

address: Jiron Jose Granda 150, San Isidro

phone: +51 1 710-2221

address: Av Javier Prado Oeste 790, San Isidro

phone: +51 1 201-9830

address: Av Víctor Andrés Belaúnde, 340 Of. 602, San Isidro

The Consulate is at a separate location at Clemente X No 335. Javier Prado Oeste a la altura de la cuadra 24. San Isidro. Tel: +51 1 399-0800

phone: +51 1 212 4161

address: Calle Las Palmeras 356, San Isidro

phone: +51 1-222 4466, +51 1 222 4480

address: Av. Victor Andrés Belaúnde 147, Edificio Real Tres, Oficina 502 (5th floor), San Isidro, Lima 27

phone: +51 1 215 8400

address: Av. Arequipa 3415 - San Isidro

phone: +51 1 212 5016

address: Avda. Arequipa 4210, Miraflores

phone: +51 1 476 1548, +51 1 985 868579 (Emergencies)

address: Av. Principal 190, piso 6, Urb. Santa Catalina, La Victoria, Lima 13

phone: +51 1 463 2727, +51 1 891 7557 (Emergencies)

address: Av. Gregorio Escobedo 298 - Jesus Maria

phone: +51 1 218-1130

address: Avenida San Felipe 356, Jesús María

phone: +51 1 612-1627

address: Ave. Jorge Basadre 710, San Isidro

The Netherlands (Países Bajos)

phone: +51 1 213-9800

address: Torre Parque Mar, Av Jose Larco 1301, Piso 13, Miraflores

phone: +51 1 222-5022

address: Víctor A. Belaúnde 147 Torre Real 3, Oficina 1102, San Isidro, Lima 27

Consulate only; the nearest New Zealand Embassy is in Santiago, Chile.

phone: +51 1 221-11-87

address: Calle Roma 360, San Isidro

Spain (España)

phone: +51 1 212 5155

address: Av. Jorge Basadre, 498 (San Isidro)

phone: +51 1 5669240

address: Calle La Santa María 120, San Isidro

phone: +51 1 617 3000

address: Torre Parque Mar (Piso 22), Avenida Jose Larco, 1301, Miraflores

United States (Estados Unidos)

phone: +51 1 618-2000

address: Avenida La Encalada cdra. 17 s/n, Surco

Uruguay

phone: +51 1 264-0099

address: Calle Jose Dionisio Anchorena, Distrito de Lima

phone: +51 1 433-4511

address: Ave Arequipa 298, Distrito de Lima
Go next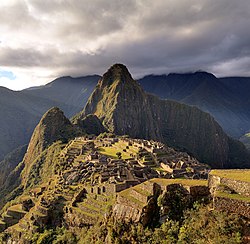 If you are flying out of Lima internationally, the airport tax is US$31, or US$7.40 for domestic flights, which is rolled into the purchase price of tickets at the airport. Ensure you receive a sticker on the back of each ticket from the check-in counter as proof you have already paid the tax at the security checkpoint.
The surrounding residential towns of Lima in the foothills of the mountains offer spectacular views and are ideal day-trips from central Lima.
If you are flying to your next destination, you can take the "Las Flores 18" (IM-18) bus to the airport (from Miraflores/Magdalena/Surco) or any micro bus that says "Todo Faucett/Aeropuerto" on its side. The trip from Miraflores takes about an hour and costs S/2 .
If you wish to take a long distance bus, see the Get In section above for bus companies, the various locations of their terminals and their destinations.
Some popular destinations from Lima are: