Malda
Malda
is a city and gateway to the
North Bengal
. It was the ancient capital of Bengal known as
Gour-Pandua
. The district the city of Malda is capital of, also called Malda, shares a 165.5 km international border with Bangladesh. Because of its location it is an important junction and entry point to Siliguri from the southern part of West Bengal. The river Ganges makes its entry into West Bengal near Manikchak in Malda District.
Get in
By train
Malda is well connected by railways. There are some direct trains from the local main station, i.e. Malda Town; connecting
Bangalore
,
Chennai
,
Bhubaneswar
,
Kolkata
,
Dibrugarh
,
New Delhi
,
Guwahati
etc. Again all trains travelling from Kolkata to North Bengal and North East, gives a halt at Malda Town. Since July 2012 a Shatabdi Express train (12041/12042)which has started running between Howrah and New Jalpaiguri also stops at Malda Town station. This train takes the shortest time to reach Malda from Kolkata.
By bus
Malda Town lies on National Highway 34, and all buses plying from Kolkata to Siliguri in the North will give a halt at Malda. By road it is 332 km away from Kolkata, the capital of West Bengal. Regular buses ply between Kolkata (Esplanade Depot) and Malda. Buses are operated by NBSTC, SBSTC and CSTC. There are Volvo and Night sleeper bus services between Kolkata and Siliguri. One can avail this service too to reach Malda or Raigunj.
Terrain
As it is a low lying basin, the area is prone to flood.
Get around
City landmarks
Malda Town railway station

Mahananda Bridge

NBSTC Malda Depot
See
Malda is a twin town of
English Bazar
and
Old Malda
, separated by the River Mahananda.
English Bazar is the more modern of the two, with almost all hotels and restaurants; the District Magistrate Office, or Collectorate Office; and some prominent colleges like Malda College, Malda Women's College, Malda Medical College and Hospital. A children's park named Shubhankar Sishu Udyan is just opposite the Collectorate Office.
The surroundings of Malda Town are of immense importance to the Archaeological Dept. of India. All the sites are maintained by Archaeological Survey of India. Some famous spots are :
Gour
- Once the capital of Bengal, and there are in total 5 different spots which can be seen. The original foot prints of Lord Mohammad is preserved here. The entire area is well preserved by ASI, but the road leading to Gour from Malda Town is in a pathetic state.
#Firoz minar.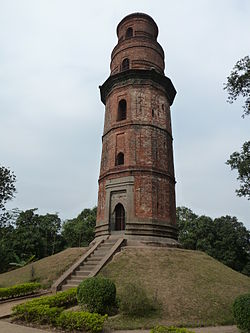 This tower 25.60 m Height with spiral staircase having 73 steps was probably constructed by Saifuddin Firoz an abyssinian who became the sultan by killing Barbak Shah.
#Chika Masjid
#Qutwali Gate
#Baro Shona Masjid or Baroduari, the 12-gated mosque
#Qudm-e-Rasul, shrine believed to contain footprint of the Prophet
Adina (Pandua)
- A large mosque of the 16th century is build here and Tombs of various Muslim saints are visible here.
#Adina Mosque
#Gol ghar
#Eklakhi mosque
#Adina deer park
Jagjivanpur
- A Buddhist heritage site.
Farakka Barrage
- Down south of Malda Town is the famous Farakka Barrage, a famous picnic spot, but the view from the other side of the entire Dam will surely give you goosebumps. NTPC factory can be viwed from here and one of the NTPC colonies is well managed. An open air restaurant is also available here. On Sundays a lot of employees of NTPC go fishing in the large lake situated here.
Deer Park
- Just across the National Highway from Pandua is a well preserved Deer Park. This is controlled by the Forest Dept, and one can witness migratory birds during winter.
Indo-Bangla Border
- Malda Town is situated just 10 km away from the international Border. Tourists can visit the area during day time, but with prior permission of the Border Security Force. A identity proof should be carried with you at this point.
Johuratala Kali Bari
- A century old temple dedicated to Ma Kali. It is advisable to visit this temple with some time in hand, as the line to offer Puja gets pretty long.
Children's parkIt is called Subhankar Sisu Udyan. Ticket costs ₹5 per person. There is a restaurant inside. You can also take a boat riding.

ChurchThe church is located near Rathbari.

Manaskamana MandirVisit this pious Hindu Kali temple.

Ramkrishna Mission AshramYou can visit the place during the evening, experience the chanting and the prayer.

Malda MuseumExcavated items from the nearby sites are preserved. You can get information on Buddhist, Hindu and Muslim rulers and dynasties.
Do
District LibraryRead newspapers and local classifieds for free. The library is open from 12-7 pm

Gazole Town Library

address: Gazole Bidrohi More
Buy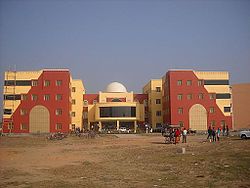 Definitely buy mangoes if you are travelling to the city between April-June. There is a mango market beside University of Gour Banga. Mango pickle, jam and jelly are available in the two famous main shopping areas, Rathbari Market and Chittaranjan Market, throughout the year.
Eat
Malda is famous for special varieties of mango that are available in summer.Also,there are two special variety of sweets available only in Malda viz. Kansat Chamcham and Rosokadamba.One can try Aamsatwa made from mango,the most famous being that made from Gopalbhog mango.

Drink
Almost all brands of drinks are easily available. Quite a few liquour shops are available selling varieties of drinks. All Hotels serve drinks.

Sleep
phone: +91 3512 251505, +91 3512 252388, +91 3512 253379

address: 22/21 KJ Sanyal Road

Hotel Chanakya

phone: +91 3512 266 694

Hotel Kalinga

phone: +91 3512 283 567

Hotel Landmark

phone: +91 3512 221 184

Hotel New Heaven

Hotel Pratapaditya

address: Station Road

Malda Tourist Lodge

phone: +91 3512 220 123, +91 3512 220 991

Meghdoot Lodge

phone: +91 3512 266 216

New Circuit House

phone: +91 3512 252 330

address: District Magistrate, Malda – 732101

Purbanchal

phone: +91 3512 266 183

phone: +91 3512 252158

Zilla Parishad Atithi Niwas

Stay Inn Hotel, R.B.C Complex, 2nd Floor, B.G. Road, Mokdampur, Malda, +91 896 732 2980
Go next