Miami
Miami
is a major city in the south-eastern
United States
and the second most populous city in Florida. The Miami metropolitan area is the largest in the state with an estimated population of over 6.1 million (2017), which makes it the 7th most populous metro area in the United States.
Although tourists generally consider
Miami Beach
to be part of Miami, it is its own municipality. Miami Beach sits on a barrier island east of Miami and Biscayne Bay. It is home to lots of beach resorts, and is one of the most popular spring break party destinations in the world. This article only covers the
city of Miami
, not Miami Beach. Some other sites associated with Miami, like the Miami Zoo and the Miami Dolphins football team, are in other suburbs within
Miami-Dade County
.
Districts
Understand
History
Flagler's railroad sparked a wave of expansion in areas such as Miami Beach, Homestead and Cutler. Soon after the railroad was built, the Overseas Highway was created. This highway connected the Florida Keys to the mainland. Growth and progress in Miami continued through World War I and into the mid-1920s.
A devastating hurricane in 1926 halted Miami's growth and temporarily put the city and Miami Beach in a recession. It was the city's support of President Franklin Delano Roosevelt's New Deal that helped the city rebuild. Roosevelt almost lost his life, however, when Giuseppe Zangara attempted to assassinate Roosevelt when he came to Miami to thank the city for its support of the New Deal.
When a German U-boat sank a US tanker off Florida's coast, the majority of South Florida was converted into military headquarters for the remainder of World War II. The Army's World War II legacy in Miami is a school designed for anti-U-boat warfare.
Following the
Cuba
revolution, Miami has become a haven for Cuban immigrants. The city has also been the base for cocaine smuggling, depicted in the 1983 film
Scarface
, and the
Miami Vice
series.
Climate
Because of its proximity to the Tropic of Cancer, Miami's weather is generally hot. The summer months of June–September will see most daytime highs over 90°F (32°C). Combined with the region's humidity, these can make for stifling temperatures, both day and night. You won't see nearly a car or home without running air conditioning. Winters average an impressive 75°F (24°C) for daytime temperatures and nights are slightly cooler. During June to November, rain and thunderstorms can be expected and are most common in the afternoon hours. Rain is known to fall heavily for a few minutes, to stop entirely, and then to begin again. Knowing its mercurial nature, local residents often drive or go outside in rainy weather to enjoy its cooling effect or to make good use of breaks in the storm.
Information
Talk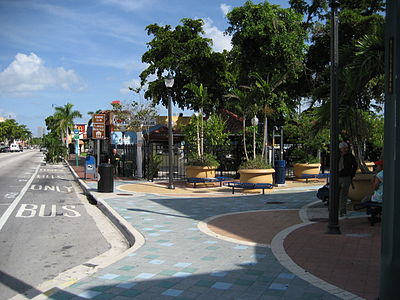 Miami has the largest Latin American population outside of Latin America, with nearly 65% of its population either from Latin America or of Latin American ancestry.
Spanish
is a language often used for day-to-day discourse in many places, although English is the language of preference, especially when dealing with business and government. Many locals do not speak English, but this is usually centered among shops and restaurants in residential communities and rarely the case in large tourist areas or the downtown district. Even when encountering a local who does not speak English, you can easily find another local to help with translation if needed, since most of the population is fluently bilingual. In certain neighborhoods, such as Little Havana and
Hialeah
, most locals will address a person first in Spanish and then in English. "Spanglish", a mixture of English and Spanish, is a somewhat common occurrence (but less so than in the
American Southwest
), with bilingual locals switching between English and Spanish mid-sentence and occasionally replacing a common English word for its Spanish equivalent.
Haitian Creole
is another language heard primarily in northern Miami. It is common for a person to hear a conversation in Creole when riding public transportation or sitting at a restaurant. Many signs and public announcements are in English, Spanish and Creole because of Miami's diverse immigrant population. Unlike Spanish, Haitian Creole is generally centered among the Haitian neighborhoods in northern Miami. Most Haitians are more adapted to English than their Hispanic neighbors.
Portuguese
and
French
are other languages that may be encountered in Miami. These languages tend to be spoken mainly around tourist areas. Most speakers of these languages speak English as well.
Get in
By plane
Miami International AirportThe airport is an important hub for traffic between North America, the Caribbean and Latin America, and one of the largest airports in the world. As a result, Spanish is just as likely to be understood as English. The international traffic makes MIA a large and congested place. Be sure to allow extra time when departing MIA, particularly if flying internationally, as you may face an hour-long line just to check your bags. Curbside check-in is an excellent idea.
At MIA, public transportation and car rental are at the new , which is a short shuttle train ride away from the terminals, follow signs for "MIAmover". The MIC is to become Miami's Grand Central station with hub connections of
Metrorail
station (for connections to
Metromover
), Greyhound, Megabus, Tri-Rail, taxis,
Metrobus
, and all car-rental facilities.
For downtown Miami, take the Metrorail to Government Center station, where transfers are available to buses to most destinations. Many hotels are along the MetroMover which is one level down from the MetroRail Government Center station. Consult a map for the closest MetroMover station or bus route to your hotel. It costs $2.25 for the MetroRail to downtown Miami. You pay by purchasing an "EASY Card" or "EASY Ticket" fare card, which can be bought from the Metrorail station at MIA, or at Terminal E of MIA.
If your destination is far from a MetroRail station, you may want to take a taxi or rent a car from the MIC instead.
For Miami Beach, you may want to take the 150 express bus from the MIC.
Fort Lauderdale International Airport (FLL

) is 25–40 minutes north of Miami proper, depending on traffic. It serves many fewer international routes than MIA, but it is smaller and less trafficked, making customs, immigration and security a bit easier to go through. Southwest Airlines, JetBlue, Spirit Airlines and other low-cost carriers generally use FLL instead of MIA, making FLL a cheaper alternative in many cases. Norwegian Air Shuttle operates low-cost routes to major cities in Europe and Scandinavia in particular.
If you are arriving at FLL, there is a free shuttle to the nearby
Tri-Rail
train station. Tri-Rail trains connect
West Palm Beach
,
Boca Raton
,
Fort Lauderdale
and Miami (the Miami Airport station, not downtown Miami). The cheapest way to get to Miami is to take the #1 Broward County Bus to Aventura Mall and transfer to the
S
Miami-Dade bus to downtown Miami via South Beach. The 93 also goes to Miami from Aventura Mall. This option is inadvisable if travelling with a lot of luggage. At FLL, car rental facilities are more conveniently located in the parking garage adjacent to the terminals.
Private aviation
Miami-Opa Locka Executive AirportIt's the preferred airport for general aviation and business jet travelers out of the Miami area, 10 minutes from Hard Rock Stadium (home of the Miami Dolphins), 35 minutes from Marlins Park (home of the Miami Marlins), 35 minutes from Downtown Miami, 30 minutes from Miami Beach, and 20 minutes from Miami International Airport. Air taxi and jet charter companies including as Jetset Charter and Miami Beach Jet Charter fly a variety of private charter aircraft and jets, from luxury Gulfstreams down to economical piston twins for small groups and individuals.
Miami Executive Airport
(), formerly known as
Tamiami Executive
, is another private jet hub southwest of Miami and just west of the Florida Turnpike near Kendall.
OPF and TMB offer 24 hour operations, private terminals, and customs & immigration services.
By train
Amtrak runs two daily services from New York City, the Silver Meteor and Silver Star, via Washington, D.C., Savannah, Orlando, Tampa and other cities along the eastern coast. The two trains take slightly different routes; the Silver Meteor calls in Charleston while the Silver Star takes an inland route, calling in Raleigh and Columbia. Journey time from New York is about 28 hours but is often subject to delays. Miami Amtrak station is located at 8303 NW 37th Ave. It is located next to the Metro Rail Transfer Station for connections to Tri-Rail and the local Metrorail.
Brightline began an intercity passenger service from West Palm Beach via Fort Lauderdale to Miami in May 2018. There are up to seven departures per day, with an increase in frequency over the next couple of years. Brightline trains call at the at 600 NW 1st Ave.
There is also a regional (commuter) rail system operating on a single route:
Tri-Rail, +1 954 783-6030 operates a regional rail service from Miami Airport up to Magnolia Park north of West Palm Beach via Fort Lauderdale, Boca Raton and Delray Beach. The train is connected to Miami International Airport and Ft Lauderdale Airport by shuttle bus or shuttle train. Fares vary depending on how far you go. Tickets must be purchased before boarding the train from ticket vending machines at any of the stations or from ticket clerks at staffed stations. Tickets are checked on the trains and anyone found without a ticket is liable to a substantial fine.
By car
There are three main highways coming into Miami.
I-95
runs along the Atlantic coast of the United States and terminates in Miami.
I-75
comes in from the midwestern United States and runs through
Atlanta
and
Tampa
before terminating in Miami.
Florida's Turnpike
is a toll road mainly useful for those driving in from
Orlando
. The only southbound route from Miami is
U.S. Highway 1
, which runs through the
Florida Keys
all the way to
Key West
.
By bus
Most of the bus companies in the area have a scheduled stop at the Miami International Airport, the Intermodal Transportation Center (MIC) next to the airport, or the Cruise Terminal. Some of the companies such as Omnibus La Cubana have a separate terminal, while others offer additional hotel pick up/drop off stop(s) in Miami Beach, downtown or another part of the city. Check their websites:
phone: +1 305-871-1810

address: (bus depot) 3801 W 21st

Service from Atlanta, Orlando, Tampa, Naples and Jacksonville via Ft Lauderdale. They also go south to Key West via the Keys. They also have additional stops at 4450 NW 20th at NW 20th & Perimeter Rd and at American Chevron on 15821 NW 27th.

phone: +1 407 649-4994

address: (bus stop) Miami International Airport

Thrice Daily departures to Ft Pierce, Kissimmee, Orlando from the Miami International Airport and the Regency Hotel near the airport. They also have additional stops in Miami Beach, the cruise terminal and downtown Miami. Check schedules as those other stops are serviced once or twice daily.

phone: +1 305-289-9997

address: (shuttle stop) Ground level between Terminals D & E at MIA

The company provides door-to-door service to the Keys from the Miami and Ft. Lauderdale-Hollywood International Airports (and vice versa).

address: (bus depot) 3801 W 21st

Service from Orlando and Tampa.

phone: +1 305-541-1700

address: (Bus depot) 1101 NW 22nd Ave

Connects Miami to New York City through Florida, Georgia, South Carolina, North Carolina, Washington, DC; Elkton, Maryland; Philadelphia and New Jersey on a single route. In Florida they serve Miami, Ft Lauderdale, West Palm Beach, Deltona and Jacksonville. They also have additional stops/ticket agencies with Classic Travel at 1339 Washington Ave in Miami Beach and Rapid Multiservices at 4026 W 12th Ave in Hialeah.

phone: +1 844 800-6828

address: Terminal B of the Port of Miami Cruise Terminal

Operates service to/from Ft Lauderdale Airport, Tampa, Sarasota and Ft Myers.

phone: +1 407-851-2843

address: (bus stop) 21 Miad Circle

Service from Tallahassee via Gainesville, Ocala, Orlando, Tampa. They also offer connections from Atlanta. Some of their buses travel from Ocala through Orlando while others go through Tampa on a different route to get to South Florida.
Get around
By public transit
Miami's public transit system is the most diverse and extensive of any locality in Florida. If travel time is not a priority, it is possible to travel to all commercial areas and major attractions within Miami without a car. A map of transit run by Miami-Dade is available at
this website
.
Miami's bus system covers the entire county and connects to bus lines serving Broward County and the Greater Fort Lauderdale area. Sometimes buses still have a hard time remaining on schedule. Most routes run about once every 20 minutes, while the most popular routes may run every 5-10 minutes, sometimes with service all night long. One useful route is the
S
, which connects downtown Miami to all of Miami Beach, terminating at Avenutra Mall in north Miami-Dade.
The
Metrorail
is an elevated rail system serving Miami and surrounding cities, running 22.4 mi with 23 stations on two lines (green and orange). It connects many areas of tourist interest, including downtown Miami, Miami International Airport (Orange line only), Dadeland Mall, Vizcaya Museum and Gardens, Lowe Art Museum, Miami Museum of Science, Village at Merrick Park and many other nearby shopping areas. Coconut Grove and downtown
Coral Gables
can be reached via short shuttle bus from various stations. The two Metrorail lines share common tracks through the core, before splitting near the airport. Metrorail operates between roughly 5AM and midnight, with a bus serving all Metrorail stations operating in the overnight hours, effectively providing 24-hour service.
Fare for a single trip on both Metrorail and Metrobus is $2.25 per ride ($1 for persons with disabilities or on Medicare). Day, weekly, and monthly pass are available. Miami-Dade Transit's fare card system is known as EASY Card. Though exact change/cash is still accepted on all Metrobus routes, an EASY Card is required for riding the Metrorail, and for using the free transfers offered between an unlimited number of bus routes, and a single Metrorail ride. The fare card software does not allow passbacks. Any remaining transit tokens you may have can no longer be exchanged for EASY Card credit, and are not accepted as fare. Additional information on fares, routes and schedules can be found
here
, or by calling +1 305 770-3131.
Downtown Miami is served by a free elevated people mover system known as
Metromover
, which connects to Metrorail at two stations: Government Center in the central business district, and Brickell Station in Brickell. Metromover is free of charge and is the most efficient way to move around Downtown Miami. It is a great way to take a rest when walking around downtown, and a great time to take pictures of the skyscrapers and growing Miami skyline from above.
Tri-Rail
is a commuter rail system linking Miami, Fort Lauderdale, and West Palm Beach. There are a total of 18 stations in and between those cities. Tri-Rail offers frequent trains (at least one per hour) on weekdays, and less frequent trains on weekends. Check the website or call +1-800-TRI-RAIL for stop and schedule information.
By taxi
Taxis are generally expensive, with a fixed $2.50 charge plus $0.40 for each sixth of a mile traveled. Almost all local cab companies have fixed rates for travel to Miami Beach and other beach and nightclub communities popular with tourists, ranging from $30–60 depending on arrival location. For example, South Beach may be the most expensive, while a residential neighborhood in Miami Beach may be the cheapest. The charge is the same regardless of pick-up location on the mainland. All taxis are fitted with maps of the barrier islands which state the cost per location. The same applies for passengers leaving the islands onto the mainland, though normal rates apply for travel within the islands or within the mainland.
Service is available throughout Miami-Dade, Broward, Palm Beach, and Monroe counties regardless of pick-up location. The normal service charges apply for these four counties, but it is wise to ask for a pre-determined price beforehand if leaving the county, as this will usually be cheaper and most drivers are willing to negotiate when leaving the county. If you wish to be taken to a location outside of those four counties, you must negotiate a price and advise the cab company first. Drivers may refuse to drive outside of the metropolitan area if they are not advised to do so beforehand.
Usually you will have to call a cab company and request a pick-up. For safety and legal reasons, taxis operated by the major companies are
not normally allowed to pick up passengers at random locations
except at MIA, the Port of Miami, and train stations. Some individual taxi drivers will not follow this rule, however, so you can try hailing a taxi in the street. A significant and notable exception to this rule is the South Beach section of Miami Beach. For all intents and purposes, taxis can be flagged from the street on the island like one would in New York City. This trend has begun spreading into downtown Miami due to the increased redevelopment and foot traffic downtown, but should not be relied upon if you have a schedule to keep.
All taxi drivers must have a valid license to operate. It is uncommon to hear of crimes involving unlicensed taxis anywhere in the metropolitan area, since Dade County keeps track of all taxi activity in and around Miami and cooperates with other counties in getting this information. If you enter a cab and do not see a valid license placed in front of the passenger's seat, you should not enter the taxi and instead call another cab company regardless of what the driver says. If you willingly enter a taxi without a license or with an expired license and there is an incident or accident, it is possible that you may not be able to hold the driver accountable by law. When entering a cab you should make note of the driver's name, license number and cab number if any problems arise during the trip. This information should be easily found inside the taxi. It may be able to help you identify the cab driver to the police or the cab company.
By car
Unless you plan to stay downtown or in a single location elsewhere, you will find that a car is very convenient in Miami, and car rentals are cheap in comparison to other major US cities.
Surface roads in Miami are usually easy to navigate. The area's roads are designed around a grid system, where most roads are numbered based on their distance from the city center. The two main axis roads are Miami Avenue (running north to south) and Flagler Street (running east to west). These two roads intersect in downtown Miami, the county's symbolic center. All avenues run north to south, while all streets run east to west. For example, the address, "9500 NW 30th Street" would be at the intersection of NW 30th Street (to the west of Miami Avenue, and 30 blocks north of Flagler Street) and NW 95th Avenue (north of Flagler Street, and 95 blocks west of Miami Avenue). Most roads in Miami conform to this nomenclature, but due to the more than 30 municipalities within Miami-Dade County, there are a few exceptions to be aware of. Examples include Coral Gables, the Coconut Grove section of Miami (city proper), Miami Lakes, and Hialeah. Hialeah is particularly notorious because it uses its own grid system, in addition to the overall county system. For example, NW 103rd Street is also marked as E 49th Street, or W 49th Street in Hialeah.
In Broward County, the roads are numbered based on their distance from the Fort Lauderdale city center, which is generally the same going east-west but will be very different going north-south. Most of the municipalities in Broward County use their own limited grid systems as well. Some street names also change at the county line. The coastline highway, A1A, is known as "Collins Avenue" in Miami, but becomes "Ocean Drive" in Broward. Likewise, "Red Road" in Miami becomes "Flamingo Road" in Broward.
Miami has four primary expressways. In addition to I-95 and Florida's Turnpike, there is state highway
836
(also known as the
Dolphin Expressway
) and state highway
826
(also known as the
Palmetto Expressway
). The Dolphin Expressway runs west from downtown Miami along the edge of Miami International Airport. The Palmetto Expressway and Florida's Turnpike form "F"-shaped loops around the city. The Turnpike continues north, roughly parallel to I-95, and will take you to Orlando if you keep driving. I-95, the Palmetto and the Turnpike intersect at a junction in North Miami called the
Golden Glades
. You may find driving in the Glades challenging, especially if you have little experience driving in it.
The area's drivers are particularly aggressive. This shouldn't discourage anyone from using the roadways, but a passive approach to Miami driving can save you from an unwanted exchange with another driver, or even worse an accident. Posted speed limits are ignored by most drivers, especially on larger roads with lower speed limits. Two examples are I-95 and state road 826 (the Palmetto Expressway). The eastern portion of state road 836 (the Dolphin Expressway) between Miami International Airport and downtown Miami handles traffic that exceeds its capacity, and contains several left-hand exits, including the eastbound off-ramp to Lejuene Road (NW 42nd Avenue), which is the posted route, and the quickest route to Miami International Airport.
By shuttle
Miami Super Shuttle
. +1 305 871-8210 or email sales@miamisupershuttle.com. There is a shuttle that will take you where ever you need to go from MIA airport. Approach any of the blue vans on the outer island. They also have guest services representatives in the airport wearing a blue Super Shuttle shirt.
Do
Beaches
Of course, if you're in Miami, you'll want to spend some time on the beach. The only beach inside Miami city limits is Virginia Beach. However, there are many other beaches nearby in South Florida, from Tequesta all the way to Key West. As Miami has pretty temperate weather, the beaches will be active all year round, but the water will usually be too cold for locals to swim in during winter. The city of
Miami Beach
is closest to Miami, on a barrier island across Biscayne Bay, and is most famous for its
South Beach
party scene. Topless sunbathing is allowed in Miami Beach, and if you want to take it all off, go to Haulover Beach in
North Beach
.
Sports
The
Miami Marlins
(baseball) play in the
Little Havana
neighborhood, while the
Miami Heat
(basketball) play in
Downtown Miami
. Two other major league teams play in the suburbs of Miami - the
Miami Dolphins
(American football) in
Miami-Dade County
, and the
Florida Panthers
(hockey) in
Broward County
.
Other things to do
Port of MiamiThe world's busiest cruise port. Take a relaxing cruise to a variety of locations.

Omni Center
Events
There are very few city-wide events planned during Jul and Aug because of the high temperatures during the summer in Miami.
Ultra Music FestivalStreets of downtown Miami. People from around the world flock to Miami every March for its notorious Ultra Music Festival. It's a three-day and -night festival that includes the most famous DJs in the music industry. Tickets usually range from $300–600 from the three-day festival and increase in price as it gets closer to the show in March. The show sells out almost every year so be sure to get your tickets as soon as possible.

Calle OchoThe largest Hispanic street festival in Miami. It's a one-day festival that features contests, concerts and food. There is also a carnival that takes place in a lot to the left of Florida International University's main entrance. The carnival is on the same day as Calle Ocho. The festival is usually held in March on Calle Ocho. It is free except for parking if you bring your car.

Carnaval MiamiA festival that consists of ten events along the course of ten days during the weeks of late February and early March. The Kiwanis club of little Havana (little Cuba) hosts this festival full of music, international foods, concerts, sports, culinary competitions, galas and upscale Latin jazz festival.

Independence DayCity-wide. Held on July 4. The Miami skyline is illuminated by fireworks on the "birth date" of the United States. While Key Biscayne has great views of the fireworks show, Bayfront Park has live music as well as a laser show.

King Mango StrutMain Avenue and Grand Avenue in Coconut Grove, +1 305 401-1171. Held after Christmas, this parade began as a parody of current events as well as the Orange Bowl Parade. The Orange Bowl Parade, unlike its famous Rose Bowl counterpart, is no longer held anymore, but the King Mango Strut is still having a good time making fun of the previous year's follies.
Learn
Work
If you are not from the U.S., you will need a work visa. If you try to work while holding a tourist visa, you are still considered an illegal immigrant in the U.S. Immigration and Nationalization Services conduct frequent illegal immigrant checks in Miami businesses since Miami has numerous refugees from Cuba, Haiti and other nearby countries. If you don't have the right visa, you may not get a job in Miami.
There is an exception to getting work without a visa in Miami, however. Since yachts and cruise ships sail on international waters, these companies can freely hire any person they like. Non-US citizens will still require a valid seaman's visa, however, to land in US ports.

Buy
There are a few
shopping malls
in the city of Miami, but more spread out across
Miami-Dade County
, including
South Beach
.
There is a 7% sales tax in Miami.
Eat
Foodies and chefs alike herald Miami for its unique New World cuisine. Created in the 1990s, the cuisine alternatively known as New World, Nuevo Latino or Florribean cuisine blends local produce, Latin American and Caribbean culinary tradition and the technical skills required in European cooking. Nuevo Latino is said to be the brainchild of four chefs: Allen Susser, Norman Van Aken, Mark Militello and Douglas Rodriguez. All of them still work in Miami and most of them work at the restaurants they created in the 1990s. New World is not restricted to these chefs' menus. This cuisine influences several restaurants around the city to this day.
Miami may be known for its Latin cuisine (especially its Cuban cuisine but also cuisines from South American countries such as Colombia), but there are other different kinds of restaurants to be found around the city. In addition to stand-alone Chinese, Japanese, Middle Eastern, and Italian (among others) restaurants, there are cafés, steakhouses and restaurants operating from boutique hotels, as well as chain restaurants such as TGI Fridays and Ben & Jerry's.
Miami is known for having nightclubs double as restaurants throughout the city. Most of these restaurants, such as Tantra (which had one of their chefs recently appear on
Top Chef: Miami
), BED and the Pearl Restaurant and Champagne Lounge (attached to Nikki Beach), are found throughout South Beach. However, some of these restaurants/nightclubs like Grass Lounge can be found in the Design District (north of downtown but south of North Miami).
If many of Miami's premiere restaurants don't fit into your daily budget, consider eating during Miami Restaurant Month (better known as
Miami Spice
) in August and September.
Miami's dining scene reflects burgeoning diversity, mixing exotic newcomer restaurants with long-standing institutions, often seasoned by Latin influence and hot winds of the Caribbean. New World cuisine, a culinary counterpart to accompany Miami's New World Symphony, provides a loose fusion of Latin, Asian, and Caribbean flavors utilizing fresh, area-grown ingredients. Innovative restaurateurs and chefs similarly reel in patrons with Floribbean-flavored seafood fare, while keeping true to down-home Florida favorites.
Don't be fooled by the plethora of super lean model types you're likely to see posing throughout Miami. Contrary to popular belief, dining in this city is as much a sport as the in-line skating on Ocean Drive. With over 6,000 restaurants to choose from, dining out in Miami has become a passionate pastime for locals and visitors alike. Its star chefs have fused Californian-Asian with Caribbean and Latin elements to create a world-class flavor all its own: Floribbean. Think mango chutney splashed over fresh swordfish or a spicy sushi sauce served alongside Peruvian ceviche.
Whatever you're craving, Miami's got it—with the exception of decent Chinese food and a New York-style slice of pizza. If you're craving a scene with your steak, then South Beach is the place to be. Like many cities in Europe and Latin America, it is fashionable to dine late in South Beach, preferably after 9PM, sometimes as late as midnight. Service on South Beach is notoriously slow and arrogant, but it comes with the turf (of course, it is possible to find restaurants that defy the notoriety and actually pride themselves on friendly service). On the mainland—especially in Coral Gables, and, more recently, downtown and on Brickell Avenue—you can also experience fine, creative dining without the pretense.
There are several Peruvian restaurants at SW 88th Street and SW 137th Avenue in Kendale Lakes. Take the 88 or 288 buses from Dadeland North train station. This is kind of out of the way, but it is worth it.
Sites in Miami Beach should be added to the appropriate district article there, not here.
Drink

Nightlife in Miami consists of upscale hotel clubs, independent bars frequented by locals (including sports bars) and nightclubs. Most hotel bars and independent bars turn the other cheek at your physical appearance, but you have to dress to impress (which does not mean dress like a stripper) to get into a nightclub. Also remember to never, under any circumstances, insult the doormen and/or nightclub employees that will grant you entry or touch the velvet ropes or you may as well be sitting on the opposite side of the clamoring masses trying to get in. Attempting to tip the doormen and claiming that you know employees that work in the nightclubs (unless you actually called and reserved a table or a spot on the VIP list) is also considered an affront. Getting to the club unfashionably early and pushing through the crowd (and not the doormen) also can help make you stand out in the crowd. Finally, most nightclubs won't admit groups of men unless those men are waiting in front of a gay bar. Bring some women or leave the pack if you're desperate to get in. And once you get in, remember that the charge to get in these clubs can cost up to $20—cash only (some clubs, however, mercifully have ATMs—that can charge up to $7 for a withdrawal). Popular drinks in Miami include the Cuba Libre and the mojito.

Sleep
Miami is known for its boutique hotels (especially those in South Beach). Designers such as Ian Schrager (the Delano, Shore Club), André Balazs (Raleigh, Standard on Belle Isle) and Todd Oldham (the Hotel) helped put South Beach on the map with their creative hotel designs. The downside of many of the boutique hotels is that rooms can be small, particularly if the building was built during the height of the Art Deco period in Miami. If you value space, a boutique hotel may not be the type of hotel for you. If you don't need to stay in a boutique hotel (and value space), Miami has several upscale high-rise hotels north and south of South Beach, as well as near the downtown area. Miami does have its share of less costly chain hotels for those who value space and/or money.
The high season for hotels is around Nov to Apr because of the lower temperatures. However, Miami's lower temperatures, in comparison to the majority of the United States around this time, are still warm. High season is also marked by the advent of many Miami events, such as the Winter Music Conference and Spring Break. If you wish to reserve a room during Miami's high season, especially at a boutique hotel and/or a hotel on South Beach, you should book months in advance.
Hotels must charge a 12.5% room tax and some hotels may add a 15% service charge which may or may not be added if you reserve a room through the hotel, through a travel agent or agency (either in person or using an online site).
The cost of services in hotels can be pricey just like hotels elsewhere in the world but you can seek out local services within walking distances or online such as the popular
Oliomlaundry service for hotel guests
.
Some hotels offer garage or valet parking; check with your hotel about parking before booking a room if you wish to drive around Miami.
Connect
Miami-Dade County is served by an overlay complex of two area codes: 305 and 786. This means that 10-digit dialing is always required. The overlay also applies to the Florida Keys (Monroe County).
Internet
In addition to some of the places listed in Eat and Miami International Airport, several hotels have internet access—both LAN connections and wireless—but it is not free in all hotels. Check with your hotel to see if internet access is free or for a fee.
Several cafes have wireless internet connections, but depending on the café internet access may incur a fee. Unless it's a nation-wide chain offering free internet access like Starbucks, check with your café to inquire about whether your internet access is charged separately from your meal.
There has been talk of free wireless to be installed all over Miami Beach and the Miami-Dade area, but nothing has been done about this yet.
Miami-Dade Public Library System, +1 305 535-4219 (main branch number) – Free Wi-Fi at any of the system's libraries.

Kafka's Cybercafe and Bookstore

phone: +1 305 673-9669

address: 1464 Washington Ave

Open daily 8AM-midnight. Internet access $6 per hour.

phone: +1 305 534-1414

address: 910 Collins Ave

Local area connection $5, Wi-Fi $3 (without purchase of food).
Stay safe
Miami's crime rate is a routine topic of news media, but the city is only relatively dangerous for the passing tourist in certain areas. Almost all crime is related to the illegal drug trade, owing to Miami's closeness to the Gulf of Mexico and the Caribbean Sea, which makes it a major transit point for narcotics from South America.
Overtown
(next to Liberty City) has the highest violent crime rate in the city and is best avoided all together. Opa-locka and Little Haiti are also best avoided at night. If you are in any crime-afflicted neighborhood, take the same precautions as you would in other dangerous neighborhoods in the US: mind your own business, be aware of your surroundings at night and in high-traffic areas, get to your destination quickly, and avoid wearing flashy jewelry and electronics.
Emergency numbers
The emergency telephone number for fire, police and rescue emergencies is
911
. If you require non-emergency assistance,
do not
call 911. To contact police in a non-emergency situation, call +1 305 4POLICE.
Cope
Consulates
There are a lot of consulates in Miami. In addition to the list below, the consulates for Barbados, Colombia, El Salvador, Italy, Norway (Honorary), Spain and Thailand (Honorary) are in nearby
Coral Gables
and the consulates (all honorary) for the Czech Republic, Denmark, Mali, the Philippines and Sweden are in
Fort Lauderdale
, about 30 minutes' drive to the north. Full listings for these consulates and honorary consulates are in the articles for those cities.
Newspapers
Go next