Moldova
Moldova
is a small land-locked country in
Eastern Europe
surrounded by
Romania
to the southwest and
Ukraine
to the north and east.
Regions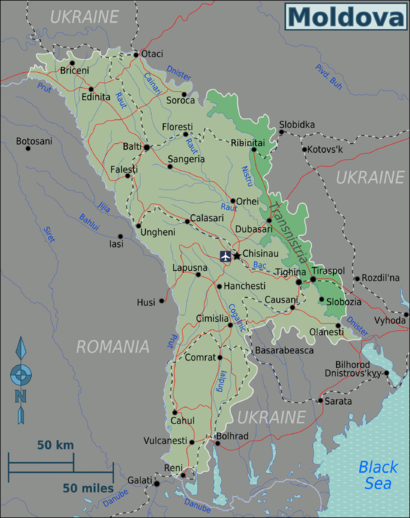 Transnistria|region2description=One of the last places to visit a Stalinist dictatorship; a separate country from Moldova but claimed by the Moldovan Government as part of Moldova.}};">
Moldova
|region1description=The part of Moldova controlled by the Moldovan Government.|region1color=#7cc576|region2color=#7eb19a|region2name=
Transnistria
|region2description=One of the last places to visit a Stalinist dictatorship; a separate country from Moldova but claimed by the Moldovan Government as part of Moldova.}}
The part of Moldova controlled by the Moldovan Government.|region1color=#7cc576|region2color=#7eb19a|region2name=
Transnistria
|region2description=One of the last places to visit a Stalinist dictatorship; a separate country from Moldova but claimed by the Moldovan Government as part of Moldova.}}
Cities
- capital - an administrative municipality (Municipiul). A nice city to go and visit for some days, and to walk around in.
- merits a visit as well as the capital. Nice pedestrian zone around the central square. Check out the old part of the city.
- known as the "Romani (Gypsy) capital of Moldova." The hill on the west side of town has numerous ornately decorated Roma houses. The city also boasts the Soroca fort built by Stefan cel Mare in 1499. It was an important link in the chain of fortifications which today are located in Moldova and Ukraine along the Nistru river. Hours can be sporadic especially in the winter. On the road into town, 5 kilometres to the south of Soroca there is a Monument called "The Candle of Gratitude". One can reach the 29.5 metres (98 feet) summit by walking up the 600 stairs.
- border town to Romania with a bridge over the Prut river designed by Eiffel.
- in the southern wine zone of the country.
- historically the site of many battles, now known for its spas.
- fortified since the 6th century BC, it's also famous for its monastery.
Other destinations
Gagauzia, an autonomous region within Moldova.
Understand
The capital of Moldova is
Chişinău
. The local language is Romanian, but Russian is widely used. Moldova is a multi-ethnic republic that has suffered from ethnic conflict. In 1994, this conflict led to the creation of the self-proclaimed
Transnistria
Republic in eastern Moldova, which has its own government and currency but is not recognised by any UN member country. Economic links have been re-established between these two parts of Moldova despite the failure in political negotiations. The major religion in Moldova is Orthodox Christian.
Moldova's population is occupied mainly in food production and processing. Once known as "the garden" of the Soviet Union, Moldova has now lost most of its traditional Russian markets for agricultural products and is exploring new international markets. Main foreign currency earnings are from remittances by workers forced by poverty and poor local prospects to work abroad.
Climate
Continental cold and snowy winters, mild springs and autumns, and warm to hot summers.
Terrain
Landlocked. Rolling steppe, gradual slope south towards the Black Sea. Well endowed with various sedimentary rocks and minerals including sand, gravel, gypsum, and limestone.
Natural hazards
: experiences landslides (57 cases in 1998) due to extensive soil erosion from poor farming methods
The lowest point is the Dniester River at 2 m and the highest point is Dealul Balanesti at 430 m.
History
It was a principality under the suzerainty (protection) of the Ottoman Empire, then part of the Russian Empire after 1811, then part of Romania after World War I. Moldova was forcefully incorporated into the Soviet Union during World War II.
Independence - 27 August 1991 (from Soviet Union)
National holiday - Independence Day, 27 August (1991)
Constitution - new constitution adopted 28 July 1994; replaces old Soviet constitution of 1979
Although independent from the Soviet Union since 1991, Russian forces have remained on Moldovan territory east of the Dniester River supporting the Slavic population, mostly Ukrainians and Russians, who have proclaimed the breakaway republic of Transnistria.
The poorest nation in Europe, Moldova became the first former Soviet state to elect a communist government and president in 2001. The Communist Party remains powerful in local politics.
Culture
Geographically located at the crossroads of Latin, Slavic and other cultures, Moldova has enriched its own culture by adopting and maintaining some of the traditions of its neighbours and of other influences.
Moldova has a distinct culture, but has heavy influences from Russia, Romania and Ukraine. These influences are most visible in the cuisine in Moldova. While Moldova has its own culinary style, including Mamaliga, Zeama, Placinta and other traditional dishes, a lot of the food eaten or sold here originated from Russia or Romania.
Moldovan music has a distinctive flair, but is what you might expect in eastern Europe. There are a lot of accordions and the traditional costumes and dances are similar to Russian traditional ones - which is unsurprising considering Moldova was a part of the USSR for more than 40 years.
Get in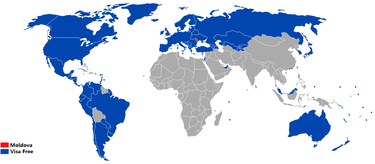 Entry requirements
Citizens of Canada, CIS countries, the EU, Japan, Norway, Switzerland and the US do not need a visa to enter Moldova and can stay in the country for up to 90 days within a six-month period
without registration
. Citizens of other countries must either obtain a visa in the nearest Moldovan embassy or alternatively could obtain a visa on arrival in Chişinău airport and on some land border crossings provided that an officially endorsed invitation letter from Moldova is obtained beforehand.
By entering into Moldova via
Ukraine
, you may be crossing
Transnistria
. Some buses from
Odessa
go through
Tiraspol
, while others go around, exchanging the two border crossings with more time on the road. Transnistria is an unrecognised state in the east of Moldova bordering Ukraine, which broke off from the country after a war in 1992. There are generally few issues for Westerners in crossing Transnistrian borders by bus, although foreign travellers have experienced problems in the past. There is, however, a small chance that foreign tourists may be asked to pay bribes, although the buses which travel between Ukraine, Transnistria and the rest of Moldova usually handle negotiations at the border well, collecting passports and negotiating with Transnistrian authorities. Also, there is no Moldovan border check between Transnistria and the rest of Moldova as Moldova does not recognise Transnistria as a state, so you might have some explaining to do when you try to leave Moldova without an entrance stamp.
By plane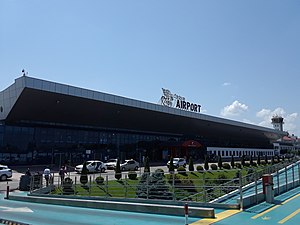 The main international airport is (
KIV
).
The busiest air connections are to Bucharest, Budapest, Istanbul, Moscow, Munich Airport, Timisoara and Vienna Airport. Prices are relatively high. The cheapest tickets are to Bucharest, Istanbul, Kiev, Bergamo and Moscow. Moldova has three airlines.

By train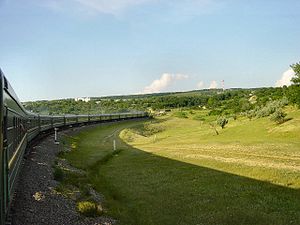 Possibly the cheapest way to get into the country is to take the overnight train. There are daily trains from Romania, Ukraine and Russia via Ukraine.
The train from Bucharest leaves at 19:15 and arrives at about 09:00. A ticket in a 2nd class, 4-berth sleeper is 593 Moldovan lei (~€28), or 685 Moldovan lei in a 1st class, 2-berth sleeper (2018). Since flights into Bucharest cost ~US$200 less than those into Moldova, this is the best option if you have the time. It is now possible to buy tickets online up to two weeks before departure (website in Romanian/Russian only). Just show your printout to the conductor when boarding. At the border crossing the carriages are lifted individually onto larger gauge wheels to fit Moldovan tracks. Crossing the border from Ukraine is smoother, as both countries use the same track gauge.

By car
When coming by car one should be sure to use a border crossing with a (non-stop) visa issuing office. You will have to pay a small road tax at the border. A person driving a car which is not registered in their own name must carry a letter of authority from the registered owner of the vehicle.

By bus
There are regular buses connecting Chişinău with Bucharest, Kiev and most major Romanian and Ukrainian cities. There are 5-6 buses per day to and from Bucharest. Due to a longer stay at the border the trip takes around 10 hours. There is a basic toilet at the border, however most coaches do not make any other stops. You will also be able to travel to most European cities by bus with Moldovan bus companies. When coming by bus one should be sure to use a frontier with a (non-stop) visa issuing office.

By boat
Although the country is landlocked, there is a ferry service between Giurgiulesti in Moldova and Istanbul, Turkey, plying the river Danube to reach the Black Sea. They leave Giurgiulesti every Monday and arrive at Istanbul the following Wednesday. It's not certain if this ferry service is only limited to the high season.

Get around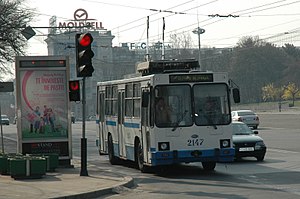 The most reliable and extensive domestic transport is bus - you will get to most parts of the country.
Chişinău is the main transportation hub for the country. The three bus stations serve every city and town in Moldova. The fastest form of transport are small minibuses which seat around 15 people. Larger buses are also used and are marginally safer, because they travel at slower speeds.
In Chișinău there is a state run trolleybus system which includes many new vehicles. Fare is 2 lei; a conductor collects fares and issues tickets. There is also a 'bus service which operates with fewer routes.
Minibuses (
rutierele
in Moldovan Romanian;
marshrutki
in Russian) are available in most cities. They are privately operated and are called by requesting the vehicle to stop, however can often be very crowded. Drivers should be paid on boarding (3 lei in Chișinău), however some insist on sitting down first and passing the money to the person in front of them to pass to the driver, so don't be alarmed if random people behind you start handing you money.
Talk
The state language of Moldova is
Romanian
, officially referred to as Moldovan.
Russian
is also widely spoken in the country, both as a first and second language.
Ukrainian
and Gagauz are recognised minority languages, with official status in areas with high concentration of speaker populations. French, and to a growing extent English are taught at most schools in Moldova, with French losing popularity among younger people in favor of English.
There are pockets where Russian is more predominant than Romanian and vice versa. Most people here understand basic Romanian, and almost all understand Russian even if they prefer to speak in Romanian.
The linguistic breakdown in this country is indicative often of political leanings. The name of the native language is a source of endless political controversy. Some refer to the local language as Romanian (
limba română
), some refer to the same language as Moldovan (
limba moldovenească
), and others prefer to speak Russian. As a foreigner if you can speak basic Romanian or Russian you will be able to get around.
See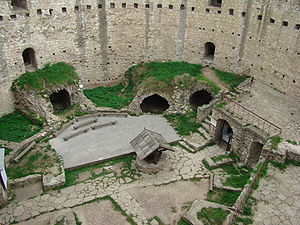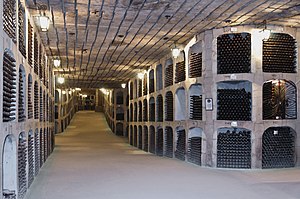 Museums
There are several museums in central
Chişinău
, including the Museum of Archaeology and Ethnography, the Museum of Natural History and the National Museum of Fine Arts.
Wine
Moldova is famous for its wines, and high-quality wines at inexpensive prices are Moldova's main tourist attraction.
- With over 200 kilometres (125 miles) of underground roadways, Milestii Mici is registered in the Guinness World Records as the biggest wine collection in the world. It may be easier to book a tour through a travel agency as one must provide a car for the tour. +373 22 382 333.
- Moldova's second largest wine cellar has over 120 kilometres (75 miles) of underground roads. 15 minutes drive from Chişinău, it is a favourite of tourists. +373 22-277 378.
- One of the oldest wineries in Moldova, Purcari wine has been drunk by Russian Emperor Nicolai II and his first cousin, the British King George V.
Branesti
- A smaller and reasonably priced wine cellar. It lies close to Orheiul Vechi Monastery which makes it perfect for combining a monastery tour with wine tasting.
Monasteries
- Moldova's best known sight is a 13th-century Cave Monastery located about a half hour drive from Chişinău. Just up the road is a tourist centre with a small museum, restaurant and hotel. Call ahead to make sure it's open at +373 235 34 242. The cost to enter the complex is 20 lei or 15 if you are a student - but none of the locals seem to bother to stop to pay. Six marshrutka services run between Chişinău central bus station and the tourist complex every day. In the vicinity are huge cliffs that contain another six complexes of interlocking caves. It is strongly advised to explore them with an experienced guide. The remains of a Turkish bath house is also just off the river.
- One of Moldova's most prominent monasteries only 40 km (25 miles) from Chişinău. Buses run hourly in the morning from Calea Ieşilor in the Sculeni part of Chişinău.
(or
Tighina
in Romanian) - Another fortification is The Fortress of Bender, however it is being used as a military training ground and is off limits. The best views are from the bridge going towards Tiraspol.
- Rock monastery situated by Nistru river in mid-eastern Moldova.
Buy
Money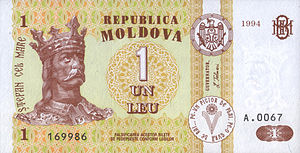 The
leu
(plural:
lei
) is the currency of Moldova (ISO 4217 code
MDL
) . Like the Romanian leu, the Moldovan leu is subdivided into 100 bani (singular: ban). The name of the currency originates in Romania and means "lion".
While in Moldova make sure to visit at least one piata and check out the Soviet memorabilia, but be careful as sellers may charge foreigners much higher prices than locals.
Banknotes are in 1, 5, 10, 20, 50, 100, 200, 500 and 1000 lei denominations.
Shopping
Local wine is of superb quality and cheap in comparison to other countries, but for political reasons is mostly unknown in Western Europe.
Tipping
Moldovians are not accustomed to tipping.
Eat
Chişinău is a good place for gourmands. There are a lot of good places to eat all over Chişinău.
Cheap, tasty food that is very popular with the locals is served in most places. For better service and more diverse food, there are a lot of small restaurants and cafés. Good restaurants have prices comparable to those elsewhere in Europe. For a quick lunch, fast food and pizza shops are recommended; these can be found at nearly every corner. For groceries, there are small shops all over. Some are even right in front of apartment blocks just a few steps away from the entrances. For harder-to-find items, go to the supermarkets. For fresh fruits and vegetables, markets are a great place to shop. Most of the products are local, but there are a lot of sellers who to sell imported stuff, mostly oranges, bananas and other tropical fruits and vegetables. Meat and meat products are best purchased from supermarkets or shops. The quality is much better than from the market, and the prices aren't much higher.
While in Moldova, make sure you try at least some of the traditional dishes: Mamaliga, placinta and sarmale are essential for a complete experience during your visit to Moldova. For the full experience these should be accompanied by homemade wine.

Drink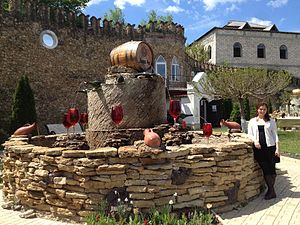 Moldova has a long tradition of long local
wine
. The reds are especially popular throughout the country. Most Moldovan villagers grow their own grapes and press their own wine, and many standard rural households will press thousands of litres per year.
The nightlife of Chişinău is also quite spectacular compared to what could be expected. It is the host of many clubs and bars that are equal in every aspect to many other places throughout Eastern Europe.
Sleep
Accommodation in Chişinău is surprisingly expensive and there is no shortage of €100 a night options. Most hotel prices are listed in euros but some are listed in US dollars.
Many smaller towns will have a Soviet relic hotel complete with service with a frown. Rates will be high for what you're getting. In many places it's possible to pay about €10 to stay in a local's house. This is an informal arrangement and can only be organized by talking to people upon arrival but it is well worth considering if you want to get out into the countryside.
Hostels
. Hostelling is still in its infancy in Moldova, but there are a few nice hostels to be found in Chişinău. Amongst others Chişinău Hostel and Central Youth Hostel. Prices range from US$10–20.
Apartments
. Many people in Chişinău rent out apartments. The location and quality can vary. Many are also not very modern. You may want to use a booking company as it may be hard to find people who speak English. Price €20–50. You can book an apartment in Chisinau on the site
www.MoldovaRent.com
Learn

While none are internationally accredited, there are universities in Chisinau, Balti and Cahul.

Stay safe
Visitors to Moldova for business or romance should be aware of the potential risk of scams, particularly if first contact was made on the Internet. See
International financial scams
and
Russian Internet dating schemes
.
The break-away region of
Transnistria
has proclaimed (and largely achieved) independence but lacks diplomatic recognition. Consequently, consular support in case of emergency will usually be lacking. Corrupt police and border guards may try to extort bribe money but 'normal' crime rates are low. Locals are generally very friendly and will go to great lengths to provide hospitality to foreigners. You can expect a lengthy, and inevitably boozy, meal to be offered to you just in your honour.
Conservative dress must be worn at religious sites. Shorts are forbidden and women must cover their heads inside monasteries and churches.
While bribery and police corruption are still problems in Moldova, the situation is improving. It is still advised that tourists have the number of their embassy and the contact information of where they are staying. Foreigners are also required to have their passports on them at all times. There is however usually no one checking this in any normal setting.
Alcohol consumption can also be a problem. Running into drunks especially at night is common. Most are friendly; they often come off as aggressive and will invade your personal space. This can be scary the first couple of times. Politely walking away normally works. People coming from a country where less alcohol is consumed can find themselves becoming the drunks.
Stay healthy
The heavy use of agricultural chemicals, including banned pesticides such as DDT, has contaminated soil and groundwater. If you are concerned,
water
for drinking, cooking and oral hygiene should be taken from a known safe source, as ordinary water treatment, including boiling, does not remove such chemical contamination.
Respect
Respect women. Chivalry is utmost in Moldova, just like in other Eastern European countries. If you are out in public, open doors for women and let them walk in first. Do not make disparaging comments about women in Moldova, or you may find yourself in trouble with the locals.
When visiting Moldova, be careful when referring the locals as "Romanians" as not all Moldovans identify themselves as such. Study your host first: some Moldovans identify as Moldovan, and some as Romanian. This also applies to the language issue as well, although the larger part of Moldovans do refer to it as "Romanian" in everyday speech.
Also be careful when talking about Moldova to the Romanians in Romania, as there is also a part of Romania called
Moldova
(in Romanian, Moldavia in English), which many Romanians will think you are actually referring to.
Also be careful when expressing pro-LGBT views, since some Moldovans (men especially) can be quite homophobic, as is quite often the case in former Soviet states nowadays. Please stay safe.