Neum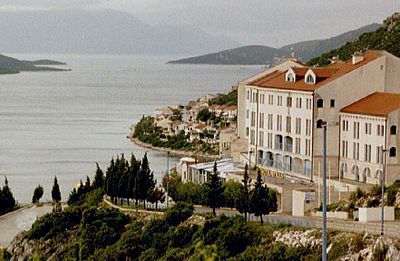 Neum
is a resort town on the 9 km strip of Adriatic coast that belongs to
Bosnia and Herzegovina
. In other contexts this country is often loosely referred to as "Bosnia", but Neum is specifically part of
Herzegovina
. That entity is undefined and contentious so on this page the country is abbreviated to
BiH
.
Please don't let Neum be the only place you visit in fascinating BiH, but for most tourists it will be. That's because its territory separates Dubrovnik from the rest of Croatia, so all those visitors have to briefly exit not only Croatia but the EU, then re-enter; then do the same when their excursion returns north. Traffic tail-backs are common, and there may be other complications, outlined below.
This situation arose from a 1699 peace treaty: Ottoman expansion was smashed forever at the Battle of Zenta, and new borders were drawn with Venice, the Holy Roman Empire, and the growing regional superpower of Austria-Hungary. The land border hardly mattered in the days when only goat-herd trails crossed the rugged mountains and most travellers reached Dubrovnik by sea, as you still can. In the 20th century highways were built but the future Croatia and BiH were part of Yugoslavia, and the border was just a county line. It mattered more once those countries became independent, and even more when Croatia joined the EU and committed to joining the Schengen free movement area: Neum means you can't even move freely between Dubrovnik city and the northern part of Dubrovnik region.
So for most people Neum is just a 20-minute transit, half of which will be spent queuing for the toilets behind two other coach parties. It also has low-duty tobacco, alcohol and fuel - you might save €10 by filling your tank here. But it's also a beach resort in its own right, cheaper than surrounding Croatia. A couple of km offshore is the Pelješac peninsula of Croatia, which stretches all the way from Dubrovnik, and there's long been talk of a bridge to bypass Neum. This is now under construction, optimistically scheduled to open in 2022; Neum will then cease to be a busy highway and will have a chance to re-launch itself as a resort. If in the meantime you don't want to cross Neum for any reason, the simplest workaround is to take the ferry between Ploče north of the strip to Trpanj on the peninsula, and other ferry and air routes to Dubrovnik are possible.
Get in
Transit
This section applies to anyone passing through, while the section below considers transport assuming you plan to stay here. Transit travellers need to factor in:
Queues vary at the borders. They're often trivial, but at the height of the tourist season it can take an hour to enter Neum and 15 mins to leave.
Passport checks are brief and customs checks are rare, but you do need your passport handy. The hold-ups are not because anyone has dodgy documents, but because at least one traveller on every bus has packed their passport inside their case deep within the bus baggage trunk. Most countries' citizens (including Russian and Chinese) may enter BiH without a visa, and these passports are waved through and don't get a stamp. Citizens of most African, Arabian and South Asian countries (eg India), and of Belarus, do need a visa: you might be waved through without a check, but you can't chance it because the exit kiosk or the return border posts might check. Visas need to be multi-entry to permit return, and your passport must be valid for at least 3 months beyond the term of your visa (the visa-free majority don't need any extra validity.)
Driving: your license is valid in BiH on the same basis as in Croatia, so you don't need an International Driving Permit. It's the vehicle that's the problem: you must supplement your motor insurance to include BiH, and there are no facilities at the Neum border to buy supplementary insurance as there are at several other BiH borders. If you rent a car in Croatia and use it to cross Neum, they'll charge extra for taking it out of the EU, and apply that charge to every day of the rental even if you only make the brief transit. This is a barrier to flying into Dubrovnik and using it as a base for touring the rest of Croatia.
Pets: Croatia is considered "low risk" for rabies (foxes being the chief hazard) but BiH is "high risk". This means that your dog, which is presumably immunised and micro-chipped with a "pet-passport", and which spends the entire transit cooped in a car devoid of foxes, may henceforth be regarded by officialdom as a lethal slavering monster. No joke: western vet protocol is that an animal from a high-risk country must be quarantined if healthy, but immediately killed if it becomes unhealthy, then to be posthumously pardoned when autopsy reveals only a dental infection.
Mobile phones: Dubrovnik region has boosters either side of Neum so your mobile should remain attached to Croatia, and thus within the EU data-roaming area. But it might instead latch onto BiH where charges for international callers are much higher. So switch it off or go into flight-mode: you honestly don't need to photo & share scenes of your sojourn through Neum.
By road
If you intend to stop over, make this known at the border post when you enter from Croatia, so they can swipe your passport into their system and might even give you a stamp. You're allowed to stay in BiH for up to 90 days (less for some visa-holders) so this will prevent any arguments and interrogations when you subsequently leave. Similarly, make sure you're swiped out.
Highway 17.3 clambers up the mountainside from Neum to reach Hutovo, and eventually Mostar, without crossing the border (though there'll probably be a police car at the edge of town checking any vehicle with non-BiH plates in case anyone's snuck into the country via the back door.) There's no public transport up this road so you can do it with your own vehicle, but all bus routes cross Croatia even for BiH destinations.
Neum is 60 km from
Dubrovnik
city, 80 km from Dubrovnik Airport (
DBV
), 70 km from Mostar, 30 km from Ploče, 90 km from Makarska and 230 km from Split. There's no bus station, just wait at the on Highway 8 (Jadranska Magistrala). Ask around locally for the schedule, which is very approximate since it factors in hold-ups that may not match, so the bus either flies through early or is way late. You might be advised to join the bus at its rest-stop rather than the bus stop.
For Dubrovnik there are at least four buses a day, taking an hour: they're nearing the end of their journeys from elsewhere in Croatia and may be full. Especially for day-trips to the city, enquire locally about marshrutkas ie shared taxis, which take residents in for shopping and other essentials in the morning and bring them back mid-afternoon.
These same four buses run north via Ploče and the Makarska Riveria resorts to Split taking 4-5 hours; some swing inland onto the motorway and bypass Makarska. From Split they variously continue to Šibenik, Zadar and Zagreb.
There are 2 or 3 buses a day from Dubrovnik via Neum to Sarajevo, usually taking 7 hours via Mostar.

Get around

From border post to border post, the main highway through Neum strip is 9.2 km long. The town occupies half of that, but the rest is just tiny places such as Kamenice, so the term "Neum" here applies to the whole strip and its hinterland.
This means that you might need a taxi between your bus drop-off and your accommodation, especially given the steep terrain. They'll probably be happy to take a €5 note.

See
Tunnel to nowhere
The Croatians are finally building their bridge but BiH is ahead of them. Inland, the road from Neum to Mostar is being improved by tunnels . . . and then there's this completed road-tunnel burrowing through the Klek peninsula in the general direction of Naples. Its purpose is too strategic and sublime to reveal, but perhaps its builders transected a mountain to see what they could see.
And what do you think they saw? And what do you think they saw?
The other side of the mountain, the other side of the mountain . . .
Klek peninsula is across the inlet from Neum town. When BiH is described as having 20 km of coastline, it's factoring in this place, as the highway cuts inland through Kamenice to total 9 km. The peninsula is wooded and a lane runs up to a marina at Opuće. The very tip, hard to believe, is disputed between BiH and Croatia. From here you look north across the bay to the villages of Klek and Komarna in Croatia, and the ongoing bridge construction. Near the foot of the peninsula, an impressive road tunnel drills through the ridge to nowhere in particular.
Do
Excursion trips to nearby tourist destination (half a day or whole day) such as Dubrovnik, Korčula, Medjugorje, Ston and Mostar.
Photosafari on river Neretva, visit to rural tourism households in Neum hinterlands, birdwatching, sport and recreational activities, visit to vineyard and vintage, visit to olives and tangerine plantations etc.
Etnofest Neum is a traditional Croatian music festival held annually in mid-August.
Buy
In Neum you can buy all kinds of food, drinks and tobacco products at much lower prices than in Croatia. The official currency is the BiH convertible mark, but the Croatian kuna is also universally accepted. Many shops accept euros as well.
Agrotourism Matusko

address: Mosevici

Make a trip to countryside. 10 km inland from Neum you can enjoy a peaceful atmosphere, local specialties and see how people used to live here long ago.
Eat
While the main hotels offer half board as a matter of course, there are some other dining options, most of which are of the outdoor seaside grill-restaurant variety. Main menu items range from cevapcici for KM 6 to mixed grill type offerings for KM 12. Fish can vary, starting from grilled sardines for KM 15 to "market price" on more prized choices.
Beyond mealtimes, coffee (1-1.5 KM for espresso) and ice cream (1-2 KM for industrial-size single scoops) at local "caffe-slasticarnas" are amazing value and among the most consumed items there.

Drink
Neum is not a hot nightlife destination. It attracts mainly Bosnian families, and while many Bosnian Muslims drink, they tend to so in seaside grills-cum-bars, a number of cafe or ice cream-bar type places, and one venue just north of the Hotel Sunce that plays house music and has a flashing light.
What Neum lacks in variety it makes up for in price—250ml beers like Karlovacko tend to cost 2-3 KM depending on the venue, and 330ml and draught half litres tend to be 3-4 KM.
address: Mosevici

Enjoy quiet countryside and try local specialities at very affordable prices.
Sleep
Hotel accommodation (generally of the Tito-era concrete monstrosity variety) is somewhat more expensive than private accommodation, but still far cheaper than in surrounding destinations in Croatia. The average price for half board in hotels ranges from €30 (low season) to €70 (high season) per night per person and price of private accommodation can be as low as €10 per night per person, but it could also be more expensive if it is villa or aparthotel accommodation type. Most of the hotels and some of the private accommodation can be booked online.