Nizhny Novgorod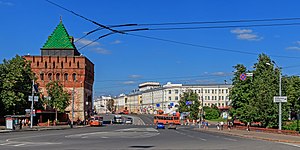 Nizhny Novgorod
(
Russian
: Ни́жний Но́вгород
NEEZH-nee NOHV-guh-ruht
), colloquially shortened to
Nizhny
, is
Russia
's fifth largest city, ranking after
Moscow
,
Saint Petersburg
,
Novosibirsk
and
Yekaterinburg
. It had a population in 2018 of 1.26 million. It is the economic and cultural center of the vast
Volga
economic region, and also the administrative center of
Nizhny Novgorod Oblast
and
Volga Federal District
.
From 1932 to 1990 the city was known as Gorky (Го́рький), after the writer Maxim Gorky. Following the fall of the Soviet Union, the old name was restored.
Do not confuse Nizhny Novgorod with
Novgorod
(or, fully, Veliky Novgorod), which is a different city. In particular, do not shorten the name Nizhny Novgorod to Novgorod.
Districts
The city is divided by the river Oka into two major parts: the
Upper city
(
Verkhnyaya
or
Nagornaya chast
) on the hilly right side and the
Lower city
(
Nizhnyaya
or
Zarechnaya chast
— what literally means "the part over the river") on the left bank of the river. The Upper city is the old historical part of Nizhny Novgorod, whereas the Lower city is larger, newer and consists of more industrial districts.
It is formed around the Kremlin. The city center is not at the center, as in other cities. In Nizhny Novgorod the center is in the northeast. Includes the Kremlin, from which the central streets Bolshaya Pokrovskaya and Rozhdestvenskaya. Here is a large number of architecture of the 18th and 19th centuries, museums, theaters, nightclubs, restaurants and everything that is necessary for a fun holiday. |
Prioksky District |
Along the whole district, on the right bank of the Oka, is a huge park Shveytsariya (Switzerland). Also on its territory is the forest park Shchelokovsky farm known as the Museum of Wooden Architecture. |
Sovetsky District |
This district is not remarkable, except for the Ice Palace of Sports. |
Perhaps, this is the most commercial district of the city. This is not surprising, since here is the famous Nizhny Novgorod Fair. However, only the Main Fair Building, the Alexander Nevsky Cathedral and the Transfiguration Cathedral were left from the previous fair. All of them are popular symbols of the city. In this district, the largest number of all kinds of malls, markets, bazaars and retail stores. This can be seen immediately at the exit from the Moskovsky railway terminal. At the Revolution Square are three huge malls. Behind the station there are two more. |
City district in the style of the Stalin Empire. Here began the Revolution of 1905, so there are many monuments that remind of this. If you want to immerse yourself in the era of the Soviet Union of the 1930s, then this district is for you. The center of Sormovo was built up with Stalinist skyscrapers with beautiful facades. Here you can see the magnificent Sormovskie Zori department store, the Transfiguration Cathedral of Sormovo (it is a pity that it was blocked by high-rise buildings), a Barricade School, a hydrofoil rocket monument. |
The main industrial center of the city. Here is the famous GAZ (Gorky Automobile Plant), the area of which is almost half of the district. It is considered the most comfortable city district, with several transport interchanges, metro and airport. This, the so-called "city in the city." There are many interesting places including the Park of Culture and the Palace of Culture, Sotsgorod, Kiselev Square and the Strigino forest. |
Moskovsky District|
This district represents almost no tourist value. It is on Line 2 of the metro. |
Leninsky District|
This district represents almost no tourist value. The exception is only Bugrov Business Park. |
Understand
History
The city was founded by Grand Duke George II of Russia in 1221 at the confluence of two most important rivers of his principality, the Volga and the Oka. Its name literally means
Newtown the Lower
, to distinguish it from
the older Novgorod
. A major stronghold for border protection, Nizhny Novgorod fortress took advantage of a natural moat formed by the two rivers.
Along with Moscow and Tver, Nizhny Novgorod was among several newly founded towns that escaped Mongol devastation on account of its insignificance and grew up into important centers of Russian political life during the period of Tatar yoke. For a short period of time it was the capital of the Suzdal Principality and competed with Moscow for the power in the region. However the competition with Moscow was lost and in 1392 the city was incorporated into Muscovy. Nizhny Novgorod Kremlin was built in 1508-1511 (under supervision of the Italian fortress engineers) and became one of the strongest Russian citadels. There is a legend saying that the project was initially developed with participation of Leonardo da Vinci. However there is no documented proof of Leonardo's work for that project, the only thing the legend is based on is the striking resemblance of Leonardo's sketches and the actual Kremlin schemes. The fortress was strong enough to withstand Tatar sieges in 1520 and 1536.
In 1612, the so-called
national militia
, gathered by a local merchant Kuzma Minin and commanded by Knyaz Dmitry Pozharsky expelled the Polish troops from Moscow, thus putting an end to the Time of Troubles and establishing the rule of the Romanov dynasty.
In 1817, the Makaryev Monastery Fair, one of the liveliest in the world the 16th-18th centuries, was transferred to Nizhny Novgorod, which thereupon started to attract numerous visitors and by the mid-19th century it turned Nizhny Novgorod into trade capital of the Russian Empire.
Under the Soviet period, the trade connections of the city were abandoned and Nizhny Novgorod became an important industrial centre instead. During the communist time the city was closed to foreigners to safeguard the security of Soviet military research. The physicist and the Nobel laureate Andrei Sakharov was exiled there during 1980-1986 to limit his contacts with foreigners.
Climate
The climate in the region is humid continental and it is similar to the climate in
Moscow
, although colder in winter, which lasts from late November until late March with a permanent snow cover.
Get in
By train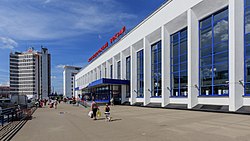 The train station in Nizhny Novgorod is in the northern part of the city centre, near the Metromost Bridge. It is reachable via the metro. The main hall of the train station is beautiful and includes a chandelier as well as soviet-style mosaics symbolizing the life of Russian people.
All Trans-Siberian trains from Moscow except for train 99/100 (which goes via
Yaroslavl
instead) stop at Nizhny Novgorod.
When searching timetables and fares on the
RZD website
, enter "Nizhniy Novgorod" as the station for Nizhny Novgorod.
There are several options for train travel from
Moscow
including high speed
Sapsan
trains (3½ hours, ) and slower late night trains (7 hours, from ). Trains are generally cheaper if purchased in advance. Most trains from Moscow arrive depart from Moscow's Kursky or Yaroslavsky train stations.
There are 2 daily overnight trains to/from
Saint Petersburg
(15-16 hours, from ).
There are also direct train connections with
Vladimir
,
Dzerzhinsk
,
Kazan
,
Samara
,
Kirov
(6-7 hours, from ),
Yaroslavl
(9 hours, from ),
Kungur
(16 hours, from ),
Yekaterinburg
, (20 hours, from ),
Novosibirsk
(40 hours, from ),
Irkutsk
(69 hours, ),
Astrakhan
,
Simferopol
,
Novorossiysk
(52 hours, from ),
Vladivostok
,
Beijing
,
Ulaanbaatar
, and many other cities. Suburban commuter trains connect Nizhny Novgorod with towns within 200 km of the city.
By plane
Nizhny Novgorod (Strigino) International AirportThe airport serves over 1.2 million passengers per year. There are regular flights to many major Russian cities including Moscow, Saint Petersburg, Samara, Surgut, and Yekaterinburg, as well as international flights to Tashkent, Yerevan, Osh, Prague, Dushanbe, and Dubai. In addition, Dexter Air Taxi operates flights on small planes to nearby cities in Russia such as Kirov and Perm.
The airport is connected to the city by public transport including buses 11, 20, T-29, T-46. The journey by public transport to the city centre takes approximately 1 hour. A taxi ride takes around 30 minutes and should cost under if negotiated in advance.
By car
Nizhny Novgorod is situated on the M7/E30 road. The road is in decent condition, although with traffic it can take anywhere from 4 to 8 hours to drive to/from
Moscow
.
By bus
There are several stops for buses arriving in Nizhny Novgorod; however, departing buses leave from either Kanavinskaya bus station, near the railway station, for buses going to points north and west, and the main bus station (Avtovokzal) near pl. Lyadova, for the buses going to points south and east.
Buses are generally uncomfortable and slower than the trains.
MR Trans
operates buses to/from Moscow (9 hours, ),
Yoshkar-Ola
,
Kazan
,
Cheboksary
, and other nearby cities.
By boat
Turflot
,
Infoflot
, and many other companies operate multi-day river cruises down the Volga from early May to the end of September.
Many companies operate passenger boat service between
Moscow
and
Astrakhan
, with stops at most cities along the Volga River.
Get around
By foot
The city centre is compact and walkable. However, there are many inclines or steps from the river banks. The bridges are not pedestrian friendly since the sidewalk is very narrow and cars drive extremely fast close to the pedestrians.
Via public transport
There is a network of s-trains, trams, trolleybuses, buses, marshrutkas and a 2-line metro system. Google maps can be used for directions via public transport.
The fare on public transport is per ride and operating hours are generally 05:15 to 00:00.
On surface public transport (trams, trolleybuses, buses and
marshrutkas
) you are expected to pay within one stop after you enter, the fare is fixed for one ride. A
konductor
who will come to you, take money and issue a ticket; if there is no
konductor
, you should pay directly to the driver. Both the driver and
konductor
will give change if needed, although notes of and larger are sometimes denied. It is best to have exact change ready.
By metro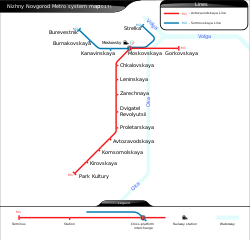 The metro is open from 05:15 to 00:15. To get in, look for an underground passage with the red letter M on top and go down under the ground. At the entrance to the metro you need to go through the security system. Police officers have the right to examine you, if necessary. The metro is accessible by tokens, city transport smart cards and bank cards. The fare is , as of May 2017. There are also electronic transport cards for for 24 hours of travel on all types of public transport and for 70 minutes.
The metro consists of 2 lines and 14 stations, with more stations planned in the future. The system was designed during Soviet times and stops are near factories and industrial areas. However, the demographics have shifted and as a result, the metro is not as useful as it once was and surface transport is more popular and more crowded. The 2 lines intersect at Moscovskaya Metro Station. This is the only metro station in the ex-USSR with 4 adjacent tracks. In the afternoon you can expect a train about 8 minutes, in the evenings intervals reach 13-15 minutes. Therefore, you can see what happens with the interval clock: after reaching 10 minutes they just go out and time stops. After 22:00, the movement of trains going in an interesting way. From the Park Kultury to the Proletarskaya train move from the right platform, then the passengers are planted at the station and they pass to the other side of the platform, where trains run from Gorkovskaya (or Burevestnik) to Proletarskaya and back. Meanwhile, passengers who need to get to the Park Kultury get on the train that came from this station, and go back to the Avtozavodsky City District.
The Nizhny Novgorod metro is useful for those travelers who want to visit the city center, the well-organized industrial Avtozavodsky City District and the Sormovsky City District with a large number of pre-revolutionary and Stalinist buildings, and, at the same time, spend a minimum of time for transportation. The first stations were built in the early 1980s, from an architectural point of view, they are of little interest. However, two of them deserve attention:
Moskovskaya
(the only station with four routes and 2 lines) and
Gorkovskaya
(its walls are decorated with a panel depicting the main attractions of the city). Transportation between them on the train, you'll see a metro-bridge, Oka panorama, Strelka and Rozhdestvenskaya street. Also interesting is the terrestrial covered station
Burevestnik
- this is the only station of the Nizhny Novgorod metro with lateral platforms. Another interesting station is
Zarechnaya
, where the walls are decorated in the form of a river wave, and in the end of the station there is a panel "Grad Kitezh".
By city rail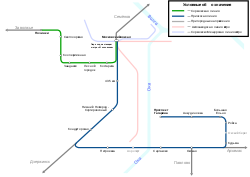 The City Rail connects areas where there are no metro lines. Connects with the subway at the Moscow railway station. It has 2 lines: Sormovskaya and Priokskaya. The fare by train costs 28 rubles. According to the Citicard Transport Card, the fare is 26 rubles. Also by train you can get to the nearest suburb, or transfer to suburban trains to Dzerzhinsk, Bor, Semenov or Arzamas.
By bus and trolleybus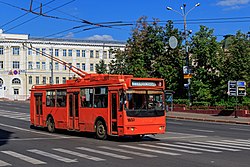 As of May 2017 in each district of the city there are several city bus routes. The number of trolleybus routes is much less. In one district of the city there are 1-2 trolleybus routes. Trolleybus routes are completely absent in the Leninsky city district. It is worth noting that trolleybuses do not connect the Lower City to the Upper. This is because the trolleybuses do not have enough power to climb the mountain.
The trolleybus network is divided into 3 parts:
The upper trolleybus network (it unites all three districts - Nizhegorodsky, Sovetsky and Prioksky) with a turning circle on the Minin Square, near the Kremlin.
The lower trolleybus network (connects Kanavinsky, Moskovsky and Sormovsky districts)
The Avtozavod trolleybus network (connects all the distant sleeping microdistricts among themselves)
By tram
Throughout the city, land trams run. The longest route of all is 417. It connects the outskirts of Avtozavodsky district with the Moskovsky Rail Terminal. The journey takes about 1 hour and 20 minutes. The route passes through the sleeping areas (approximately 75% of the way). Also in remote neighborhoods there are routes of several more trams, but in most cases, they are in the Upper City. By the way, you can reach there by tram 27 or 10 directly from the Moscow railway station.
By marshrutka
Marshrutkas do not stop at every stop. To indicate your intention to exit a marshrutka, press a button and to indicate your intention to enter a marshrutka en-route, you need to wave your hand.
By bicycle
Nizhny Novgorod has not very developed bicycle infrastructure. Special bike paths exist only on the Upper-Volga and Lower-Volga embankments and on Rozhdestvenskaya Street.
The upper city is very hilly and full of steep inclines and even many locals will get off their bicycles and push their bikes up the hill by foot. Drivers can be reckless and pose a danger to cyclists. The roads can also be icy during the winter. City cyclists solve this problem by replacing summer tires with winter tires.
Also, in 2017 the implementation of a new integrated transport scheme of the city began. It provides for a large number of bicycle paths in the Upper City (including on Bolshaya Pokrovskaya Street) and in the Lower City.
Bike rental
phone: +7 960 182-12-11

address: 53 Bolshaya Pokrovskaya Большая Покровская (Dynamo Stadium)

Bicycle rentals and service.

phone: +7 831 212-88-99

address: 22 Malaya Pokrovskaya Малая Покровская

Bicycle rentals, sales, and service.
See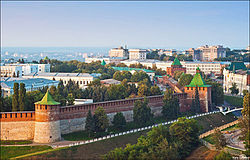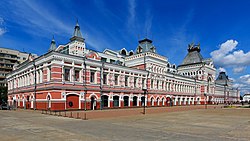 Streets and squares
phone: +7 831 422-10-80

address: Nizhny Novgorod, Kremlin

It's worth a wander around and contains a church, war monument with eternal flame, a reasonable art museum and impressive views along the Volga River. Also you can take a walk atop (inside) the Kremlin's wall in summer (roughly from May to October), the entrance is by the stairs set a bit off the wall inside the Kremlin near the main entrance via Dmitrievskaya tower, the latter being one of Nizhny Novgorod's symbols.

Minin and Pozharsky SquareThe main square of city, at the south-east side of the Kremlin. A wide stairway (the Chkalov Stairs) descends from the Chkalov Monument to the Volga waterfront to the north. Also take a walk along a path goes from the square round the western part of Kremlin wall.

Bolshaya Pokrovskaya StreetA pedestrian street, the main street of the city. Street vendors, souvenirs, shops and main restaurants, and several museums including the museum of Russian traditional art.

Rozhdestvenskaya st.Parallel to Oka river under the hill, this street contains a lot of 19th century buildings in rather good condition. The street was renovated in 2012, half-width becoming pedestrian, and now serves as a location for different festivals and events.

Ilyinskaya st.Merchant buildings of 19th century (and a few even older), some in good condition, some in rather worse one. Also interesting is the whole area around Ilyinskaya st., especially the small streets between it and Fedorovsky embankment — many old buildings, including wooden ones, still exist there, and the general quiet atmosphere of streets is quite different from what you see in other parts of central Nizhny.

Varvarskaya st.Late 19th-century houses intermixed with early-21st century ones.
Embankments
The Upper city is hilly and the slopes start not far from the waterfront, therefore in addition to embankments proper — the streets that run along the water — there is another kind of streets that are also called
embankment
. These are the streets running along the top of the hill slope, thus having a view of the rivers and opposite banks from 100-150 m above. The latter are great for walking, offering far-reaching views and good winds from the river.
Upper Volga embankmentRuns above Volga from Minin square to Sennaya square. Offers views over Volga, and also has some old, but mostly well-preserved buildings worth seeing.

Lower Volga embankmentRuns under the Upper Volga embankment along the Volga. It connects the embankment of the Grebnoy Canal and the Kanavinsky Bridge. However, the waterfront area between Kozhevenny lane (near the Minin and Pozharsky Monument) and the Kanavinsky Bridge is under construction for 10 years.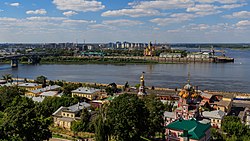 The Spit of Nizhny NovgorodIt is the place of confluence of the Oka and the Volga. In the middle is the yellow St. Alexander Nevsky Cathedral. It is surrounded by a former river port, which is now removed from there. Now there is a construction of a new park and a pedestrian embankment.

Fedorovsky embankment and Zalomov streetAbove Oka, starting not far from Kremlin and going south. There are several ways of accessing it from Bolshaya Pokrovskaya, all involving going by small side-streets; the old buildings on these are worth seeing on their own. You can also attempt climbing any of numerous stairways from Rozhdestvenskaya street. The embankment itself offers views over the Lower part of the city, and northwestwards views along Volga. Some festivals and events are sometimes held there; the hill slope has lots of paths and is very walkable. Also there are two pedesterian bridges — and a third one from Zalomov street, which leads to a small area of old wooden houses.

address: along Gagarin Ave

Although not a street and not an embankment, the park is on the slope of high Oka bank and has a lot of walking paths with views of the opposite Lower part of the city. The nature is said to be reminiscent of Swiss, and the park owns its name to this fact. Also contains a zoo, an observation wheel, and numerous cafes.
Buildings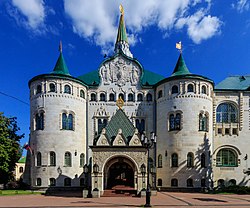 The building of State Bank

address: 26 Bolshaya Pokrovskaya st

The building is notable for its architectural style. It was built in the early 20th century for the State Bank, and still is occupied by the Nizhny Novgorod branch of Central bank of Russia. The interiors of the building are also beautiful, but it is really difficult to get into; generally, the visitors are allowed only in groups with pre-arrangement. Only one day a year, in May, the building is opened to anyone wishing.

The main building of Nizhny Novgorod Fair

address: 13 Sovnarkomovskaya st. Совнаркомовская ул

The 19th-century building that used to be the main building of Nizhny Novgorod Fair, one of the main merchant's trading place in second half of the 19th century in Russia. Now it is the center for different expositions, exhibitions and conferences.

phone: +7 831 430-18-60

address: 34a Rozhdestvenskaya st

One of the most famous churches in Nizhny Novgorod, built in late 17th century by the merchant Grigory Stroganov, and known after his name. Bears a distinctive architectural style.
Several XVII-century brick houses:
Peter the Great's house

address: 27 Pochainskaya st. ул. Почаинская

Here, it is said, Russian emperor Peter the Great stayed twice during his visits to Nizhny.

Pushkinov's house

address: 52 Gogol street ул. Гоголя

Olisov's house

address: 7 Krutoy per. Крутой пер

Probably the most beautiful of these old houses. In addition, separated by a small park from the hill slope that goes down Oka and Volga, it is not so overdominated by neighboring modern houses. A church nearby is also of the 17th century.
Museums
Museum-house of the writer Maxim Gorky

phone: +7 831 436 15 29

address: 19 Semashko st. ул. Семашко

A big house with several rooms keeping the atmosphere of the 1900s.

Museum-flat of Andrey Sakharov

phone: +7 831 466 86 23

address: 214 Gagarin ave. (пр. Гагарина)

The memorial flat of Andrey Sakharov, the father of the H-bomb, dissident, human rights activist and Nobel Peace Prize laureate.

phone: +7 831 434 25 23, +7 831 437 37 43

address: 9a, Piskunov st. (ул. Пискунова)

Old photos of Nizhny Novgorod, old photographic equipment, often different expositions.

Museum of steam engines15 engines constructed before 1950 in various countries

History Museum of Nizhny Novgorod automobile plant (GAZ)

address: 95 Lenin ave. (пр. Ленина)

Nizhny Novgorod State Museum of History and Architecture

phone: +7 831 422-10-80

It's an organization running several museums each holding some exhibitions and organizing different events:
address: 7 Upper Volga Embankment Верхневолжская набережная

One of the most beautiful 19th-century houses in Nizhny Novgorod which once belonged to one of richest Nizhny Novgorod men. With exterior and interior kept to its original state, the museum organizes tours of the house, keeps some exhibition of the history of Nizhny Novgorod, and often holds different events.

Nizhny Novgorod Povolzhye Peoples' Architecture and Life Museum

phone: +7 831 422-10-88

address: 41 Gorbatovskaya st. Горбатовская ул.

A collection of old (1600s-1800s) wooden buildings (houses, churches, etc.) moved here from different villages of Nizhny Novgorod oblast. Many buildings are open, and you can walk in and see interior, etc. From time to time hosts different events.

Nizhny Novgorod oblast handicraft museum

address: 43 Bolshaya Pokrovskaya Большая Покровская

Exposition of old Russian handicraft.
Monuments
Monument to Valery Chkalov, the famous test pilot of the 1930s, known for his ultra long flight from Moscow to Washington State via the North Pole.
Maxim Gorky, at the square named after him
Alexander Pushkin (at the entrance to the Theatre of Opera and Ballet)

Prince George and Saint Simon of Suzdal

address: The Kremlin, St. Michael the Archangel Cathedral

Monument to the founders of the city of Prince Yuri II of Vladimir (also George Vsevolodovich) and Simeon of Suzdal

Monument to Minin and Pozharsky

address: National Unity Square

On the first celebration of the Unity Day (November 4, 2005) an almost exact copy of this monument by Zurab Tsereteli was erected in Nizhny Novgorod. The copy is only 5 cm shorter than the Moscow original.
Religious
Pechersky Ascencion Monastery, near Sennaya Square a couple miles east of downtown, halfway down the slope to Volga. With a cathedral and several churches surrounded by a restored stone wall, the monastery is the seat of the archbishops of Nizhny Novgorod.
A big variety of other churches and convents.
Do
Jet fighter flight on Sokol Airbase in MiG Jets, Nizhny Novgorod

phone: +41 44 500 50 10

address: MiGFlug & Adventure GmbH, Badenerstrasse 286, 8004 Zurich

Very nice but expensive experience. The customer can fly itself under close watch of the pilot. Supersonic flights and stratospheric Edge of Space flights are possible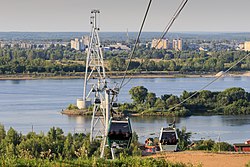 phone: +7 831 411-9268, +7 831 424-90-09 (autoinformer)

address: 8a Kazan embankment Казанская набережная (Nizhny Novgorod station); 12 Lunacharskogo st. ул. Луначарского, Bor (Bor station)

Cable car goes above Volga, offering views of Nizhny Novgorod and opposite bank of the river. From any place on the Upper Volga embankment you can see in the distance to the East the supporting towers and the cabins. The Nizhny Novgorod station itself is not easy to find, but look for two high round-shaped apartment towers near Sennaya square, and go past them along Sechenov street ул. Сеченова, then past a mosque towards the Volga bank; also look for signs "Канатная дорога". Note that the service is often interrupted, both due to weather such as strong winds, or for maintenance.

phone: +7 831 272-50-94, +7 831 246-70-65

address: 20 Revolutsionnaya st. (ул. Революционная)

Different programs, mainly for children, but some for adults too. Has also a simulator for space rendezvous of Soyuz spaceship and the International Space Station.

phone: +7 831 246-40-00, +7 831 246-246-1

address: 32 Kommunisticheskaya st. (ул. Коммунистическая)

phone: +7 831 271-67-37, +7 831 416-14-14

address: 7B Yaroshenko st (у. Ярошенко, 7Б)

A zoo with different animals, features a "contact zone" where you can walk among different non-dangerous animals. The area consists of two separate parts within 60 m walking distance, one ticket is valid for entering both areas. You can access the entrances to the zoo both from Yaroshenko street and from Sormovo park via a pedestrian bridge.
Watch football at Nizhny Novgorod Stadium, opened in 2018 to host games of the FIFA World Cup. It's home to FC Olimpiyets Nizhny Novgorod, who play in the Russian Premier League (ie top tier of Russian football). The stadium, capacity just under 45,000, stands on the west bank of the River Oka just as it joins the Volga, and looks across to the Kremlin on the Oka east bank. It's a circular colonnade, 1 km north of the city's main "Moscow" railway station, walk or take metro to Strelka.
Winter sports
During winter, with permanent snow cover, Nizhny offers different possibilities for winter sports. Some of them are listed below.
Skating is possible on many open ice rinks, starting from a hockey-rink-sized ones, often located near schools, poorly-maintained, lacking any room where you can left your belongings, but free for entrance, up to soccer-sized (and more) stadiums with proper infrastructure, skates rent and paid entrance.
phone: +7 831 225-68-94, +7 831 222-27-57

address: 30 Yubileyny bulvar (бульвар Юбилейный)

A big open stadium with cooling machines allowing to maintain ice quality even when the air temperature is above freezing (up to 10 °C); therefore it is open roughly from end of October to start of April and has probably the best ice in the city. During this period, the stadium is a place for lots of competitions and sport events, but on Fri-Sun evenings (roughly from 16:00-18:00 till 20:00-21:00, better check before you go) it is open for public skating. It is also open for public skating every evening during public holidays, most notably in the first week of January. Have skate rent service and a cloakroom inside a small building; also rooms where you can change your boots to skates. You will also find stalls selling hot tea and snacks inside. Being the most popular of skating venues in Nizhny, it is often overcrowded. Come early if you want to experience good ice, as it is renewed every day before the stadium opens, and then gets worse (and really bad) during the evening with all the crowds rushing there.

Dinamo stadium

phone: +7 831 433-78-73

address: 53 Bolshaya Pokrovskaya (Большая Покровская)

Another big open stadium with public skating almost every evening during winter. There is no cooling machines, so there is no skating in October and November and usually December too; only when day temperatures settle below freezing they make ice on the stadium. Even after this, the ice quality may be not the best, especially during periods when air temperature rises back to freezing. However, for its location in the city center and because it is open almost every day and for longer hours than Trud, it is also popular. Has skate rent service and a cloakroom inside a small building, you can change boots to skates in a long hall there.
Mega shopping mall has also a very small skating rink at the main hall, but it's of interest only during summer, when big skating rinks do not work.
Cross-country skiing is possible in many Nizhny Novgorod parks and in many forests surrounding the city; almost in every park you will find a circular ski track for classical skiing. Bigger forested areas, primary Schelkovsky Khutor (Щелковский Хутор) and adjacent Ankudinovsky forest (Анкудиновский лес) in the Upper city, and Dubravy forest (Дубравный) in the furthermost Sormovo have much more of classical and skating ski tracks. However, the infrastructure for ski rent is not widespread. Note also that most of the tracks have no lighting, so skiing after roughly 15:00, when it starts becoming darker, will not be pleasant.
Ski rent at school 135

address: 22 Koreyskaya st. (ул. Корейская)

A ski rent office near Schelkovsky Khutor forest. You can leave your belongings there and have a cup of hot tea on return.
phone: +7 831 438-66-05, +7 910-873-11-82

address: Khabarskoye village, 1 Nagornaya st. (деревня Хабарское, ул. Нагорная, 1)

Downhill skiing on a steep hills of high bank of Oka river outside of city. However, it is not that simple to reach them.
Buy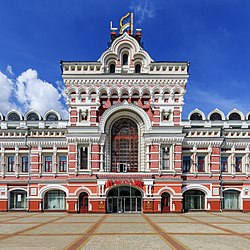 Souvenirs
Apart from simple souvenirs like thick pencils with city name, which are present in every Russian city with just the name changed, and have nothing to do with Russian traditions, there are some souvenirs that are really Russian and really Nizhny-Novgorodian. The most important and famous are Khokhloma gold-red-black painted wooden items such as tableware and furniture; Khokhloma is actually a village in Nizhny Novgorod oblast, a traditional center for the craft.
Also there are other traditional Russia souvenirs such as Gorodets-style painted wooden items, and lots of different Matryoshkas.
You can find lots of souvenirs on street stalls along the pedestrian part of Bolshaya Pokrovskaya street (especially in its upper and further from Kremlin part), and in some stalls inside Kremlin. There are also several stands inside the train station building, both on the ground floor and in the basement.
phone: +7 433-61-63

address: B. Pokrovskaya, 43

Lots of Khokhloma items, matreshkas, and other traditional craft items. Also some simpler souvenir stalls inside.
Grocery
There are many small local grocery shops (
продукты
) in Nizhny Novgorod, but you are advised to shop in slightly more respectable chain self-service supermarket stores listed below. There are lots of stores for each chain, so only a couple of center-most are listed for each chain. The quality of food is generally good in every store, but you are advised to check the expiry dates on the items that do not last long (such as dairy products). Also note the common trick employed by store owners: on the shelves you will often find the same items, but with different production dates, and facing you on the shelf are the oldest items, while the freshest are somewhere in the back of the shelf.
Магнит (Magnit, lit. Magnet) are cheap but basic stores. Do not expect anything beyond simple food (some stores also have basic household chemical goods). But if you want just a slice of bread, a bottle of milk or yogurt, simple cheese or cookies, beer or water, etc., this will always be the cheapest place. Also, they often have unexpectedly good and cheap selection of vegetables and fruits as compared to other small stores. There are no Magnit stores in the very center, but some of them just out of center: 160 Gorky st. (ул. Горького), 118 Belinsky st. (ул. Белинского), 26 Sovnarkomovskaya st. (ул. Совнаркомовская), etc.

SparStore sizes vary from really small to big ones, but generally they offer somewhat wider selection than Magnit (and in big stores — a much wider selection, up to own bakery providing bread), accept credit cards, but are somewhat more expensive. Most have also some household chemicals, etc. There are really plenty of shops in city center: 8/1 Alekseevskaya st. (ул. Алексеевская, inside a small shopping mall), 16a Minin st. (ул. Минина), 144 Gorky st. (ул. Горького), a two-storey shop at 9 Dobrolyubov st. (ул. Добролюбова), a big shop at 124 Belinsky st. (ул. Белинского, in Chocolate shopping mall), and some more.

SevenSimilar to Spar, they also have stores ranging from small ones to rather large, accept credit cards, have wider selection than Magnit, but are somewhat more expensive. In contrast to Spar, they do not have really much shops. Some stores in the center are: 41 Piskunov st. (ул. Пискунова, inside a shopping center known as Нижегородский универсам Nizhegorodsky universam) — this is probably the centermost of large stores; 4 Vaneev st. (ул. Ванеева), 63 Belinsky st. (ул. Белинского, inside the Etagi shopping mall).

Also almost every shopping mall (see below) has a grocery store. In addition to the mentioned chains, you may meet Auchan (Ашан) stores there. If you are looking for a really wide selection and cheap price, head to one of these, but you will have to go out of the city center.
Shopping malls
address: Fedyakovo (Федяково) village south of Nizhny

The biggest shopping mall in Nizhny Novgorod (located in Fedyakovo, a south-eastern suburb on the road to Kazan). Auchan, IKEA, OBI and 160 other shops.

Chocolade

address: 124 Belinsky st. (ул. Белинского)

address: 63 Belinskogo st. (ул. Белинского)

phone: +7 831 277-92-22

address: 9, Revolution Square

address: 178 Rodionov st. (ул. Родионова)

address: 10/16, Alexeevskaya st. (ул. Алексеевская)

A premium shopping mall in the city center
Eat
Budget
Street food
In the city stalls with
shawarma
are very popular. They can be found everywhere, even on the outskirts of the city.
phone: +7 831 433-05-64

address: 13 Kostina Street

The first and most popular shawarma in Nizhny Novgorod. The queue is round the clock. This is one of the most popular tourist destinations for gastronomic tourists. There is a joking city proverb: "If you ate shawarma on the Srednoy, then you did not see Nizhny Novgorod"
Fast food chains
McDonald's
and
KFC
have locations near almost every shopping mall and central streets and squares. It is common to pay extra for condiments.
Yolki-PalkiThis chain restaurant offers Russian food. You can take an all-you-can-eat plate for

Ochag

phone: +7 831 430-02-34

address: 44B Bolshaya Pokrovskaya Str.

Cafe pies. Quiet and cozy place in the basement of the old house. It has 2 rooms: the first hall in the style of the 1950s, the second hall in the Gothic style.
Mid-range
Tinkoff

address: Belinsky Str., Etazhi Shopping Complex

variety of food including Japanese cuisine. Its cheaper to go on weekdays from 12:00—16:00 to order their "business lunch" which is like a bento meal.

phone: +7 831 433-69-34

address: 46 Bolshaya Pokrovskaya Str.

Excellent Italian restaurant situated at Pokrovskaya Street. Good atmosphere, great food and reasonable price, but very often packed. On weekdays during lunch time till 15:00 you can get 20% discount on all menu. The Dirigible book store is also worth a visit, having several specialized sections, and in particular a section with souvenirs and literature about Nizhny. Both the cafe and the book store has a branch at 2 Kanavinskaya street near the railroad station.
Splurge
Kladovaya bashnya

phone: +7 831 439-12-68

address: The Kremlin 10 lit. A, Pantry Tower

Dishes of Russian and European cuisine

phone: +7 831 296 55 73

address: 10/16, Alexeevskaya Str.

At LP Fashion Gallery near with Bolshaya Pokrovskaya Str. Here you can get a typical Italian food. Reasonable priced () set lunch served at noon.
Drink
Sleep
All hotels and hostels offer free Wi-Fi and many have computer terminals. Almost all accept credit cards. Hotels and hostels will usually provide a visa invitation and registration for an additional fee.
Budget
Hostels
Gorky Hostel

phone: +7 831 439-09-00

address: Bolshaya Pokrovskaya St, 5/6

Colorful décor.

phone: +7 800 500-25-62

address: Bolshaya Pokrovskaya St, 4

phone: +7 800 700-02-05

address: Kozhevennyy per., 3
Mid-range
Connect
Phone
For information on purchasing a SIM card in Russia, see
Russia#Connect
.
Note that Nizhny Novgorod is in the
Volga region
zone, and SIM cards purchased elsewhere, such as in
Moscow
or
Saint Petersburg
, may be subject to roaming charges.
There are payphones in the streets; however, you can only buy phone-cards in the post offices and in a few newspaper kiosks.
Internet
Free WiFi is available in most hotels, shopping malls, university buildings, restaurants and cafes, the airport as well as several metro stations. There is also free public WiFi on B. Pokrovskaya street.
Cope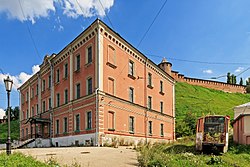 Consulates
phone: +7 831 4-185-100

address: 29 Piskunova st

phone: +7 831 419-8593, +7 910 382-6875, +7 905 665-5078

address: Minina street, 18

Italy

phone: +7 831 215-2215

address: 46 Ulyanova st

North Korea

phone: +7 831 430-1687

address: Nizhne-Volzhskaya naberezhnaya, 17/2
Visa centers
Bulgaria, Denmark, Greece, Iceland, Malta, and Spain

address: Osharskaya street, 16
Go next
Gorodets - a town founded in the 12th century, famous for its Museum of samovars.
Makaryev Monastery is 100 km southeast of Nizhny Novgorod. It was constructed between 1651 and 1667. Approximately 20 nuns live there. It is the last resting place of its legendary founder, Venerable Macarius, of the Miracle of the Moose fame.

Zeleny GorodA part of Nizhny Novgorod, this forested area is south from Upper part of the city, on the slope down to Kudma river and contains many resort facilities. It is a good place to go hiking in summer and to swim in the small Kudma river. There is also an artificial waterfall (concrete dam) in the upper part of Kudma, which is a good hiking destination if you are already in Zeleny Gorod (although definitely not worth a separate trip from Nizhny). You can also attempt bathing there, although be aware of lots of dangerous objects in the stream.

BorA town on the opposite bank of Volga river. There is nothing particularly interesting in the town, but a trip across Volga to Bor and back is worth doing for its scenery.