Northumberland
Northumberland
is a rural county in
North East England
, on the
England
-
Scotland
border. It contains one of the most picturesque and untouched stretches of coastline in the United Kingdom and contains rolling hills and low mountains in the sparsely populated interior.
Northumberland feels a world away from London and the south of England in terms of its ruggedness, sense of remoteness, its culture and its geography. It has a distinctly more Scottish feel to it than English and at its closest point is a mere one hour from the Scottish capital.
Towns and villages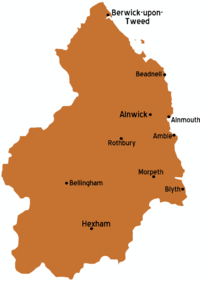 Along the Coast
Most of Northumberland's settlements are in the lowland strip between the coast and the A1, with the main railway line snaking through. The southern parts are the least interesting, with former mining and industrial small towns that are nowadays in the commuter belt for Newcastle. Here find
Cramlington
, Blyth, Bedlington and Ashington. is where you eventually escape the burbs and come into open country.
Amble
is a small fishing village. A little further north are the linked small towns of , with a notable castle and charming old town centre, and
Alnmouth
nearby on the coast.
The best of the coast is the rugged, scenic stretch north through Beadnell and . From here, boat trips run to the , busy with seabirds and curious seals. or "Holy Island" is reached by a road at low tide - check tide times before venturing out. Finally you reach
Berwick-upon-Tweed
, the most northerly town in England, with stout defensive walls. Another two miles north and the route crosses into Scotland, over the moors to Dunbar and Edinburgh.
Tyne Valley & Hadrian's Wall
A lowland route, nowadays the A69, breaks through the hills to link Newcastle with Carlisle in Cumbria. Industry and suburbs sprawl west as far as , then the view improves.
Corbridge
and are pleasant historic towns along the route, and are close to the best sections of
Hadrian's Wall
, the Roman defence that kept out the marauding Picts. Haltwhistle is the last village before crossing into Cumbria. Just south, in the North Pennines AONB, the upper Tyne valley is very scenic.
The Border Hills
The to the north form a natural border between England and Scotland, with the Pennine Way traversing their crest. Much of them are part of and Kielder Forest Park.
Two main routes access the area. The lowland route A697 runs north from Morpeth past Rothbury, Wooller and the scenic villages of
Ford and Etal
to reach the border at . Here the road crosses the Tweed to Coldstream in Scotland, running on to Edinburgh. The upland route A696 / A68 runs past Newcastle Airport towards Otterburn;
Bellingham
is a good base for Kielder Forest. This route crosses the border at Carter Bar, descending to Jedburgh and Edinburgh.
Understand

England's most northern and sparsely populated county, Northumberland is a remnant of the ancient kingdom of Northumbria which once covered an area stretching from Edinburgh to Sheffield and the river Mersey.
The area has a very long and bloody history due to its proximity to Scotland and has fallen into Scottish hands at least once as the border has shifted over time. The more populous towns are either market towns (Amble, Hexham, Morpeth) and others are former mining communities (Prudhoe, Ashington).
Northumberland has its own dialect, different from the famous Geordie of Newcastle.
The Northumbrian Pipes are a local folk instrument, similar to the Scottish bagpipe.
Ethnically Northumberland is overwhelmingly white and British. While racism against ethnic minorities is not a recorded issue, do be aware that it is very unusual to see a person of a black or Asian background in the county and that people might take a second glance.

Get in
By plane
(
NCL
) is the nearest airport to Northumberland.

By train

The principle London-Edinburgh rail line runs through the county and Berwick-upon-Tweed, to the north, is served frequently by both LNER and Cross Country Trains. These operators also serve Morpeth and Alnmouth (for Alnwick), though less frequently.
In most cases it is generally more convenient to connect with the local rail network at Newcastle Central, which is served by regular trains to Edinburgh, London, the Midlands and South West. From Newcastle, Northern Rail operate frequent services along the Tyne Valley Line towards Hexham and Carlisle, as well as serving local stations along the East Coast Main Line towards Morpeth, Alnmouth and Chathill.

Get around
You generally need a car to get about in Northumberland as it is a rural county. There are some regular bus services on the main routes mainly served by Arriva Northumbria. Bus timetables can be found at Nexus'
website
for services to and from Tyne and Wear and
traveline
can help you with other routes.
There is a cross-county train service from
Newcastle upon Tyne
to
Carlisle
, stopping at towns in the
Tyne Valley
, including
Prudhoe
,
Corbridge
,
Hexham
and
Haltwhistle
.
Trains from Newcastle stop at
Morpeth
, Northumberland's county-town.
See
Hadrian's Wall is a World Heritage Site stretching across 80 miles of Northumberland on the Scottish border. Housesteads, Vindolanda, Chesters and Corstopitum are all worth visiting.
Norham Castle (located in the village of Norham, about 8 miles from Berwick) is a romantically ruined castle, immortalised by Turner and Sir Walter Scott (in the poem 'Marmion') alike.
Bamburgh Castle - a large castle nestled between the ocean and the affluent and picturesque village of Bamburgh.
Northumberland has many castles, some of which have a history of hauntings, such as Chillingham Castle. Other castles, like Warkworth Castle, are preserved ruins and visitors can wander through the stone rooms, imagining bustling castle life.
Drink
Newcastle Brown Ale from the local city of Newcastle upon Tyne

Stay safe
As is the case for most of Britain's rural counties, Northumberland is an extremely safe county with very low crime levels. The main problems will be in the towns of Morpeth, Alnwick and Berwick on Friday and Saturday nights when alcohol fuelled youths spill into the town's streets.
Keep your wits about you as anywhere, but you really would be the most unlucky tourist if a crime was to be committed against you.

Go next