Odessa
Odessa
or Odesa (
Ukrainian
: Одеса;
Russian
: Одесса) is a city and seaport on the Black Sea coast of
Ukraine
. Its chief attraction to visitors is the graceful old town, laid out on a grid pattern in the early 19th century, with its many churches, galleries and museums. There's also a small beach resort. Reaching
Bessarabia
, and travel between Ukraine and Moldova or Romania, will usually involve a stopover in Odessa.
Odessa incorporates two other large ports, Yuzhne to the east and Chornomorske (formerly Illichivs'k) to the south. These have nothing of visitor interest, but Chornomorske is the terminal for Black Sea ferries.
Understand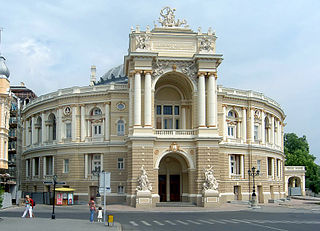 There has been human settlement here since the earliest times; remains of a Hellenistic seaport circa 6th – 3rd century BCE are being excavated. In medieval times Crimea was an independent Tatar state, and in 1240 its Khan Hacı I Giray founded the settlement of "Hacıbey". This region later came under Lithuanian control, then was part of the Ottoman Empire between 1529 and 1792.
In the 18th century, under Empress Catherine the Great, Russia expanded rapidly south and came into conflict with the Ottoman Turks. The Ottomans were defeated in the wars of 1768-1774 and 1787-1792, and Russian control was cemented by the Treaty of Iaşi or Jassy in 1792. The strategic value of this port was obvious - it had a huge productive hinterland, was ice-free, and gave access to the Black Sea and Mediterranean - and in 1794 the Empress founded the city and named it Odessa.
She had looked to her favourite, Potemkin, to develop this region, but he died in 1791 as did Catherine herself in 1796. The task fell instead to four foreigners: Jose de Ribas captured Hacıbey and convinced Catherine to develop it as a sea-port; the Duc de Richelieu was its first governor 1803-1814; the Count of Langeron as later governor made it a free port; and Franz de Vollan laid out the city grid pattern, a novelty for its day.
From 1819–1858 Odessa was a free port. It boomed economically, becoming the fourth largest city of Imperial Russia, after Moscow, Saint Petersburg and Warsaw. It sucked in labour, creativity and outcasts from elsewhere, becoming very cosmopolitan, with its architectural hotchpotch of Italianate, Renaissance, Classicist and Art Nouveau. During the Soviet period it was the USSR's leading port, with exports of grain, long-distance oil pipelines, and related industries.
These industries continued after Ukraine's independence in 1991, and the sea port has again been declared a free port and free economic zone, as defined by the World Trade Organisation. Culturally and economically however the city has suffered from the turmoil within Ukraine and conflict with Russia, and collapse in tourism. Much of it is grubby and down-at-heel, and many of its fine city blocks are in serious disrepair.
Talk

Ukrainian is the country's only official language; most people in Odessa speak it but their native language is Russian. Young people tend to know at least basic English; the more upmarket you go, the more fluent it gets. Almost every of the city's numerous colleges and universities teaches "Russian as foreign language".

Get in
By plane
Odessa International AirportThere are two flights a day to Kiev Boryspil and two to Kiev Zhuliany ; other domestic destinations will involve a change in Kiev. There are daily flights to Moscow, Vienna Airport, Warsaw and Istanbul, and several per week to Athens, Baku, Batumi, Chisinau, Riga, Tbilisi, St Petersburg and Tel Aviv Ben Gurion. Departure (from Odessa) flight service is at the Old Building (next to trolleybus stop). Arrival flights use the new terminal opened in April 2017. Facilities here include currency exchange booths, several ATMs, airline reps, a café, information booth, and toilets.
Getting to town:
Trolleybus 14 runs to the main railway station at Pryvoz, on the southern edge of the city centre (approximately min. 20 - max. 35 min, 5 грн) between 05:26 and 20:18, interval 15-17 min. (December 2018,https://www.eway.in.ua/en/cities/odesa). The trolleybus stop is to the right of the old terminal complex, behind the bus stop. Under the sign of trolley stop is placed a table showing the exact time departing from the airport.
Marshrutka # 117 leaves every 10-30 min and goes right into the city centre (40 min, 5 грн, payment to the driver while exiting the bus). Go through the main exit door and turn right, you'll see the trolley-bus wires and the minibus stop ahead (Apr 2018).
You'll also run the gauntlet of hungry taxi drivers asking silly prices. A ride downtown should not cost more than 50 грн, so keep walking firmly towards the minibuses until they match this.
By train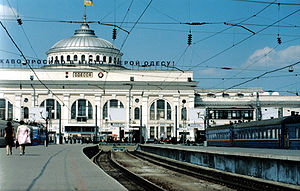 From western and central Europe the simplest route is probably across Poland to
Lviv
. From Lviv there is a direct sleeper to Odessa (12 hr), otherwise travel via Kiev (9 hr). Direct trains run between Odessa and
Minsk
(22 hr, not daily),
Moscow
(24 hr) and
Saint Petersburg
(30 hr, not daily). The train to
Chisinau
now only runs on Saturdays and Sundays, and crosses Transnistria. Trains towards Crimea, Sochi and the Caucasus are disrupted by border tensions.
Trains within Ukraine are cheap and comfortable, but slow and infrequent. From Kiev to Odessa the quickest is the Inter-city, leaving at 16:40 and taking 7 hr, cost 550 грн. The other daytime train leaves around 10:00 and takes 10 hr, cost 400 грн. There's also a sleeper leaving at 21:00, 9 hr. From Odessa to Kiev the Inter-city departs at 05:45, then there's nothing till the 15:40 train, reaching Kiev just before 02:00. The northbound sleeper departs around midnight. Other connections exist, but they are likely to involve changing trains in the small hours in the middle of nowhere.
Other destinations within Ukraine with at least daily direct service in summer include
Kharkiv
15 hr,
Lviv
12 hr,
Chernivtsi
18 hr,
Ivano-Frankivsk
17 hr,
Khmelnytskyi
8 hr, Kovel 16 hr,
Uzhhorod
19 hr,
Vinnytsya
5 hr, and
Zaporizhia
16 hr.
Trains are less frequent outside summer. For overall route planning and current timetables, the easiest website to navigate is Deutsche Bahn. To buy tickets within Ukraine, visit www.uz.gov.ua and remember to use local spelling, e.g. "Odesa" and "Kyiv". Booking online is strongly recommended as it will save hassle trying to negotiate your journey at a crowded foreign railway station. Inter-city e-tickets should be printed at home and are good to go, other sales are just a voucher which must be exchanged for a ticket before travel, at any mainline station within Ukraine.
All trains terminate at the main station, , in the Pryvoz area of town next to the bus stations and market. Ticket desks are obvious in the main hall, and any desk will exchange e-vouchers for tickets. Come at a quiet time and the place is relaxed and helpful, just watch out before queuing for the "technical break" times posted on each window. Turn up 15 minutes before the weekend express departs and it's all a bit chaotic.
If you don't care for what's on offer at the café or currency exchange, stroll across the street to the bus stations, where there's lots more. Pryvoz market is handy for stocking up for a long journey. Lots of marshrutkas and taxis outside, the centre is a 2-km walk north.
By bus
There are two main bus stations. Pryvoz, next to the railway station, is mainly for shorter trips, but long-distance services increasingly run from here. The Central Bus Station, 2 km west so it isn't central, traditionally had most of the long-distance routes.
Pryvoz Bus Station
is really stations, plural; it's a confusing jumble so you may have to hunt back and forth for your departure point. The original core of it is on Vul Vodoprovodna, 300 m west of the train station and adjacent to the market. Small buses and marshrutkas head to regional destinations such as Mykolayiv and Vylkovo every hour or two. They also run to
Moldova
, some directly through Tiraspol in
Transnistria
but most via Bessarabia and the Palanca border post. Odessa to
Chişinău
takes about 6 hr depending on border hold-ups and costs 350 грн each way.
This original station is too cramped for big modern coaches, so it's extending east in a new but haphazard collection of coach stops all the way to the railway station. There's no centre to this or signage, just ask anyone who seems to be waiting with luggage. Ecolines buses run from here to Kiev (7 hr), Minsk (21 hr), Moscow (24 hr), St Petersburg (30 hr), to the Baltic States, Poland and west Europe. Find timetables at www.ecolines.net. Autolux buses also run from here to Kiev and direct to Boryspil Airport, 7 hr. Their website autolux.ua is only in Russian and Ukrainian, so you need a Cyrillic keyboard to use it.
Central Bus Station
is at 58 Vul Kolontayivskoi, 2 km further west. Traditionally this was the departure point for long-distance coaches, but timetables indicate these nowadays mostly depart from Pryvoz, as coach stands there have expanded. Check your ticket carefully for where you ought to be.
Also by road
The main highways are mostly in good condition and well-signposted, with adequate filling stations. With your own car, if you see traffic braking ahead of you, slow down, it's either a speed bump, pothole or police trap. You can cycle - the going is level - but it won't be fun, and unsafe at night.
Hitchhiking is also an option, see page on Ukraine: getting around.
By boat
There are ferries several times a week to Batumi and Poti in Georgia (48 hr), and to Istanbul Haydarpasa in Turkey (27 hr). For schedules, prices and tickets see www.ukrferry.com. The ferries run all year and take vehicles; indeed trucking is an important part of their business, as so many travellers nowadays fly. This network of ferries serves other Black Sea ports (eg Sochi, Samsun, Varna & Constanta) but usually without direct sailing to Odessa.
The ferry terminals are at Chornomorske (formerly called Illichivs'k) 20 km SW of Odessa, on the NE bank of the river. Reach them by marshrutka from central Odessa.
Get around
Walk
The north end of the central city grid is compact and parts are pedestrianised, so enjoy it on foot. Most of the main sights are here.
It's too far to walk from the centre to the beach or airport, or to the bus & railway stations if you've much luggage.
Public transport
The city public transport consists of trams, trolleybuses and marshrutkas. Trams and trolley-buses are the cheapest, they cost 3 грн, but can get very crowded - especially tram 5 to the beach. The stops don't indicate routes or schedules, so you'll just have to stand and wait hopefully. Usually there's a conductor on board who'll collect your money and issue your ticket & change; there's no system of pre-purchase or of validating the ticket, unlike Kyiv. If there's no conductor, pay the driver on exit.
Marshrutkas are the main mode of transport, as they cover a lot more ground. A ride usually costs 7 грн (Feb 2018), pay the driver when you get off. They pick up anywhere (wave your hand) and set down anywhere (holler to the driver).
Routes and times are listed on
this website
.
By car
You don't really want a car in central Odessa. But finding your way around isn't difficult because of the grid system, and the main streets are clearly signed, your main concern will be security and parking. Check ahead for options with your hotel, they may have their own. Parking is permitted except where specifically restricted. You may be approached by a guy demanding 5-10 грн - pay up cheerfully, and think of him as security rather than parking attendant.
Note the roadworks mentioned above, with congestion and diversions.
By taxi
The easiest way to get a taxi is to install one of many apps available. The easiest one for a foreigner will be Uber, but it costs 30-40% more than local-based alternatives. The best ones are: Shark Taxi, Taxi Bond. Taxi Bond has premium cars and the car will arrive faster.
Most taxis in Odessa are operated as "car-calling services". So you have to call the number and the car will come for you.
Some of the numbers for the taxi are:
Taxi "Pantera-Express" +380 (482) 342000
"Euro-Taxi" +380 (48) 777-4-555, +380 (482) 333-400
Taxi "Prometey" +380 (482) 355355
Taxi Optimalne, +380 93 332 4444 (mobile)
The phone operators might not at all speak English, so try at your own risk or ask your Ukrainian friends to call a taxi for you. The usual price for the taxi is from 50 to 100 грн, sometimes up to 120-200 грн if you travel to the outskirts of the city.
The alternative taxi option is to raise your hand on the crowded street and wait for a taxi to stop. You need to understand the majority of taxis in Odessa are not marked in any taxi colors. There is also a long-time tradition of "carpooling" for money, you raise and wave your hand on the street and any car can stop and ask you where you want to go and how much are you willing to pay. Many drivers thus can save some money on their way to work, or even earn some extra money in their free time. It is usually quite safe, although, as always, exercise caution, always negotiate the fee beforehand and remember that people may try to rip you off because you are foreigners and do not speak the local language.
See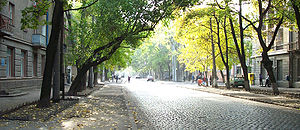 The core of Odessa, with all the main sights, is the city grid stretching from Pryvoz in the south to the Potemkin Steps in the north, and with 2-km long Vul Yekaterynynska – Catherine Street – as its spine. You'll probably arrive in
Pryvoz
as all modes of transport funnel into here. This area is grubby but sights include the Pryvoz market (next to the bus station) and the Panteleymonivska monastery (just head for the huddle of onion domes). Spare a look for the railway station even if you're not travelling by rail. There are eating places and decent accommodation nearby, handy for late-night arrivals or early departures.
Head north along any of the main streets, and for the first km you'll wonder why you bothered coming; then after Vul Zhukovskoho the prospect improves. Another couple of blocks and at last you see the grandeur wrought by all those 19th-century entrepreneurs. But much of it has been neglected since independence, so even on the finest avenues there is dereliction and decay.
For a pleasant walking circuit, start from the magnificent rebuilt
Orthodox Cathedral
on Soborna Sq, and drift north through the City Gardens into Havanna St. Bear left into Gogol St, where Gogol's own house, number 11, is yet another sad example of dereliction in an otherwise upmarket avenue. This brings you onto the pedestrianised
promenade
. It's not on the shore, but beyond here the land falls away steeply, and there are views over the docks and sea. Turn right and cross
Tyoschin Bridge
(Mother-in-law bridge), the footbridge over the valley that descends to the docks. On the other side, try to ignore the kitsch cod-Grecian pillars, but admire Vorontsov Palace (now a performance space, so look artistic yet not too weird, the babushka will probably let you in.) Continue along Primorskiy Boulevard to the statue of the Duc de Richelieu, in a toga yet, at the head of the
Potemkin Steps
. Continue to the end of the boulevard and you'll see the city hall. Turn inland and a short block brings you to the
Opera House
on Lanzheronivska St. Return to your starting point either along this street or adjacent Deribasovskaya St, which has most of the cafes and restaurants. This walk is especially charming early evening, when the fine facades still show their colours and the tumbledown bits are softened by dusk.
Houses of worship
St. Paul's Lutheran Cathedral

address: Novosels'koho 68

Built in 1824, reopened in 1897. Accommodates up to 1,200. The new cathedral promises to be a much needed centre for Odessa's Lutheran and German communities.

Central Synagogue

address: Yevreiska 25

Built 1850, rebuilt in 1996. Sights: A mikvah (a pool used for ritual purification), bimah (altar). Houses the office of Odessa Region's Chief Rabbi Shlomo Baksht. Library: offers an impressive selection of Jewish books and films, English-speaking staff.

Odessa Orthodox Cathedral

phone: +380 (48) 729-3660

address: Sobornaya ploshchad', 3

Is dedicated to the Saviour's Transfiguration and belongs to the Ukrainian Orthodox Church (Moscow Patriarchate). This is a replica of the first and foremost church in the city of Odessa. The original building was founded in 1794 by Gavril Bănulescu-Bodoni and constructed by the Italian architect, Francesco Frappoli. This is the largest of Odessa's Orthodox cathedrals and was one of the Russian Empire's grandest. The cathedral was designated the main church of New Russia in 1808 and was continuously expanded throughout the 19th century. The bell tower was built between 1825 and 1837, and the refectory connecting it to the main church several years later. The cathedral bells are controlled by an electronic device capable of playing 99 melodies. The interior was lined with polychrome marble, and the icon screen also was of marble. Several churches in the region, including the Nativity Cathedral in Chişinău, were built in conscious imitation of the Odessa church. The cathedral was the burial place of the bishops of Tauride (including Saint Innocent of Kherson) and Prince Mikhail Semyonovich Vorontsov, the famous governor of 'New Russia'. In the 1930s church was demolished by the communists and the graves were destroyed. In 1999, reconstruction began, and the reborn church was consecrated in 2003. Capacity: 12,000s. At the cathedral square there is an old monument of Mikhail Vorontsov.
Museums
Odessa's museums and galleries have staggered closing days, so you don't have the "Monday problem" common in many European cities, with everything shut. However there's not much labelling in English. If an afternoon deciphering Cyrillic labels feels like hard work, your best bet is the Museum of Western and Eastern Art.
Alexander Pushkin museum

phone: +380 482 25-1034

address: vul Pushkinska 13

Visitors to this museum will become acquainted with the adventures of Odesa's most famous short term resident: the esteemed Russian poet Alexander Pushkin. The museum displays original manuscripts from Pushkin's writings, and a copy of a page from his book Eugene Onegin. The museum is in an apartment were Pushkin lived in 1823. It was opened in June 1961.

address: Lanzheronivs'ka,4

Founded in 1883. An impressive exhibit of the Tripolye, Chernyakhovo and other ancient cultures. Ancient sarcophaguses and the rich collections of jewellery. It is one of the oldest archaeological museums in Ukraine and the post-Soviet countries which was founded in 1825. Since 1997 Odessa archaeological museum functions not only as a museum but also as institute of scientific research. The major directions of scientific research of Odessa museum are: archaeology of primitive society in Northern Black Sea region, archaeology of the Middle Ages. The museum conducts expositions, restorations and publishing activities.The museums possesses more than 160 000 exhibits: archaeological finds of The Black Sea Northern region, the largest in Ukraine collection of Ancient Egypt (sarcophagi, stone slabs with hieroglyphics and fragments of papyrus, funeral inventory); Ancient Greece and Ancient Rome exhibits. The museum is also famous by its collection of coins and medals. There are over 50 000 coins in the museum treasury: Ancient Greece, Ancient Rome, Byzantine Empire, Ancient Kievan Rus, coins of Russian Empire Romanovs' dynasty.

Bleschunov Collection

address: Polska.19

museum/apartment was the former residence of the alpinist and collector Alexander Bleschunov. Fascinating exposition of various collections of art, relics and crafts.

Filiki Etheria

address: Chervonyi prov. 20

A branch of the Regional History. These buildings originally belonged to Greeks, and in 1814 functioned as their secret meeting place

Museum of Western and Eastern Art

address: Sofiivs'ka 5A

In the former private residence of Count Pototsky, (1899). 26 halls - from ancient icons to modern art. You can see paintings by Aivazovsky and other famous artists.

Modern Art (MoMA)

phone: +380 482 34 3644

address: Sabans'kyi prov. 4A

Painters from Odessa at the turn of 20th and 21st centuries.

Nicolas Roerich House

address: Velyka Arnautska 47, room 2

Founded in 2000. Reproductions of work by the adventurer, philosopher and Nobel Prize nominated artist Nicolas R.- 5 halls, art albums and Svetoslav's portraits.

address: Grecheskaya or Hretska, (вул. Грецька), 33

The museum has another branch at 5 Catherine's Sq. — Exhibition of ancient and medieval coins, old and modern Ukrainian banknotes; antique pottery of the Northern Black Sea region and fine art of Kievan Rus'. - Coin Gallery (Монетный двор, "Monetny dvor"; literally "Monetary Court" — Exhibition of modern coins and monetary tokens of Ukraine, over 2500 coins and other relics from different historical eras: from antiquity and the Middle Ages to modern times including the period of the formation of the modern Ukrainian state. The core of the collection is a collection of ancient coins minted by various city states, and especially of the Bosporan Kingdom which existed in the Northern Black Sea Region for almost a thousand years. Among them are many unique and rare coins of great scientific interest. Besides the numismatic exhibition, the Museum collection includes many other ancient Ukrainian historical artifacts: antique ceramics and items of ancient Russian fine art. Medieval small art plastics of Kievan Rus' form the separate museum's collection reflecting the diversity of the kinds of ancient Ukrainian arts and crafts in their historical development: from pieces of ornamental and decoration dating from the Pre-Christian period of Kievan Rus (pendants, broaches, amulets, signet rings) to the antiquities of the Christian Epoch (icons, crosses, cross - amulets). Metal breast plates with the Princely heraldry of Rurik dynasty (two-prong and trident) are very rare and have a special interest for Ukrainian historians.The small but representative collection of antique pottery reveals information about the variety of utensils used by the early inhabitants of the Northern Black Sea region and the development of pottery manufacturing.

Waxworks

address: Rishel'ievs'ka 4

Consists of 26 waxy individuals.

address: Lanzheronivs'ka 2

Features a 100-year-walk through the history of Odessa in literature. As you stroll the museum's halls, silent portraits. Small modern sculptures on museum's courtyard.

Maritime MuseumHouses a history of Marine Fleet.

Odessa Museum of Regional History

address: Havanna 4

In a 19th century mansion. Exhibition about Odesa region from 14th century to the present. Sa-Th 10:00-16:30. Established in 1956, describes the history of region from the Dark Ages (from the 12th century) to present days. Has a few exhibitions and present halls. In the center of the city, in the former palace of Novikov.

Odessa Art MuseumOnce a palace of Prince Pototskiy, features a huge collection of Russian artist paintings.

Museum of the Cinema

address: 33 French Boulevard

With more than 10,000 works on display, the museum is a testimony to the history and cinematic activity in Odessa. Here you can find historic materials, from the invention of cinema, to the postmodern, digital and avant-garde.
Do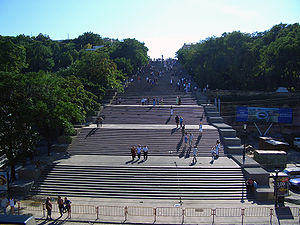 Walk the old town. As well as the circuit described above under "see", the attractive streets also branch west, along Sofia and Pastura Streets.

Opera HouseGo to the opera house for US$20 or less. You can get very good tickets already for 100 грн, don't buy the cheaper ones because of restricted visibility. Odessa opera was called "the best opera in the world" by Ferdinand Fellner, and it's definitely a must-see in Odessa.

address: Bunina street

Go for a concert to the beautiful historic building of National Philharmonic Theatre. The tickets from 80 грн.

Dolphinarium NemoMainly a paradise for children, but also for adults if you are a fan of these majestic marine mammals. The tickets for the show with dolphins cost 100 грн, and you can buy also the swimming with dolphins or dolphinotherapy (more costly). It is on the beach Lanzheron, take the tram No. 28, or trolleybus No. 2, and then walk to the right.

Museum of Partisan Glory and Catacombs

phone: +380 48 725 2874

Odessa's underground is perforated with one of the biggest catacomb systems of the world. More than 2000 km underground tunnels in several layers cover all the area below and around the city. In former times it saved as a quarry, so the limestone taken from the catacombs was used to build up the historical buildings on the surface. Later it became a hideout for dubious activities and for partisans in Second World War. The museum can only be visited with guided tours.
Odessa beaches
Most of the city waterfront, except the port territory, forms a beach zone. All of the beaches are located at the eastern edge of Odessa. The most popular beaches are the following: listed according to their distance from city center.
Lanzheron - is closest to the city centre, located just underneath the Shevchenko Park. Reachable by tram #28, as well as by trolleybuses #2 or #3, then a short walk is needed. The dolphinarium is located nearby.
Otrada - is slightly farther from the city centre than Lanzheron. It is the closest to the centre among the beaches located under the French Parkway (Francuzskij bul'var). Otrada is easily reachable by tram #5, 3 stops from the railway station and 5 stops from the intersection with Preobrazhenskaya Street, which is the major transportation artery of the city centre.
Dolphin - is in 3 more tram stops past Otrada.
Chkalovski - two nudist beaches located between Dolphin and Arcadia, near the Chkalovski sanatorium. The smaller first one is wildish with strange bathers and lots of rocks. The second, 500 m further on, is bigger and frequented by many families with a nicer atmosphere. Little sand, mainly pebbles.
Malibu - is a beach at Luzanovka neighborhood, easily reachable by numerous bus routes which link the city centre with the Poselok Kotovskogo section of Odessa. Malibu is the cleanest beach on the sea shore with excellent service similar to ones in Arcadia.

ArcadiaArcadia the most popular beach and tourist place with lots of restaurants, bars, discos, night clubs and other entertainment. It's home of the upscale nightlife in summer. Even though it is farther then Otrada and Dolphin, it is easily reachable from centre. Arcadia is the last stop of tram #5, as well as of trolleybuses #5 and #13. Both tram and trolleybus #5 go towards the city centre passing the railway station. Trolleybus #5 goes into the heart of Odessa.
Buy

Go to the Privoz market by the station - one of the biggest in the ex-USSR. Lots of cheap vegetables and fruits. Try the pakhlava - the Ukrainian pronunciation of baklava.
Be aware, if you're going to buy anything but food in the market (and sometimes with food also), that Odessa is significantly harder in bargaining than anywhere in Russia or Ukraine. Prices several times the regular price without any signs of trying to budge is often, moreover, unlike most bargaining places sellers would often be unfriendly. The tactic extends to anyone not from Odessa, so having a Russian-speaking guide from elsewhere may not help.

Eat
There are lots of cafes and restaurants in Odessa, with more and more opening each year. The prices are quite affordable, if you come from the west. Expect to pay 70-100 грн for a lunch in a cafe and around 200 грн in a restaurant. Some restaurants can be of course very expensive, so take a look at the menu before ordering.
In the warmer times of the year you can find lots of outdoor sitting areas in the cafes, with blankets usually available to keep you warm in the evening.
The 'fast food' on the street is tasty and if you don't speak Russian or read Cyrillic is much more accessible as you can just point at what it is you want. Menus are usually only in Russian, but you may try to ask for an English menu for you (ask in Russian for "menu po angliyski"). If they don't have one, either have an idea of what you want before you sit down or be prepared to randomly pick something from the menu. It's possible that waitresses can also speak basic English, try to ask for recommendations.
Food from street vendors, especially at the open air markets, should be approached with the same caution as you would display anywhere. It can be fantastic, or not. There are many supermarkets in Odessa that have high quality foods that you can buy as an alternative. There are several McDonald's restaurants in the city (str. Deribasovskaya 23, Privokzalnaya square 1a).
Generally, if you're looking for a place to eat, try to pick one in the city center that looks nice but not too expensive. There are lots of places for what could be called "middle class" with enjoyable atmosphere and good food, but random picking can of course lead to bad food and bad service.
Avoid eating Oriental or Indian in Odessa. They mostly don't have good cooks, the food you get is not authentic and priced heavily.
Drink
The beer served in the south of Ukraine is outstanding and goes excellently with the hearty food. In the words of one not so impartial citizen of Central Europe who visited the country, 'Hey, this is as good as Czech beer!' A beer in a restaurant will usually cost around US$2-3 for local beers and US$4-6 for imported brands. There are several breweries in the area nearby Odessa, but they are usually not very popular in the restaurants. However, there is a small restaurant-brewery right in the "City Garden" near Deribasovskya, their beer is rather good and they have an English menu. Just look for a sign that says
Hausbrauerei
(German for Home Brewery) and tell them you just want to have a drink at the bar unless you want to have dinner there of course.
Long-lasting traditions of wine production in neighbouring Moldova and Crimea make Odessa an excellent place for wine lovers. Must taste: Negro de Purcari, Pino and famous sweet Kagor from Moldova, Massandra Portwine and Muscat from Crimea.
In the big supermarkets and in shops with alcoholic drink specialization you can find a full assortment of alcoholic drinks from beer to absinthe and from local brands to world famous brands.
In non-alcoholic drinks here is a large quantity of various brands (foreign: Coca-Cola, Pepsi, Fanta, Sprite, BonAqua etc.; national: Obolon', Bon-Boisson, Prem'era, Kuyal'nik, etc.; local: Kristall, Green Star, Dana, etc.).
The nightlife of Odessa in summer is concentrated in the 'Arcadia' district, some 8 km away from the city center. In Odessa you have to pay to enter a club, the rates are around 70-80 грн as of June 2011, but can be higher in particular clubs. A taxi to Arkadia should cost 40-50 грн; beware of the taxi drivers who are waiting for you when you leave Arkadia at night, their tariffs are super-high and they can be rude and intimidating. Call a taxi or walk 500 meters further where you can negotiate a much lower price. To get from Arkadia at night to the central part of the city would be 40-60 грн, to Tairovo or Cheremushki - 70 грн.
Sleep
Accommodation is plentiful in Odessa and ranges from renting a small room from a local resident to registered hostels, to the more expensive hotels. But "expensive" is a relative term - with online booking and avoiding peak periods, you can enjoy top accommodation here for less than you'd pay for a chain hotel in the English Midlands.
Budget
If you enter by train you will be immediately approached by one of the many locals in an attempt to get you to rent a room from them. This may end up being a small not so well constructed (but basically clean) one room structure located in their garden. It may also not come with a shower with running water, instead consisting of a small outdoor cabinet with a tank located above it that your host will fill with hot water upon request. Additionally the local accommodation will most likely have a squat toilet. For those uncomfortable with using a squat toilet the facilities at the McDonald's near the train station make for a good substitute. Note that nobody speaks English or German (even the most basic talk). This makes the negotiations very difficult! In July/August most budget hotels are fully booked. The total price for your garden residency will usually not exceed US$10 and in the summer it is more than sufficient. The hostels in the city can be booked online or try your luck and just drop in.
Mid-range
phone: +380 482 300-911

address: 59, Rishelievskaya str.

«Black Sea» Panteleymonovskaya

phone: +380 482 365-411

address: 25, Panteleymonovskaya str.

handy for late-night arrival at Pryvoz

phone: +380 48 729-8655

address: 1A, Vice-Admiral Azarov str.

phone: +380 48 728-8863

address: 31, Kanatnaya str.

St. Paul Church House

phone: +380 48-777-32-64

address: Novoselskogo, 68

A house operated by the German Lutheran Church in Odessa. They rent nice rooms to travelers, when they are not occupied by visitors of the church.

phone: +380 8-0482-37-5201, +380 8-067-489-0852

address: ул.Преображенская 34

Historic hotel at a very central location.
Splurge
Stay safe

Apart from being known as touristic city near seaside, Odessa is also known as a city that was home to a school of pickpockets. Neverthless, there are still 'szahrayka' (groups of criminals) in work. They work in groups of two or more, mostly standing close together in crowded places (tram 5 is a quite popular place). Usually, one of them distracts victim while the other ones steal his/her valuables. Stay alert, don't get confused and hold tight your wallet, phone and passport.
If you have lost anything, report and restrict as fast as possible everything, that has been stolen. If this is ID and bank cards, you need to lock a card first and than restrict ID with your banks. If there was also phone, lock in that order: card, phone, ID. If you had automatic fill-up of sections, change the passwords for your e-mails and other sites. Then, find your embassy, go there and fill the form for stolen ID or passport. You can ask to issue temporary passport there as well.
Always carry your passport (or a good colour photocopy) with you. The police in Odessa, as in all of Ukraine, are corrupt and constantly on the look out for tourists to harass with the aim of fining them for breaking some imagined rule or law. Use common sense and caution around rowdy groups and drunks in city, unless you speak good Russian.
Be very careful in the Arkadia district at night, as it might be not safe in the darker areas. Try to be with someone who knows the clubs and the places and speaks Russian.
Male travelers should be aware of clip-joint scams, usually being approached by one or two female suggesting going to Palladium night club, which has been known to extort foreign men using violence over inflated price alcohol or that were or never ordered in the first instance. Local police are paid off on this and there will be no help if you are to be cornered in such clubs.
Women on Tinder and Badoo (Ukrainian popular) are often semi-professional prostitutes who, even when not working for clip joints, still earn commission by luring foreigners into buying drinks at legitimate cafe establishments. Always be on high alert and do not go along to their suggested place.
There are also shell game scams on the main pedestrian Derybasivska street (вулиця Дерибасівська).
By the City Park, Potemkin Stairs and Opera House avoid the pigeon men. They will either have on their arms or a nearby pole multiple pigeons and try and encourage you to have your photo taken with them for an ever escalating fee.

Go next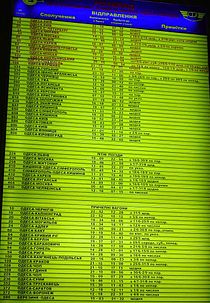 The other must-see destinations within Ukraine are
Kyiv
and
Lviv
, both about 9 hr by train, see "Get around" for options. In principle you could do either (and Odessa itself) as a day trip, taking the overnight sleeper, seeing the place, then travelling on by the next night's sleeper. But all these centres deserve longer.
For
Moldova
, take a marshrutka from Pryvoz bus station as described earlier, say 6 hr. Mostly these run via the Palanca border post to avoid crossing
Transnistria
. However in summer 2017 this area is calm, and traffic is passing freely on the direct road Odessa-Tiraspol-Bender-Chişinău.
For
Romania
the simplest route is to Chişinău, then continue by bus or train to Bucharest. An alternative, especially if you want to explore the Danube delta, is to take a bus or marshrutka to Reni. This is about 5 km from the Moldovan border at Giurgiuleşti - if you're lucky the bus-driver might continue to the border for a few more hryvnia. Walk across the border into Moldova, get your passport stamped, then walk or hitch 2 km through Moldova to the border with Romania. Galati, the first town in Romania, is another 8 km.
Crimea was a popular next destination, but has been under Russian control since its seizure and annexation in 2014. Public transport is suspended and travel warnings have been issued by most Western nations.