Orlando
Orlando
deserves its reputation as the theme park capital of the world. The city teems with an energetic spirit that almost never slows, and with an estimated 52 million visitors a year, how could it? Of course, many of those tourists are coming for the two pillars that gift the city its reputation:
Walt Disney World
and
Universal Orlando
. But Orlando holds a lot to offer besides those two amusement meccas. Of course, the International Drive area near Universal contains a multitude of independent attractions and smaller theme parks as well as hotels and restaurants galore. Beyond that, however, lies much to be explored. Expansive areas of untouched wilderness, world-class museums and theaters, and unique dining and nightlife in downtown are a few of the things that await the traveller who ventures outside of the constructed worlds of the theme parks.
Situated in
Orange County
at the center of the state of
Florida
, Orlando is about an hour from each coast. Its attractions area extends into nearby places such as Lake Buena Vista and other unincorporated areas, so some of the attractions listed here are out of town.
Understand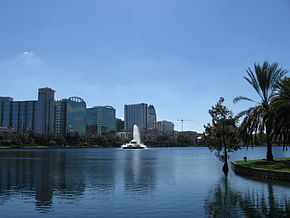 The Orlando area contains some of the world's largest and most famous theme park resorts. However, only one,
Universal Orlando
, is within the city limits.
Walt Disney World
and SeaWorld are in the immediate area, as are many of the more minor tourist attractions, and as Orlando is most associated with these popular attractions, you will find details and descriptions of them below.
History
Up until the Civil War, Orange County was widely considered a rural backwater. However, a Reconstruction-era boom in the area's population and the simultaneous growth of the citrus industry led to the establishment of the city of Orlando in 1885. Ten years later, the "Great Freeze" destroyed much of the citrus crop, forcing farmers to sell and the industry to shift southward.
Around the turn of the 19th century, Orlando became a somewhat popular resort city, and its downtown population grew during the Florida Land Boom of the 1920s. During World War II, the United States Air Force positioned a base in the city, and the military would go on to become Orlando's major industry through the 1950s and 1960s.
In 1965, Walt Disney went on television to announce his plans for "The Florida Project", possibly the most important moment in the city of Orlando's history.
Walt Disney World
opened in 1971 with one theme park – the
Magic Kingdom
– and the associated development and population explosion rocketed the city into what it is today. Over the subsequent years, tourism has further entrenched itself as the center of Orlando's economy. SeaWorld Orlando opened in 1973, and
Epcot
, the second Disney theme park, came in 1982.
Disney's Hollywood Studios
came in 1989, and Universal Studios Florida a year later. The
Universal Orlando
resort was born with the opening of the Islands of Adventure theme park in 1999, just a year after Disney's fourth park,
Animal Kingdom
, opened. Of course, with all of these parks came countless hotels, restaurants, and other tourist attractions spread across the city.
Talk
English is the primary language spoken in Orlando, but
Spanish
is spoken by a portion of the population as well. Due to the high number of international travelers coming to the city, nearly all of the theme parks and resorts, and many of the hotels and restaurants provide menus, guide maps, and other information in a variety of languages ranging from English and Spanish to
French
,
Chinese
, and
Portuguese
. Many attractions also employ bilingual or multilingual staff.
Orientation
Orlando sits nearly in the center of the state, about an hour's drive from both the Atlantic and Gulf coasts. North of downtown is the city of
Winter Haven
, with suburbs to the east and west. The entirety of the attractions area is southeast of the city center, with the airport nearby.
Climate
Many say
Central Florida
has two seasons: hot and hotter. Orlando has temperate winters affected by the occasional cold front; hot summers with daily thunderstorms; and warm, balmy springs and autumns.
Spring in Orlando has highs in the 80s (27°C) in March & April transitioning to around 90°F (32°C) in May and the low to mid-90s in June. Spring is the driest time of year, and in the past decade some spring months have seen less than a half-inch of rain. This is the time of year in which many small wildfires appear around the region, but this should not affect anyone who stays in the urban areas. March and April are great times to visit with dry days, clear skies, and warm temperatures with no cold fronts. In comparison, late May and early June are arguably the worst time to visit, filled with hot, humid, dry days.
Florida Cold & Snow
While most think of Florida as a year-round paradise, there are at least ten winter mornings each year when lows fall to near freezing. However, even on the coldest of mornings, highs reach into the 50s and 60s. Every 3-4 years, snow flurries will fall somewhere in the region. However, only once since records began in 1948 has any measurable snow fallen in the city (0.2" in/0.5 cm in Jan 1977). So if you visit between November and March, be safe and bring a jacket!
Summer brings daily thunderstorms starting in June. Highs from mid-June to mid-September are in the mid 90s, with 90°F (32°C) often being reached by 10 or 11AM, and lows in the 70s (23°C). Due to Orlando's proximity to two coasts, thunderstorms form everyday in the summer from the humid ocean breezes that cross over land and heat up. Sometimes violent thunderstorms occur, see the "Stay Safe" section. After passing, they will often drop temperatures into the low 80s (28°C), a welcome relief from the hot temperatures earlier in the day.
Autumn varies much more from year-to-year than spring. The daily thunderstorms taper off in September, leaving highs in the mid to upper 80s (29°C) until mid-October. The first cold front of the season will usually pass by late October, plunging highs into the 70s (24°C) and lows into the 50s (12°C) and upper 40s (10°C). The cooling trend continues into November and December, with highs falling into the 70s (24°C) by late December and lows into the 50s (12°C). These temperatures can be affected by the occasional cold front, which can plunge highs into the 60s (18°C) and 50s (12°C) and lows into the 40s (7°C) and as low as freezing (32°F/0°C) by mid-December.
Winter is much the same as November and December. Highs are in the 70s (24°C), lows in the 50s (12°C), affected every week or two by cold fronts. With those fronts, highs can drop into the 50s (12°C) and lows into the 30s (2°C). Sub-freezing mornings typically occur two or three times a year.
Most tourists visit Orlando for summer vacations between June and August, or for spring breaks in March and April. Ironically, the less busy times for tourism correspond to the best weather in the Orlando area. Visiting when the weather isn't so hot means fewer people in the area, with emptier parks and more comfortable weather.
Get in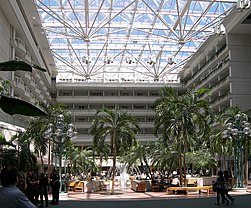 By plane
Orlando International Airport
Orlando International Airport
(
MCO
). The city's primary airport, and the second busiest airport in the state. It's southeast of downtown, close to the attractions area, and is a domestic destination for Frontier Airlines, JetBlue Airways & Southwest Airlines. Flights are also also offered from many international destinations throughout North America, South America and Europe.
Orlando International has two key components: landside and airside. There is a central landside terminal (one building divided into sides "A" and "B"), containing the airline counters, baggage claim, rental car agencies, and a hotel. It's connected by elevated trams to four other terminals, known as Airside 1-4, where the boarding gates are. There are plenty of shops and restaurants in both the central terminal and the four airsides. Security lines can become extremely long (1 hr) during the summer tourist season and near holidays. Combined with long check-in lines, it is advisable to arrive 2-3 hours before your scheduled departure.
Orlando is the "rental car capital of the world" and, as can be expected, there are many car rental agencies at the airport offering a large number and wide range of vehicles for rental. There are also many off-site car rental agencies which provide free shuttles to their location and may offer lower prices (See OIA website.)
Public transportation in the Orlando area is provided by the Lynx (+1 407-841-5969) bus system. Lynx buses can be found at Ground Transportation (Level 1) of the landside terminal's "A" side, in Commercial Lane spaces A38-A41. Fares are $2/ride with free transfers within 90 minutes. Day passes are $4.50 and a 7-day pass costs $16. Discounted fares for youth and the elderly require riders to present a Lynx-issued ID, available only by applying at the Central Station Terminal with a 5-7 day turnaround and therefore not viable for short-term visitors. Routes from the airport can get you to downtown, International Drive, Walt Disney World, and nearby Apopka.
Almost every mid- to high-priced hotel in the city offers airport transfers. Additionally, there are several shuttle services options that run from the airport to various points, including Kissimmee, the theme parks, the University of Central Florida, and the cruise port at Cape Canaveral. Approximate rates for shuttle vans range from $18-26 depending on your destination (see OIA website for details on local transport). You may wish to contact your hotel to inquire about discounts on certain shuttles or possible free airport transfers. Disney and Universal also offer free shuttles to their on-site resorts.
Taxi cabs/vans may carry up to 9 passengers with luggage and may be found at Ground Transportation (Level 1) of the "A" and "B" sides of the landside terminal. Rates are determined by a taximeter, regardless of the number of passengers, and flat fares are prohibited.

Orlando-Sanford International Airport
Orlando-Sanford International Airport (SFB). A secondary airport which serves the Orlando, located just to the northeast in Sanford. The airport is a hub for the small carrier Allegiant Air, which flies to smaller cities and secondary airports across the Eastern U.S. & Canada. It also has strong ties to European charter and holiday airlines. Service between Orlando-Sanford International and Europe includes: Easyjet (Manchester; seasonally to Belfast-International, Glasgow-International, & London-Gatwick); Thomson Airways (Birmingham, London-Gatwick, Manchester; seasonally to Bristol, East Midlands, Edinburgh, Glasgow, & Newcastle upon Tyne); Arkefly (Amsterdam); and Icelandair (Reykjavik, seasonal). EasyJet and Thomson flights can only be booked round-trip, originating in Europe; passengers cannot book outbound flights from Orlando-Sanford on these airlines.
Rental car agencies located on-site are:

Advantage

phone: +1 407 585-4445

;

Alamo

phone: +1 407 585-3500

;

Avis

phone: +1 407 585-4420

;

Budget

phone: +1 407 585-4427

;

Dollar

phone: +1 407 324-1314

;

Enterprise

phone: +1 407 585-4400

;

Hertz

phone: +1 407 585-4410

;

National

phone: +1 407 585-4405

;

Thrifty

phone: +1 407 324-1314


Taxi service is available from

phone: +1 407 422-2222

Shuttles are available from

American Coach Shuttle

phone: +1 407 322-1988

and

phone: +1 407 418-0513



Further airports
Other regional airports within an hour and a half drive include Daytona Beach International Airport (DAB; ; served by Delta to Atlanta and American to Charlotte) and Melbourne International Airport (MLB; ; served by Delta to Atlanta, American to Charlotte, & Baer Air to Marsh Harbour, Bahamas). In addition, Orlando area visitors who plan on visiting the Gulf Coast may consider flying into Tampa International Airport (TPA; ), about 80 mi (130 km) west of Orlando, or just over an hour's drive, as it is less crowded and a bit easier to access by car.
If you plan on visiting more than just Orlando and plan on taking international flights, you may want to consider flying in to Miami International Airport, a 200 mi (320 km), or 2-3 hour drive south, which offers more international flights and is the largest U.S. gateway for flights from South and Central America and the Caribbean.

General aviation

Orlando Executive Airport and Kissimmee Airport are other options to consider if you are flying in for the theme parks. Orlando Executive and Kissimmee exclusively serves general aviation and some air taxi. Orlando-Sanford International serves also general aviation alongside its commercial use.
Orlando Executive Airport provides 24-hour service through two fixed based operators, SheltAir Aviation Services and Showalter Flying Services. Air taxi and air charter companies such as Orlando Jet Charter fly a variety of private charter aircraft and jets, from charter luxury Gulfstreams down to economical piston twins for small groups and individuals.

By train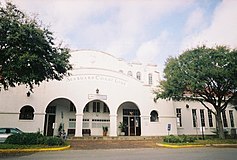 Orlando has an Amtrak station that provides service to other destinations such as Miami, but also connects to other points as far north as New York City via the Silver Star and Silver Meteor lines. Built 1926 in a Spanish Mission architectural style, is at 1400 Sligh Blvd, about one mile south of downtown.
Also, nearby Sanford is the southern terminus of the Auto Train which carries passengers and automobiles between Sanford and Lorton, Virginia, effectively serving as a car-rail link from Orlando to the Washington, D.C. metropolitan area. The train runs daily with no intermediate stops and takes 17½ hours one way.

By bus
Get around
By car
The highway is omnipresent in Orlando, and it is a very easy and convenient (if sometimes congested) way to get to your destination. Orlando is a sprawling city, with most attractions lying far to the south of downtown and spreading into adjacent cities like
Kissimmee
. The roads are all wide and easy to drive on, with all major attractions well-signed. However,
traffic jams
around downtown are common during the morning and afternoon rush hours, and around the tourist areas when the theme parks close up each night. Orlando ranks 8th in the nation in terms of traffic congestion, and there are numerous ongoing construction projects on area highways. Traffic information is available from electronic signs over roadways, most local radio stations, and by calling 511 (a free, automated service which provides current traffic info).
As with most urban areas in the U.S., there are plenty of drivers who prefer to speed and drive aggressively. The Orlando area receives over 50 million visitors each year, many who drive while in town with little knowledge of the roads, while also home to 2 million permanent residents. The combination of these two types of drivers can make Orlando's roads a bit hectic at times. Speed limits in the Orlando area are higher than some parts of the U.S., around 45-50 mph (~80 km/h) on major roads. The speed limit on highways like Interstate 4 and the toll roads is 65 mph (~110 km/h), with urban sections closer to downtown posted at 55 mph (~90 km/h). Drivers in the left lane tend to drive 5-15 mph faster than the speed limit. While it is the law to keep right except to pass, this is not strictly enforced.
The main highway through Orlando, and the only Interstate serving it, is
Interstate 4
(commonly called "I-4") which runs diagonally from northeast to southwest through the Orlando area. Major construction on it has widened the highway through areas south of the Beachline Expressway (SR 528), making it a commuter-friendly highway (except for traffic during rush hours and on weekend evenings). Downtown Orlando; International Drive; the Amway Center; the Mall at Millenia; Arabian Nights dinner theater; and theme parks and resorts such as
Walt Disney World
,
Universal Orlando
, SeaWorld, and the Holy Land Experience are all along or near I-4.
Every other highway in the Orlando area besides I-4 is a toll road. While the tolls are modest for short trips within Orlando, they can quickly add up on longer drives. For example, bypassing Orlando on SR 417 is $5.50 for the 55 mi (89 km) drive.
Other major highways include:
Beachline Expressway (SR 528), which runs east from I-4 (exit 72) to the Space Coast area, ending near Cocoa Beach and Cape Canaveral, home of the Kennedy Space Center.
Central Florida GreeneWay (SR 417), which starts at I-4 in Sanford and forms a partial beltway to the west of Orlando, passing both Orlando-Sanford International Airport and Orlando International Airport before ending just west of SR 192 near Disney World.
East-West Expressway (SR 408), which starts at Florida's Turnpike in the city of Ocoee west of Orlando, and travels through downtown Orlando before ending near the University of Central Florida at SR 50.
Western Beltway (S.R. 429), which starts at U.S. 41 in Apopka and takes you past the Florida's Turnpike and Disney World, ending at I-4 just west of SR 192 and Disney World, near SR 417.
In Orlando, the tourist area is centered on
International Drive
, a strip of road south of downtown that runs parallel to I-4 for about 10 miles (16 km). Many tourist-focused shops, restaurants, hotels, and attractions can be found along "I-Drive". Due to this, it is excruciatingly hard to drive on and find parking in the area on weekends, especially in the summer and from Thanksgiving to New Year's. Trips to this area are best done by bus, taxi, or rideshare app during such times.
Other major roads include: U.S. 192 in
Kissimmee
(fronted by thousands of small shops and older attractions), Orange Blossom Trail (US 17/92/441, a north-south alternative to I-4), John Young Parkway (which can be an alternative to US-441), and SR 50 (east-west route towards downtown).
A few local laws to keep in mind:
Lights on when raining. It is the law in Florida to have headlights on when it is raining.
Seatbelt use is mandatory.
Move over when passing stopped emergency vehicles. Florida has a so-called "move over" law, which compels drivers to move out of the lane closest to stopped emergency vehicles (police cars, ambulances, fire trucks). If it is not safe to do so, drivers must slow down 20 mph below the speed limit to pass parked vehicles (this is higher than any other U.S. state with such a law, where it's normally 5-15 mph below the speed limit).
By rental car
If you arrive by plane via
Orlando International Airport
and pick up a rental car there, you can go through the north exit and head to SR 528 West to get to International Drive,
Universal Orlando
, and SeaWorld. This will require $1.75 in tolls. Alternatively, you can take a direct route to Walt Disney World by going through the south exit and taking SR 417 South, following it to Exit 5, and taking SR 536 straight into Disney. This requires $2 in tolls. Toll booths along this expressway use open road tolling: see note above in box.
By bus
Orlando's public bus system is known as LYNX. Approximately 60 routes serve the metro Orlando area and cost $2 per ride (transfers included) or $4.50 for a day pass, except for the free Lymmo bus service downtown.
Lymmo Bus, 1-841-LYNX. This free service operates frequently in a circuit in downtown, from City Hall to the Centroplex and back. The Lymmo has a dedicated lane and stations with streetcar type control signals and modified buses that allow passengers to enter the bus without climbing. M-Th 6AM-10PM, F 6AM-midnight, Sa 10AM-midnight, Su 10AM-10PM.
LYNX buses of interest to visitors include Links (routes) 8, 21, 37, 38, 40, 42, 50, and 111 e.g., bus 8, 38, or 42 for International Drive, Links 21, 37, or 40 for
Universal
, Links 8, 38, 50, or 111 for SeaWorld, Link 50 for
Disney
, and Links 37, 42, or 111 for Florida Mall. Seven-day standard passes are $16. Check out
GO LYNX
to plan your trips.
By train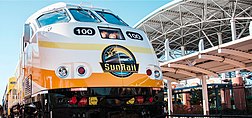 SunRail
, +1-855-RAIL-411 (7245-411) runs a limited north-south route through the center of the area, with a northern end in DeBary and an initial southern end at Poinciana. Bus connection is provided from
Orlando International Airport
to the Sand Lake Road station by Links 11, 42 and 111; and from Orlando-Sanford International Airport to the
Sanford
station by Link 46E.
Base one-way fare is $2, with an addition of $1 for each county line crossed. An all-day pass costs $9.50.
There is no service on weekends and some federal holidays.
By trolley
The
I-Ride Trolley
,
+1
407-248-9590, runs along International Drive and Universal Boulevard and primarily serves tourists in the attractions area, operating daily from 8AM to 10:30PM. While the service is advertised as a trolley, they are in fact modified buses traveling in traffic with many stops making for a slow ride. There are 85 stops along the main (Red) route on International Drive and 22 stops on the (Green) route that serves the less-congested Universal Blvd. The fare is $2 per ride for adults, $1 for children ages 3 to 9, 25¢ for seniors, and free for toddlers younger than 3; exact change is required. There's also an unlimited 1-day pass available for $5 per person. These 1-day passes, as well as multi-day passes, are not sold on the bus but are available in many locations around International Drive. However, because of the very limited route coverage of I-Ride (it goes nowhere near Disney) the better choice for many visitors is to use LYNX buses (e.g., bus 8, 42, 50, or 111).
By taxi
With all of the tourists, it's no surprise dozens of taxi companies operate in the region. It's not be a problem to find a taxi from
Orlando International Airport
(MCO) to your hotel or from the hotel to a theme park, restaurant or mall.
Mears Transportation Group
, +1 888-983-3346, dominates taxi service in Orlando and operates several different brands (Yellow Cab Company, Checker Cab Company, and City Cab Company) with identical rates and yellow color. Taxi fares and rates are determined by the taximeter (no flat rates). Beware of taxis without meters, which are widely reported to be rip-offs. Plan ahead and know your route and never hail a cab off the street. Always call, or have your hotel call, to arrange for a cab to collect you.
Rideshare services, like Uber and Lyft, can be hailed and can drop you off anywhere in Orlando (including at MCO and the theme parks). However, MCO limits pickups to the high-end services, e.g. Select XL and Uber Black. They pick at the Express Pickup Tunnel located on Level 1 directly next to the rental car counters, and they probably translate to a rate comparable to, or higher than, the regular taxi services at MCO.
See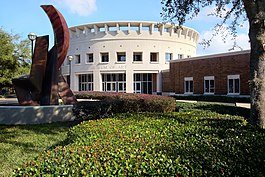 The
Go Orlando Card
is very useful to pay one price to visit many of these attractions.
Gardens and parks
phone: +1 407-823-3583

address: 4312 Scorpius St

An arboretum and botanical garden covering 80 acres (32 hectares), containing more than 600 species of plants in cultivated gardens. Its cultivated areas include a Conservatory, a bromeliad sanctuary, cycad garden, fern garden, palm collection, rose garden, swamp habitat, and a wetland plants display.

phone: +1 407-246-2620

address: 1920 N Forest Ave

Beautiful landscaped gardens and lakes set in nearly 50 acres (20 hectares) of land, featuring flora gathered from around the globe since 1936. Includes the largest rose garden in Florida and the largest camellia collection in the U.S. outside of California. The Leu House, set within the grounds and dating back to the 1880s, has tours every 30 minutes that explore its museum illustrating Florida living at the turn of the 20th century (closed due to Hurricane Irma damage). Special events throughout the year.
Museums
Charles Hosmer Morse Museum of American Art

phone: +1 407-645-5311

address: 445 N Park Ave

Houses the world's most comprehensive collection of the works of Louis Comfort Tiffany, including art glass, leaded-glass windows, lamps, jewelry, pottery, paintings, and the chapel interior he designed for the 1893 World's Columbian Exposition in Chicago. The holdings also include a major collection of American art pottery and representative collections of late-nineteenth and early-20th-century American paintings, graphics, and decorative arts.

phone: +1 407 646-2526

address: 1000 Holt Ave

At Rollins College, this gallery features items from Cornell University's renowned permanent collection.

phone: +1 407-896-4231

address: 2416 N Mills Ave

Ongoing exhibitions of American portraits and landscapes, American impressionist works, and art of the ancient Americas.

phone: +1 407-514-2000

A large hands-on learning center with hundreds of interactive exhibits for visitors of all ages. Images surround visitors on the giant screen of the Dr. Phillips CineDome. Other attractions include the Body Zone, teaching health and fitness, as well as an observatory. The center has the largest refracting telescope in Florida.

Orange County Regional History Center

phone: +1 407-836-8500

address: 65 E Central Blvd

Features exhibits and artifacts from the earliest days of the region to the modern day. Includes information on everything from the time of the Seminole Indians to the founding of the city to the Civil Rights era to the Disney period to today.

phone: +1 407-345-0501

address: 8201 International Dr

Located in a building artfully constructed to appear as if it were collapsing to one side, visitors can explore bizarre artifacts, strange collections, weird art (for example, check out the scale model of a 1907 Rolls Royce Silver Ghost automobile made entirely of matchsticks and glue), and interactive exhibits in 16 odd galleries. Seriously schlocky, yet fun.
Do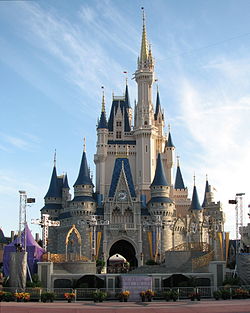 Major attractions
Orlando is one of the biggest tourist destinations on the planet because of the nearby theme parks and resorts. Close to International Drive is
Universal Orlando
, which includes two theme parks, a water park, several hotels and a shopping and dining district. Not far from Universal lies the small
Fun Spot America Orlando
, home to the only wooden coaster in the area. South on International Drive lies
SeaWorld Orlando
, a marine theme park featuring several thrilling roller coasters and a rapidly dwindling amount of animal shows. About 25 minutes southwest of downtown Orlando is
Walt Disney World
. Comprising four theme parks, two water parks, dozens of hotels, a large shopping and dining complex, four golf courses, and much more, it is the largest privately-managed tourist destination anywhere. Not far from Disney World lies the "Alligator Capital of the World":
Gatorland.
phone: +1 407-855-5496

address: 14501 S Orange Blossom Trail

An iconic, small alligator and reptile themed park that was one of the first tourist attractions in the area, predating Disney World.

phone: +1 407-363-3867

address: 5700 Fun Spot Way

Small unthemed amusement park with go-karts, thrill rides, and roller coasters, including Orlando's only wooden coaster.
Religious attractions
Basilica of Mary, Queen of the Universe

phone: +1 407-239-6600

address: 8300 Vineland Ave

This extravagant, 2,000-seat Catholic church has become a tourist attraction thanks in part to the millions of Catholics from around the world who visit it and the rest of Orlando every year. Keep in mind, though, that it is not a parish and therefore it cannot perform weddings, funerals, or baptisms.

phone: +1 407-872-2272

address: 4655 Vineland Rd

Either inspirational or kitschy, depending on your proclivities, this biblical-themed park is designed to look like ancient Jerusalem.
Sports teams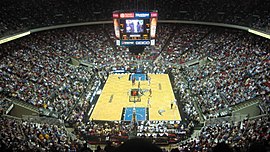 Downtown
Downtown Orlando Information Center

phone: +1 407-254-4636

address: 201 S Orange Ave, Ste 102

Helpful office with two interactive kiosks and electronic message boards with information about local downtown restaurants, shops, accommodations, special events, etc.
Despite the proximity of the theme parks and other tourist attractions, the city center has a lot to offer on its own.
Downtown Orlando
is a growing area around Orange Avenue that is packed with bars, clubs, restaurants, theaters, and concert venues. The main strip on Orange Avenue is closed down to cars most nights because of the large number of pedestrians. Just a few blocks over is Lake Eola, a picturesque park situated around a swan-filled lake with a lighted fountain that has been established as an icon of Orlando. On one side of the lake stands the historic outdoor shell theater, where tourists and locals alike can watch a production of the Nutcracker every December. Swan-shaped paddle boats are available for rental as well. Meanwhile, Wall Street, a small pedestrian-only alley off of Orange Avenue that houses several restaurants and bars, has been taking over for Church Street as the main nightlife hotspot. There are frequent concerts there, providing an area for bands to play during everything from Cinco de Mayo to the Capital One Bowl and Citrus Bowl celebration weeks.
Golf
Bay Hill Club & Lodge

phone: +1 407 876-2429

address: 9000 Bay Hill Blvd

Two courses: 18 holes, over 7,205 yards with a par of 72 (Private Non-Equity); 9 holes, over 3,409 yards with a par of 36 (Private Non-Equity).

Boggy Creek Golf Club

phone: +1 407 857-0280

address: 3650 8th St

9 holes, over 3,250 yards with a par of 36 (Public).

Country Club of Orlando

phone: +1 407 425-2319

address: 1601 Country Club Dr

18 holes, over 6,591 yards with a par of 72 (Private Equity).

Cypress Creek Country Club

phone: +1 407 351-2187

address: 5353 Vineland Rd

18 holes, over 7,014 yards with a par of 72 (Public).

Dubsdread Golf Course

phone: +1 407 246-2551

address: 549 West Par St

18 holes, over 6,055 yards with a par of 72 (Municipal).

Eaglewood Golf Club

phone: +1 407 351-5121

address: 5800 Pga Blvd

18 holes, over 2,516 yards with a par of 58 (Public).

EastWood Golf Club

phone: +1 407 281-4653

address: 13950 Golfway Blvd

18 holes, over 7,176 yards with a par of 72 (Public).

Fairways Country Club

phone: +1 407 282-7535

address: 14205 E Colonial Dr

18 holes, over 5,332 yards with a par of 70 (Public).

Faldo Golf Institute By Marriott

phone: +1 888-463-2536

address: 12001 Avenida Verde

9 holes, over 2,308 yards with a par of 32 (Public).

Ginn Reunion Golf Resort

address: 1000 Reunion Way

Reunion. 54 holes, 3 championship golf courses designed by Arnold Palmer, Jack Nicklaus and Tom Watson (Private).

Grand Cypress Resort

address: 1 N Jacaranda St

Four courses: 18 holes over 6,773 yards with a par of 72 (Public); 9 holes over 3,462 yards with a par of 36 (Public); 9 holes over 3,521 yards with a par of 36 (Public); 9 holes over 3,434 yards with a par of 36 (Public).

Grande Pines Golf Club

address: 6351 International Golf Club Rd

18 holes, over 7,012 yards with a par of 72 (Public).

Lake Nona Golf Club

phone: +1 407 851-9091

address: 9801 Lake Nona Rd

18 holes, over 7,011 yards with a par of 72 (Private Non-Equity).

Lake Orlando Golf Club

phone: +1 407 298-1230

address: 4224 Club House Rd

18 holes, over 6,803 yards with a par of 72 (Public).

MetroWest Golf Club

phone: +1 407 299-8800

address: 2100 S Hiawassee Rd

18 holes, over 7,051 yards with a par of 72 (Public).

Orange Tree Golf Club

phone: +1 407 351-2521

address: 7540 Woodgreen Dr

18 holes, over 6,968 yards with a par of 71 (Private Non-Equity).

Rio Pinar Golf & Country Club

phone: +1 407 277-5121

address: 8600 El Prado Ave

18 holes, over 6,929 yards with a par of 72 (Private Equity).

Ritz Carlton Golf Club

phone: +1 407 393-4900

address: 4048 Central Florida Pkwy

18 holes, over 7,122 yards with a par of 72 (Public).

address: 9939 Universal Blvd

18 holes, over 7,213 yards with a par of 72 (Public).

Stoneybrook Golf Club

phone: +1 407 384-6888

address: 2900 Northampton Ave

18 holes, over 6,820 yards with a par of 72 (Public).

Ventura Country Club

phone: +1 407 277-2640

address: 3333 Woodgate Blvd

18 holes, over 5,467 yards with a par of 70 (Public).
Tennis
Orlando Tennis Center

phone: +1 407 246-2161

address: 649 W Livingston St

Lake Cane Tennis Center

phone: +1 407 254-9170

address: 5108 Turkey Lake Rd

Fort Gatlin Recreation Complex

phone: +1 407 858-3290

address: 2009 Lake Margaret Dr
Venues
Orange County Convention Center

phone: +1 407 685-1061

address: 9860 Universal Blvd

With 2.1 million-square feet of exhibition space, the OCCC serves as the area's convention and meeting center.
Buy
Major malls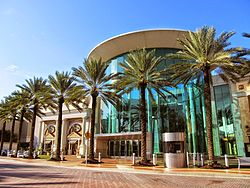 The Florida Mall
— The largest mall in Orlando, located at the crossroads of Orange Blossom Trail and Sand Lake Road, about a mile north of the Florida Turnpike/Beachline Expressway interchange. Home to over 200 shops including Macy's, American Girl, Dillard's, JC Penney, and Sears. You can go an entire day in this mall and still not finish. Popular among international tourists wishing to stock up on cheap American goods, but of better quality than found at the many stores.
Disney Springs
— Formerly Downtown Disney, the area has been transformed into an upscale mall and dining destination on Disney's property.
The Mall at Millenia
— This is Orlando's most upscale and beautiful mall. Find everything from Tiffany's to Hugo Boss and Gucci. Also home to upscale department stores like Macy's, Bloomingdales and Neiman Marcus. This also features Apple and Sony Style selling computers and related products. This mall is part of the very new and trendy Millenia area of Orlando. Conroy Road exit off of I-4 a few miles south of downtown.
Orlando Fashion Square
— E Colonial Dr and Macguire Blvd, more than a mile NE of downtown.
Outlet malls
Orlando Premium Outlets - Vineland Ave
— Home to the biggest designers such as Armani, Fendi, Burberry, Ferragamo, Lacoste, Coach. Also home to Tommy Hilfiger, Nike, Polo, Nautica and many more. Located off of 535 and visible from I-4 closest to the Disney World area. This is the best mall to pick up bargains from all the name brands and designer wear.
Orlando Premium Outlets - International Drive
(formerly Beltz/Prime Outlets) — Home to many designers such as Polo, DKNY, Nike, Reebok, and Liz Claiborne. The mall has completed a major renovation recently, resulting in a beautiful outdoor mall with a wide variety of stores.
Lake Buena Vista Factory Stores
— Select from over 300 designer and name brands such as Gap, Reebok, Carters and Eddie Bauer. Stores offer factory direct, quality merchandise at savings up to 75%. Off of SR-535 near International Dr and Disney.
Ethnic enclaves
Little Saigon
, East Colonial Dr (around N Mills). Here you will find Vietnamese grocery stores, gift shops, and a few herbal healing stores, which stock items from China, Vietnam, Hong Kong, etc. Also home to many good inexpensive Vietnamese and other East Asian restaurants.
Little India area
— This area is a bit spread out. You will find many Indian stores in the South Orange Blossom Trail area on the main streets and side roads. Starting with Lancaster Road, which houses a video store and Indian restaurant, and then traveling south you will see a few Indian shops in clusters every mile all the way to 417 where you end at the local Indian movie theater
Little Brazil
, the north end of International Dr. Several Brazilian restaurants, bakeries, stores, hairdressers, imports and exports shops. Some are hiding on the back of strip malls, some others are easy to find right up front flying the Brazilian flag.
Eat
Not a drop to drink?
Orlando's
tap water
is notorious among travelers for being unpalatable; many describe a sulfuric or metallic taste. Just as many find it perfectly drinkable, however, and it's absolutely as safe to drink as any other municipal water supply in the U.S. Either way, those who think they might be sensitive to Orlando's unique
terroir
should consider taking their refreshment from a bottle or can.
A wide variety of restaurants can be found in
CityWalk
at Universal Orlando, including Margaritaville, Hard Rock Cafe, Pastamore and NASCAR Cafe. Parking is $20 during the day and free after 6PM (except during holidays or special events, such as Halloween Horror Nights). Much choice can also be found in
Disney Springs
, including Rainforest Cafe, Planet Hollywood, and Wolfgang Puck Cafe. Texas de Brazil, is a Brazilian steakhouse in the heart of downtown, serving beef, chicken, lamb and pork in many preparations.
American
4 Rivers SmokehouseA local, family-owned BBQ resturant. 5 locations, with a 6th planned.

310 LakesideClassic American cuisine overlooking Lake Eola.

phone: +1 407 996-9939

address: 9939 Universal Blvd

A steakhouse named after Patrick Smith's rich novel featuring Florida's historical moments and landscapes. Serves a variety of cuisine and accompanying wine list. Serves Harris Ranch all Natural Prime Black Angus Beef, and menu items catering to all tastes.

phone: +1 407 678-2107

address: 6860 Aloma Avenue, Winter Park

People drive from hours away to this charming family-owned restaurant that brings the fish and flavors of Boston to Orlando. Authentic New England Clam Chowder, Cod, and steak tips. Worth the wait for a fresh meal made to order.

address: 3 locations

BBQ ribs, sandwiches and other smoked delights. Atmosphere has a home-style feel and plenty of pig companions.

address: 6300 Parc Corniche Dr

Great menu with a Key West themed dining experience.

phone: +1 407 996-9840

address: 9840 International Dr

Gourmet dining featuring regional specialties, served in a setting dedicated to the Florida Everglades. Periodic Vine & Dine wine dinners featuring gourmet cuisine and fine wines.

phone: +1 407 996-9700

address: 9700 International Dr

Gourmet menu featuring prime steaks and fresh seafood in a whimsical atmosphere featuring the world's largest collection of autographed star caricatures.

Gabriel's Subs

address: 2840 Curry Ford Rd

Excellent hot veggie subs.

Hamburger Mary'sA gay-friendly burger joint with drag shows and drinks.

K Restaurant Wine BarUpscale American dining.

Le Coq Au VinA modern twist is given to classic French foods at this restaurant.

Kres ChophouseAn upscale steak house in the downtown.

Luma on ParkAmerican cuisine with an extensive wine list.

phone: +1 407 393-4333

address: 4000 Central Florida Pkwy

Chef Norman Van Aken.

Uncle Jones BBQ

address: 1370 E Altamonte Dr, Altamonte Springs

Serving great potatoes, along with lima beans, BBQ pork, corn bread, fried okra, and Texas toast.
Brazilian
Peruvian
phone: +1 407 730-7979

address: 4106 Town Center Blvd

El Inka Grill serves Peruvian seafood and other Peruvian food. Ceviche is their signature dish.
Asian fare
Chan's Chinese Cuisine

phone: +407 896-0093

address: 1901 E. Colonial Drive

Offers authentic Chinese cuisine. Many dishes offered and they are very well presented. This restaurant is in an area with many East Asian restaurants and bakeries.

Funky Monkey Wine CompanyA restaurant featuring a variety of sushi and wine.

address: 810 W Colonial Dr

Fantastic vegetarian (mostly vegan) Chinese food.

Khasiyat Indian Cuisine

phone: +1 407 888-2147

address: 852 W Lancaster Rd

Vegetarian/Indian cuisine.

Ming CourtNightly oriental folk music performances compliment a wide selection of sushi, and dim sum.

Mr. Wong's Family Taste Chinese Cuisine

phone: +1 407-440-4609

address: 5076 W. Colonial Dr

This restaurant is in the Chinatown shopping area on west Colonial Dr. It specializes in Chinese food. The sign reads in big red letters, "Chinese Cuisine." Only when you see the menu is the whole name displayed. This is not a fancy place, but it serves excellent authentic Chinese food. The diner is given chopsticks, but silverware is readily available. A very clean place to eat.

phone: +1 407 465-1188

address: 8111 Vineland Ave.

Serves very good sushi and tempura. Offers other Asian dishes

Sushi Tomi

phone: +1 407-352-8635

address: 8463 S. John Young Pkwy.

Japanese sushi and other Japanese food. Excellent quality.

Pho Saigon Vietnamese & Thai Cuisine

phone: +1 407-253-7013

address: 5100 W. Colonial Dr

Serves mainly Vietnamese cuisine. Most food of excellent quality.

phone: +1-407-896-8966

address: 1101 E. Colonial Drive

Traditional Chinese food, specializing in Sichuan dishes.

Teriyaki House

phone: +1-321-261-8088

address: 5600 W. Colonial Dr.

Serves Taiwanese Chinese food, some of excellent quality and some mediocre.

Mikado Sushi

phone: +1-407-851-9933

address: 13586 Village Park #306

Japanese sushi house that offers other Japanese food offerings. Sake also available. Quality very good. This restaurant has another location in Orlando at 6417 Raleigh St.

address: 5140 W. Colonial Dr

Authentic Korean cuisine.
Latin inspired
phone: +1 407 336-3393

address: 9939 Universal Blvd

Rosen Shingle Creek's upscale Italian Restaurant features Italian classics, with Mediterranean and American inspiration, accompanied by a diverse list of top quality wines.

Cuba LibreA Cuban restaurant that turns into a Latin dance club by night.

Garibaldi Mexican Restaurant

address: 929 N Semoran Blvd

The best dishes are chili relleno and cheese enchilada.

Rolando's Cuban Restaurant

address: 870 Semoran Blvd, Casselberry

Serves excellent rice, yucca, eggplant, plantains, and guava.

Rossi's Pizza

phone: +1 407 855-5755

address: 5919 S Orange Blossom Trl

Highly recommend the 12-inch thin-crust pepperoni pizza.

phone: +1 407 659-0101

address: 1425 Tuskawilla Rd, Winter Springs

Small, family-run, quiet (but still delicious) Italian/Sicilian restaurant five minutes out of Orlando. A local gem! (Best advice on dishes: Ask Stefano to personally make a recommendation, he walks around the restaurant and will tell you exactly what you want to eat!)

Tony's Deli

address: 1323 N Mills Ave

Best dishes: fava bean salad, hummus and the baklava.

phone: +1 407 354-2467

address: 8633 International Dr

Great cooking and great wine.
Turkish
phone: +1 407 352-6766

address: 8 7600 Dr Phillips Blvd

Turkish, Mediterranean, Middle Eastern Cuisine.
Magical Dining
Since 2005, Visit Orlando has partnered with many restaurants in the Orlando area to offer a promotional Magical Dining month.  During the promotion, partner restaurants offer three-course, prix fixe dinners for $35 per person (plus tax and gratuity).  Typically the event is held in late August through September, which tends to be a slow season for the local attractions and restaurants are looking to bring in additional guests.
Magical Dining will be held from August 23 to September 30, 2019.  More information and participating restaurants may be found on
Visit Orlando's website
.
Drink
Orlando nightlife away from the theme parks is centered mostly around
Central Boulevard
and
Orange Avenue
in downtown Orlando. Here you can walk and find many bars. A short walk away is the tiny
Thornton Park District
, located near the intersection of Washington and Summerlin. Among the dozens of cafes and pubs, you might stop in for a drink and a quick bite at
Dexter's
on Washington. For local flair head across the street to
Burton's Frosty Mug
, or sample the hip urban environment at the trendy
HUE
at the corner of Washington and Central.
Although most of the downtown Central avenue crowd is comprised of the "twentysomething" generation, for a more 30s-and-over entertainment experience, one can enjoy live jazz on many nights in the lounge of the
Grand Bohemian Hotel
located downtown on Orange Avenue. The jazz is excellent and the ambiance is quite comfortable, although drinks tend to be pretty pricey here.
Also, for a more professional crowd with a Latin twist, there is the
Samba Room
, located on Sand Lake Road, about 3/4 west of I-4. This is a lively restaurant and happy hour type of place. The look is chic and the locals and tourists alike gather here for a quality food, beverage and people watching experience. You should ditch the shorts and flip-flops for a more casual chic look, but if you do you will be rewarded with a nice experience here. If you are traveling west on Sand Lake Road, after passing I-4, The Samba Room is on the left in a large shopping plaza. Latin food, music and mojitos are just some of the specialties here.
Across the street from the Samba Room, on Sand Lake Road, is the
Old Vines wine bar
, featuring live jazz usually from Thursday through Saturday nights. The wine selection is extensive and the live jazz is some of the best in town. The jazz is performed in the front of the room by the entrance. There is a divider that separates the more intimate rear portion of the establishment, which is the main dining area.
There are quite a few places to enjoy quality dining and drinks along Park Avenue in Winter Park, an adjacent suburb which is just northeast of Orlando. Winter Park is known for its many older grande homes that dominate the more historic sections of this suburb affectionately referred to by many as the center of Orlando's "old money." Park Avenue is an active pedestrian street featuring trendy shoppes, galleries, restaurants and nightspots. It has recently grown from becoming a one street attraction to more of a district, as several nearby streets have now added similar attractions.
Of particular interest and uniqueness on Park Avenue is the
Wine Room
, a converted bank featuring literally hundreds of wines available for self-serve sampling. The mode of purchasing here is to pre-load a wine "credit card" supplied by the Wine Room. You are then at liberty to peruse the entire building and select any wine you wish to try, merely by inserting your "credit card." Each wine station automatically deducts the value of your current purchase and advises you of your card balance. Dress is very casual here and you are likely to meet both locals and visitors, all sampling and enjoying their vinos of choice throughout the night.
At the theme parks,
CityWalk
at Universal Studios. For a nominal admission fee, both sites offer numerous venues for libations and entertainment. If you're staying along International Drive, there are plenty of bars, pubs, and clubs.
Sleep
With a hotel around virtually every corner (actually 4 or 5 around every corner) it seems impossible to throw a rock and not hit a hotel. There are hotels to meet every traveler's need, whether it be a hostel or a 5-star resort, although many visiting families often prefer to rent a private villa as they usually provide much more personal space and have their own private facilities. There are also a lot of lodgings in the surrounding cities and towns.
See also: Davenport, Kissimmee, Lake Buena Vista
.
Budget
Mid-range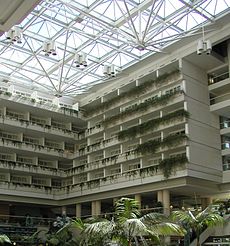 Splurge
In addition to the dozens of hotels on the Disney property, there are a few other luxury hotels and spas in the area:
Stay safe
Extreme Temperatures
Never leave children, pets, or the elderly in a parked car for any length of time!
Due to high temperature for most of the year, the interior of a parked car can easily heat to
lethal
temperatures in a short amount of time. During the summer, the interior of a parked car can reach 130-170°F (55-75°C) in just 15 minutes, regardless of the color of the exterior or interior, or whether the windows are open a small amount. You not only risk death, but
it is illegal and the consequences are taken VERY seriously,
including thousands in fines, potential imprisonment, and the involvement of the Florida Department of Children and Families.
Like most cities in America, there are certain areas of Orlando which are more dangerous than others. Some areas travelers should be cautious of are:
Parramore District, area in downtown Orlando is a location where a lot of the area's homeless population congregates and crime rates are higher in this area.
Orange Blossom Trail, north of Sand Lake Road is known to be a bit of an unofficial red light district. Drug and prostitution-related crime is common here. Prostitution is not legal in Orlando, so you could spend a night in jail if you decide to indulge.
Pine Hills, located around Silver Star Road and Pine Hills Road west of John Young Parkway. This is a lower income area that has struggled with high crime rates. The Greyhound bus station is in Pine Hills and is a place to use caution.
While it is unlikely that any one individual would experience serious crime in these areas, tourists stand out in these areas, and can unwittingly do things that can make them targets for criminal behavior, so it is sensible to stay away.
While crime in the Orlando area is not particularly high, with the annual tourists far outnumbering the regional population (~2million), a substantial amount of local crime ends up being directed at tourists. The most common crimes are theft of items from cars and hotels, so following common sense travel precautions are particularly important in an area like Orlando.
Never leave valuable items in your car unattended, and get any purchased items to your hotel room as soon as possible. Consider utilizing the hotel room safe.
Never leave small children unattended for any length of time, especially at a pool. Most hotel pools do not have lifeguards.
Hotel room invasions do occur, especially open-air hotel and motel rooms when the victim leaves their hotel room unlocked and not dead-bolted. When you are in a hotel room, always lock your doors behind you, even if you expect someone in a minute or two.
While hurricanes attract most of the attention, the proximity to two coasts also brings frequent, and sometimes dangerous, thunderstorms. These occur nearly every day during the rainy season from mid-June through September. While some days it may only rain for 10 minutes, other thunderstorms can last for hours and its not unheard of for one location to remain dry while another spot 10 miles away gets a couple inches of rain on an afternoon. The summer thunderstorms are the main reason that Florida is the lightning capital of the western hemisphere. During these storms it is best to remain indoors due to the danger posed by frequent cloud-to-ground lightning. Golfers are especially vulnerable. A couple of dozen people are killed each year by lightning in Florida and many more spend much time receiving treatment for lightning strikes.
Pets are better off left with a friend or in a kennel. If you choose to bring your pet, note that most theme parks and hotels prohibit pets but may provide kennels for a fee. Under the ADA laws, businesses are required to accommodate service animals, which are defined as dogs that are individually trained to do work or perform tasks for people with disabilities; however, emotional support animals, comfort animals, and therapy dogs are not covered by the ADA so be prepared to find alternate accommodations if they are refused entry. Also note above about interior temperatures in parked cars.
Connect
Ten-digit dialing is in effect in the Orlando area. All calls from or within the area, even local calls, require dialing the area code. There are some public pay phones scattered around the city, but they are becoming increasingly rare with the predominance of cell phones. It is not safe to assume you will be able to find a pay phone at any given time.

Orlando/Orange County Convention & Visitors Bureau

address: 8723 International Dr

The official sales and marketing organization for the Orlando and Orange County area.
Telephone Area Codes in and around the city of Orlando begin with 407 or 321.
It is common for many of the larger hotels and lodgings in the area to offer free internet access for their guests.
Cope
Consulates
phone: +1 407 422-0514

address: 2550 Technology Dr
Go next
Walt Disney World
, about 35 minutes southwest of Orlando, is so expansive that it needs its own travel guide.
Also within an hour of downtown Orlando:
A bit further, but good day trips or next destinations include: