Osaka/Minami
Minami
( 大阪 ミナミ ) is the largest commercial area in
Osaka
,
Japan
.
All manner of shops and entertainment can be found in the Minami Area, which stretches from Semba (Honmachi) to the area surrounding Namba station. In Minami, locals and tourists alike can enjoy the city atmosphere of Osaka.
Get in
By train
There are three main train stations in this area: Namba Station, JR-Namba station and Osaka-Namba Station. The three train stations are close to each other.
The fastest trains between Kasai International Airport and Osaka station are "Ltd.Express Rapi:t" which operates by Namkai Railway. The journey takes approximately 34 minutes at a cost of ¥1390: ¥890 regular fare + ¥500 limited express fare.
Namba Station
JR-Namba Station
Osaka-Namba Station
By bus
There are two bus terminals around Namba railway stations.
Kansai Airport Limousine bus runs from
Kansai International Airport
to Namba OCAT bus terminal, ¥1050 one way.
Nankai Bus
:Ticket office window: 07:30 - 22:00
:Ticket office window: 06:30 - 22:50
See
address: 1 Chome-6-4 Nanba

(上方浮世絵館) A rather small museum in Nanba dedicated to ukiyoe, Japanese woodblock prints. The interior of the museum looks a bit like an adobe house. It may be most interesting to someone already familiar with the art, as the information inside mostly Japanese only.
Do
Sumo Spring Grand TournamentThe Osaka Tournament of Japan's national sport, sumo wrestling, is usually held mid-March annually at Osaka Prefectural Gymnasium. Check for schedules and ticket availabilities at the official Nihon Sumo Kyokai homepage.

address: 1-12-10 Nipponbashi

One of the last places in the world where bunraku, a form of intricate puppet theater from the Edo period, can be seen live. The large puppets, which require three operators each, are accompanied by traditional music and narration, and act out great Japanese plays of the 1600s and 1700s. Transcripts in Japanese and synopses in English are provided.

phone: +81 80-4451-5539

address: 2−16−13 Nishi-Shinsaibashi,Chuo

English-language stand up comedy playhouse.
Buy
Osaka's most famous shopping district is
Shinsaibashi
(心斎橋), which offers a mix of huge department stores, high-end Western designer stores, and independent boutiques ranging from very cheap to very expensive. Within Shinsaibashi, the
Amerika-mura
(アメリカ村, often shortened to "Amemura") or "American Village" area is particularly popular among young people, and is often said to be the source of most youth fashion trends in Japan. Near Amerika-mura,
Horie
(堀江) is shopping street of mainly Japanese brands shops. The many shops in Umeda are also popular among trendy locals, particularly in the
Hep Five
and
Hep Navio
buildings adjacent to Hankyu Umeda Station, although these shops tend to be too expensive to captivate most tourists' interest. In this area, new shopping buildings have been constructed recently. For example, the"E-ma" buildings next to Hanshin department store, and "Nu-Chayamachi" (Nu 茶屋町), opened in October 2005 near Hankyu Umeda station.
For electronics, the
Nipponbashi
(日本橋) area southeast of Namba, and particularly the "Den-Den Town" shopping street, was once regarded as the
Akihabara
of western Japan; nowadays, more people would rather shop at the new, enormous
Yodobashi Camera
(ヨドバシカメラ) in Umeda or
BicCamera
(ビックカメラ) and
LABI1
in Namba, although Nipponbashi still offers good deals on many gadgets, PC components and used/new industrial electronics.
Eat
Budget
Tamago-yaki stand

address: Amerika-mura

Best for a snack, this outdoor stall offers a hard-to-find and delicious treat called tamago-yaki, fried egg atop a wide flat sembei cracker with sauce and a variety of toppings available. Much tastier than it sounds.

address: Hankyu Grand Building 29F

Good okonomiyaki and yakisoba, with extra toppings (egg, cheese, etc.). The restaurant overlooks Umeda. There's an English menu.

Tako Tako KingThis takoyaki place has very friendly staff. Look for the big red octopus wearing a crown.
Mid-range
En (Namba)

address: 大阪市中央区難波千日前 12-30 難波長和ビル4F

The Namba branch of the excellent En izakaya (see above).

TorikizokuTorikizoku is the most popular yakitori chain in Kansai, and can be found near most major stations in Osaka. The food is delicious, comes in generous serves and is very cheap. It's very popular with both locals and expats, and is always busy. Try to come before 7:30 to secure seats.
Splurge
address: 1-9-17 Dōtonbori, Chuō-ku

Shabu-shabu or sukiyaki in Japanese tatami rooms. No reservations are taken except for large groups, so arrive early at nights (18:00 or so) to be sure you get a room without waiting.

address: 1-6-18 Dōtonbori, Chuō-ku

Now a nationwide chain, but this is the original. Easily identifiable by the giant mechanical crab waving its pincers about, and as you might guess, the speciality here is crab.
Drink
Bar Kama SutraSmall cozy karaoke bar is almost impossible to find but well worth the effort. Foreign and English-speaking Japanese staff, and over 130,000 songs to choose from. The owner, Richard, is a long term resident of Japan and is a wealth of information on what to do and see in the area, where to stay and even where to find work. (No "u" in e-mail address is correct, or: richosaka@gmail.com.)

Blarney StoneThis pair of Irish pubs have a laid-back atmosphere, friendly staff, and a decent happy hour.

Blarney Stone Shinsaibashi

address: Chuo-ku, Higashi Shinsaibashi 2-5-27, Kohda Bldg. B1

HubThis British pub chain is at many locations around Osaka, including along Midosuji street in Shinsaibashi, in Namba, and in Chayamachi (Umeda, east side of Hankyu station and walk north a little). Hub serves as a meeting place for many expats as well as Japanese locals. Get there early for happy hour discounts on cocktails (17:00-19:00).

address: 8-23 Sanyo-Kaikan 1-F Doyama-cho

One of Osaka's most popular gay and lesbian bars among foreigners.
Try Amemura area - There you will find all kind of bars with different genre from hip-hop to reggae.
Nightclubs
phone: +81 6 6484 3264

address: Gold Center Building B1F 2-8-12 Higashi Shinsaibashi

Great place to listen to Hip Hop, R&B, Reggae and all black music. Beside playing the latest music, you can also listening the old school classics. Enjoy a wide range of drinks to get you in the party mood or help you relax.

address: 2-11-30 Nishi-shinsaibashi

Packed with trance lovers.

phone: +81 6-2536-6278

address: Chuo-ku, Soemon-cho 2-3-12 Diamond Bldg B1F

Extremely crowded dance club. The crowd is around 25-30% international. Be sure to bring your passport, as the ID check here is atypically rigorous. The closest subway station is Namba Station, which is about 5-10 min walk. No dancing is allowed in the club.

Sam and Dave Shinsaibashi

address: 1-3-29 4F Shinsaibashi, Chuo-ku

Try Amemura area - There you will find all kind of bars with different genre from hip-hop to reggae.
Sleep
The usual suspects tend to be within a 5-10 minute walk north to north-west of
JR Namba
(
a few blocks past the love hotel district
). The big advantage here is that this district is also roughly a 10-minute stroll from Dotonbori. Thus, for the light traveller, a cost effective way to stay in a nice hotel is to simply enjoy the food and atmosphere along the canal until midnight, then take advantage of the various after midnight check-in discounts (typically about 30% off the regular night rate). For example the
Tokoyo Inn
reduces its single room prices from ~¥6500 to a clean ¥4500, and the
Dormy Inn
from a regular ¥7000 fee down to ¥4900.
Budget
address: 2-3-12 Saiwai-cho, Naniwa-ku

Staff are very knowledgeable and helpful, though the common area can get cold. Has female-only dorms.

Guest House U-en

address: 1-5-8 Uemachi, Chuo-ku

The ground floor of this building was once a printing factory, and the upper level was a family home. The guest house has a traditional atmosphere.
Capsule hotels
phone: +81 6-6213-1991

address: 2-12-22 Nishi-shinsaibashi, Chuo-ku

Sauna available, and there is a separate area for women.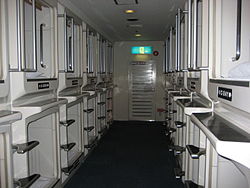 phone: +81 6-6212-6110

address: 2-9-4 Nshi-Shinsaibashi, Chuo-ku

Sauna available, and there is a separate area for women.
Budget apartments
address: 1-6 Soemon-cho, Chuo-ku

Online reservation site in English here but you may or may not get a response. If no response, try an online booking agent.

phone: +81 6-6211-6337

address: 3-12 Soemon-cho, Chuo-ku

This comfortable, modern ryokan is in the heart of downtown on the riverside of Dotombori and very close to the Osaka shopping quarter. English website has an online reservation system.

phone: +81 6-6647-3719

address: 2-7-23 Shikitsu-Nishi Naniwa-Ku

English website has an online reservation system. It claims to have English-speaking staff on its website so you may attempt an online reservation. If no response, try an online booking agent. Each apartment equipped with in-suite shower and toilet, kitchenette, fridge, portable cooking stove, A/C, TV and telephone.
Mid-range
Splurge
phone: +81 6-6244-1111

address: 1-3-3, Nishi-Shinsaibashi, Chuo-ku

Huge Landmark Hotel smack in the middle of Shinsaibashi along tree lined Mido-suji Avenue. Rooms are comfortable and have amazing views at night as hotel is the tallest building in the immediate area. Attached to Shinsaibashi train station and close to Amerika-mura, shopping, and night-life.

phone: +81 6-6941-1111

address: 1-4-1 Shiromi, Chuo-ku

A luxury business hotel in Osaka, Japan offering accommodations, 13 restaurants and bars, vacation packages and meeting rooms. This five-star hotel is in the Osaka Business Park near Osaka Castle.

phone: +81 6-6646-1111

address: 5-1-60, Namba,Chuo-ku

Next to Namba train and bus stations.
Connect
Osaka Visitors Information Center - Namba

address: 3F Nankai Terminal Bldg. 1F 5-1-60 Namba Cnuo-ku

Tourist information is offered in English and Japanese.
Go next