Tyne and Wear
Tyne and Wear
is a county in the
North East
of
England
.
Cities and towns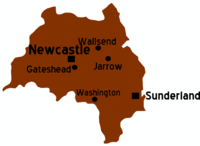 Cities
Towns
– metropolitan borough consists of South Shields, Jarrow, Boldon and Hebburn
Tynemouth – including North Shields
Other destinations
Get in
By plane
(
NCL
), is located 9.7 km (about 6 miles) north-west of Newcastle. Flights are available to major airports by British Airways to London Heathrow, KLM to Amsterdam, Air France to Paris Charles de Gaulle, Emirates to Dubai and Aer Lingus to Dublin. There are domestic services operated by FlyBe, Loganair and easyJet as well as low-cost carrier flights to Ireland and many European cities such as Nice, Barcelona and Rome.
Another nearby airport is Durham Tees Valley Airport (MME), which only has one international flight by KLM to Amsterdam

By train
The main connection to the rail network is Newcastle, but connections can also be made in Sunderland. Both stations have Metro connections. Newcastle is served by three long-distance rail operators:

The local rail network is operated by Northern Rail, with relatively frequent services to destinations such as Carlisle, Middlesbrough, Hexham and Morpeth.
Wikivoyage has a guide to Rail travel in the United Kingdom

By car
Newcastle upon Tyne is well signposted from the north, south and west, and it is generally convenient to follow these signs for any destination in the county. Newcastle lies at the junction of the A1 (the main East Coast route from London to Edinburgh) and the A69 (a major east-west route to Carlisle and the M6).

By boat
North Shields, near the coast on the north side of the Tyne, has daily ferry to Amsterdam in Holland.

Get around
For public transport information in Tyne and Wear, see the transport authority's
journey planner
.
By metro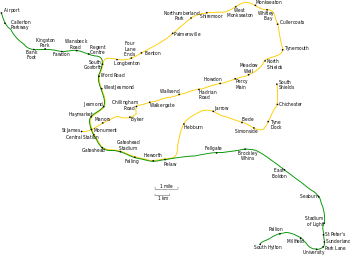 The
Tyne & Wear Metro
is a fast, safe and reasonably cheap way of getting around the county. The Metro is a
light rail
system, which mostly runs on the surface, with a couple of miles of underground tracks in Newcastle and a small section in Sunderland. The first metro services ran in 1980, and the network has been progressively extended since.
There are two lines: the Green Line runs from Newcastle Airport to South Hylton (in Sunderland) and the Yellow Line runs from St James Park to South Shields via a lengthy loop via the coastal towns of North Shields, Whitley Bay and Tynemouth. Note that the east-west and north-south sections of the Yellow Line cross at Monument Station, so if, for example, you are travelling from St James Park to South Shields, it is much quicker to transfer to the southbound Yellow Line at Monument rather than riding along the entire route. The Green Line shares tracks with the Yellow Line for the majority of the section through central Newcastle and Gateshead.
Services run approximately every 6–10 minutes between 6:00 and 23:00. Single tickets range from £1.40 to £3.60 depending on the distance travelled, return fares and day passes are also available. Ticket machines accept coins and credit/debit cards. Although there are only ticket barriers at major stations and hopping (riding without paying) is widespread, it is advisable to keep your ticket handy as trains and stations are patrolled by ticket inspectors.
Smoking is banned on the entire system, including open-air stations. However, this rule is often overlooked and it's not uncommon to see people smoking on the trains, particularly late at night, despite the CCTV surveillance cameras.
By bus
Tyne and Wear has a fairly comprehensive bus network, with several different operators. Several day tickets are available, either for individual operators or a
day rover
for £7.00 covering buses, metro and ferry.
By ferry
There is a passenger only
ferry
from
North Shields
to
South Shields
, with singles costing £1.50, and a day ticket £2.60.
See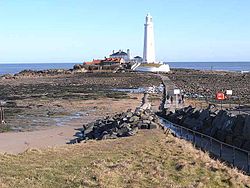 Central Newcastle and Gateshead are worth exploring. The bridges across the Tyne give some stunning sights, and it is good to walk across a few of them, particularly the Swing Bridge, High Level Bridge and the Gateshead Millennium Bridge.
The Baltic Art Gallery in Gateshead.
The coast from Whitley Bay south through Tynemouth, across the river to South Shields and on to Sunderland. There are several sandy beaches, some harbours and various traditional British seaside attractions like amusement arcades.
Eat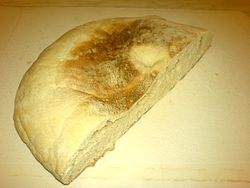 A tradition lunchtime dish in the area, is a Stottie, filled with a sandwich filling like ham or cheese. A stottie is a local circular loaf of bread, which when filled is usually sold in halves or quarters.
Another local dish is Pease Pudding. This is a vegetable side dish made of split peas, looking a little like hummus.
Drink
Newcastle Brown Ale is a famous bottled dark beer produced in the area, originally in Newcastle, but now in Gateshead.
Newcastle Exhibition is a light coloured ale, which looks like a lager. It is only available on draft in pubs, and is usually in pasteurised keg form, but a cask conditioned version is sometimes available.

Go next
See this
map
for places with Wikivoyage articles nearby.