Uman
Uman
(
Ukrainian
: Умань) is a city in
Central Ukraine
.
Understand
Uman was founded in the 17th century. It is a small industrial and historic city, which occupies 50th place in terms of population in Ukraine and the second in the region, one of the major tourist centers of Ukraine, as well as Jewish religious movements - Hasidism.
Besides that Uman features a beautiful and popular botanical park.

Get in
By train
Uman Railway station

phone: +380 474423230

address: Zaliznychna str
From
Kharkiv
and
Poltava
: train # 613 Kharkiv — Uman.
From
Donetsk
: train Yasynuvata — Uman.
By marshrutka
Bus station

phone: +380 474432129, +380 474436245

address: Kyivs'ka str.1
Regular comfortable minibuses (marshrutkas) from Kyiv, Cherkasy, Odessa. In Kyiv it is close from central railway station and central bus station (Moskovska ploshcha). You should seek minibus (Mercedes or Volkswagen) with Ukrainian tablet "Умань".
Get around
By public transport (19 bus routes) or by taxi.

See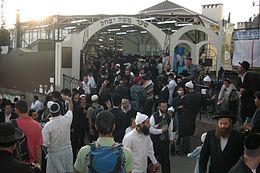 Rabbi Nachman of Breslov burial placeRabbi Nachman of Breslov was the Rebbe of the Breslov group of Hasidic Jews. Rabbi Nachman spent the end of his life in Uman town, and requested to be buried there. During Rosh Hashanah (the Jewish New Year) there is a major pilgrimage by Breslov Hasidim and others to visit the grave in Uman.

Basilian monastery(1764).

19th-century shopping arcade

address: Radyanska st. 43-47

1780, 1838 - вул.Радянська,

Dormition Roman Catholic churchClassicist style (1826).

City Hall(1780–82)

Gardening school

address: Hlibka Yuriia str.

Museum of action literary and art

phone: +380 474432351

address: Lenins'koi Iskry str., 126

Assumption Catholic Church

address: Kolomens'ka str., 2

Kостел Успіння Богородиці (Assumption of the Virgin Mary church), вул.Коломенська, 2, - Built in 1826.

Local-history museum

phone: +380 474452442

address: Zhovtnevoi Revoliutsii str., 31

Museum culture and mode of life Uman

phone: +380 47445261

address: Smidovycha ln., 6
Do
Go to the art gallery and museums.
Sofiyivka Park

address: Sadova st, 53

One of the Seven Wonders of Ukraine. A botanical garden and a scientific-researching institute, very popular all over Ukraine. Weirdly enough, the entrance fee is only enforced on tourists—so either you look Eastern European or you choose an entrance away from the western gate.
Buy
City-Center Shopping centre

address: Urbailisa str 20

Tim Shopping centre, Entertainment complex

address: Lenina str

Zorianyi

address: Lenina str., 58
Eat
Obolon Supermarket

address: Lenina str., 35

Food market

address: Tyschyka str

Meschanka Market

address: Zalizniak st., 1

address: Bilshovytska str., 1
Sleep
Budget
(Student) HostelOffers single and double rooms. Soviet style but fresh linen.
phone: +380 474 446 999 (landline), +380 995 163 447, +380 972 063 484, +380 638 151 312 (life)

address: vul. Nebesnoi Sotni, 7

The most reliable yet simple hotel in the city. Free Wi-fi in every floor, some rooms share clean modern bathrooms. They charge a 100 грн deposit for the keys, which they return at check-out.
Mid-range
phone: +380 4744 3-27-64

address: Proletarska str.18

Avtolux Hotel

phone: +380 4744 2-31-34

address: Derevyanka str., 14
Connect
Go next
River Girskyi Tikych canyon

address: Buky

Waterfall Vyr (Водоспад Вир): Six-foot waterfall on the river-crossing. Mountain Tikich from which begins stunningly beautiful canyon with high rocky cliffs. Cut by the river in the granite deposits.

ChyhyrynAn impregnable fortress. Museum in the Residence Bohdan Khmelnytsky Chigirinsky. Museum of Archeology Middle Dnieper; Orthodox Church of Holy Mother of God of Kazan, Church Baptyska, Peter and Paul Church