Urals
The
Urals
(
Russian
: Ура́л
oo-RAHL
) is a common geographical name of the area of
Russia
around the Ural Mountains. It is a vast territory which includes major cities like
Yekaterinburg
and
Chelyabinsk
, as well as parts of the polar areas. The Ural mountains are among the oldest mountains on Earth and are generally not very high, more often looking like large hills, though there are some taller ones, too. Travellers to Urals should not miss
Yekaterinburg
; usually it is a starting point of any trip to the Urals.
Regions
Cities
The most significant cities in the Ural region are Yekaterinburg and Ufa. Other major cities that have a population of over one million people include Chelyabinsk.
(Челя́бинск)
(Курган)
(Магнитого́рск)
(Оренбург)
(Пермь)
(Салеха́рд)
(Сургут)
(Тюмень)
(Уфа́)
(Екатеринбу́рг, also called Ekaterinburg)
Other destinations
Several small cities also can be interested for visitors:
with its famous ice cave
with falling tower
— the orthodox center of Urals
— ancient Slavic city-observatory
— historical capital of Siberia
- beautiful mountains
- the most beautiful river of Urals
Understand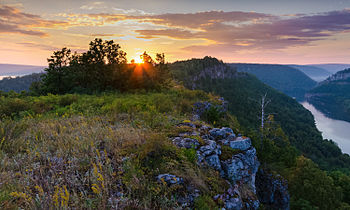 The Ural mountains span more than 2,500 miles, from the Arctic Ocean to Kazakhstan. Geographers have divided the Urals into five geographic zones: Arctic, Polar, North, Middle and South Urals. The highest mountain in the Urals – Mount Narodnaya – lies in the Polar Urals, the most remote and undeveloped zone.
Except for the polar and northern sections, the mountains are forested, and lumbering is an important industry. Urals has famous Virgin Komi Forests, which were included to the World Heritage List.
The great mineral resources of Russia are in the Urals. Iron ore is mined in the south, and there are rich deposits of coal, copper, manganese, gold, aluminum, and potash. Oil fields and refineries along the Kama and Belaya rivers in the West Urals produce oil. Emeralds, chrysoberyl, topaz, and amethyst are mined, as are deposits of bauxite, asbestos, zinc, lead, silver, platinum, nickel, chrome, and tungsten.
The Urals industrial area (c.290,000 sq mi/751,100 sq km), a major Russia metallurgical region, is in the central and South Urals and the adjacent lowlands. Huge industrial centers are found at
Yekaterinburg
,
Magnitogorsk
,
Chelyabinsk
,
Perm
, Berezniki, Nizhni Tagil, Orsk, Orenburg,
Ufa
, Miass and Zlatoust.
West and east foothills of Urals and neighbor plains often have deep river valleys. Urals has a lot of rivers and lakes. Several hundreds of ponds and water storage basins are created on rivers. The composition of mountains, forests, rivers and lakes makes Urals one of the most beautiful regions in Russia.
Talk
Russian
is the official language, so wherever you go in Urals, you'll find someone who speaks it. English is becoming a requirement in the business world, and younger people especially will often know enough to communicate, but by no means is English universally understood and spoken. In upscale hotels almost the entire staff has a working knowledge of foreign languages (including English).
It's hard to learn the language in a short time; concentrate on learning some key "courtesy" phrases, and the Cyrillic alphabet (e.g. "ресторан" spells "restaurant") so you have a chance to recognize street names, labels and public signs.
On the south-west of Urals also
Bashkir
,
Udmurt
and Komi languages can be found.
Get in
Get around

The major forms of transportation between cities in the Ural region include train, bus, electric train, and airplane.
For inner-city travel, most cities offer a combination of these services: bus, trolleybus, and tramvai.
In any Russian city, however, you can find a taxi with great ease. Simply stand on the side of the road, and hold your hand out at waist level. Within a minute or two, someone will stop to ask you where you're going. In the Urals, short trips generally cost between and , while longer, cross-town trips may cost over . Always be wary, however, when flagging down a taxi in Russia. It is not recommended to get into a car with two or more males or with suspicious-looking individuals. You shouldn't expect to run into problems, but it's always better to play it safe in Russia.

See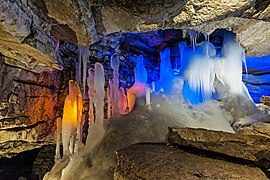 Urals offers great possibilities for rest and travels, below is an incomplete list of what to see in Urals:
Europe-Asia Border located near Yekaterinburg
The Ural Mountains
Virgin Komi Forests — natural world heritage located in Perm Krai
Cities of Urals: Yekaterinburg – an administrative center of Urals Federal Distinct; Perm – the city situated on the great russian river Kama; Ufa - one of the first cities in Urals; Chelyabinsk, Tyumen and others.
Tyumen hot springs
Tobolsk Kremlin
Neviansk falling tower
Verkhoturye – the orthodox center of Urals
Arkaim – ancient city-observatory
Natural parks and reserves
Places of mining of gold, gems and minerals (such as Berezovsky Gold Mine, located near Yekaterinburg)
Outdoor museum of wooden architecture in Sinyachiha (not far from Yekaterinburg)
This list is incomplete because actually it depends on your interests and wishes what to see or to do.
Do
Urals is a heaven for fans of active rest, you can try the following:
sightseeing,
skiing or climbing in the Ural Mountains
camping,
rafting,
fishing,
hunting,
riding,
Russian baths,
Russian sledge,
snowmobiles,
indoor entertainment (clubs, restaurants, museums, theatres, exhibitions)
taste traditional Urals cooking and see folk performances
Eat

The Urals region is famous for its pelmeni, small dumplings usually stuffed with beef and eaten in large quantities topped with butter, vinegar, sour cream, or a combination of the three.
You can also try traditional russian food such as pancakes, borsch and different pies.

Drink
You can try Vodka, local soft drinks (Tarhun, Buratino, Baikal, etc.), kvas (sour-sweet non-alcoholic naturally carbonized drink made from fermented dark bread) and mors (traditional wild berry drink).

Go next
Siberia — the largest area in the country diverse in landscape and yearly temperatures with stunning lakes, world longest rivers, but swampy in most part in the center and north. Provides a gate to enter into much of Asia.
Northwestern Russia — home to the former imperial capital Saint Petersburg, also known as the "northern capital". It combines the beautiful landscape of the large lakes Ladoga and Onega, and medieval forts of Pskov Oblast, with the lacustrine region of Karelia, and is a gateway from Scandinavia.
Volga Region — the most industrialized region in the country, known for producing wide-scale military equipment in cities such as Izhevsk, with a rich culture and history.