Wallonia
Wallonia
is the
French-speaking
southern part of
Belgium
. Bordered by
Flanders
in the North and
France
in the South-West, its Eastern border is shared by
Luxembourg
and
Germany
. While it is
Brussels
and Flemish cities like
Antwerp
,
Ghent
and
Bruges
, as well as the Flemish seaside, that see most of the tourist traffic in Belgium, Wallonia is no less interesting.
More hilly than the country's North, it has beautiful landscapes, and its cities have a lot of preserved history predating the industrial age. A characteristic shared by the entirety of Belgium are short distances and efficient public transportation, coupled with being very close to major international hubs. That said, in relation to some popular regions of Europe, Wallonia as a whole is a bit off the beaten track and the tourist infrastructure is not always as good as it could be. Furthermore, the region is proudly francophone to the point of some of its people not inclined to master other languages, so at least rudimentary knowledge of French can make all the difference.
Provinces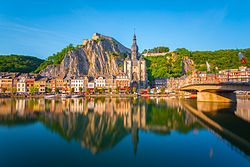 Cities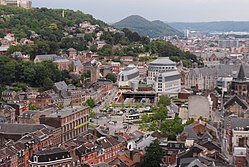 - the capital of the Walloon Region
- a wealth of Roman archeological sites - and the source of Kinder Surprise chocolate eggs
- a major World War II remembrance site
- the birthplace of the Belgian comic book culture, formerly centre for Wallonian coal mining, now the site of one of Europe's most popular low-fare airports
- a beautiful town stretching along the Meuse against a steep rock
- Wallonia's largest city with wide boulevards, rolling hills and a bewildering architectural mix
- where the centuries-old, UNESCO-listed Ducasse festivities take place on the impressive Grand Place
- the original "spa", famed for healing cold springs since the 14th century
- featuring the also UNESCO-listed Romanesque cathedral, one of the best-preserved in Northern Europe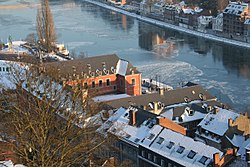 Understand
Today, Wallonia is one of the three federal regions of Belgium (the other two being
Flanders
and
Brussels
). This means that it has its own government, a parliament and separate laws. The capital of Wallonia is
Namur
, near its geographic centre.
Wallonia used to have a very good economy, mostly based on coal mines and heavy industry. In the latter half of the 20th century, the coal pits were increasingly exhausted and the heavy industry relying on them largely unsustainable, leading to unemployment and gradual loss of economic might versus Flanders, whose economy enjoyed renewed growth, thus reversing the 19th-century economic balance.
As Wallonia and its major cities are mostly associated with old-style heavy industry, they are rarely mentioned as major tourist destinations, but it does not mean they do not have rich history and heritage and picturesque sights. Moreover, outside of the cities you will find lush forests rolling over the hills coming down to meandering rivers.
Talk

The official language of Wallonia is French, except in the nine municipalities forming the German-speaking community along the German border. It is very hard to find a German speaker elsewhere in Wallonia outside this region.
Foreign languages are not as widely spoken in Wallonia as in Flanders. Dutch is learnt in schools by many, but people in Wallonia do not like to speak it in general. Most young people can speak English but it can be hard to have a conversation in English with someone who is over 40. It can even be hard to find tourist and other useful information in English, even in popular tourist locations. Conversely, Italian and Spanish are widely spoken in the region; Wallonia has one of the highest concentrations of Italians in the world (over 10% of the region's population can trace their roots there), and a growing number of Spaniards have been settling in the region (and Spanish is very popular with young Belgians).

See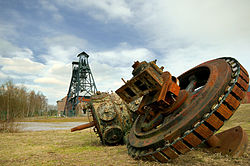 Eat
Don't be fooled by the common language - Wallonia, as the entirety of Belgium, has a very distinctive culinary indentity. Cuisine is perhaps the most binding aspect of life shared between Wallonia and Flanders, being a melting pot of both Dutch, French and German influences and of course some local invention.
As everywhere in Belgium, pommes frites (don't call them French fries here!) are celebrated and eaten both on their own with a variety of sauces, or as a default side dish to many main courses. If you are after some authentic local street food, you will have no trouble finding one of the many friteries, where you will find not only the fries, but also a selection of fried meat bites you can enjoy on the go.
Wallonia is also where many of Belgium's most popular dishes originated, particularly a range of sweet ones including the tarte au riz (which is just what it sounds like - a tart with rice), Liège waffles (which can be enjoyed with sirop de Liège) or couque de Dinant biscuits.
Much like the French, Wallons like to enjoy their meals outside, at a slower pace, sitting in brasseries or cafes enjoying the view over a busy street or a square. The working class heritage, however, makes having food on the go customary just as well. In comparison to their French neighbours, Wallons pay less attention to elaborate table manners and approach meals more casually.

Stay safe

On the whole, Wallonia is not a terribly dangerous region. Violent crime is (usually) low, natural disasters are extremely rare and winters are typically mild, though heavy snowfalls occasionally occur. However, akin to Flanders, sketchy and insecure areas do exist. Taking basic precautions will usually suffice to feel safe, but extra care should be taken in some places.
The city of Charleroi is often ridiculed for being a poor and unruly place. While it is not as bad as most Belgians make it out to be, the northern and eastern parts of the city are known hot spots for crime and might come off as dangerous. Do not wander alone at night unless you are with a local.
Liège was historically known for being rather dangerous in the latter part of the 20th century, but the situation has dramatically improved since the mid-2000s. The immediate vicinity of the train station is the only really seedy part of Liège.
Many areas along the French border, especially those near Lille, have seen a spike in crime and insecurity. The towns of Mons and Mouscron in particular should be approached with caution.