West Yorkshire
West Yorkshire
is a county in
Yorkshire
in the north of England. It's largely industrial, but with a surprising amount of countryside, especially in the Pennine hills to the west.
West Yorkshire is nowadays a county in name only, as it comprises five "unitary" or metropolitan districts with no county level of government. It's convenient here to describe it in terms of those five, since transport routes radiate and visitor amenities cluster in that way.
Cities, towns and villages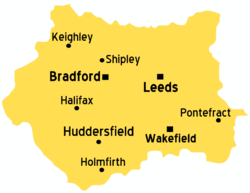 The five districts are
Leeds, Bradford, Wakefield, Calderdale
and
Kirklees
.
is West Yorkshire's biggest city and main transport hub. It makes its money from IT, finance and law, and has a large university quarter. It has the best shopping, dining and drinking, and a modern art gallery. Within the district are:
: in the valley towards Skipton.
: , a small market town with a racecourse.
, the second-largest city, hosts the National Media Museum and has a wide variety of shops, restaurants and pubs. Within the district are:
: is industrial, but the canal is worth walking by the ladder of locks.
: is a market town on the edge of the Dales.
: is the start of the steam-hauled railway to Haworth.
: is where the Brontë sisters did much of their writing. Other locations associated with them, the
Brontë Country
, stretch across the north of England.
: is an outstanding "model village" and UNESCO World Heritage site, centred around Salts Mill.
is home to the Hepworth, the Yorkshire Sculpture Park and the National Mining Museum. Within it:
: is a small market town with a racecourse and ruined castle.
, the chief town of Calderdale district, has "Piece Hall", a well-preserved 18th C market place, and Eureka children's science museum.
: Within the district are the scenic villages of , Heptonstall and
is the chief town of Kirklees district. Within the district are:
: is a charming rural town.
: in the Pennines, with good local walking.
: Birstall has a huge retail park and cinema. Just north of it is Oakwell Hall, a fine Elizabethan manor.
Get in
By plane
Leeds-Bradford Airport
(
LBA
) is the major airport in the area. It's a base for budget airline Jet2, and also served by Ryanair, and has decent connections across western Europe. But it's not on the rail or motorway network, and from the point of view of Wakefield, Calderdale and Kirklees it's the wrong side of the Leeds-Bradford sprawling metropolis.
Manchester Airport (MAN) has global connections, competitive fares, and is linked by frequent fast trains to all the main towns of West Yorkshire.

By train
Trains from London Kings Cross run direct every 30 mins to Wakefield (2 hrs) and Leeds (2 hrs 20). Change at Leeds for Bradford (total 3 hrs), Huddersfield (3 hrs) and Halifax (3 hrs 20). Huddersfield and Halifax can also be reached in similar time from London Euston, changing at Manchester Piccadilly.
Transpennine services every 30 mins link Manchester Airport and Piccadilly to Huddersfield and Leeds, continuing to York and Middlesbrough.
Hourly cross-country trains run south from Leeds and Wakefield to Sheffield, Derby, Birmingham, Bristol and Plymouth; and north to York, Durham, Newcastle, Edinburgh, Dundee and Aberdeen.

By bus
All the main towns have a direct National Express coach daily to London Victoria, about 7 hours. Most other destinations involve changing at Leeds.
Fast buses ply between Leeds, York, Hull and Manchester. The slightly more leisurely Yorkshire Coastliner runs from Leeds via Tadcaster, York and Malton to the seaside resorts of Scarborough, Filey, Bridlington and Whitby.

Get around
West Yorkshire Passenger Transport Executive
provide rail and local bus information on their website, and offers the innovative "
My Next Bus
" service of real-time bus information online or by text message. This real-time information is also displayed in certain bus shelters.
There are a number of different day rovers available that give unlimited travel in the West Yorkshire region, including a Train Day Rover (£7.50), Family Day Rover (£12.20) and a Day Rover (valid on both Buses and Trains, £8.20) full details are available on the
National Rail Enquires Website
. Prices accurate from November 2018
West Yorkshire Metro also operate multi-operator MCards (similar to London's Oyster Card system), which can be used for Bus Travel and Rail Travel, find more information on the
MCard website
In West Yorkshire, there are a number of bus companies that cater to the local area, and many offer West Yorkshire tickets, such as
Arriva Yorkshire
,
First West Yorkshire
and
The Keighley Bus Company
Check out the following Network Maps to see where your single operator tickets get you:
Arriva Yorkshire
First Leeds
,
First Bradford
,
First Halifax, Calder Valley & Huddersfield
(Note: a West Yorkshire ticket will be valid on all First West Yorkshire buses)
Keighley Bus Company
Other bus companies do exist, such as Yorkshire Tiger, Connexions Buses and Stagecoach, but most of these companies only operate in one specific town or city and therefore do not offer pan-network tickets
Train Companies
In West Yorkshire, there are numerous train companies operating the local network, most services are run by
Northern
. However,
TransPennine Express
operate regular services between
Leeds
and
Manchester
through Batley, Dewsbury and
Huddersfield
, and some services to
Hull
. Additionally,
Cross Country
operate services between
Leeds
and
Wakefield
. Services less run are
Grand Central
services between
Bradford
and
London
Kings Cross through West Yorkshire towns and cities
Bradford
, Low Moor,
Halifax
, Brighouse, Mirfield and
Wakefield
.
See
Leeds: the Civic Quarter, great Victorian market hall, and new Victoria Arcade.
Bradford: the National Science & Media Museum, and the nearby model mill town of Saltaire.
Wakefield has the Hepworth Gallery and Sculpture Park.
Pennine villages such as Haworth, Hebden Bridge and Heptonstall.
Do
Go down a coal mine at Wakefield's National Mining Museum.
Watch football: the leading teams are Leeds United and Huddersfield Town, both in the Championship.
Go to the races at Wetherby (mostly jumps, in winter) or at Pontefract (flat-racing in summer).
Walk the moors, but on Ilka Moor baht 'at at your peril. The Pennine Way runs along the western border of the county.
Eat
Leeds has just about every cuisine you could wish for, in all price ranges.
Bradford is famous for its curry houses - mostly little cafes, nothing grand.
Drink
Leeds has lots of pubs in city centre and in the university area of Headingley.
Wakefield "Westgate Run" isn't what it used to be, but there's lots to go at.
Sleep
Leeds has the main concentration. The other cities are geared for business rather than leisure travel, with mid-range chains near the motorway junctions.

Go next
Yorkshire Dales National Park starts a little way north beyond Skipton: attractive sculpted limestone scenery.
York is one of Britain's few walled cities, with excellent museums and a castle.
Manchester is just an hour away across the Pennines.