Yorkshire
Yorkshire
is the largest of the 39 historic counties of
England
. A long history of administrative tinkering has complicated defining what precisely is Yorkshire, with parts of the traditional ridings now being part of
North West
and
North East England
(e.g. nearby
Middlesbrough
). However, the region has a strong cultural identity and offers visitors a wonderful variety of thriving urban centres, important historic towns and world renowned countryside. The Humber forms the southern boundary with the
East Midlands
and to the west, across the Pennines, lies
North West England
.
East
and
North Yorkshire
have coastlines on the North Sea.
Counties
The confusing administrative divisions of the region complicate defining Yorkshire. For the traveller it is best understood as four counties, North, South, East and West. Traditionally, Yorkshire was treated as a single huge county that was correspondingly subdivided into three large areas, known as "ridings", and one small area for the city of
York
, which did not belong to any riding. Today, North and East Yorkshire correspond roughly to the old North and East Ridings, while the West Riding has mainly been split between South and West Yorkshire. The following four divisions are those that would be reasonably recognised by most Yorkshire people:
Yorkshire, national parks in green, areas of outstanding natural beauty in grey-green:
Cities
- the ancient county town, rich in Roman, Viking and medieval history, with a beautiful walled centre and breathtaking Minster
- a multicultural city with fantastic architecture and even better curry
- William Wilberforce and Philip Larkin once called this Humber-side port home
- Yorkshire's cosmopolitan capital oozes culture, boasts fascinating museums and offers the best luxury shopping in the North
- the other "City of Seven Hills", quite literally steeped in industrial heritage and famed for a progressive music scene
- known for mystery plays and the Rhubarb Triangle
Other destinations
Understand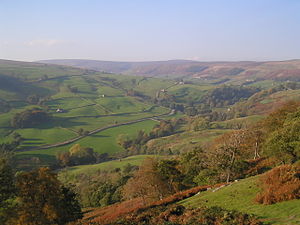 Proudly claimed to be
God's own county
, Yorkshire has wonderful countryside, great cities and warm locals which have a long history of attracting visitors. The people have a strong regional identity and a distinctive dialect (see below in 'Talk' for details) and culture. The emblem of Yorkshire is a white rose, which can occasionally be seen on flags in the county.
History
Roman Emperor Constantine I was a notable early visitor. He was proclaimed Emperor in Eboracum (today's
York
) in AD 306. Later, the region was popular with Danish Vikings who left their mark on the area: Eboracum became Jórvík. In 1066, the Battle of Stamford Bridge in the East Riding of Yorkshire, played an important part in the lead up to that year's main fixture, the
Battle
of
Hastings
.
The Norman Conquest put York on the religious map when William the Conqueror looked at England and thought that a cathedral in York would be a nice counterpoint to one in
Canterbury
. Little did he realize that northern England had not been fully subjugated and that the cathedral's construction would require a campaign of genocide (known as the
Harrying of the North
) against the not so friendly locals.
The overthrow of King Richard II in 1399 led to antagonisms between the Royal houses of York and Lancaster which came to a head in the Wars of the Roses, a 20 year series of conflicts. The Yorkists lost the war at the battle of Bosworth Field in 1485 but had the consolation of hosting and winning the bloodiest battle ever on English soil, the Battle of Towton (near
Selby
,
North Yorkshire
), in which 28,000 people died.
Leeds' industrial history took form in the 16th and 17th centuries as it was a regional centre of wool processing.
Huddersfield
,
Hull
and
Sheffield
were also important wool centres. Coal mining became important to
West Yorkshire
.
North Yorkshire
retained its agricultural base, which now complements its tourist sector.
In the 19th century,
Harrogate
and
Scarborough
flourished as spa towns believed to have healing mineral waters. Both remain desirable get-aways. At this time, the industrial revolution was driven by coal, textile and steel (particularly in
Sheffield
). This greatly changed the way of life for many people who moved to crowded cities that lacked the infrastructure to support them. Cholera outbreaks were a big risk.
The 20th century saw the decline of the industrial centres, many of which spent several decades in the economic wilderness. Urban regeneration projects and a shifting of corporate focus away from
London
has led to these towns now hosting professional services in addition to a modern industrial sector.
Talk
1=Don't go on
Ilkley
Moor without a hat
2=
On Ilka Moor baht 'at
is Yorkshire's unofficial anthem - a traditional song of mid 19th C origin, sung to the Methodist hymn tune
Cranbrook
. It's jocular yet deep, very deep. For if indeed you ventured onto Ilkley Moor without a hat, and perished for such folly, how could your community and unquiet spirit be reconciled? Thus:
Whur 'ast tha bin since ah saw thee, since ah saw thee?
On Ilka Moor baht 'at
Whur 'ast tha bin since ah saw - whur 'ast tha bin since ah saw - whur 'ast tha bin since ah saw thee?
On Ilka Moor baht 'at!
On Ilka Moor baht 'at!
On Ilka Moor baht 'at.
Tha's bin a-courtin' Mary Jane, Mary Jane
On Ilka Moor baht 'at
Tha's bin a-courtin' Mary, tha's bin a-courtin' Mary (etc)
Tha's bahn' to catch thy death of cold, thy death of cold . . .
Then we shall have to bury thee, to bury thee . . .
Then worms'll come an' eat thee oop, eat thee oop . . .
Then ducks'll come an' eat up worms, eat up worms . . .
Then we shall come an' eat up ducks, eat up ducks . . .
Then we shall all have eaten thee, eaten thee . . .
Then we shall have thee back again, back again . . .
(The two final verses are often omitted:)
So to the moral of this tail, of this tale . . .
Don't go on Ilka Moor baht 'at, baht thy 'at! . . .
One of the most prominent features of Yorkshire culture is in the distinctive regional accent and
dialect
. Some features of the dialect, such as the stereotypical "ey up" greeting and TV catchphrase "trouble at t'mill", have entered into British popular culture. Many tourist souvenirs focus on the dialect, for example in the proliferation of Yorkshire - English "phrasebooks". There's even an
online translator
ǃ
Generally, Yorkshire folk speak quite understandable English, and even many dialect speakers have a
posh voice
that they can put on for tourists, but here are some particularities of the dialect to watch out for:
The definite article (the) is often rendered down to a brief glottal stop before the noun; this is often written as t when writers attempt to capture this sound on paper, e.g. "Let's go down t'pub!"
Ey up and Ow do - both greetings, meaning "hi" and "how do you do?" "Ey up" is also quite diverse in its uses, with other meanings such as "look at that", "what is that?", or "don't do that!", depending on context.
Owt and nowt - mean "anything" and "nothing", respectively. The (very much tongue in cheek) Yorkshireman's motto, playing on the stereotype of Yorkshire people's lack of generosity, is "'Ear all, see all, say nowt. Eyt all, drink all, pay nowt. And if ivver tha does owt fer nowt, allus do it for thissen!"
Love, pal, pet and duck - often used as a term of endearment between members of the same and opposite sex (yes, even between two men!), among both friends and strangers. Examples of these are "Ey up, duck", "Alreyt, pet!", "Thanks, pal!" or "Yes, love?" This is just a Yorkshire way of being friendly, and is in no way to be taken as condescending, rude, or flirtatious even if you think it's unusual.
Reyt good - means "right good", or "very good", especially in Sheffield.
Mardy - means "sulky" or "moody", and "Stop being such a mardy bum!" therefore means "cheer up, and stop complaining!" (And if there's one thing Yorkshiremen know how to do, it's complain.)
Snicket and Ginnell - The former is a covered alley, the latter an uncovered one. For example, "I 'eard 'im racin' dahn t' snicket!" = "I heard him running down the alley".
The Yorkshire dialect is one of the few varieties of Modern English which still use the old
thou
form of
you
. Thou, spoken as
tha
, and
thee
mean 'you';
thy
means 'your',
thine
is 'yours', and
thissen
means 'yourself'. There are also words like
hither
(move to here)
sethee
(make sure, literally
see that you
)
duntha
(down the) and numerous others and if spoken as dialect is very difficult to understand by people from outside the region.
As Yorkshire is a large region, there isn't by any means a unified dialect or accent; in reality they change from town to town. However, these differences are for the most part imperceptible to non-locals. The speech of some small industrial towns in West and South Yorkshire may be especially difficult to understand, though these are not popular tourist destinations.
Get in
By air
The region's major airport is
Leeds Bradford Airport
, which is very well connected.
Doncaster Sheffield Airport
also offers flights to Europe & North America.
Manchester Airport
in
North West England
is also a good option for accessing South and West Yorkshire.
Hull
is served by Humberside International Airport, which is on the south side of the River Humber in the
East Midlands
.
By train
East Coast
or
TransPennine Express
run regular trains from the major British cities and connecting trains from smaller places.
Sheffield and Leeds are easily accessible from mainland Europe through Eurostar connection services at
London St Pancras International
station.
By road
The M1 connects Yorkshire with the south of England. The A1 runs north-south through the region and the M62 runs east-west. The major coach operators connect major towns and cities in Yorkshire with each other and the rest of the country
By boat
Ferries
connect
Hull
with
Rotterdam
in
The Netherlands
and
Zeebrugge
in
Belgium
. Buses connect central Hull with the port.
Get around
Yorkshire's rail network is extensive, particularly in the more industrial south and around the Leeds conurbation. There are various scenic routes through the countryside and along the coast. One of the UK's most scenic rail journeys, Settle to Carlisle, starts in Settle, North Yorkshire, while the Esk Valley line is a hidden gem, running from Middlesbrough through the Esk Valley to the coast at Whitby. Wikivoyage has a guide to Rail travel in the United Kingdom, including a section on the Settle-Carlisle Line.
West Yorkshire's 'Metro' brand offers rail rovers (single and family) as well as rail and bus rovers and multi-modal bus tickets which offer low price travel around the West Yorkshire area
Yorkshire is well connected by motorways. The M62 runs east-west across the region and the M1 & A1(M) run north-south. There are also a number of scenic trunk road routes, including the A59 into Lancashire, and the A64 and A170 routes to Scarborough and the coast.
Its industrial heritage has left Yorkshire with a sizable canal network which allows for slow and scenic longboat journeys
See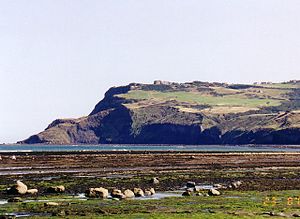 Robin Hood's Bay - famous area for hiking, south of Whitby
Whitby - delightful seaside town with spectacular cliffs
Fountains Abbey, near Ripon - the best preserved medieval abbey ruin in England
Rievaulx Abbey, near Helmsley
Sutton Bank - edge of the Hambleton Hills and a viewpoint for miles around, on the edge of the North York Moors
Scarborough's cliffs, bays and castle
Malham's fascinating limestone pavements
The Yorkshire Three Peaks - the Yorkshire Dales hills of Ingleborough, Whernside, and Pen-y-ghent
Wharram Percy - an excavated mediaeval village on the Yorkshire Wolds. South of Malton
Salt's Mill, a world heritage site in Saltaire near Bradford
The Humber Bridge, a large suspension bridge linking East Yorkshire across the River Humber to Lincolnshire (Kingston upon Hull - Barton-upon-Humber)
Rosebery Topping - the "mini matterhorn", the last hill of the North York Moors which overlooks industrial Teesside
Eden Camp,Malton - a wartime base turned into a museum
Castle Howard, a stately home famous to many as the setting for the TV series Brideshead Revisited. North York Moors
Bolton Abbey, Skipton
The Settle-Carlisle Railway, an historic and scenic railway line which features the Ribblehead Viaduct, a scheduled ancient monument
The Leeds-Liverpool Canal, an historic and scenic waterway
Do
Yorkshire is a prime region for outdoor activities with a fantastic natural heritage and amazing scenery including three National Parks.
Walk - routes such as the Coast to Coast Path, the Pennine Way, the Cleveland Way, the Wolds Way National Trails, the Nidderdale Way and the Ingleton Waterfalls Walk.
Sports - Yorkshire has a wealth of professional sports teams (association football, cricket, rugby, ice hockey etc.) to watch and facilities to enjoy practising sports yourself.
Football
ie soccer: almost every major town has a football team playing in the main leagues. In the Premier League, the top tier, is
Huddersfield
Town. In the Championship, the second tier, are
Hull
City,
Leeds
United,
Middlesbrough
,
Rotherham
United, and
Sheffield
United and Sheffield Wednesday. In League One, the third tier, are
Barnsley
,
Bradford
City, and
Doncaster
Rovers.
Cricket:
Yorkshire County Cricket Club is based at Headingley in Leeds. International games are often held here.
Cycling: lots of scenic routes, though the gradients will get your attention. Following the success of the 2014 staging here of the Tour de France, the Tour de Yorkshire is held annually in early summer. The next event is 2-5 May 2019. Check the website and local listings for where to watch, and road closures.
Horse racing: there are nine racecourses in Yorkshire, all with regular flat-races April to October, and some with jumps races in winter. The courses are at Beverley, Catterick near Richmond, Doncaster, Pontefract, Redcar near Middlesbrough, Ripon, Thirsk, Wetherby and York.
Heritage railways - there are at least seven in Yorkshire, often steam-hauled. Those that could be called a "proper railway", ie you make a real journey of several miles, are:
Keighley & Worth Valley Railway, from Keighley to Haworth and the
Brontë Country
.
Wensleydale Railway, from Leeming Bar near Northallerton to Bedales, Leyburn and Redmire
North York Moors Railway from Whitby to Pickering
Music - from the Leeds Symphony Orchestra to Sheffield being the home of Def Leppard, Arctic Monkeys and Pulp, there's something for everyone.
Eat
A few of the region's specialities include:
Curry - Bradford won a 2011 vote to become the Curry Capital of Great Britain
Liquorice - a black confection associated with Pontefract. Bertie Bassett's Licquorice Allsorts are produced in Sheffield.
Wensleydale - a crumbly white or blue cheese traditionally eaten with sweet desserts. Wensleydale has attracted famous fans in the form of animated characters Wallace and Gromit (even though they're from Lancashire!). You can visit the Wensleydale Creamery in Hawes.
Yorkshire Parkin - a ginger cake traditionally made around Guy Fawkes' Night
Yorkshire Pudding - made from a batter. It can be eaten savoury or sweet, either as an accompaniment or an edible pie dish
Drink
Ale - two of the UK's best-selling bitters, Tetley's and John Smiths, have their breweries in Yorkshire, traditional pubs may also provide Theakston's Old Peculiar and Black Sheep Ale, which are brewed in Masham, North Yorkshire
Tea houses - enjoy a cup in a pretty town like Harrogate
Mineral water - produced in several Yorkshire towns, such as Keighley
Sleep
York
,
Sheffield
and
Leeds
are the most convenient bases for exploring the region and have a wide variety of accommodation options to suit every budget. Of course, exploring Yorkshire's stunning countryside involves getting out of the towns and into the many hotels, guesthouses and B&Bs that are scattered throughout the region.
Stay safe
Yorkshire in general is quite safe. But like many places in the north of England, the collapse of various industries in Yorkshire has had a devastating effect on the economy, thus crime rates have become very high in some areas, mostly due to high unemployment. It's very unlikely that tourists will be victims of crime, but you should keep your wits about you if you decide to venture into areas that aren't tourist oriented.
Out in the countryside there is little risk of crime (other than valuables left on view in cars in isolated places), though if going walking in winter take sensible precautions against the weather. Also make sure you have a map and compass if you decide to go off the beaten track, you can very easily get lost without them.
In towns and cities, keep valuables out of sight, and stick to well-lit busy areas at night as is recommended for all UK towns and cities.

Go next