Chicago/Lakeview-North Center
Lakeview
has the lion's share of
Chicago
's nightlife, starting with
Wrigleyville
, home of the Chicago Cubs and major players in the city's theater and music scenes, and
Boystown
, one of the largest and most vibrant LGBT communities in the United States. Down the street from both is the Belmont strip, where teen punks flock to shop and show off in the Dunkin' Donuts parking lot.
Further west are the neighborhoods of
North Center
,
Roscoe Village
and
St. Ben's
, which have fun, laid-back bars and restaurants.
Understand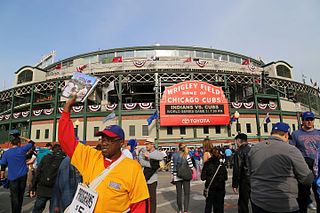 For many years, Lakeview was so far away from the action that opening a saloon on Clark Street was a considered a peaceful retirement for convicted ex-politicians in Chicago. With the expansion of the elevated train system, however, that changed rapidly, and with the 1914 construction of Weeghman Park, later to be known as
Wrigley Field
, Lakeview became the capital of the North Side. The Chicago Cubs, also known as the most dominant baseball franchise of the 19th century, took up residence at Wrigley and commenced the hundred-year lack of success that made them famous. Other teams have slumps, but the Cubs were beyond compare, tormenting their fans with a hundred years of near-misses, late collapses, and abject futility that is unrivaled in American professional sports. The curse finally came to an end, though: in 2016 they won their first championship in over a century. But win or lose, Game Day is always a joy in Wrigleyville. As the last franchise in baseball to install stadium lights for night games, the Cubs' schedule still features more early afternoon starts than any other team in the league, and the sun-soaked ivy walls of Wrigley Field are a pleasure no matter what the score. Today, it's a rare thing in America: a genuine neighborhood ballpark, surrounded by streets that amplify the Cubs fandom into frenzy on game day. As a nightlife destination, Wrigleyville also supports the
Metro
, one of Chicago's foremost rock venues, and other great ones like
Schuba's
,
Martyrs'
, and
The Vic
. The storefront theater scene also thrives here.
But there's more to Lakeview than Wrigleyville. A short walk east is
Boystown
, home of a cheerful, lively LGBT community and a great destination for anyone who enjoys high-energy nightlife. It's also home to the massive annual
Pride Parade
in June.
Roscoe Village
is west of Wrigley, and is popular with older gay couples and young people lured in by fashionable boutiques and the promise of a sunny day at one of the many sidewalk cafes on Southport, not to mention Chicago's premier movie revival house, the
Music Box
. And Lakeview embraces its inner dive bar in
North Center
, full of converted warehouses, quality bowling alleys and cheap beer without the jocks.
Get in
By train
The CTA
Red Line
makes stops in Lakeview (Belmont) and Wrigleyville (Addison, Sheridan). The
Brown Line
, further west, connects with the Red Line at Belmont, and makes additional stops in Lakeview (Diversey, Wellington, Southport), Roscoe Village (Paulina), and North Center (Addison, Irving Park). All but Sheridan are wheelchair accessible. The
Purple Line
from the
Loop
and
Evanston
also stops at Belmont during weekday rush hours.
By bus
8 Halsted travels through Boystown. A poll named this the worst bus route in the city. It's late when it shows up and goes nowhere fast.
9 Ashland is an all-night route. Overnight service only runs between 95th and the North/Clark Red Line stop.
22 Clark runs the length of the north side, but it slows to a crawl through Wrigleyville, particularly on weekends and on days of Cubs games. It runs all night long.
49 Western runs all night through most of the city and hits the Belmont/Western intersection, near which is the best of the Roscoe Village nightlife.
76 Diversey runs east/west on Diversey, the border between Lincoln Park and Lakeview, and continues to Logan Square.
77 Belmont runs all night and connects Roscoe Village with the Belmont Red/Brown Line stop and Boystown.
80 Irving Park runs most of the east/west length of the city, connecting with the Brown Line in North Center and the Sheridan Red Line.
152 Addison travels east/west through the edge of Boystown, Wrigleyville, and on to North Center.
By car
Lake Shore Drive
has an exit at Belmont. Beware of driving on Clark Street on weekends and during Cubs games, though. The taxis are a menace and the drunks are drawn to the middle of the street like flies to lights. You'll go nowhere fast and see Chicago at its worst in slow-motion.
See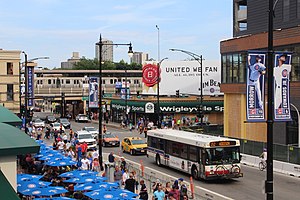 phone: +1-773-478-3499

address: 2741 W Montrose Ave

Great big wonderful park with plenty of softball fields, football and soccer fields, basketball and tennis courts, trees, and a nice walking path. The leafy surroundings make it a great place for the annual pumpkin patch in the fall.

Wunders Cemetery

phone: +1-773-525-4038

address: 3963 N Clark St

Overshadowed by the magnificent Graceland Cemetery across the street in Uptown, the smaller, slightly overgrown Wunders was established in 1859 and features some intriguing monuments, with more of a forgotten-by-time atmosphere than its more famous neighbor. A third cemetery, Jewish Graceland, is directly south.
Do
Take me out(side) to the ball game
Cubs games can sell out months in advance, especially for weekend games and battles with their crosstown rivals, the White Sox, and their Midwest rivals, the St. Louis Cardinals. But if that's the only time you have to visit, don't despair. Show up early and inquire at the Day Of Game ticket windows at Clark and Addison. If they turn you away, walk around outside and see if the scalpers are offering anything within your budget. (If you're feeling
really
confident, slip into one of the long lines for the rooftop parties on Sheffield or Waveland and claim to be with whatever party the guy two spots ahead of you claims to be with. IDs are not always checked, and once you're in, security is nil.) Still no luck? Relax outside the sidewalk-level fence on Sheffield to get a decent view of the game. There are always a few people watching it there for free. Scalpers will get desperate by the fourth inning and approach you with offers. If you have no money at all to spend, head down to Waveland Avenue and join the die-hards camped out there to chase out-of-the-park home run balls. Somebody usually has a radio tuned to the game action, and you might come away with a souvenir.
Music
A few great venues are also listed under
Drink
as well.
Theaters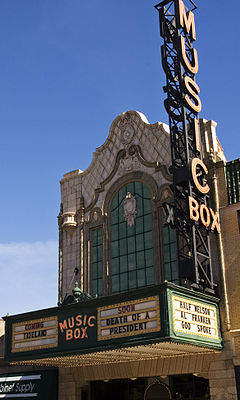 phone: +1-773-348-4000

address: 3133 N Halsted St

The Chicago home of the nationally famed performance art Blue Man Group. Shows in the evenings, with matinees included on weekends. If you've seen them elsewhere, you're not likely to see anything new here.

phone: +1-773-871-3793

address: 3209 N Halsted St

The Playground has a few things going for it: the perfect location for beginning or ending the night with a show, a BYOB liquor license, and a non-profit co-op structure that makes the performers here some of the most enthusiastic and committed you'll find. Quality will vary by ensemble.

phone: +1-773-883-8830

address: 3408 N Sheffield Ave

One of the mainstays of Chicago's storefront theater since 1982, Stage Left hosts everything: new works of social, political, intently serious drama are balanced out by manic rough drafts of new comedies by guest ensembles.
Events & festivals
phone: +1-773-348-8243

address: 3712 N Broadway St

The annual celebration of Chicago's gay community, led by a parade down Halsted with floats and foam rubber contraptions that are not for the faint-of-heart. It's crowded, but it's a favorite of people from all over the city, and always high-energy. Most Boystown bars, clubs, and restaurants hold special events along with it. It gets very "lit"!
Buy
There are a few shopping areas of note. The Southport Corridor (3300 N to 3800 N) has a row of independent boutiques along with a few specialty stores. Lincoln Avenue in Roscoe Village also has some worthwhile shops, particularly near the Paulina Brown Line stop. Clark Street near Diversey has a few chain retailers like Marshall's, and a number of upscale boutiques are crammed alongside resale behemoths on Belmont, near the train station.
On game days, the streets of Wrigleyville are packed with vendors selling cheap Cubs gear.
phone: +1-773-883-1800

address: 843 W Belmont Ave

The rock 'n roll shop in Chicago. Styles extend into punk, mod, emo, rockabilly, and goth; offerings range from clothes, shoes, and jewelry to bondage gear. It's the kind of edgy that is loved by no one as much as teenagers.

phone: +1-773-935-2693

address: 3532 N Southport Ave

Librarian chic clothes boutique.

phone: +1-773-549-5943

address: 3020 N Lincoln Ave

Find bargains on a large selection of second hand merchandise, including many upscale brands. All proceeds support HIV/AIDS care and gay and lesbian services.

Century Shopping Centre

phone: +1-773-929-8100

address: 2828 N Clark St

A vertical mall headlined by the Landmark's Century Centre multiplex showing independent and foreign movies, and several floors of stores from fashion chains like The Express.

Gaymart

phone: +1-773-929-4272

address: 3457 N Halsted St

With a large variety of gay-themed items — from sex toys to mouse pads and greeting cards — Gaymart is a must visit for Boystown shoppers.

phone: +1-773-868-9263

address: 812 W Belmont Ave

Cheap re-sale clothes shop. They also have a location in Wicker Park, but this one is open later (for those impulse fedoras) and has two floors.

phone: +1-773-244-6431

address: 2958 N Clark St

Excellent selection of letterpress cards and other artful items, antiques, and one-of-a-kind objects. They also have a framing gallery in Andersonville, Foursided, but this one is a true gem.
Eat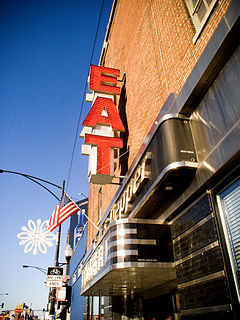 It's not until you reach the high-end that Lakeview dining becomes especially memorable, but there are plenty of quick, reliable places. Most importantly, a lot of them are
open late
— this is probably the best place in the city to grab a bite after midnight.
Budget
phone: +1-773-880-7372

address: 2951 N Broadway St

Terrific locally-made ice cream at half the price of Cold Stone.

phone: +1-773-327-8330

address: 3257 N Broadway St

Long standing Thai food restaurant on Broadway in Boystown. Numerous noodle, curry, and rice dishes at a very affordable price. BYOB, so stop at Treasure Islando before hand and get a nice bottle of wine to go with your meal. Good price on lunch specials, or use it as a great meal to start your night out on the town.

Melrose Restaurant

phone: +1-773-327-2060

address: 3233 N Broadway St

Open around the clock and always busy, the Melrose is a diner of modest culinary aspirations (burgers, omelettes) but it's right at the center of Boystown whether it's time for brunch or long past time to sleep.

phone: +1-773-248-9888

address: 3334 N Halsted St

Casual, unpretentious diner that has been in Boystown for a long time. It's great for brunch, late-nights on weekends, and people-watching.

Pick Me Up Cafe

phone: +1-773-248-6613

address: 3408 N Clark St

Best known for being open late when you're too drunk to go anywhere else, this vegan friendly cafe has a variety of food from Mexican to pizza, and a nice selection of desserts.

phone: +1-773-281-8222

address: 950 W Diversey Pkwy

If you're looking for fast food, Penny's serves delicious Thai/Asian food and charges less than McDonald's.

Salt n' Pepper Diner

phone: +1-773-883-9800

address: 3537 N Clark St

This Wrigleyville greasy spoon has typical diner fare, but done in a way that makes it uniquely Chicago. The burgers are excellent, and so is the service.

phone: +1-773-477-0100

address: 936 W Diversey Pkwy

Decent Thai, Chinese, and Japanese food directly under the Diversey station. (It's never too loud, though.) The menu is surprisingly long for the size of the place, and they tend to do tofu notably well.

phone: +1-773-327-5253

address: 3930 N Sheridan Rd

Good casual Thai food has been somewhat of a challenge in many parts of Chicago. This new BYO has succeeded when many other Thai restaurants have failed. Menu is available in both English and Thai.
Mid-range
phone: +1 773-975-7436

address: 2814 N Southport Ave

phone: +1 773 248-7426

address: 2301 W Roscoe, Roscoe Village
Splurge
Drink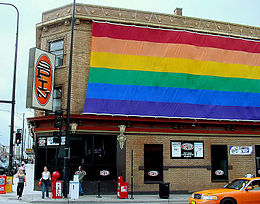 Boystown
The nightlife in Boystown may be the best in Chicago. It's wild, uninhibited and just plain fun, regardless of sexual orientation. Most of the action is on Halsted/Broadway between Addison and Belmont.
Wrigleyville
Yes, Elwood, the address is correct
The Captain Morgan Club, at 1060 W Addison, is attached to Wrigley Field. Non-ticket holders may enter and imbibe to their hearts' content while watching the game on TV. Ticket holders will find a separate entrance to the ballpark inside the bar that circumvents the chaotic Sheffield entrance right next door. It's open 10AM-10PM Su-Th; 10AM-11PM F-Sa.
There is a watering hole for just about every personality type in Wrigleyville, particularly if you venture off the Clark Street drag near the ballpark. If you're here for a Cubs home game, rest assured that you'll be surrounded by thousands of merry Cubs fans and a world that desires nothing more than to put beer in your hands; on the downside, you'll be surrounded by thousands of Cubs fans and a world that desires nothing more than to spill beer on you, so get comfortable with sharing personal space with strangers. If you're drinking well into the night, choose wisely; as the evening wears on, a few of the bars on Clark turn into half-eaten piles of rancid nachos and the city's ripest gathering ground for date rape statistics.
phone: +1-773-525-1898

address: 3664 N Clark St

One of the most popular bars with locals and out-of-towners alike. The rather small inside bar opens to a large back patio. Crowd has gotten younger the past few years, but you'll still find fans from ages 20 to 90 having a good time.

The Ginger Man

phone: +1-773-549-2050

address: 3740 N Clark St

Guaranteed the only bar in Wrigleyville with Joy Division and Public Enemy on the jukebox. If you want a beer after a Cubs game and you don't want to be surrounded by frat boys, this is the place. Next to the Metro and Smart Bar.

Goose Island

phone: +1-773-832-9040

address: 3535 N Clark St

As the name suggests, you can drink the full range of the local Goose Island microbrews here, and it's reasonably spacious by Wrigleyville standards. Tasty food, too.

Guthrie's Tavern

phone: +1-773-477-2900

address: 1300 W Addison Ave

Cozy neighborhood bar known for its extensive collection of board games and bottled wines. It's a local favorite that escapes most of the obnoxious behavior found down the street.

phone: +1-773-281-5356

address: 3655 N Sheffield Ave

Granddaddy bar for all bleacher bums. Get there early if you want one of the coveted outside tables. It's always packed on game days; expect to pay $5 for a can of domestic beer. In the off-season, Murphy's turns into a rather cozy neighborhood bar.

phone: +1-773-525-0557

address: 3439 N Sheffield Ave

Local cult favorite with an interesting Japanese backstory. No sushi here; just a great bar with a few pool tables.

Piano Man

phone: +1-773-868-9611

address: 3801 N Clark St

Popular local bar that has no piano, just a jukebox. Neighbors want to keep this place a secret, but the word has gotten out.

phone: +1-773-248-0055

address: 3540 N Clark St

Home away from home for suburbanites. Packed on game days; some say too packed. Sing to your heart's content with the piano guys upstairs or get out your pent-up aggression from another Cubs' heartbreaking loss in the batting cages.

phone: +1-773-477-3400

address: 3714 N Clark St

Less overtly sports-focused than its neighbors. Great place if you are thirsty at 3AM.

phone: +1-773-929-3680

address: 3800 N Clark St

It's almost unbelievable that such a lovely, relaxed bar/cafe is this close to Wrigley, but there it is. Evenings see a full schedule of acoustic music with a full bar of beer, cocktails, and wine, while organic breakfast, lunch and dinner are served all day, and two fireplaces await in the winter. Uncommon Ground also hosts the annual Jeff Buckley Festival, now in its tenth year, in honor of the singer's legendary 1994 performance there.

phone: +1-773-525-9200

address: 3710 N Clark St

Surprisingly good food at this cash-only joint. Owners will put just about any sport that's televised anywhere on at least one TV if asked. Cornell vs. Harvard Men's Ice Hockey anyone?
Others
Lakeview bars may get a bad name from the roiling mess on Clark Street, but there are actually several great places to drink within range of Wrigley.
Hot tamales?
One man connects the many bars of Roscoe Village and North Center. His name is unknown to most, but his offer is a local legend: "Hot tamales?" For several years, the number of places visited by the hot tamales guy in one night (roughly 9PM to close) has put Santa Claus to shame. Many of these bars serve cheap beer but no food, so five tamales for $5 can seem like a pretty good deal, and he's even got cheese-only for vegetarians. He's not long on presentation, doing a steady trade of Ziploc bags from a cooler, but damned if those tamales don't hit the spot sometimes. Bargoers tend to hold him in awe for his sheer ubiquity, even when they're not hungry. So if you're getting hungry but you're settled into a good dive, be patient. To paraphrase Ben Franklin, in the Roscoe Village and North Center bar scene, nothing is certain except death, taxes, and the hot tamales guy.
phone: +1-773-404-5886

address: 2852 N Southport Ave

Comfortable atmosphere and a wide variety of wines. It may not be the first thing you think of when you think about a wine bar, but they serve a chicken pot pie that is delicious. It's connected to Jack's next door, which is more of a sports bar.

phone: +1-773-281-4444

address: 2100 W Belmont Ave

There's beer and late-night food in the quiet front room, but the Beat Kitchen is worthy of recognition as one of the best venues in the city outside of Wicker Park for double or triple bills of excellent, little-known local and touring bands. Tuesdays are set aside for the Chicago Underground Comedy stand-up showcase.

Hungry Brain

phone: +1-773-935-2118

address: 2319 W Belmont Ave

There's a lot to like at this small Roscoe Village bar: a few pinball and arcade machines, the sense of being in someone's comfortable basement (with beer), and the Sunday night (10PM) Transmission series for improvisational and experimental jazz.

phone: +1-773-248-3318

address: 2932 N Clark St

A good place to recover from shopping binges at the Century Shopping Centre and its neighbors (see Buy). Jake's has a good beer selection and dependable jukebox. Dogs are not only welcome — they're encouraged.

phone: +1-773-348-7592

address: 1920 W Irving Park Rd

A small and intimate setting for jazz, funk, blues, and Greek music most nights, and poetry, performance and movies when there isn't music. Southern European cuisine served along with the drinks. Alas, Katerina's is closing at the end of June 2014. A new music and art venue is slated to take over the space.

phone: +1-773-665-4500

address: 1612 W Irving Park Rd

A low-lit neighborhood lounge with a casual atmosphere worth settling into for a while — and, yes, it's a very long room.

Resi's Bierstube

phone: +1-773-472-1749

address: 2034 W Irving Park Rd

A fine old-fashioned brauhaus, with high marks for the music, the beer garden, and the ambiance. Food on offer from the kitchen (closed Mondays) includes sausages and schnitzel, of course.

Ten Cat Tavern

phone: +1-773-935-5377

address: 3931 N Ashland Ave

The kitty on the sign is cradling a ten-ball because there's pool to be played here, but in most other respects, this is someone's apartment that happens to have a bar in it (and a pretty good backyard).
Sleep
Most visitors will feel comfortable staying here in terms of safety, and Lakeview is a better place to experience something of the real city than the retail isolation of the
Near North
. Given the boozy atmosphere, though, it's probably better for singles and young couples than families with kids in tow. (You can get to Wrigley from anywhere in the city via the Red or Brown Line, after all.)
There are also a handful of budget and mid-range options just south of Boystown in
Lincoln Park
. Hotels are usually booked solid for the Pride Parade in June, so make reservations early or be ready to check in other areas.
Budget
phone: +1-773-597-4471

address: 3514 N Sheffield Ave

Very good hostel near Wrigley Field that is open 24 hours a day. Comfortable beds, free Wi-Fi, free breakfast and a common area with large screen TV and computers with Internet.
Mid-range
phone: +1-773-816-2465

address: 3222 N Sheffield Ave

Reasonably priced bed and breakfast in a turn-of-the-century greystone building, not far from Wrigley Field and the nightlife on Belmont. Amenities include internet access in the lobby, continental breakfast, and a complimentary lunch or dinner at Trader Todd's restaurant/karaoke bar two doors south.

phone: +1-773-404-2416

address: 3447 N Halsted St

Closest accommodations to Wrigley Field, in a turn-of-the-century building.
Splurge
Connect
phone: +1-312-744-0166

address: 1659 W Melrose St

Free public internet access. Three blocks south of the train station.

phone: +1-312-744-1139

address: 644 W Belmont Ave

Free public internet access. Three blocks east of the train station, near Boystown.
Go next