Chicago/Near North
The
Near North
is the shop-and-awe center of
Chicago
. It's bounded by North Avenue to the north, the Chicago River to the west and south, and Lake Michigan to the east.
With a whirlwind rush of department stores, restaurants, and luxurious hotels, there's no better place to abuse your budget than the Near North and its celebrated
Magnificent Mile
.
Understand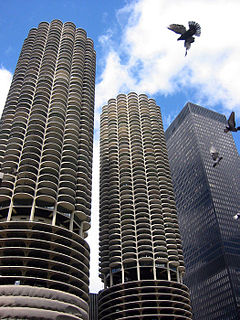 The Near North includes the neighborhoods of
River North
, full of art galleries, commercial lofts, and some tourist restaurants, nightclubs and bars;
Streeterville
and the Gold Coast, with expensive living for rich folks and many of the city's most impressive hotels; and the most prestigious shopping district in Chicago, the Magnificent Mile on Michigan Avenue, which includes one of Chicago's most beloved landmarks, the
Water Tower
.
This area has been a part of Chicago from the beginning, when Fort Dearborn was built on the other side of the river in 1803 (and burned to the ground nine years later, establishing an unfortunate civic trend). But since the early 1920s, when bridges were built to draw shoppers away from State Street in the
Loop
, there has been too much to sell, too much awe to inspire, and not a minute to spare. That's why the Near North can be such a delight at a tourist's pace. The locals are in a hurry, but if you're not, the serene image of the old Water Tower or the resolutely quiet riverwalk can take on the feel of a private discovery, even with all of these people around.
That's not to say you can't have fun getting caught up in the hustle and bustle, of course. The sheer amount of shopping on Michigan Avenue cannot be overstated. The world's most elite fashion designers are represented here, and the rest wish they were. River North has many of the city's busiest (if not best) clubs, with a dense row on Rush Street. In the Near North, you'll find a few significant members of the
Chicago skyline
, including the
John Hancock Center
and
Lake Point Tower
, which stands alone to the east at the end of a new, steel-and-glass future-scape in south Streeterville; it makes for an impressive view from Lake Shore Drive, and serves as an entryway to one of the city's most popular tourist spots,
Navy Pier
, a great place for entertaining children and catching the breeze from Lake Michigan with an evening stroll or a turn on the 150-foot tall
Ferris Wheel
.
Get in
What's that island?
That is Goose Island, an oddity of downtown Chicago, from which Chicago's biggest craft brewery takes its name. Named after an early Irish immigrant community who supposedly raised geese as livestock, the island was formed when landowner and Mayor William Ogden oversaw the building of a canal around its east side. Throughout its history, the island was an industrial center, but in recent times it seemed its riverfront location and splendid downtown views would ensure its conversion to condominiums. That change was halted in 1990 when Mayor Daley backed its new status as a "Protected Manufacturing District."
By train
The CTA
Red Line
has stops near the entertainment in River North (Clark/Division) and the Magnificent Mile (Chicago, Grand).
The CTA
Brown Line
and
Purple Line
stop in the midst of the River North galleries (Chicago), and the Merchandise Mart has the next stop all to itself.
By bus
An intricate web of CTA bus lines serves the Near North, most converging upon the northern end of Michigan Avenue. Several express buses from other parts of the city serve Michigan Avenue, notably the
147 Outer Drive Express
from the north side and
3 King Drive Express
from the south side. Once you're here, though, you will find it better to cover the Magnificent Mile on foot.
22 Clark is useful for travelers coming from the Loop and the North Side to River North.
65 Grand travels down Grand Avenue, connecting with both the Red Line and the Blue Line further west.
66 Chicago travels down Chicago Ave from the lakefront to Michigan Avenue, through River North, and on to West Town.
124 Navy Pier serves Navy Pier directly from train hub Union Station and Millennium Park in the Loop.
125 Water Tower Express brings you to the Water Tower from the other Loop train hub, Ogilvie/Northwestern Station, and the Merchandise Mart.
157 Streeterville runs close to Navy Pier and on to the Loop.
By trolley
Free trolleys run from Navy Pier through the area seven days a week, year round, during the pier's open hours.
By car
Avoid driving to the Near North unless you have a very good reason for doing so. Streets are packed with taxis, confused tourists, desperate businessmen late for something or other, and even the occasional horse. Your knuckles don't need the strain.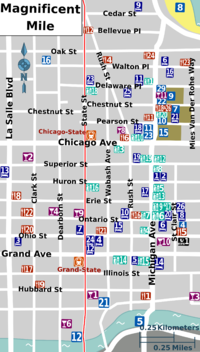 See
Along the Magnificent Mile
is a one day and night itinerary that connects the Near North with the
Loop
for shopping, food, skyscrapers, parks, and amazing views of Chicago from high and low.
phone: +1-312-280-2660

address: 220 E Chicago Ave

Contemporary art from around the world. The MCA has a great location and plenty of financial backing, but it's still fighting for recognition in the museum world; while not an upper-tier institution as yet, that has resulted in some interesting exhibitions. There isn't much of a permanent collection, so check what's on before you go. Also, Wolfgang Puck operates a lunch-only eatery in the MCA. If you're used to the sprawl of the Art Institute, be aware that this museum is much smaller.

phone: +1-312-943-9090

address: 60 W Walton St

The oldest public library in Chicago, although not part of the city library system. The collection focuses on the humanities, American and European history, and the age of exploration. Occasional author events are held.

Tribune Tower

phone: +1-312-222-9100

address: 435 N Michigan Ave

Built in 1925, the walls of the Tribune Tower contain rocks from many famous world landmarks, including: the Taj Mahal, the Parthenon, the Great Pyramid, the Cathedral of Notre-Dame, the Great Wall of China, the Berlin Wall, and most recently from the demolished World Trade Center. The Tribune Tower even managed to get its hands on a moon rock, but so far NASA hasn't allowed it to add the rock to the wall.

Trump Tower

address: 401 N Wabash Ave

1362 ft. The Trump Hotel and luxury residential building is both the newest member of the Chicago skyline, completed at the beginning of 2009, and the tallest after the Sears Tower — indeed, it is the fourth tallest in the United States. The Donald intended for it to be the tallest in the world, but decided to scale back following the 9/11 terrorist attacks. The design features three prominent setbacks at the height of nearby buildings: the Wrigley Building, Marina City, and 330 N Wabash, which, combined with its singularly reflective exterior, allow this supertall to blend into the skyline, almost to the point where you could overlook it. As intended, the building reflects and interacts with the Chicago skyline, rather than imposing itself upon it with its great height. Regardless, you will not likely miss this building, and it's plenty interesting to examine — its asymmetric form ensures that you will see something quite different from any different vantage point.

Water Tower

address: Chicago Ave & Michigan Ave

In 1871, when Mrs. O'Leary's cow kicked over the lantern in her barn — or was framed for the act, depending on who you ask — the Gothic Revival spires of Water Tower were only two years old. Today, along with the Pumping Station on the other side of the street, the Water Tower is the last, dream-like symbol of the Old Chicago that disappeared in the Fire. Surrounded by hotels and colossal department stores, it's also the icon of the new city that arose. At night, the Water Tower is lit from within, and it's a memorable sight. Inside, the vintage machinery is long gone (along with the water), and the plain interior is occasionally used as a gallery space.

Fourth Presbyterian ChurchA Gothic Revival church built in 1912 provides a contrast to the surrounding bustle.

860–880 Lake Shore Drive ApartmentsThese glass and steel towers may look commonplace, but they were some of the first glass and steel towers, a concept copied everywhere. The 26 storey apartment towers were built in 1949- 1951 to a design by Ludwig Mies van der Rohe (a nearby street bears his name). The neighbouring 900-910 Lake Shore Drive were also designed by van der Rohe and built in 1955 as one of the first towers to use glass curtain walls. The towers house apartments and the interior is not open.
Galleries
Centered between the Merchandise Mart and the Chicago Brown Line station, with a few galleries that stray closer to
Old Town
or Michigan Avenue, River North boasts the largest arts and design district in North America outside of Manhattan. Art galleries tend to be concentrated closer to Chicago Avenue, with more design galleries closer to the Merchandise Mart. The entire area is walkable and makes for fun browsing. Although everything on display is for sale, admission is almost always free, and visitors needn't fear gallery owners putting on the hard sell.
Navy Pier
For visitors with disabilities
The Grand station on the Red Line, the closest to Navy Pier, is not wheelchair accessible. But the Chicago station, the next stop north, is fully ADA-compliant. From the Chicago station, the #66 Chicago bus goes straight to Navy Pier.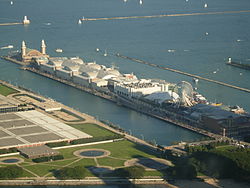 address: 600 E Grand Ave

Built in 1916, Navy Pier has had many different uses over the years; in 1994, it became a tourist attraction, with more than 50 acres of restaurants, shops, and activities by Lake Michigan. It's an easy place to entertain children. Unless otherwise noted, all of the attractions are open during Navy Pier operating hours. Several buses reach Navy Pier, including #29 State, #65 Grand, #66 Chicago, and #124 Navy Pier Express from the two Metra stations in the Loop.

Amazing Chicago's Funhouse Mazeof tunnels and mazes for adults & kids over 7 years old.

Bike and RollA wide variety of bikes, rollerblades, pedicabs and other wheeled vehicles are available for rent. Tours are also available.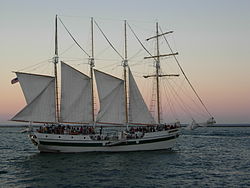 Boat CruisesNumerous boat cruises depart from the pedestrian-only "Dock Street," operated by several different companies. Some head inland on the Chicago River, and others stick to Lake Michigan. Double-decker tours also ply the boardwalk.

phone: +1-312-527-1000

address: 700 E Grand Ave, #127

Hands-on exhibits for kids, including the popular Dinosaur Expedition.

phone: +1-312-595-5600

address: 800 E Grand Ave

The CST offers high production values and somewhat bland production experiences; not bad, mind you, but not likely to leave you with much more than a pleasant, faintly-remembered evening. Still, if you're in the mood for Shakespeare, you'll find a professionally-mounted production of one of his major works here throughout the year.

FireworksYou can watch the fireworks display from anywhere on the Pier. Booze and live music of varying quality are available at The Beer Garden (+1-312-595-5439, summer W-Sa to midnight, Su to 10PM).

phone: +1-312-595-5MAX

address: 700 East Grand Avenue

Both Hollywood movies and IMAX films are shown on the six-story movie screen here.

Pier ParkIncludes the signature Ferris Wheel, a mini-golf course, remote-controlled boats, and more.
A few Chicago
restaurants
have branches here. There's also a food court, and vendors along the dock during the summer. You're much better off making the short walk to one of the nearby restaurants off the pier, though — you'll save money and likely eat better. There's no cost for re-entry to Navy Pier, after all.
Among the restaurants,
The Billy Goat
and
Charlie's Ale House
serve beers that are brewed in-house. Try the dark beer from the Billy Goat or head down to The Beer Garden to sample Chicago brewers Goose Island.
Shopping
is in plentiful supply, although it's pretty much limited to tourist-souvenir Chicago kitsch type stuff.
Do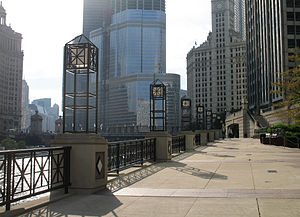 Horse-drawn carriages
ply routes along the Magnificent Mile and through Streeterville, usually beginning around the Water Tower. (You might see police officers on horses as well.) While there are too many cars to establish the kind of atmosphere you might expect in, say,
Central Park
, you'll probably know whether the night calls for a carriage ride, and choose accordingly. Expect to pay about $35 for a half-hour tour. College students also roam the area with small yellow cabs attached to the backs of bicycles for a low-cost, low-point alternative.
Broadway Playhouse at Water Tower Place

phone: +1-312-642-2000

address: 175 E Chestnut St (Water Tower Place)

Part of the Broadway in Chicago crew, serving up major touring productions.

phone: +1-312-337-0665

address: 821 N Michigan Ave

Known for their inventive, acrobatic shows; their repertory production of "Lookingglass Alice" is a knock-out. It's worth peeking inside even if you don't plan to see a show, though, to check out the insides of the old Pumping Station; unlike the Water Tower, its more famous sibling across the street, there's some interesting old machinery to see.

Oak Street Beach

address: between 500–1550 Lake Shore Dr

There is plenty of everybody doing everything at Oak Street Beach. Beyond swimming and sun-tanning, it's one of the city's most popular spots for beach volleyball, and there are concrete paths for cycling and skating. (Do not, however, plan to eat lunch at the overpriced restaurant on the beach.) To get here, cross under Lake Shore Drive through a pedestrian underpass. If the crowds are a bit much, walk a short way south to the smaller, lesser-known beach next to Milton Olive Park (named for a local Medal of Honor recipient).

phone: +1 312-245-9300

address: 540 N Lake Shore Drive

Bobby's Bike Hike is Chicago's top-rated company for seasonal bike tours and year-round walking and food tours and bike rentals. Discover the true pulse of the city on urban adventures that are fun for all ages, interests, and fitness levels. Tours offered daily from March to November except Thanksgiving Day.
Events & Festivals
Air & Water ShowEvery August, the Blue Angels and the Thunderbirds headline a five-hour show over Lake Michigan. "Show Central" is at North Avenue Beach, but the action may be viewed anywhere from Northerly Island to Montrose Point, inland through Lincoln Park, and offshore by boat. (If you go by water, take a big boat, as the heavy traffic makes for choppy, seasickness-inducing waves.) A dress rehearsal takes place on Friday, often with multiple run-throughs by the headlining act. You won't see 100% of the weekend show, but it's a great way to avoid the crowds.
Activities
address: 800 Scott St

Indoor skydiving facility with easy access from the downtown area.
Buy
Magnificent Mile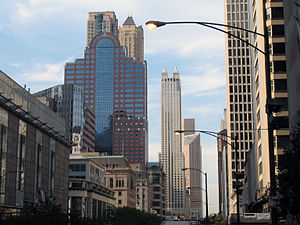 One of the most prestigious shopping streets in the world, this stretch of Michigan Avenue is home to massive department stores, wildly expensive boutiques, and larger-than-usual stores for national chains like
The Gap
,
Banana Republic
, and
Crate & Barrel
. Some retailers even have two or more branches here: one standing alone, and another in one of the department stores. This isn't the place to look for discounts, though. Remember, you're not shopping here because it's cheap — you're shopping here because it's the Magnificent Mile.
phone: +1-312-915-3916

70 specialty shops in the most stunning of the Michigan Avenue department stores. Includes MaxMara, among the most expensive stores for women's apparel on a street that's known for expense.

phone: +1-312-587-8301

address: 600 N Michigan Ave

Money rushes out of wallets at this fashionable women's store, anchor of the 600 N Michigan shopping complex. If you like what you see, also check out the Ann Taylor Loft at 520 N Michigan, and another at Water Tower Place (see below).

phone: +1-312-981-4104

address: 401 N Michigan Ave

For some, a welcome respite from all of the clothes; for others, just more expensive fashion. This Apple-sleek showroom carries the full line of the company's products and accessories, and is usually packed with on-lookers pawing at all of the pretty designs. Several workshops are held each day for the true believers.

phone: +1-312-266-7440

address: 633 N Michigan Ave

Fashion for men, women, and children from the English retail legend, famous for their made-to-order trench coats.

phone: +1-312-787-2500

address: 630 N Michigan Ave

Boutique for the French jeweler and watchmaker.

The Disney Store

phone: +1-312-654-9208

address: 717 N Michigan Ave

You know what you're getting into when you walk through these doors. It's the perfect place to reward a Disney fan who's been well-behaved during your family trip, but if you're on a budget, don't risk coming within two blocks.

phone: +1-312-587-9660

address: 645 N Michigan Ave

All of the elements for an excessively fashionable man, from shoes to shirts to suits.

phone: +1-312-642-5900

address: 737 N Michigan Ave

Prada, Chanel, and other designer accessories in this distinctive Michigan Avenue store.

phone: +1-312-642-6363

address: 669 N Michigan Ave

Not quite the hot-spot it was after it opened in 1993, when lines wrapped around the block to get in, but Niketown still exists somewhere between a store and a shrine to Nike products. Athletes from visiting sports teams can often be seen here paying homage (and cash).

phone: +1-312-397-0464

address: 645 N Michigan Ave

Fashionable boutique for women's apparel and accessories. The store is far from cluttered; what they have will sell, and they know it.

phone: +1-312-327-2300

address: 520 N Michigan Ave

Includes Nordstom, a Spa Nordstom, a LEGO store, fifty more speciality shops, and physically connected to the Conrad Chicago hotel.

phone: +1-312-649-0347

address: 1 E Delaware Pl

Designer treats and accessories for the fashion-conscious cat and the trend-minded dog.

phone: +1-312-944-7500

address: 730 N Michigan Ave

Internationally renowned retailer of jewelry, sterling silverware, china, crystal, and more.

phone: +1-312-440-3166

address: 835 N Michigan Ave

Features an eight-level atrium and over a hundred stores, from fashionable clothes to the Chicago Cubs Clubhouse, and a new Lego store and American Girl Place.
Other shops
phone: +1-312-527-7990

address: 222 Merchandise Mart Plaza

The Mart strides the barrier between River North and the Loop, with a train station and a zip code all to itself, not to mention a Holiday Inn, several offices, a school, two radio stations, restaurants, and, of course, shopping. It also includes the Chicago Apparel Center. None of the stores are considered major destinations by themselves, but there are frequent trade shows, and many other reasons for business travelers to find themselves at the Mart.
Eat
Budget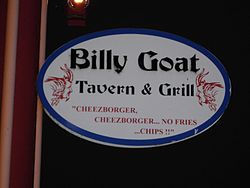 This is expensive territory — if you're on a tight budget, you're likely to be stuck with fast food. Most of the department stores on Michigan Ave have food courts.
phone: +1-312-222-1525

address: 430 N Michigan Ave, Lower Level

The original location of the famous cheezborger joint. Due to its location under the Tribune Tower, this one has been a haunt for Chicago newspapermen for decades. The burgers are dry and little more than patty and cheese, but delicious nonetheless.

phone: +1-312-337-0000

address: 230 E Ohio St

Thai food in a spacious, beautiful dining room with plenty of flavor and filling portions. The service can get a bit distracted, but the cooks are always focused.

Downtown Dogs

phone: +1-312-951-5141

address: 804 N Rush St

Chicago-style hot dogs, all the way down to the traditional prohibition on ketchup. And dog lovers (of the furry kind) will likely be tickled pink by the wild, mixed-media canine propaganda.

Mr. Beef

phone: +1-312-337-8500

address: 666 N Orleans St

Should Mr. Beef ever decide to raise an army, city hall ought to be concerned; his Italian beef sandwiches have a fiercely loyal following among the River North lunch crowd, some of whom won't bother with anywhere else. It's closed for dinner, but open for the late-night weekend club scene.

Original Rock 'n Roll McDonald's

phone: +1-312-664-7940

address: 600 N Clark St

It's still McDonald's, with all that entails, and reportedly the third-busiest one in the United States; but there's vintage rock and roll memorabilia to excuse the visit to your conscience, if that's possible.

phone: +1-312-587-8910

address: 100 W Ontario Ave

Polishes, Italian Beef, Burgers, and everything else you would expect at a hot dog place, plus one surprise—the chocolate cake milkshake (it's not on the menu, but order a "cake shake," and sweet tooths will have their day). This location, which includes a drive-thru, is decked out in a "Gangster" theme, which is known to produce delight in tourists and queasiness in locals.

phone: +1-312-642-5888

address: 835 N Michigan Ave

A good way to fill up on cheap delicious food on the Magnificent Mile, Wow Bao offers carryout steamed Chinese buns filled with all sorts of wonderful meaty goodness.
Mid-range
Splurge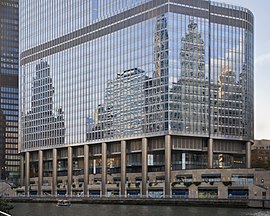 Drink
Rush Street
is probably the single best-known street for drinking and clubbing in Chicago. It's lined with late-night bars, both fashion-of-the-moment designer clubs and generic fake-Irish pubs. Rush Street branches off from State south of Elm and runs parallel to State from there, although the action is north of Chicago Avenue. There's also a similar densely-populated strip of late-night clubs on
Division
, between Clark and State. Be warned: the Rush Street bars are often referred to by locals as the "Viagra Triangle" for reasons that will become clear shortly after you arrive.
phone: +1-312-642-6805

address: 11 E Hubbard St

A nice and slightly less pretentious jazz club featuring straight-ahead performances nightly.

phone: +1-312-642-6261

address: 736 N Clark St

Live blues most nights of the week, except for Sundays. Has a sister club by the same name just a couple blocks away at 536 N Clark (312 661-0100, no music on Mondays).

phone: +1-312-337-0561

address: 14 W Elm St

The best bar in the Rush/Division nexus. Drinks aren't over-priced, the decor is cool, and there are two floors for dancing, depending on whether you prefer retro or modern beats.

phone: +1-312-923-2000

address: 329 N Dearborn St

Food, drinks, and music. Blues fans may find something good, but the roster of bands can stray from the classic old bluesman with a guitar to the worst of twentieth-century music (no genre excepted), so don't show up without checking the schedule first.

phone: +1-312-642-7251

address: 26 W Division St

Hugely popular bar that trades on old rock-and-roll cred — Cream, The Velvet Underground played here long ago — to adorn a modern dance floor and pool tables.

phone: +1-312-787-5435

address: 806 N Rush St

Fake Irish pub, notable mainly for being tucked away behind the Water Tower, right off the Magnificent Mile. The after-work crowd is generally laid back, and the lack of (excessively) loud music and sports TV makes this a decent choice for exhausted shoppers in need of a beer.

phone: +1-312-640-1000

address: 16 W Ontario St

Cocktails, live music, and a schmaltzy sort of elegance.

Second Story Bar

phone: +1-312-923-9536

address: 157 E Ohio St, Apt 2

It's no small feat to find this place — look for the pink-lettered sign up on, well, the second story. Inside, you'll find a gay bar that falls on the fun side of sleazy (or the sleazy side of fun), far more of a dive than you would expect in these surroundings and the perfect antidote to hotel bars.

phone: +1-312-787-9596

address: John Hancock Center, 875 N Michigan Ave

Just above the Hancock Observatory (above). Expensive drinks on the 95th floor, with live jazz on the weekends. Skip the over-priced food, but the view makes this a great place for evening cocktails, and a more civilized alternative to the sometimes over-crowded observatory one floor below.
Sleep
Again, this is expensive territory — nearly every tourist stays here, and the rates reflect that. If price is a concern, remember that this area is well-served by public transportation from every direction, including places where you can sleep a bit cheaper. On the other hand, if part of the vision for your vacation involves a luxurious hotel, this is definitely the place to be.
Budget
Mid-range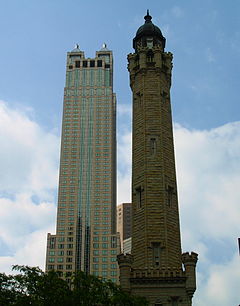 Splurge
Connect
Near North Library

phone: +1-312-744-0991

address: 310 W Division St

Public internet access. It's between the Sedgwick and Chicago Brown Line stations, but a long walk from either. The area is safe during the day, but don't walk far by night.
The Apple Store (see Buy) is a de facto free internet cafe, with all of the floor models hooked up to wi-fi, and the salesmen-to-customer ratio virtually ensures nobody will bother you if you want to dash off a few emails home.
Go next
Old Town is just north, and segues neatly into the Near North with smaller boutiques, smaller palatial mansions, and the city's landmark theaters Steppenwolf and Second City.
Wicker Park offers a parallel Magnificent Mile of hip, independent stores, bars and clubs. Lincoln Square is another exceptional shopping destination.