Edinburgh/West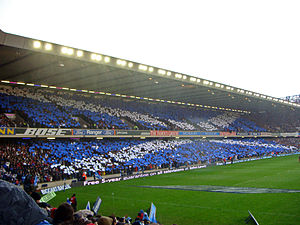 This article covers the outlying areas of
Edinburgh
to the west of Haymarket Railway Station and Granton Harbour, and north of Lanark Road.
Get in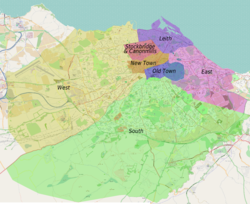 West Edinburgh has
South
Edinburgh on its southern boundary. To the east it's bounded by (from south to north)
Old Town
,
New Town
,
Stockbridge and Canonmills
, and
Leith
. It's quite a spread-out area: Murrayfield is walking distance from central Edinburgh but most other attractions are some miles away from the centre and from each other.
By train
All trains from the north, west and south-west will stop at
Haymarket station
. Trains from
Fife
also stop at . Local trains serving Edinburgh from
Stirling
and
Glasgow
(Queen Street Low Level) also stop at
Edinburgh Park station
. There are also stations at ,
Kingsknowe
, and
Curriehill
served by stopping trains on the Edinburgh-Glasgow Central line.
By bus
Lothian Buses
have a comprehensive service throughout the west of the city. Many services depart from Princes Street in the
New Town
. The Airlink 100 passes through the area between the airport, the zoo and Haymarket.
By tram
The new Edinburgh tram passes through the west of the city on its way between the city centre (via
Haymarket
) to the airport. Most of the route is not close to attractions, but the tram does stop at
Murrayfield
and
Edinburgh Park
.
See
phone: +44 131 346-5100

address: Roseburn Street

The home of Scottish rugby and a most impressive stadium. The highlight of the season is the 6 Nations Championship - effectively the European Championship of rugby, taking place every February and March between Scotland, Wales, Ireland, France, Italy and England. The teams play each other once per year, and alternate home and away games. In odd-numbered years, Scotland host Wales, Ireland and Italy at Murrayfield, with England and France visiting in even-numbered years. On the weekend of a home match, Edinburgh is absolutely full to bursting, and the atmosphere is like nothing else, especially if Wales or Ireland are in town. It can be easier to obtain tickets for the Autumn Test series, generally 3 matches in October and November against southern hemisphere or "non-6 Nations" European opposition. Another Murrayfield highlight is the Edinburgh Sevens Rugby Festival, the final event in the IRB Sevens World Series, an annual circuit featuring national teams in rugby sevens, a variant of rugby union with 7 players per side instead of 15. The Edinburgh Sevens is held over one weekend, typically at the end of May. On non-match days, stadium tours are available (must be booked 48 hours in advance, call +44 131 346-5160) M-Sa at 11AM. Generally you can walk around the stadium for free 9AM-5PM.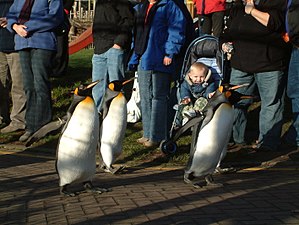 Do
Buy
CorstorphineIt used to be a village on its own, but is now part of Edinburgh. There are an assortment of chain and independent shops on St John's Road. Near this is a large Tesco (24-hr supermarket) on Meadow Place Road, behind PC World.

address: South Gyle Broadway, EH12 9JY

An indoor shopping centre with Marks and Spencer and Morrisons as the anchor stores, and about 50 shops. Located at the Western edge of the city, near the Gogar roundabout.
Eat
phone: +44 131 313-4404

address: 97-101 Dalry Road

Popular neighbourhood bistro.

phone: +44 131 339-4350

address: Queensferry Road

A steakhouse chain. Popular meeting spot due to good road connections and plentiful parking. Work off your lunch by following the River Almond walkway upstream through the Cammo estate, or downstream to the Firth of Forth at Cramond Village.

phone: +44 131 221-9779 or +44 131 221-1281

address: 9 Dundee Terrace

Specialising in Indian Balti cuisine, the dishes are refreshing after having the same old curries at other restaurants.
Drink
phone: +44 131 337-1574

address: 57-59 Roseburn Terrace, Murrayfield

Friendly pub close to Murrayfield Stadium. Decent pub grub menu including breakfasts. As you would imagine in this location, it's a popular place for watching televised sport.

The Cramond Inn

address: 30 Cramond Glebe Road, Cramond Village

Traditional village pub in this traditional village turned city suburb. This is a northern outpost of Yorkshire's Samuel Smiths Brewery, and serves only in-house drinks - no branded beers at all, and even the cola and lemonade are own-brand. You won't mind missing out on Guinness or Stella when you see the prices though - generally less than £2 a pint which is almost unheard of in Edinburgh. Sunny (or even non-rainy) weekends bring the crowds, and service sometimes suffers as a result. Tables outside for al-fresco drinking but food service is indoors-only.
Sleep
Budget
Bainfield Ensuite Accommodation

phone: +44 131 455-3722

address: Fountainbridge

Offered by Edinburgh Napier University during summer only (semester break). Used as student accommodation throughout the rest of the year. Send an email or call for booking requests. Between 4 to 8 single rooms in one shared apartment.
Mid-range
address: 132 Corstorphine Road,Edinburgh, EH12 6UA

The hotel has a restaurant. It is next door to the zoo, and so don't be surprised if you hear animals at night.

Holiday Inn Edinburgh City West

phone: +44 871 942 9025

address: 107 Queensferry Road, Edinburgh, EH4 3HL

Rooms on the east side have a distant view of Edinburgh Castle.
Splurge
address: 4 West Coates, Haymarket, EH12 5JQ

The hotel offers the comfort and elegance of a Scottish country house. The same people run the Dunstane City Hotel across the road.

address: 15 Lochside Avenue, Edinburgh EH12 9DJ

Not the most inspiring of locations, but very convenient adjacent to the City Bypass for road trips around the rest of Scotland and right next to Edinburgh Park Station for speedy transport to the city centre. Pool, gym, steam room, restaurant.

phone: +44 131 333 1275, +44 845 072 7468 (high cost)

address: Ingliston EH28 8LX

Hotel & spa in woodland 5 miles west of city, close to airport. 10 mins walk to main bus routes on highway to Glasgow, but you really ought to be arriving by limo or helicopter. Hosts a lot of functions for people who wished they were.
Connect
Internet
phone: +44 131 529-5616

address: 137 Dundee Street

Free WiFi.

phone: +44 131 529-5506

address: 12 Kirk Loan, Corstorphine

PCs with free internet access. Free Wi-Fi.

phone: +44 131 529-5585

address: 173 Balgreen Road

Free WiFi.